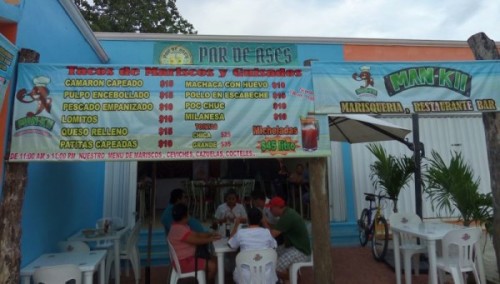 Man-kii is a very local seafood restaurant far off the tourist trail. This no frills place offers friendly service and tasty food. Here is some more information on this place and how it ranks with similar restaurants.
Man-Kii seafood restaurant
This place is not heavy on décor but is good on taste. They have outdoor seating at plastic tables and inside seating with fans. This restaurant opened about August of 2014 and was also called Par de Ases restaurant. Now it has merged and is Man-kii.
There are a few friendly waiters here that bring you salsa and chips while you wait for your food. The food is not super fast but that is because they are taking their time and making it good. The seafood is definitely fresh here.
They have hot plates of seafood, ceviche and tacos. Prices are about 75-130 per plate.
We like the shrimp tacos here. You can get an order of 3 for 75 pesos. That might seem more then some of the other places for 20 pesos each but these do come with a lot of shrimp and are equal to 4 tacos at other places. Plus these come with a slightly spicy sauce and are lightly batter fried.
If you come from 7:00am-11:00am you can order individual tacos for a cheap price. The rest of the day it is the regular menu which is still affordable.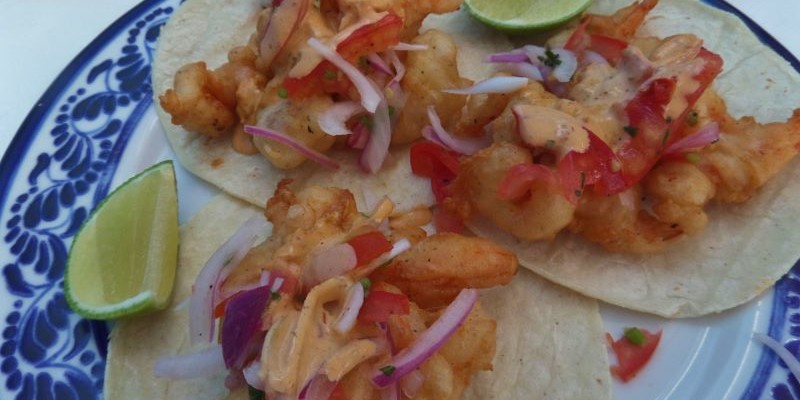 Comparisons to other local seafood restaurants in Playa Del Carmen
The two local seafood places we can compare this one to is Oasis and La Floresta. Both of these restaurants are known for seafood and tacos and are a bit off the tourist route. Man-kii definitely has less atmosphere and is even a little more off the beaten path. We do have to say though that we like their shrimp tacos better at Man-kii than the other two above mentioned restaurants. Prices between all three are similar.
*For more restaurant reviews and information see our full Playa Del Carmen Restaurant Guide here.
Recommendations
If you are looking for some good seafood and have tried some of the others or are not looking for beach front or in the downtown, then this place might be for you. This place is more for people that live in Playa Del Carmen. It is not the best in any category but a good option for fresh seafood and ranks high for value of food.
Have you been to this restaurant? What did you think? Let us know in the comments below.
Hours
7:00am-11:00pm everyday.
Location map
Man-Kii is on Juarez Avenue between 75th Avenue and 80th Avenue. It is on the north side of the street and sets back just a little. Look for the banner and plastic tables out front.