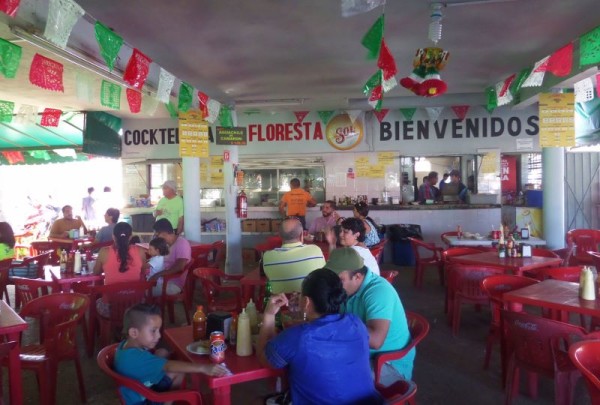 You are in Playa Del Carmen and near the beach, what could be better then a beer and some seafood tacos! There are a few places to go in Playa, so how does La Floresta measure up to the others? Here is our review.
The La Floresta seafood experience
La Floresta sits on the highway access road on the west side. There are a few parking spots in front and then you enter the open air restaurant that is usually abuzz  with families and groups of friends enjoying a casual meal. The plastic tables and chairs add to the casual atmosphere. This restaurant has been here since 1994 and is a regular institution to some.
The menu is simple. There are just a few options and this makes it easy for the waiters to circulate around the tables and bring your order very fast.
There are four types of seafood tacos, five types of seafood cocktails, five types of ceviche and aguachile shrimp which is shrimp marinated in lime juice and spicy peppers on it. Soda and beer are available.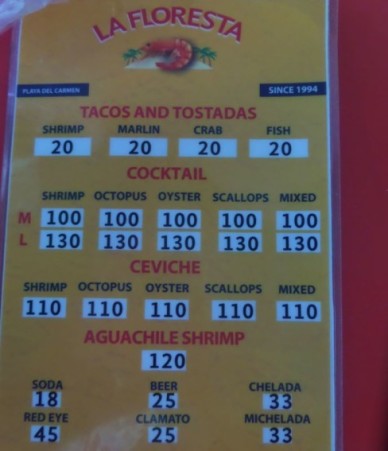 Seafood at La Floresta
The seafood is very fresh here. The fish and shrimp tacos are fried and taste good, we just wish they had better salsas. There is the pico de gallo salsa, a green spicy habanero salsa and what looks like a mayonnaise sauce. We tried to dress up these tacos for the photos but would of liked more options.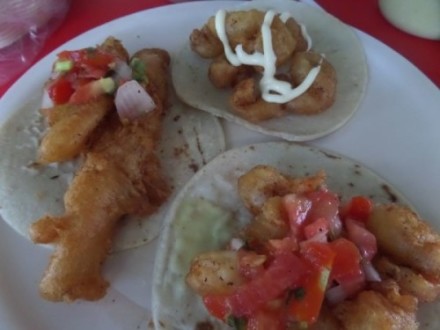 Recommendations
La Floresta will give you a very local feeling place and if they have what you like then that is great. Remember just because a place is popular with locals does not means it is good. It can mean it is consistent and in line with what locals prefer in taste and price. This is kind of the factor here. It is simple, fresh and casual, and if that sounds great to you then you will enjoy dining here.
If you like more options for seafood then you might want to check out Oasis Restaurant just down the street on the same side. They are  a seafood restaurant with similar prices, a little more fun atmosphere and many more options.
Another really local seafood restaurant is called Man-kii. It is even more off the tourist trail but we do like the shrimp tacos at Man-kii more because they are lightly fried and come with a tasty sauce. To read more about it see the link to Man-kii Restaurant.
If you like a little more creative menu you might want to check out Los Aguachiles especially the one on 34th street because they have some good salsas and are a little more trendy. It is a little more expensive though.
Have you been here before? What did you think? Let us know in the comment section below, we would love to hear from you.
*For more restaurant reviews and information see our full Playa Del Carmen Restaurant Guide here.
Hours
Open everyday from 8:30am-6:00pm. Note the closing time because you might come here for dinner but it is closed then.
Location and map
La Floresta is on west side of the highway at 14th Street. But remember the street numbers on the east side do not match those on the west side of the highway. So on the east side it is 8th Street.