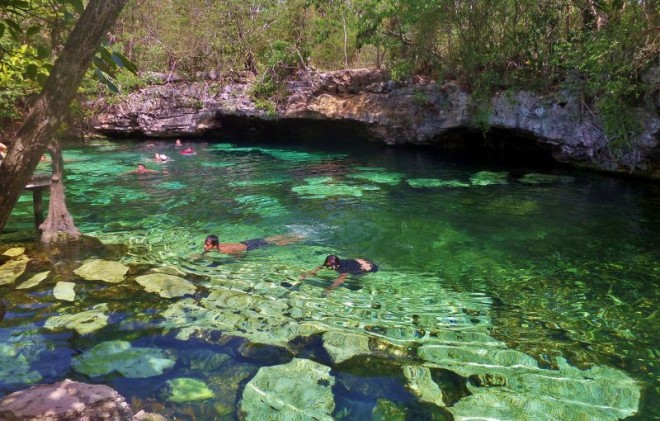 Cenote Azul is a popular cenote just south of Playa Del Carmen in the Riviera Maya. Here you can enjoy seeing this natural area and taking a dip in the refreshing waters. This cenote is just next to Cenote El Jardin Del Eden and Cenote Cristalino which are very popular for people to visit from Playa Del Carmen as well. There are a few differences and we will describe so you can choose which one fits you or you can just visit more then one if you like.
Cenote Azul
What is special about Cenote Azul is the fact it is open, meaning not in a cave and it is more shallow in places then other cenotes. This makes it good for kids because there are places to stand in the water. There are deeper parts where you can swim and even a cliff jump of about 15 feet (5 meters). The cenote is "L' shaped and you can find quiet corners to relax in.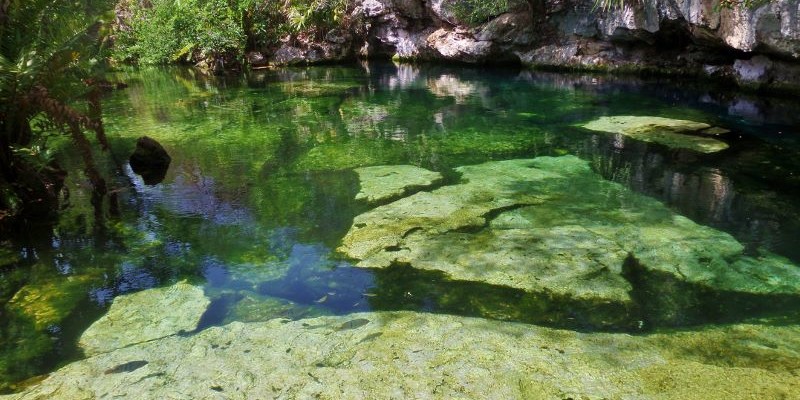 Little fish in Cenote Azul
Do you know the fish spas in Playa Del Carmen where you put your feet in the water and the tiny fish nip and suck on your feet? It is harmless but does tickle. This is just nature cleaning your skin. This cenote has the same fish and if you sit still the fish will come to you. It can be fun to do but if you don't like that, don't worry about it because you can swim around and you will not be bothered by the fish.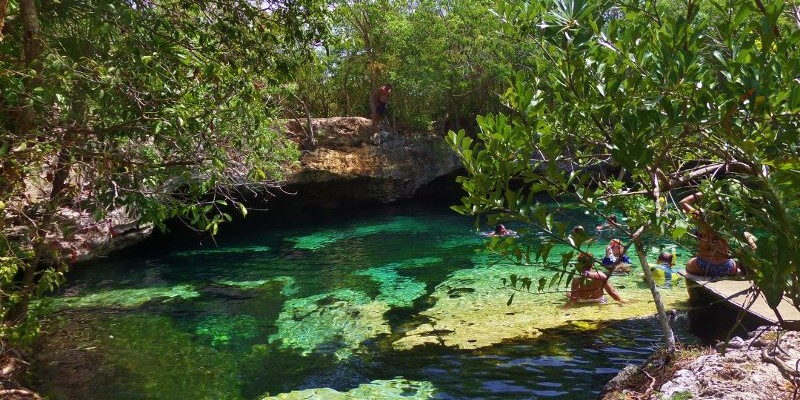 How much is Cenote Azul?
At the entrance you pay at a small palapa hut. It is 150 pesos entrance and you can get a life jacket if you like. They have a small snack store and you can even buy fish food. This is great fun for kids. Bathrooms are available here.
Tip: Sundays are the busiest days for cenotes since most Mexican families have off from work. Try coming mid-week if you can.
What to bring to Cenote Azul:
Be sure to bring your own snorkels. This cenote is ideal for using snorkels because it is very clear and there is a variety of fish and plant life to observe. They do rent snorkels in case you don't bring them.
Biodegradable sunscreen and if you do bring bug spray make sure it is biodegradable. This is VERY important. Once you see how clear the water is you will get upset with anyone using oily cream that will get the water dirty. If you want to buy some for your trip you can do so here.
Your towel.
You can bring snacks but they do not allow alcohol into the cenote.
Don't bring cigarettes because it is not allowed. Try to bring all drinks in plastic bottles so there is no chance of breakage with glass.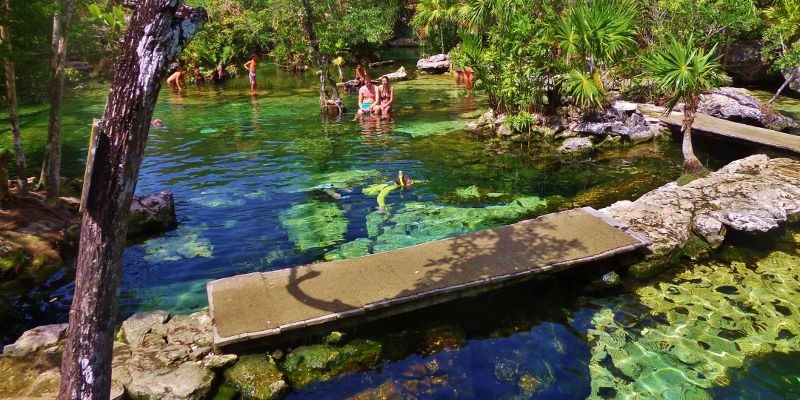 How do you get to Cenote Azul?
By car: If you are driving from Playa Del Carmen you will take the 307 Highway south. Once you pass Puerto Aventuras you will go about 4 minutes more. You will see Barceló Hotel Resort entrance on the left and then just after that on the right is a row of cenotes. There are four places to visit. You will see the sign on the road. There is a parking lot.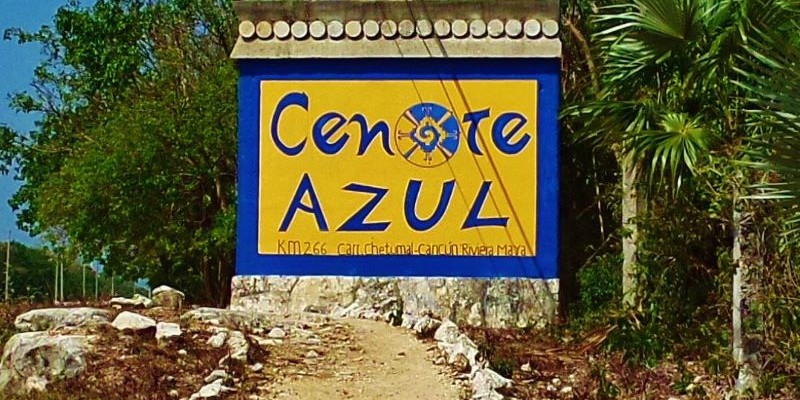 By colectivo: If you want to go by public transportation you will need to take a van called a colectivo. See link for all the details. You cannot take ADO bus here since they do not stop. The colectivo is about 35 pesos from Playa Del Carmen. Pay with small peso notes.
Note: Cenote Azul is translated Blue Cenote on some maps.

Have you been to Cenote Azul before? What is your favorite cenote to visit in the Riviera Maya? Tell us in the comments below. We love hearing from our readers.