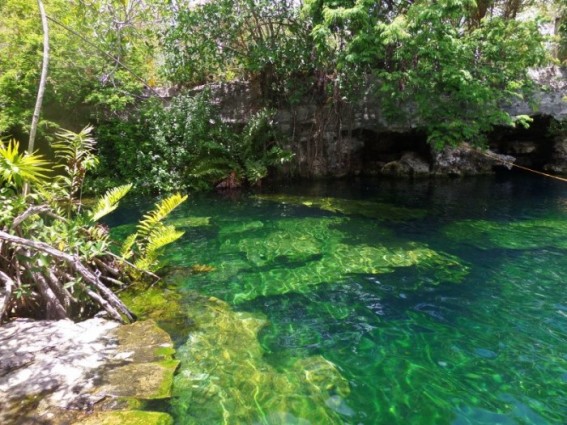 Cenote Cristalino
Cenote Cristalino is one of three good cenotes that are easily reached from Playa Del Carmen. This cenote is just about 18 minutes south of Playa on the 307 Highway. There are three cenotes in a row here just off the highway. They are El Jardin Del Eden, Cenote Azul, and Cenote Cristalino. The cenotes are similar but each is a little different and you just might have a preference for one over another.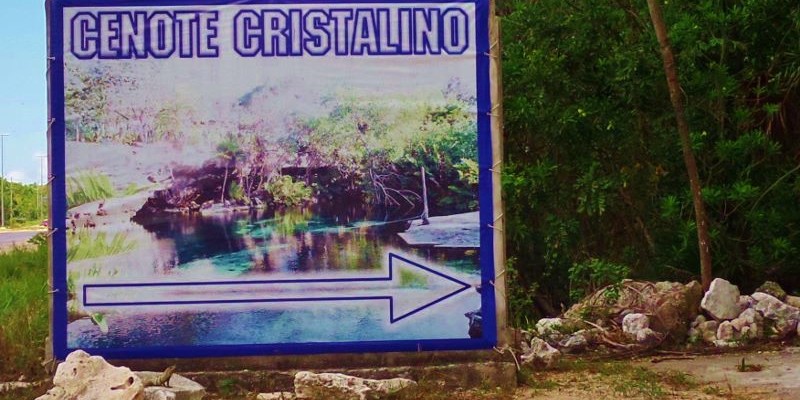 Details for visiting this cenote
There is parking by the by the road. At the entrance they sell snacks and there are bathrooms. At this cenote they give you a life jacket but it is not necessary to wear it. You can rent swim googles for 50 pesos. Plastic beach loungers are available for rent as well. Near the cenote there are changing areas.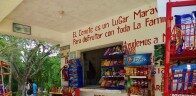 As with any cenotes do not use regular sunscreen. It contaminates the water. At this Cenote there are signs that say not to use any sunscreen, biodegradable or not.
Cenote Cristalino is a "U" shape and is open, meaning not in a cave. There are more mangrove plants here the nearby cenotes, giving it a lush feel. It also seems to be more little fish that like to suck on your skin. It does not hurt, it just tickles. If you are swimming around they leave you alone but if you dangle your feet in the water you will see them swimming around you.
This cenote has a half cave you can swim through. It is nice to see the contrast between the dark water and the light water where the sun is penetrating down. Unfortunately people have scratched their names on rocks here and it distracts from the natural beauty.
There is a cliff jump of about 12 feet (4 meters). The water below is 18 feet (6meters) so it is plenty deep to jump into.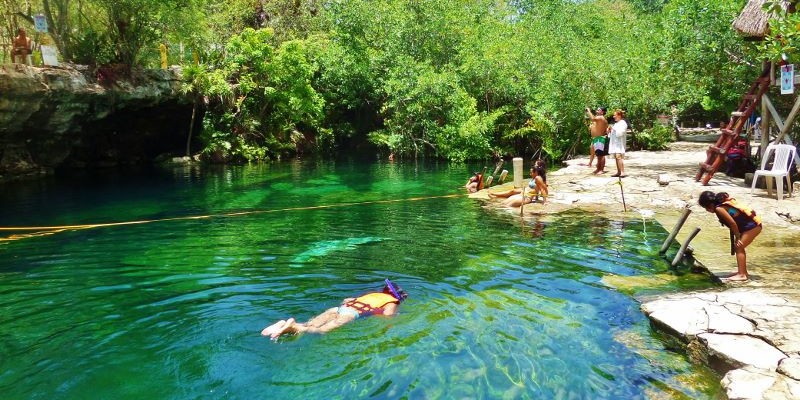 Make sure you bring your snorkels here because there are interesting rock formations and fish to see.
As with any cenotes, Sunday is the busiest time. This is when most Mexican families have off, so try to come during the week.
Price at Cenote Cristalino
150pesos for adults. There is no local discounts. This cenote is about 30 pesos more than the other cenotes for some reason but this does not detour people from coming here.
Phone Number
984-804-3941
How do you get to Cenote Cristalino
Driving-Take the 307 Highway south. One you pass Puerto Aventuras you will go for about 4 more minutes. You will see the Barceló Hotel entrance on your left and almost across from it will be the entrance for Cenote Cristalino.
Public transportation-You can take the colectivo vans from 2nd Street in Playa Del Carmen. It cost 30 pesos each way and just tell the driver when you get on that you want to go to this cenote. To come back to Playa just cross the highway and get a returning colectivo, they come about every 8-10 minutes.
Have you been to this cenote? What did you like about it? What is your favorite cenote to visit? Let us know in the comments below.