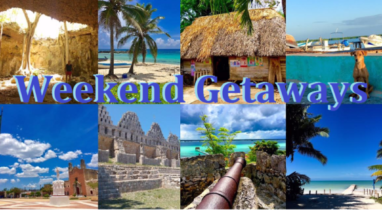 The Weekend Guide (for locals only)
So what are you doing this weekend? Do you dread that question from your friends because you have no idea what to do? Where do people go that live in a vacation beach destination? We have found that even locals don't always have a good idea of what is close by and good options to getaway. That is why we are bringing you this weekend guide to getting away from Playa Del Carmen.
Some of the things that make this guide special for locals is the fact we skip many of the super touristy spots, we look for good value, affordable locations, and unique places you might not know about. All of these destinations are four hours or less from Playa Del Carmen.
We realize that anyone living or working in the area does not usually have as much money to spend as those coming here for a week or two. Many of the places mentioned below are more reasonable prices. These destinations are also many great local run establishments. If you visit many of these places you will be supporting local tourism and for the most part more sustainable touristic options.
Really short getaways from Playa Del Carmen
Off to the beach
For most locals going to the beach in Playa Del Carmen means going to Playacar Beach. This is the more quiet beach where you have more space and less tourist. If you want to go to another beach you might try Unico Beach Club in Puerto Morelos or going to the more remote Xpu Ha beach south of Playa Del Carmen.
Isla Mujeres offers beautiful Playa Norte. While most people end up on the end closest to town there is a great beach club on the east end you should check out. It is the Green Demon Beach Club. You can see our video here and article.
Visiting a cenote for the weekend
Cenotes are an easy way to get out of town for an afternoon. The most popular are El Jarden del Eden, Cenote Cristalino and Cenote Azul. These three are about an 18 minutes drive south of Playa Del Carmen and all easily reached by colectivos if you don't want to drive.
Cenote Yax kin is about 41 minutes south of Playa Del Carmen. It does offer locals discounts and gets less tourist then the above mentioned cenotes. It is beautiful and has areas for relaxing and picnics.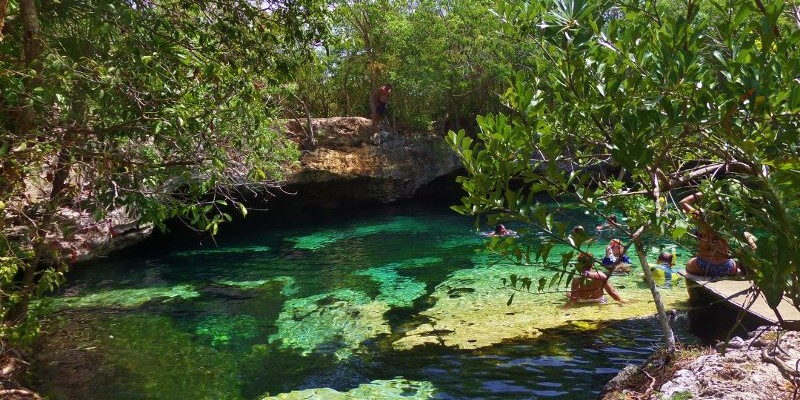 Cenote and staying the night in a cabin
Cenote Zacil Ha between Tulum and Coba offers a small and beautiful cenote to visit. They also have rustic cabins that you can stay the night in. This can be a nice retreat from the Riviera Maya where you can stay in nature. See our link for a video and more information.
Things to do in and around Tulum
Tulum is just a 40 minute drive down the 307 so it is easy to go for the day and still get back home. This saves having to pay for a hotel. So what is there to do in Tulum? Well here is a list:
Visit the beach clubs on the south end of the Hotel Zone. Many of these open their doors to day trippers. Most of the time there is a consumption minimum. The beaches are beautiful and you will like you are in a more exclusive place.
If you want a public beach, you can go to the north end of the Hotel Zone where you can find public parking and beach access. The trick here is going early because this area fills up and the police will close the road for more cars later in the day. After the road is closed you can still ride bikes here but it means parking in town and renting bikes.
Check out some of the cenotes in and around Tulum.
Visit Tulum ruins and Muyil Mayan ruins.
The Muyil river float is a great activity to do.
The Kaan Luum Lagoon is a poor mans Bacalar. You get a beautiful place to visit but it is a lot closer than Bacalar.
For a map of all these things and more details you can see our article on things to do in Tulum.
Puerto Morelos and the Ruta de los Cenotes
Puerto Morelos is a small fishing village feel with a few restaurants to choose from. These can be a destination in themselves if you want to get out of town for the day. As we mentioned above, there are some beach clubs here that have nice services and get you away from larger crowds.
On the other side of the highway is the Ruta de los Cenotes. This road goes all the way from Puerto Morelos to the old 180. There are many cenotes to visit on this section. Some are touristy parks and others are quiet places to visit. What makes this area special are some of the places you can stay. We love Chaktunche B&B jungle cabins. These beautiful cabins are tucked into the woods and will give you a great place to relax and feel like you are really enjoying the Riviera Maya's natural beauty (see our article and video to appreciate this place).
Also on this stretch of road is the Mexico Lindo Cooking School. Here you can be immersed in the local woods and learn different styles of Mexican cooking. For locals that drive here, you save a lot over the cost.
Bacalar and the lake of seven colors
Laguna Bacalar and the town of Bacalar are just over a three hour drive from Playa Del Carmen. Because it is a drive, this is good for an overnight or two stay. What is great about going here is the beautiful water and small, relaxing town. Bacalar offers good hotel values, even some for 1000 pesos a night or under, (not waterfront) but still close.
Bacalar has gotten a lot of new restaurants recently. This just might entice you to stay longer. See our Bacalar restaurants guide here.
Up and down the shoreline of Laguna Bacalar are eco hotels, camping and boutique places to stay. So there is some level of accommodation for all. In town you can find some newly added good restaurants. On the south end of town you can find Cenote Azul and you can also visit some Mayan ruins in this area like Chacchoben ruins, Calakmul, Kinichna ruins and others.
One of the best activities is taking a boat out on the lagoon. You can take a more private tour or a pontoon boat that will take you to the pirate canal. This is one of the most beautiful parts of the lagoon t swim in.
For more on visiting Bacalar, see our article and video here.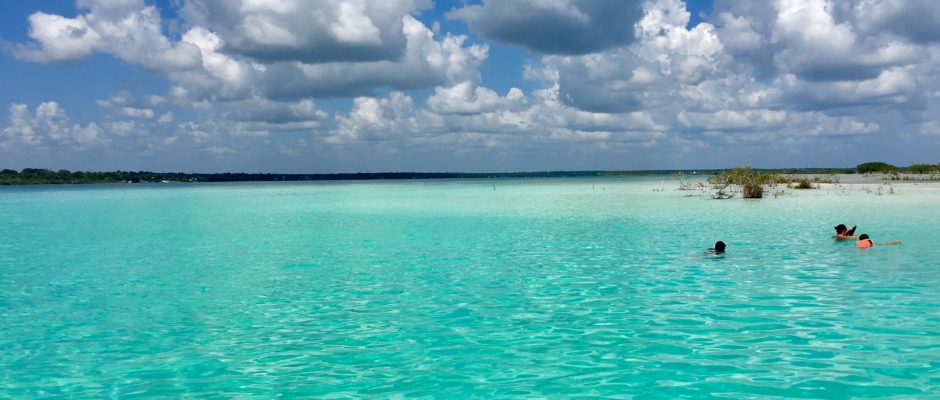 Isla Holbox and Solferino
Solferino? Never heard of it? It is a small town you drive through to get to Isla Holbox. Usually everyone just passes this town by. From the road there is not much to see but upon a deeper inspection, you can find there are some cool guesthouses to relax and enjoy this area. See out guide on Solferino and what you can find here. Also see our video in the article on the amazing cork forest you can kayak through here in Solferino.
Isla Holbox is a charming island with a laid back feel. Sand streets and golf carts get people around. The ocean is very calm and shallow here and the island offers stunning photographic opportunities. There is not mass tourism here which keeps it charming, yet there is enough people visiting that you can find a good variety of restaurants and hotel options. There are also are high and low end accommodations making this a good place for locals to visit. Another great thing is the direct ADO bus from Playa Del Carmen to Holbox. This makes for an easy trip for the weekend from Playa.
For more on visiting Isla Holbox and what to expect, see our article and video here.
Isla Mujeres and Cancun from Playa Del Carmen
Isla Mujeres
For a day trip or possible overnight, Isla Mujeres is a small island that gives a different feel than Playa Del Carmen. It is easy to drive to the Puerto Juarez Ferry and park your car, and then take the ferry across to Isla Mujeres. You can visit beach clubs on the north end, take in the views and perhaps ride a golf cart around the island. Affordable meals and accommodation can be found, although value for your money in hotels can be better in other places. For more in visiting Isla Mujeres, see our guide here.
Cancun for the day
Cancun for Playenses is more of a destination to go shopping. There is not much there of interest that you cannot get in other places. Plaza Las Americas is the largest mall and on the south end of Cancun. This mall affords more stores than in Playa Del Carmen and a 4D and VIP movie theater. These two things can add to your day in Cancun. For a few more reasons to go to Cancun for the day, see our article here.
El Cuyo, San Felipe, Rio Lagartos and Dzilam de Bravo for the quiet seaside
If you like being near the sea and in a quiet place you might just love these destinations. These are near the tip of the Yucatan Peninsula. There is very little international tourism that makes it to these parts but that does not mean you should not visit. Because it is more of local place, prices will be lower and good for residents to spend time here.
El Cuyo for the weekend
El Cuyo is a small fishing village on a strip of land with a bay behind it. This small village is a favorite weekend getaway for many residents of Merida and some of Playa Del Carmen. The beaches are nice and wide here. The water is not as turquoise as the Caribbean since this is rounding the peninsula and you are getting the darker waters of the gulf. But that does not mean you cannot enjoy this beach.
There are many nice rentals to spend a day or two for the weekend. Since there are only about three restaurants here it is good to come prepared with some snacks and is why we prefer a house rental over one of the basic hotels here. Be prepared for a quiet laid back place and a slower drive here since it accessible by backroads. This is the charm of this place. For more on visiting El Cuyo see our guide here.
San Felipe
San Felipe, Yucatan is a small and colorful fishing village at the tip of the Yucatan Peninsula. This town does not receive a lot of tourism but if you have the opportunity to visit, you should. Normally it is very breezy here which makes a nice reprieve from the warm Yucatan. This naturally beautiful area will also be a good place for nature lovers. San Felipe is a peaceful place to spend the day or overnight.
Here is an article and video about tours you can take from San Felipe. It just might surprise you how beautiful this area is and provides a nice contrast to the super touristy Riviera Maya.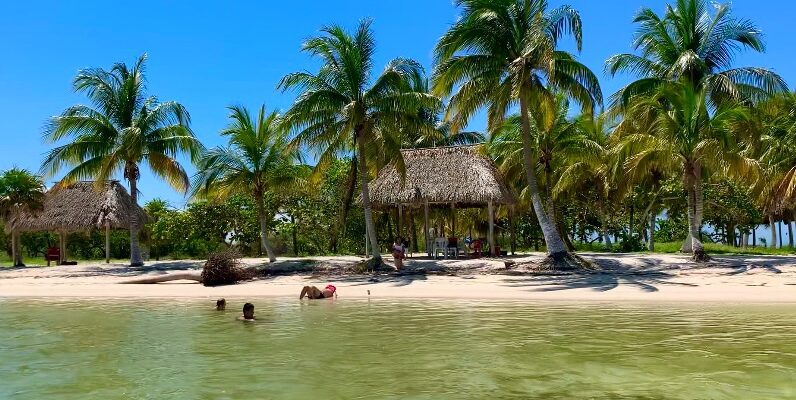 Rio Lagartos and seeing flamingos
Rio Lagartos is a small fishing village as well with about three good hotel options. The best thing to do here is a local tour of the waterways in the morning to see flamingos and lots of local birds. There are no beaches with easy access but you can get a fishing boat to take you to some remote beaches and pick you up at the end of the day. See our guide to Rio Lagartos here.
We recommend one night here. If you plan on taking a tour in the morning and then you can leave this area to explore another. Perhaps driving to see the cute town of San Felipe to the west and then the other side of Rio Lagartos to see the pink water of Las Coloradas.

Dzilam de Bravo for eco tours
Dzilam de Bravo is a lesser known place but has some great tours to a natural reserve. This is a small fishing town that is next to a large reserve. There are three tours you can take from Dzilam de Bravo. These tours will take you to see birds, wildlife, virgen breaches and cenotes. What makes visiting Dzilam de Bravo so interesting is the remote location and very beautiful tours to the reserve. You won't run into many tourists here, so you can really feel like local traveling to this area.
Nuevo Durango and exploring the Mayan backyard of Playa Del Carmen
Most locals have never visited this area but there are some nice hidden things to discover. Nuevo Durango is a small community on the road that goes from Coba to Nuevo Xcan. It can be reached by driving on the new highway to Nuevo Xcan and then taking the old 180 to the road. This makes going here about one hour from Playa Del Carmen.
So why should you think about going to this area for the weekend? Well here is a list for you:
Enjoy the Mayan countryside and peaceful natural area.
See remote cenotes that are very seldom visited.
Inspect the insect museum in town. There is actually a large collection here.
Go on high adventure to Ta'akbil Ja. This is a community run eco adventure where you can go into caves and visit a cenote.
For a complete guide to Nuevo Durango and our video see our link here.
Where to stay in Nuevo Durango?
In the center of Nuevo Durango you can stay in what looks like Mayan cabins. These are very rustic but can be fun for those looking for a unique place to stay and low budget.
Hotel Gilmar is a new option in this area, and frankly the best option. Here you can stay in cute cabins that have air conditioning and bathrooms. They will cook meals for you and also are well versed on the nearby attractions. If you reserve in advance you might be able to get a guide that speaks English for some of the nearby attractions.
Valladolid Yucatan for the weekend
For non beach lovers Valladolid might be one of the best weekend getaways for locals. It is close, affordable, has a lot to see and offers good value. Here is a list of things you can so in Valladolid of area:
Walk around the small colonial heart of Valladolid.
Take bike tour with Bikers Zaci around the Mayan countryside.
Visit Ek Balam or Chichen Itza because both are close by. Tip: residents get in free on Sundays!
Visit cenotes. There are dozens in this area like Cenote Xkeken and Cenote Samula.
Vallazoo is a nice wildlife reserve where children can see animals and more. You can even spend the night here.
See old colonial churches in and around Valladolid.
Check out the market with fresh fruits, flowers and vegetables.
Also check out our guide to the BEST hotels in Valladolid. These offer great value for a weekend getaway!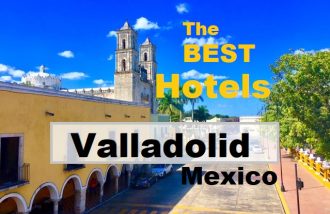 Besides this list of things you can get some nice accommodations. There are more and more small hotels opening up and the prices are all more local prices. See our link above to Valladolid and then this link to all the things around Valladolid.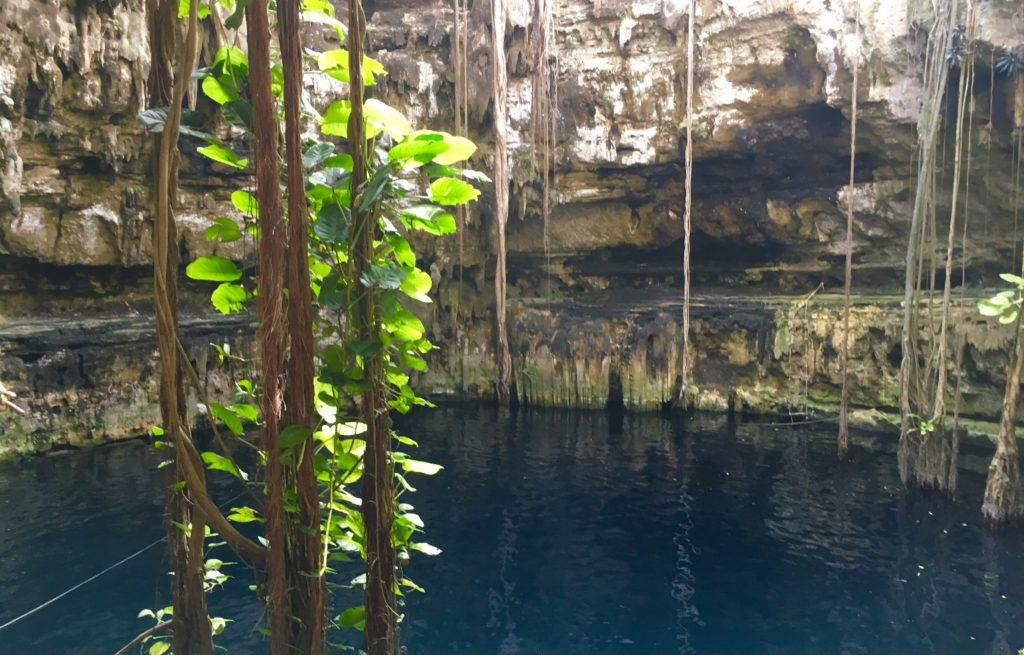 Take the backroads on the weekend and discover the charming town of Espita
Espita Yucatan is nice hidden gem of a colonial city. With a colonial center and authentic traditions, this stop can be a culture vultures weekend getaway. Espita is centrally located near Ek Balam ruins and is on the way to Rio Lagartos. It is also near Valladolid as well. See our complete guide for visiting Espita here.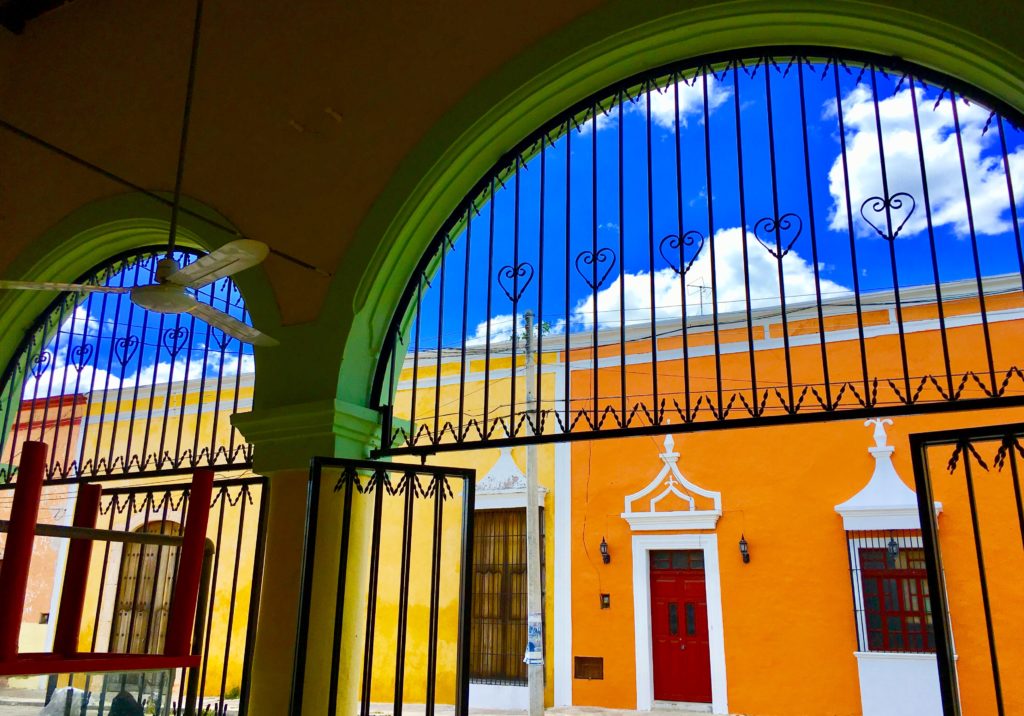 Also about 35 minutes from Espita is Cenote Chan Dzonot. We mention this especially for locals because they have cabins for only 400 pesos for up to 4 people. This is a very well priced little getaway. See our link for more details.
Have a yellow weekend in Izamal
If you don't know about Valladolid you certainly will not know about Izamal. This is another colonial city like Valladolid but it is smaller and has it's own feel and unique offerings. For one, there are remnants of Mayan pyramids in the city. The city is also known as the yellow city because many of the colonial buildings have been painted yellow.
We recommend this as a one night stay since this town is small. You will be able to find some good value accommodations here. There are not as many restaurants here but one of our favorites is Kinich (actually one of the outstanding ones in the Yucatan!). It has regional food, nice atmosphere and good prices. You just might end up eating here several times if you stay in Izamal.
For more about visiting Izamal and our video, see our article here.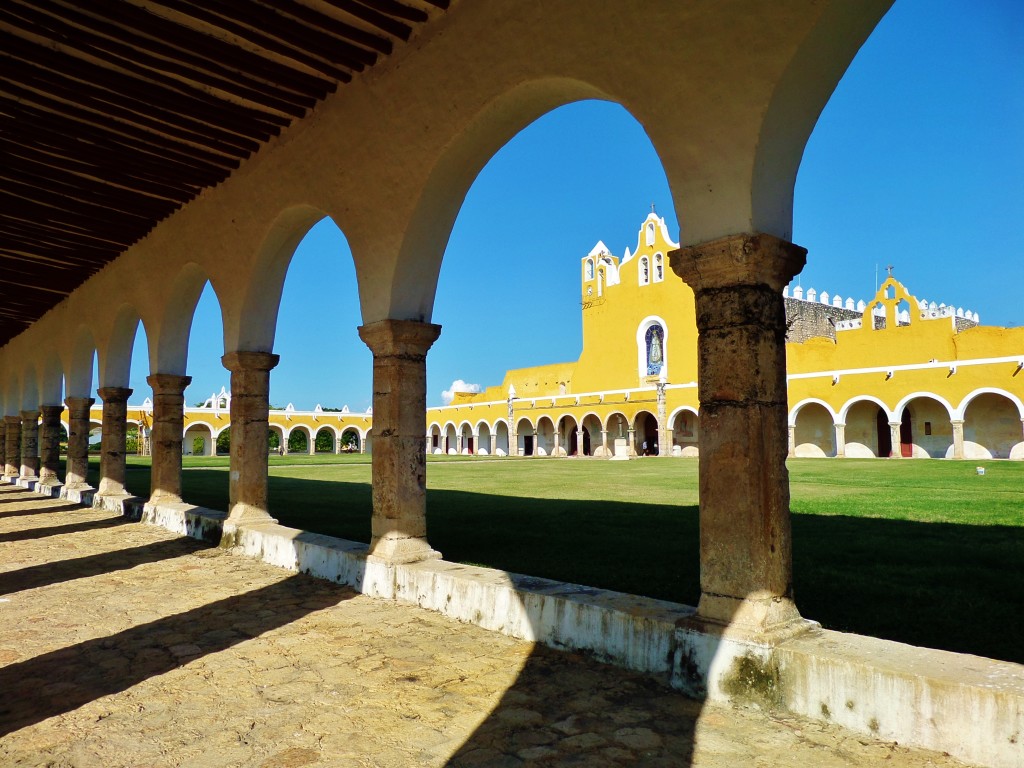 Exploring Merida and the other half of the Peninsula for the weekend
The City of Merida is not only the capital of Yucatan State it is the largest city on the peninsula. It is culturally rich and has a lot to offer people coming there. You will get a different feel then Quintana Roo and that will make it feel like more of min vacation.
So what is there to do in Merida? Well there is a lot to do here. There are museums, art galleries, a beautiful old theater, more colonial architecture then you can take photos of, haciendas, a grand avenue and historic center. To prepare for a trip to Merida, see our video and guide here.
Merida is at least an overnight trip and even better if you can spend two nights. If you have time while on this side of the peninsula, there is a tourist route that goes south of the city to visit old haciendas, Mayan ruins and more! Some of the things to see here is Hacienda Yaxcopoil, Uxmal Mayan ruins, and the Choco Story Chocolate Museum. Tip: residents get in free to Uxmal on Sundays.
Staying to explore the Ruta Puuc and Southern Yucatan
If you have time to explore the Southern Yucatan, here is one expat that has a guesthouse for you to stay at. You will find the area is a gateway to the Mayan area the host can connect you with many local attractions and people. For more about Via Neshima Guesthouse see our article and video here.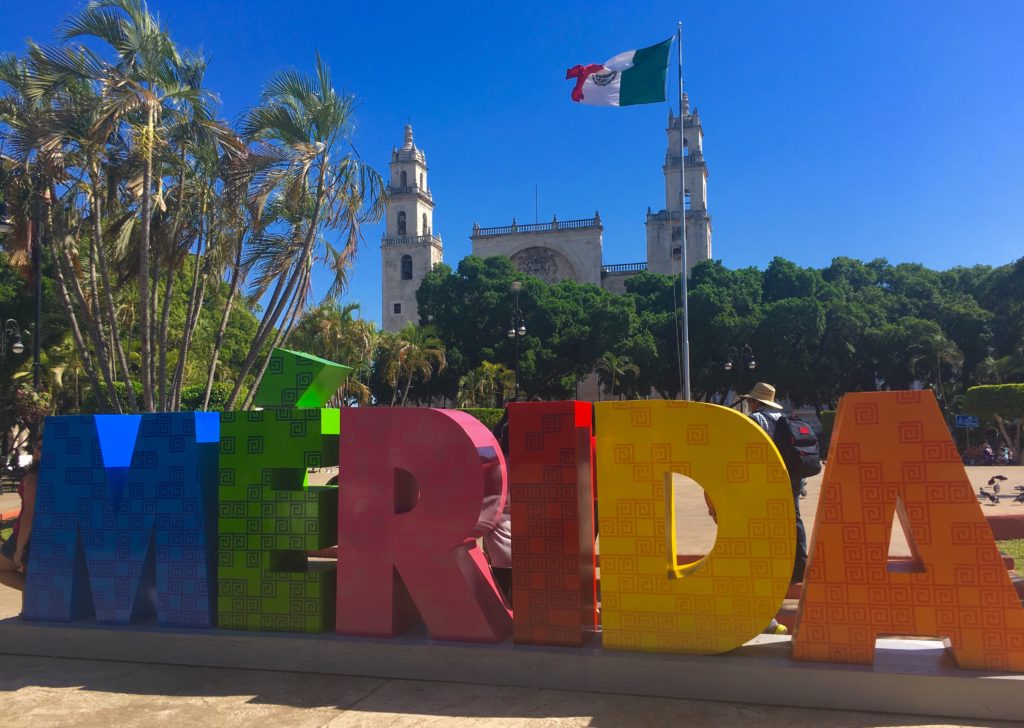 For more reading on things to do from Playa Del Carmen, you might just love our interactive map that shows places to visit in the whole peninsula. You can also see our guide to cenotes near Playa Del Carmen here for more options.
Reserving hotels and getting the best rates
While you are planning for your weekend you might like to take a look at the search box below. This search engine combines search engines to find the best prices for you. It is a great site we have found and use.
Where do you like to go on the weekend? Do you have some good tips for other readers or a place we should write about? Let us know in the comments below.