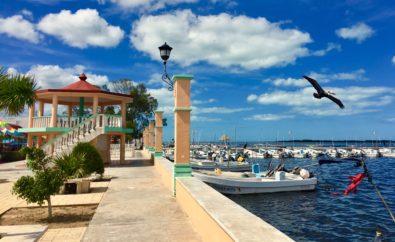 San Felipe Yucatan
San Felipe, Yucatan is a small and colorful fishing village at the tip of the Yucatan Peninsula. This town does not receive a lot of tourism but if you have the opportunity to visit, you should. Normally it is very breezy here which makes a nice reprieve from the warm Yucatan. This naturally beautiful area will also be a good place for nature lovers. San Felipe is a peaceful place to spend the day or overnight. Here is our overview of visiting San Felipe.
Our video introduction to San Felipe
We have visited many times to this charming town but on one day we made this video to share with you and show you a little what it is like.
What to do and see in San Felipe
Beside seeing the malecon and all the fishing boats you can see the following things in San Felipe:
Colorful wooden houses.
Decorated cemetery at the entrance of the town.
Enjoy a fresh seafood meal at one of the local restaurants.
Visit the tourist pier and see what tours are available. Tours range in price from about 600-1500 pesos per boat. The tours are run by the fisherman's collective. This mean they all share in the profit, and it is an added incentive to preserve the natural area. Here is an article and video about the tours you can take here in San Felipe.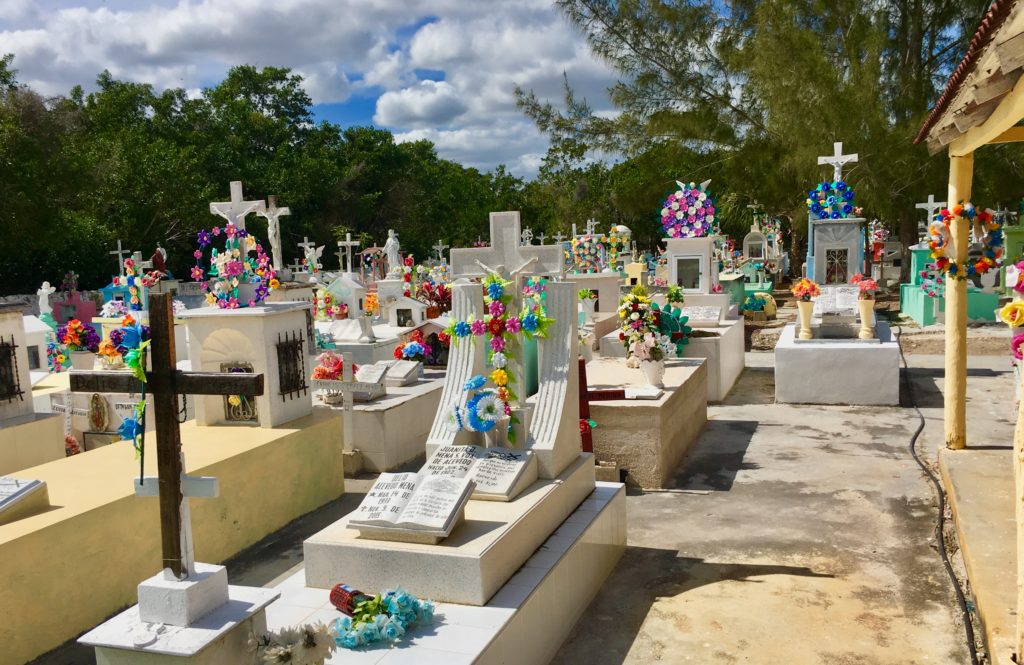 What is around San Felipe to see?
The best two destinations nearby San Felipe are Rio Lagartos and Las Coloradas. These two destinations highlight natural beauty and are unique in their own right.
Rio Lagartos
Rio Lagartos is another small fishing village that is situated on an inlet. This town is not beachfront but rather on a ria. This is a salt river of ocean water that looks like a river. This is the larger town compared with San Felipe, but not by much. The main thing to see in Rio Lagartos is birds, especially flamingos! This is one of the best places in the Yucatan Peninsula to observe them.
Boat tours leave in the morning from Rio Lagartos to explore the ria and bird watch. For more on visiting Rio Lagartos see our article here.
Las Coloradas
Salt making has been around for centuries in this area. In fact, the Mayans traded salt from this here. Today large pools of sea water are evaporated leaving microorganisms in the water that leave it looking pink. This other world looking place is a hit with many people because it is so unique. See our article and video on visiting Las Coloradas here.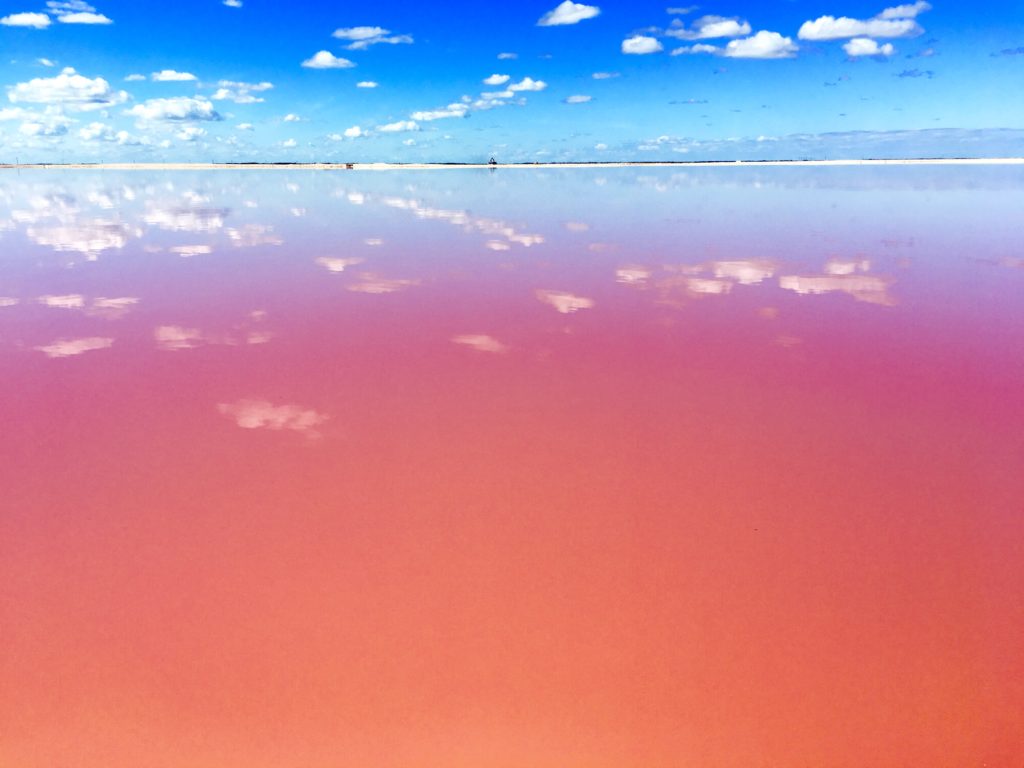 Dzilam de Bravo
Dzilam de Bravo is the town just west of San Felipe on the other side of the reserve. In this town, it is a great jumping off point for some tours to the reserve. See our article and video for more info.
Where to eat in town
There are a few small restaurants dotted around town. Almost all serve seafood. The main restaurant is Restaurante Vaselina. This large palapa restaurant gets the bulk of locals and people visiting. It has a fresh menu and good service. The ocean breeze blowing in is also a perk.
You can find this restaurant just west of the center on the malecon.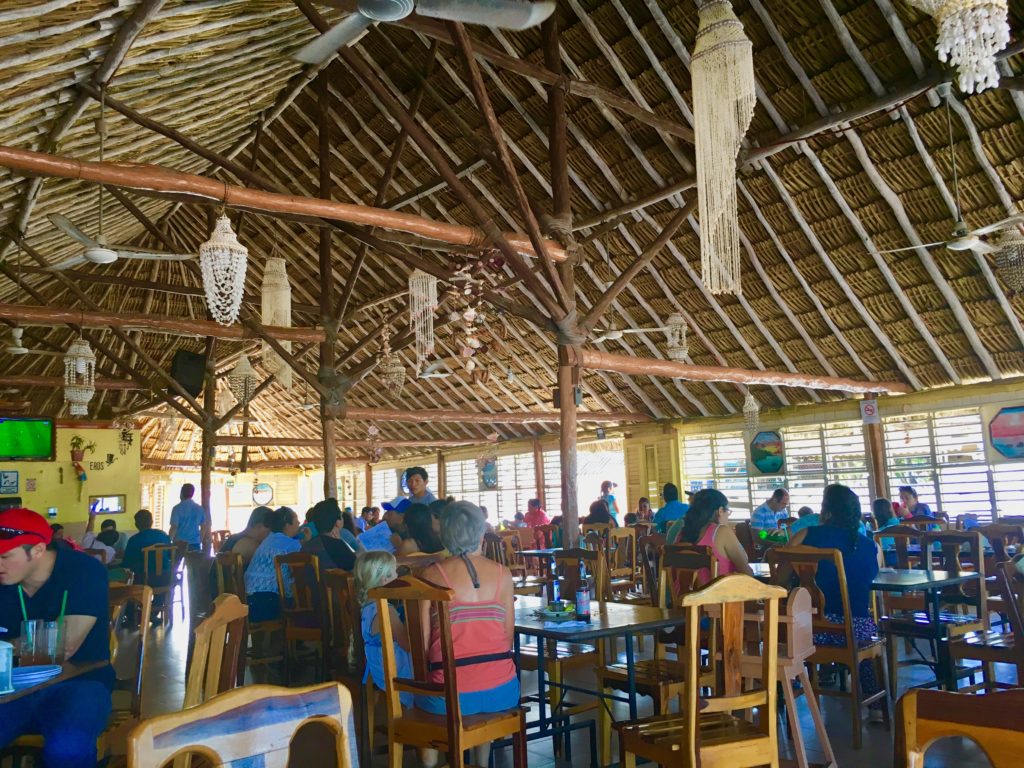 Want to spend the night?
Most people visit during the day and leave. There are a few posadas (small family hotels) in town. There is very little online, and you can just stop by when you are there to see if they have a room. Prices are very affordable (400-1000 peso range).
For people wanting to spend time in the area to take a flamingo tour, most people prefer to stay in Rio Lagartos. There are about three good options there. You can see in the hotel box below options.
How to get to San Felipe
For most people you will be coming from the 180 Highway that crosses the peninsula from Cancun to Merida. At the juncture with 295 you will follow this road north through Tizimin. From Tizimin to San Felipe it is about 50 minutes. You continue on 295 until you reach the turn right before Rio Lagartos. Take a left and follow this road into town.
Tip: If you are coming from Playa Del Carmen this trip will take you about three hours. So this makes it a little hard to do in a day trip. Maybe plan on an overnight or a visit in conjunction with another destination nearby.
You can drive all the way to the malecon (seawall boardwalk). The town is small and there are only a few streets. Parking is available on the street or along the malecon.
Have you been to San Felipe? What did you think? Do you have questions about visiting? Let us know below in the comment section.