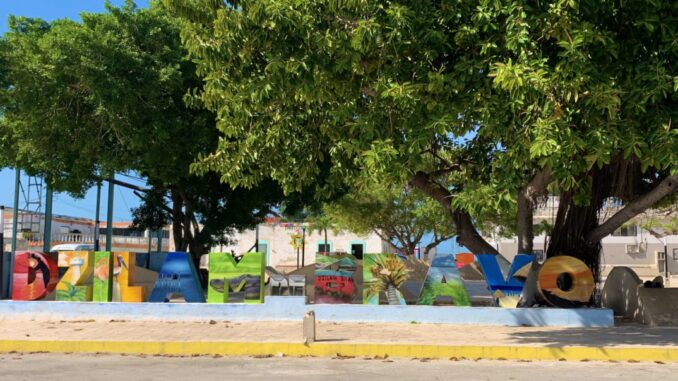 Visiting Dzilam de Bravo
Along the tip of the Yucatan Peninsula, you can find small fishing communities. Dzilam de Bravo is a small fishing town that has access to one of the nature reserves on the peninsula. From Dzilam de Bravo you can take several tours into the reserve where you can visit virgin beaches, see birdlife and swim in cenotes. There is not a lot to see in the town itself, but the tours are really what brings people to the area. With a little planning, you can have a great visit to Dzilam De Bravo.
What is there to see in Dzilam de Bravo?
The main thing to see in Dzilam de Bravo are the eco tours to the reserve. The town itself is a small fishing village with no beaches in front of the town and not much to see in town. So, the tours are what really make Dzilam de Bravo stand out. Each town along the coast is a little different. Some have tours, some are fishing villages, some have coconut plantations, and some have good beaches. Dzilam de Bravo is most known for the tours to the reserve. The reserve is one of the most protected parts of the coastline and encompasses about 69,000 hectors or 170,500 acres of protected land and sea area.
Our video of the tours from Dzilam de Bravo
We love going in person to see what places are like and what they offer. Here is our brief video about visiting Dzilam de Bravo.
Everything you need to know about the tours
Tours from Dzilam de Bravo are arranged by the local cooperative. This way everyone shares in the tourism income and tours are organized so that protection of nature is respected and there are not too many people visiting each area daily. Ask anyone in town and they will be able to point you in the right direction or offer information on tours. The main building for the tours is along the waterfront on the east end of town. The building is well marked and has parking. Here you can get an explanation of the three main tours they offer. Most of the information and guides speak Spanish only.
Tours range from 2.5-3.5 hours long. Tours leave all day, but the mornings are better for birdwatching and calmer ocean for taking the boat out. Prices for tours are per boat. Prices for tours range from 1000-2000 pesos to give you a general price guideline. You can take a private tour for you and your group or possible share a boat to cut cost.
The main things to see on the tours are:
Cenote bubbling up in the ocean. This cenote pumps 300 liters of fresh water into the ocean an hour. In 2013 National Geographic published an article about the divers that dove into the cenote to find the source of the water. After diving part of it and using an underwater drone, they discovered the source from the mainland. On the tour you can swim in this cenote in the ocean.
Inlets for bird and wildlife watching.
Punta Arena. This is a sandy point that has about two feet of water. Your boat tour will take you here and you can get out to walk around and take pictures on the swings.
Cenote Elepreten. This cenote is on the mainland in the mangrove. There is a new boardwalk that goes through majestic mangrove to reach the cenote. The cenote has clear water surrounded by big ferns and trees. The cenote is beautiful and one of our favorites because of the setting.
Virgin beaches. All along the coast here you can find natural looking beaches.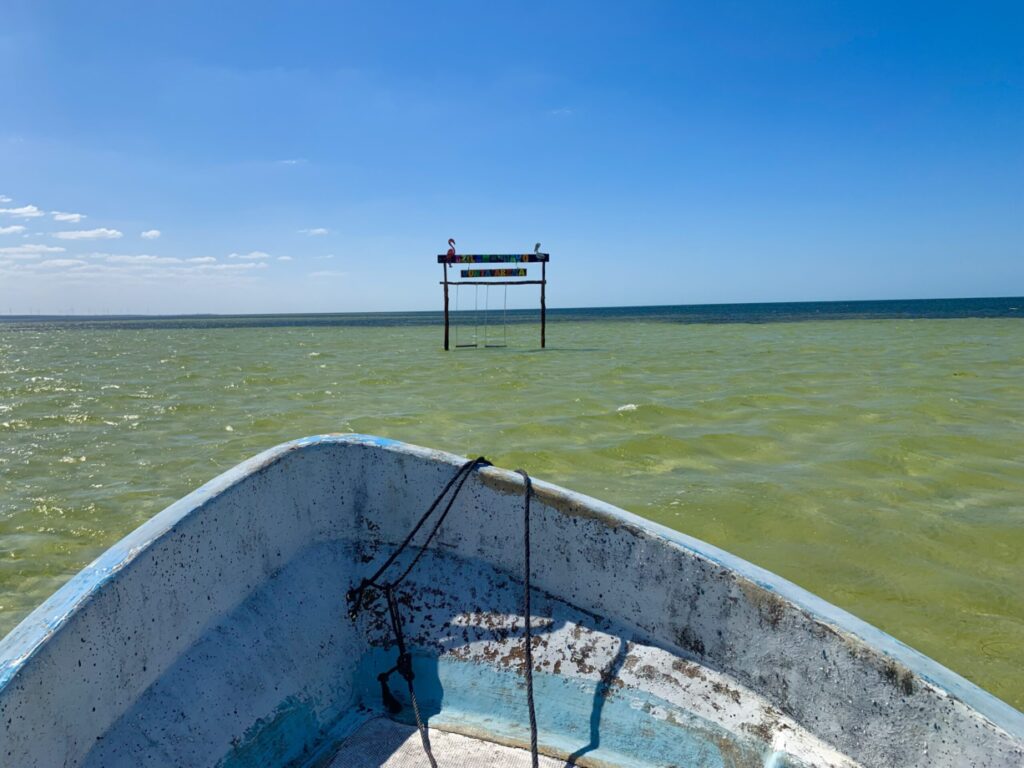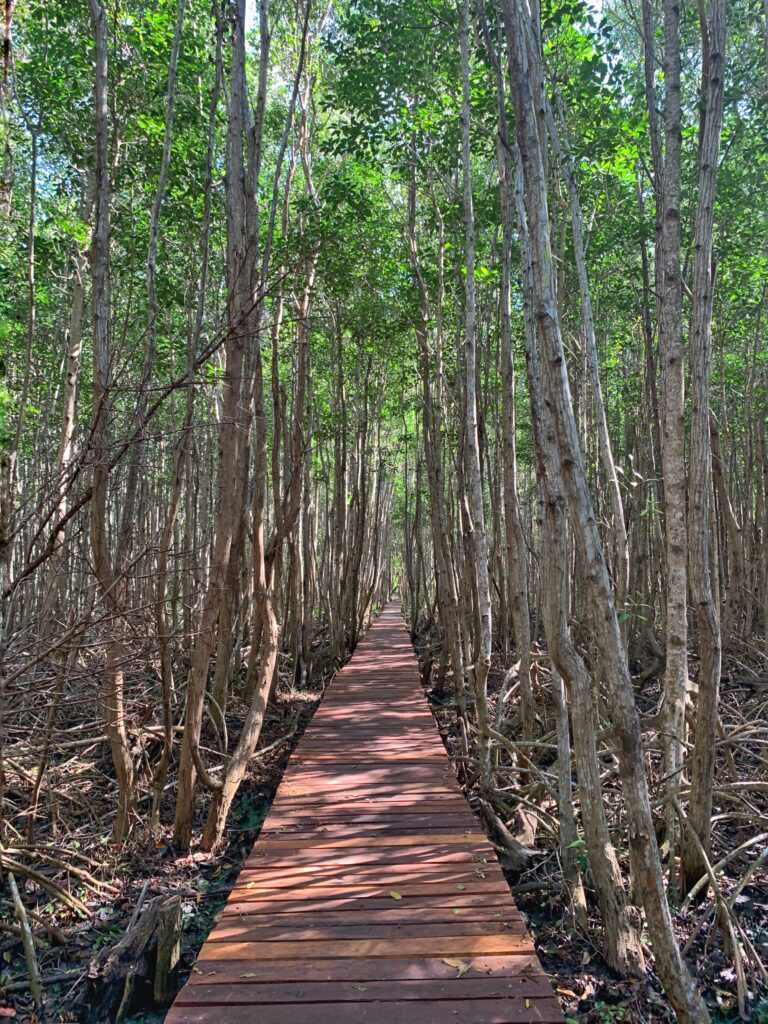 Where to stay in Dzilam de Bravo
Tip: Staying a minimum of two nights will make it better to take the tour and relax. Since most people come for the tour, having time for that is important. If the weather is not good for the tour, you have more options if you stay two nights. Also, most tours are 2.5-3.5 hours, so any tour in the morning will mean you need to checkout before your tour, and you won't have a place to shower and clean up.
Tip: Any place that is on the water and has kayaks, this is a good option for a stay and some activity. The water is often glasslike in the mornings here.
Options for places to stay
If you search hotel booking websites, you mainly find only one option that is in a hacienda which is not in town. This is an option, but you will need to drive to town to take the tours and if you want to eat out.
There are several posadas in Dzilam de Bravo. Posadas are small family run guesthouses. These are more economical than hotels. However, you will not find this listed online, and you will need to find them to ask if they have availability.
There is one hotel that is actually pretty cool. It is called Cabañas Perla Escondida de Dzilam de Bravo. This hotel started with rustic two-story cabins on the beach and has now expanded into a larger hotel with pools. This hotel is not on any booking sites which makes booking harder. The only way to book is by calling them. Often this hotel is booked up two weeks in advance, so you need to make a reservation early.
The last option is booking an Airbnb. There are mor options here and having a place to yourself for a stay makes for a relaxing getaway.
Where to eat in Dzilam de Bravo
Being a small fishing village where locals cook at home and don't go out often, means less options for eating. There is not a big footprint of tourism in the town, so most places cater more to locals. The food is good, but do not expect gourmet food options.
There are a few small restaurants in town. All of them have shorter hours and none of them are open all day, so planning is needed. Here are some options for eating while in Dzilam de Bravo.
On the main square there is a small market. Many people get a bite to eat in the morning here. There is a very good juice and smoothing stand in the market also.
Also on the main square is seafood restaurant. It is open for lunch but closes in the early evening, so plan accordingly.
There are a few spots along the "malecon", seafront boardwalk. One restaurant is even in the water on stilts.
You can find many small places in town that offer sandwiches for breakfast and lunch.
If you stay at a hotel, see if there are meals available. The main hotel in Dzilam de Bravo offers meals and this is a good option.
If you rent an Airbnb you can stock up before getting to town. There are only very small stores for food available. Bring what basics you need and any gourmet ingredients you might need along with alcohol since there is mostly only beer and cheap alcohol available.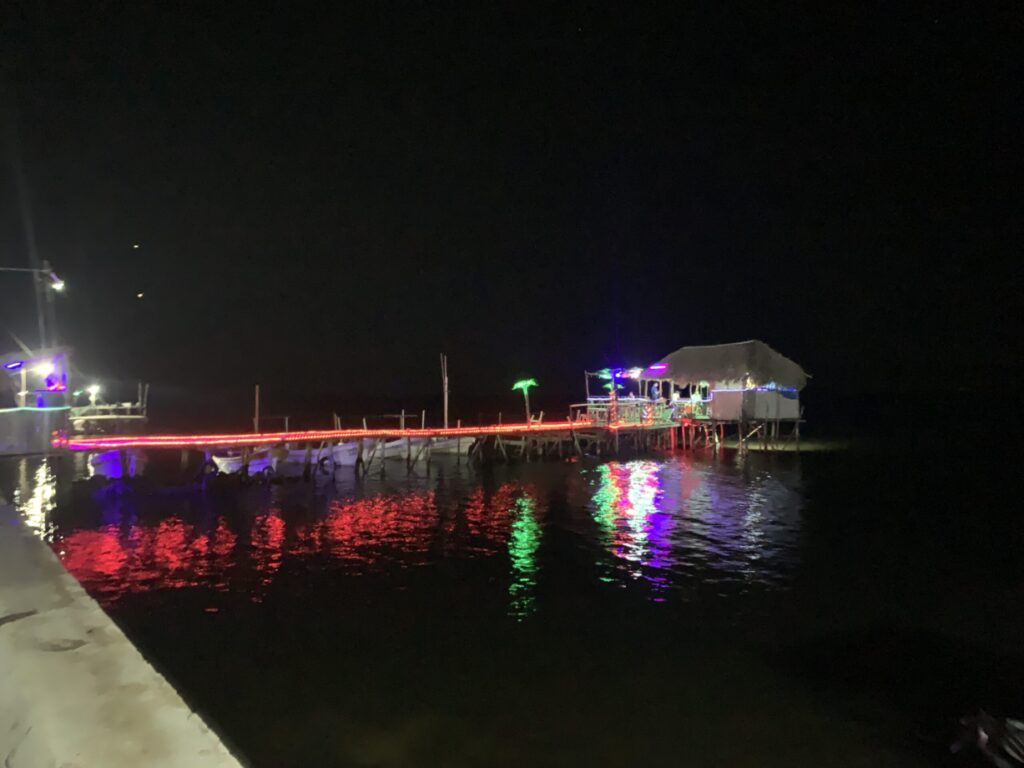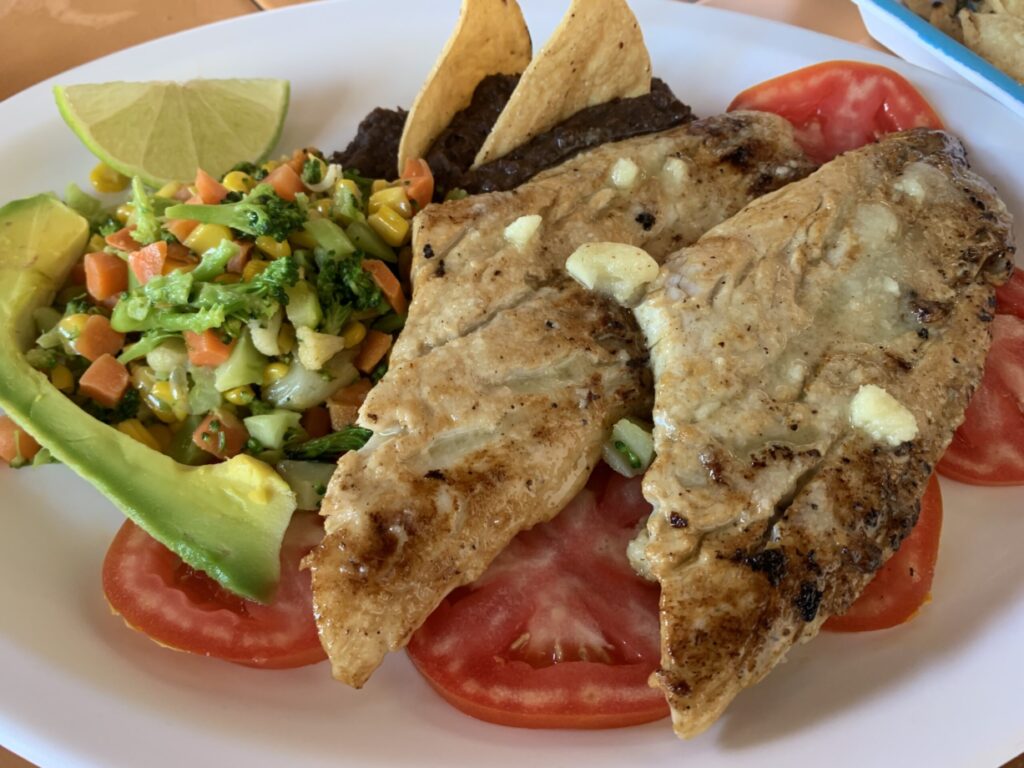 How to get to Dzilam de Bravo
Dzilam de Bravo is in the center of the Yucatan Peninsula at the tip. It takes 1 1/2 hours from Merida and 3 1/2 hours from Playa Del Carmen to get to Dzilam de Bravo. If you are coming from Playa Del Carmen, part of the trip will be on a toll road. Having your own car is the best option for visiting the area.
Without your own transportation, it is hard to get to the area. There is a local bus service that connects Tizimin and Merida with a stop in Dzilam de Bravo. Noreste is the bus company that offers service. Expect local service on the bus with many stops. Ask at the ticket booth for the timing, often it is one or two hours longer than driving. There is a Noreste bus terminal in Dzilam de Bravo.
The only other alternative is the combi vans from Merida to Temax. These small vans offer faster service to the area. From Temax you would need to take a taxi the remainder of the 29 minutes to Dzilam de Bravo.
What else is there to do in the area?
If you plan a weekend getaway for Dzilam de Bravo, this is a great trip for locals that might live on the peninsula. This is why we list it in the locals weekend guide to get out and explore. If you will be spending more time in the area, here are some things to check out.
Rio Lagartos is the larger of the two towns (San Felipe and Rio Lagartos). Here you can do tours to see wildlife and the salt flats.
Las Coloradas is the place know for the pink lakes.
Overall, this area of the Yucatan is a great place to get away from mass tourism and enjoy nature. It does take a little planning and not everywhere will offer top end accommodations or meals, but it can be rewarding to be so close to nature.