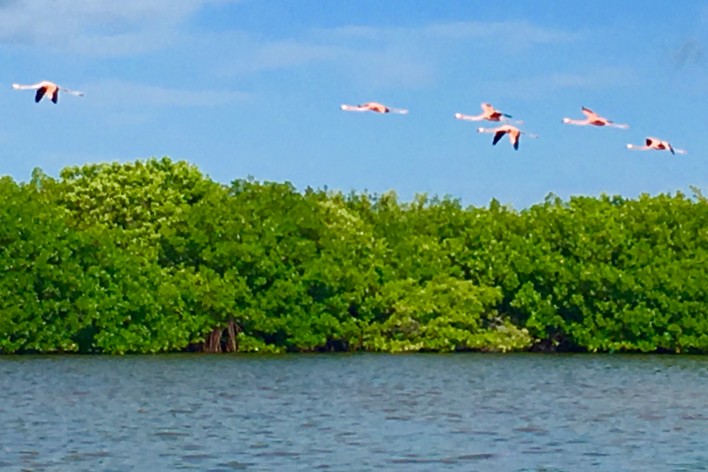 Rio Lagartos Mexico
Rio Lagartos Mexico is a sleepy fishing village at the tip of the Yucatan Peninsula. Not only is this a charming place to see a real working Mexican fishing village, it is also a great place to observe nature including flamingos. Most people come here with a tour in mind. Here is everything you need to know about visiting Rio Lagartos.
The biodiversity of the area
The area where the town is found is part of a 150,000 acre reserve(60,347 hectares). There are some 395 species of birds here and it is home to about 40,000 flamingos. Here you can find the largest flock of flamingos in the Yucatan. There are also some 58 species of mammals found here.
The immense natural beauty of the area is relatively unspoiled from mass tourism and an adventure here can reward you with sights of nature and tranquility.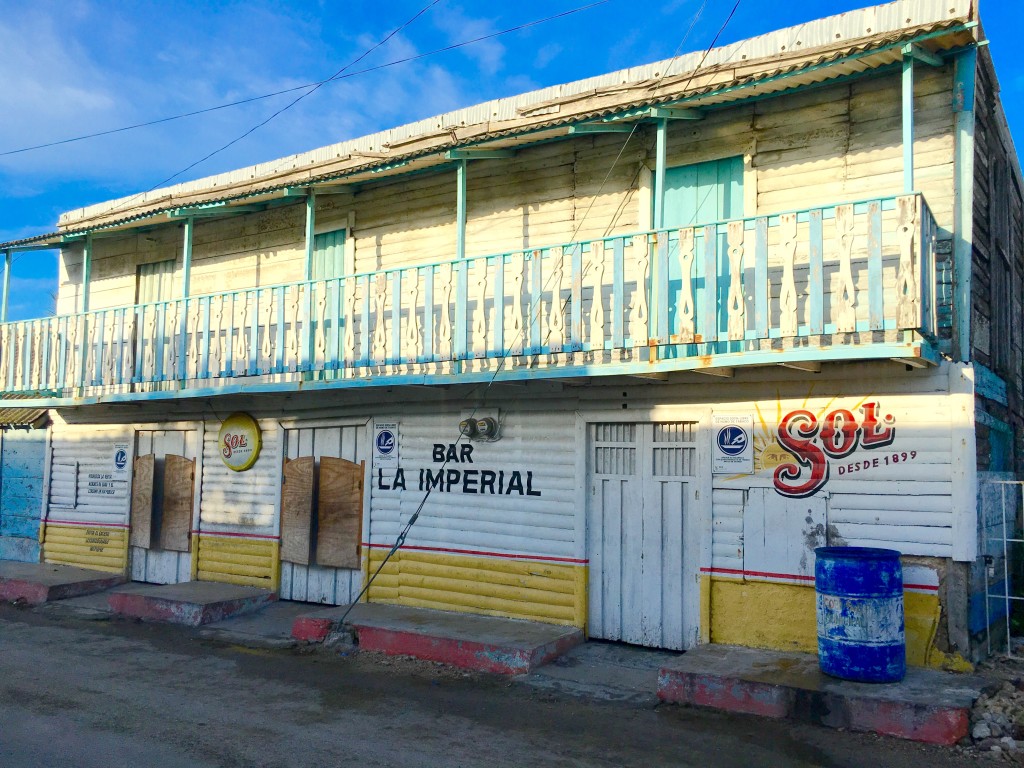 Rio Lagartos Yucatan
The town seems to be stuck in time with colorful fisherman's houses and a boardwalk along the waterfront with a lighthouse beaconing to passing fishing boats. It is easy to walk the whole town. If you drive here it is easy to park and just walk to see things.
Since you will mostly likely be spending the night so you can take a tour in the morning, it is nice to wake up and watch the sun rise. See how peaceful it is in the video below.

Is Rio Lagartos on a river?
No it is not. It is a little confusing by the name. It is actually on a "ria". A ria is a place where the ocean comes into an inlet. This large area looks like a river and it becomes the home of mangroves and countless animals.
Rio Lagartos Tours
The is one main tour everyone comes here for. It is a boat tour to see the flamingos and then they take you to a few other spots like Las Coloradas.
When you drive into town there will be touts stopping you and offering tours. It is best to settle into your hotel and then walk around the town and get information. Take your time choosing a guide and asking prices. Not all guides speak English.
Tours are mainly in the morning because it is cooler and out of direct light and you have a better chance of seeing more wildlife.
What you will see on a tour of Rio Lagartos
Tours start at the waterfront. First you will go see the flamingos. These birds are often feeding on shrimp in the shallow waters. even though flamingo fly to other places in the Yucatan Peninsula, there can always be some found here. don't pressure your captain  to get too close to the flamingos. There ere are restrictions so as to no disturb them.
Interesting Fact: Flamingos only lay one egg at a time and both parents will sit on the egg.
Next you will go up the ria and observe nature. Your guide will stop if there are some noteworthy animals or a crocodile.
Your tour will take you to the backside of where they mine salt from the ocean. There are pools of super salty water that are similar to the Dead Sea. You can float in these with ease. You can have your arms and legs up out of the water and still stay afloat. Just don't get the water in your nose or eyes because it is so salty it will burn.
Sometimes these pools will have pink color and are very interesting to see and take photos of. Just beyond this location is Las Coloradas. This is a salt mining area. See why the water is pink here.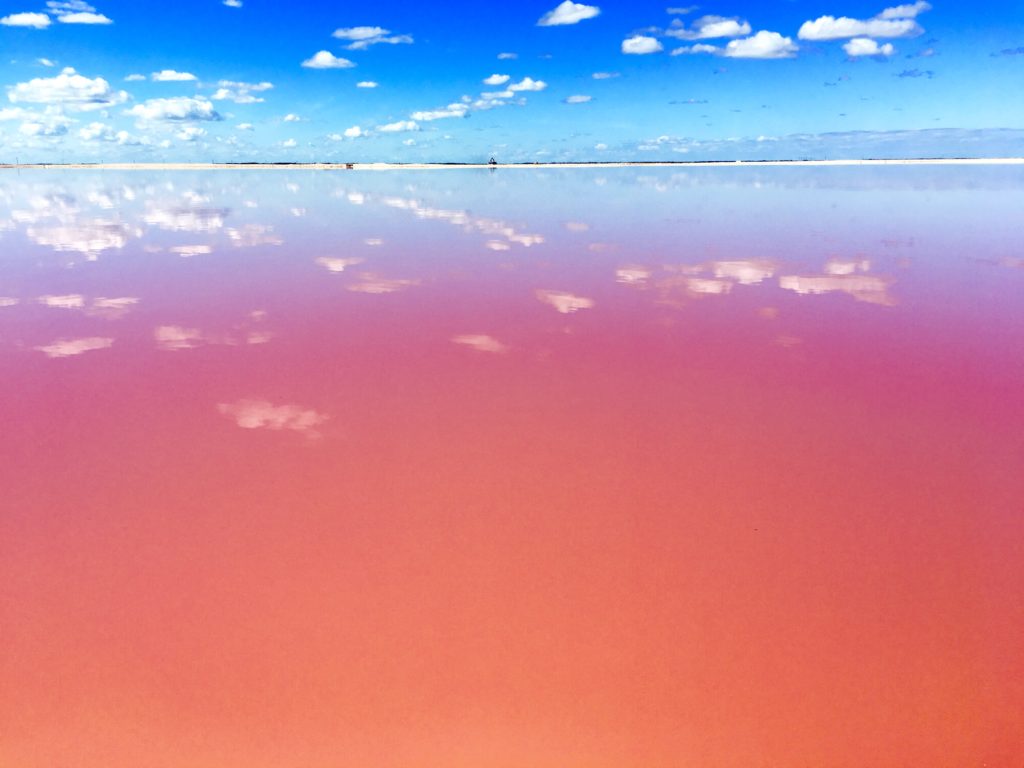 Next your guide will take you to a shallow water area where you can take fine white mud and cover your body. Think of it as a spa treatment. This is a fun thing to do and makes for good photos. It is actually cooling and blocks out the sun to your skin. You can let the mud dry on your skin while you take the boat back toward town where you will stop at a cenote and rinse off.
Overall this tour is fun and good for most ages. It is a good value and it is nice to support eco tourism.
What you should take on this tour
Swimsuit and towel.
Waterproof bag or something that will keep things a little dry.
Bio degradable sun screen and bug spray.
Possibly a sun hat and sun glasses.
Your camera.
Water shoes work well on this tour. You will be walking a little  in the water so sandals tend to come off your feet. You can always go barefoot.
Other Tours in Rio Lagartos
Alternative tours are taking a night tour to see the crocodiles, fishing tours or taking a boat to the virgin beaches. It should be noted though that there is not too much tourism in this town and you might be the only people there looking for a tour. This might not be a problem for you but just be prepared to pay for a whole boat if there are no other people.

Here is also another tour option. Since most of the above tour options are for people that drive themselves there, there is a private tour available to take you here and also some of the other tourist spots in this part of the Yucatan such as Ek Balam ruins. You can have a chunk of your trip all planned if you book this tour. See the link below.

Private Tour: Flamingos, Mayan Temples, Rio Lagartos and Ek Balam
Rio Lagartos Tour Prices
If you arrive independently in Rio Lagartos you will need to find a boat for a tour. Prices are by the boat and not per person. The small fishing boats used for the tours hold up to 6 people. There is not a hard fixed price for tours and kind of depend on the season and how you negotiate. Bottom line, the tours are not expensive compared to other tours in the Yucatan and it is supporting conservation and eco tourism so paying a fair price is doing more good then it is overpaying.
Tours can be 2 hours, 2 1/2 or 3 hours long. Tour prices for a boat are generally around 700-1200 pesos for the 6 person boat.
If you have just arrived in the afternoon or evening in Rio Lagartos the prices quoted tend to be higher. In the morning prices tend to be lower but you also don't want to wait too long and then there are no tours available.
Tip: When you have a reservation or confirmation with a tour guide, keep your word and show up. These people do work hard and do rely on the income. Don't pay in advance, pay when you go on the tour.
Rio Lagartos Flamingo Watching
Often just from town you can see flamingos off in the distance feeding. Sometimes these majestic birds fly by with their bodies undulating and the black tips of their wings showing in contrast to the pink feathers. If you go on a tour you will see these birds. They are year round in Rio Lagartos.
Tip: A good guide will go slowly around them and glide near but not too close to disturb them. Make sure you don't ask to get even closer to them because it is not good for the birds. Let your camera do the zooming.
Interesting fact: Flamingos get their pink color from beta carotene found in the crustaceans and shrimp they eat. In zoos if the flamingos did not get their regular diet they would turn white.
Rio Lagartos hotels and where to stay
Since most people come here for a tour and most tours leave earlier in the mornings, it is best to spend the night. Spending the night will give you an opportunity to see some of the nearby sights and take in this tranquil seaside town. Here are some hotels to check out. Tip: Booking on an online booking site can be cheaper then the hotel website or even trying to book when you arrive. We found deals online that were 40% cheaper! Try the booking.com link on the right and search for rooms there. That is where we found the best deals.
Hotel Rio Tabasco. This is a modern hotel with air conditioning.
El Perico Marinero Hotel. Basic hotel with pool.
Hotel Villa de Pescadores. This hotel is on the waterfront and has 11 rooms with air-conditioning.
Restaurants in Rio Lagartos
You are not going to have a lot of choices here and as far as gourmet options, so don't get your hopes up. This is a very local area with basic seafood restaurants. There are a few  restaurants along the malcon (walkway by the water) in town. The small town of San Felipe actually has more options for eating (this is the town to the west of Rio Lagartos). Expect prices to be average since most people that can go to eat in a restaurant can pay for it.
One of the main restaurants is called El Perico. It is along the waterfront in the center of town. It is open for breakfast, lunch and dinner.
Restaurant tips:
Ask to see menu and prices. Some seafood is market price and no prices are on the menu.
Alcoholic drinks tend to be cheaper in this town, so enjoy.
If you have a car, there are more restaurants in San Felipe.
How to get to Rio Lagartos
If you are coming from the east or west your trip will start on the 180 Highway. You will exit at the Valladolid exit and take 295 directly toward the tip of the Yucatan Peninsula. You will pass through two towns, Temozon and Tizimin. Only in Tizimin will you be guided through the town by signs to connect on the other side of town and continue on 295. This road takes you directly into town and the center of Rio Lagartos is so small that it is pretty easy to find your way around. The town itself is about 6 blocks by six blocks and everything is in the center.
Taking the bus to Rio Lagartos
It is possible to take public transportation to Rio Lagartos. The only disadvantage is not having the ability to see some of the nearby attractions, but taking the tour in town will get you to the most important ones.
If you are coming from Merida, Valladolid or Cancun you can take a bus to Tizimin and get a connecting bus to Rio Lagartos. It should be noted these busses are more local and will be a slow ride but not that expensive. Between Tizimin and Rio Lagartos there are about 7 busses a day in each direction.
Rio Lagartos Map
Here are some of the basic things we talk about in this guide so you can get some perspective. Google maps is not 100% accurate in this area but it give you an idea.
For more on tours from Playa Del Carmen see our article here.
Have you been to Rio Lagartos? Do you have some tips for other readers? Let us know in the comments below. We would love to hear from you.