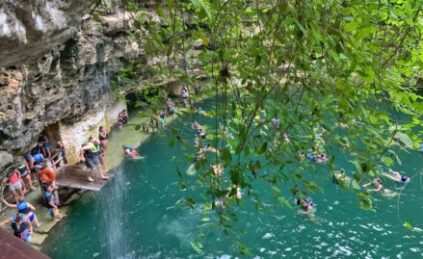 Cenote Xcajum
Cenote Xcajum is a cenote close to Chichen Itza that is becoming more well known. This is an open cenote that has iconic balconies that look over the cenote from the carved staircase leading down to the water. It is a photogenic cenote and nice place to swim. In recent years, it has grown in popularity thanks to some Instagram and Tik Tok videos.
What makes this cenote different?
As you move toward the center of the peninsula, the height of the land in relation to the ground water is more. So cenotes are "deeper". When a cenotes roof collapses, making it an open cenote, the water is usually a little greenish because of more organic matter falling into it and photosynthesis from the sun.
This cenote is large and has a lot of green vegetation around it, some of which hangs down the walls, making it very lush feeling. Once you are in the water swimming you are in another world.
A staircase was carved in the solid rock leading down to the water. This in itself is impressive. Although, there are other cenotes that have done this, this one is a little more iconic for the balconies that appear in the wall of the cenote at various levels giving people a view of the cenote.
For people with disabilities, there is a ramp to the edge of the cenote to look into it, but nothing further to access the water.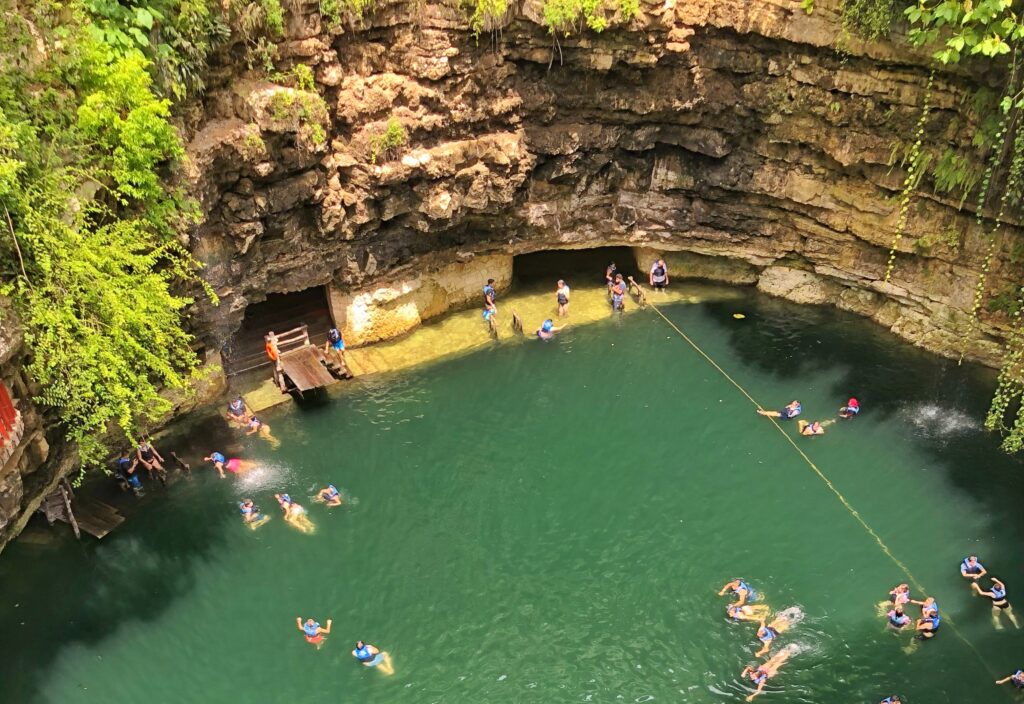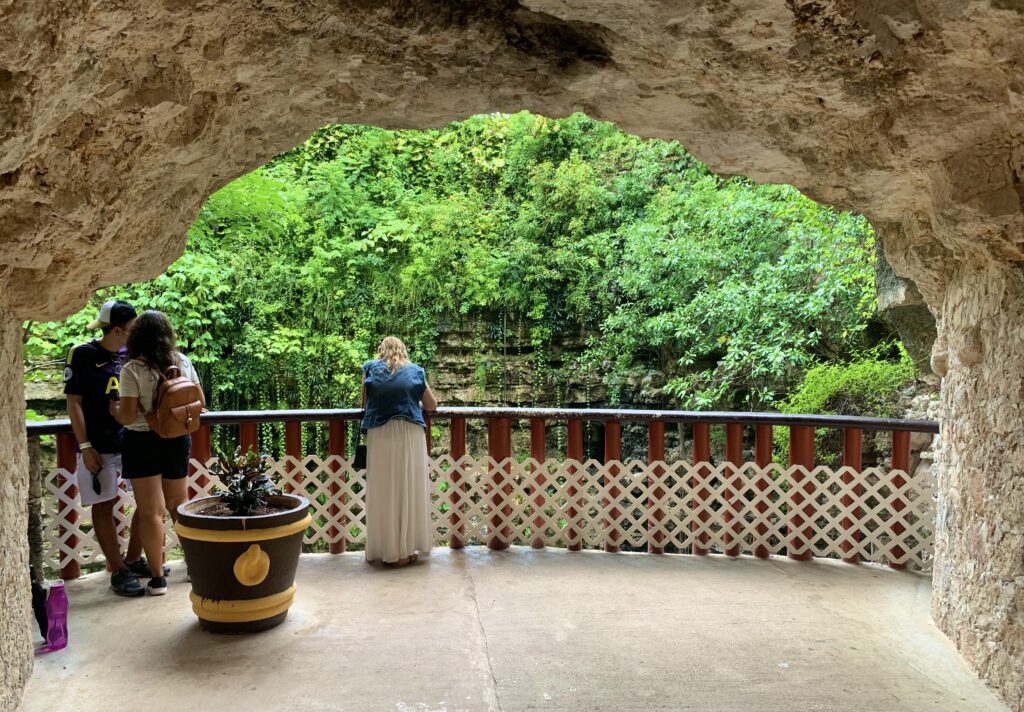 Services at the cenote
When you arrive you can change in the changing rooms, rinse off in the outdoor showers and use the lockers. There are also bathrooms.
The buffet at Cenote Xcajum
If you arrive by bus tour you might have the buffet included in your visit. If you are visiting independently, you can buy a combo package with buffet. There are not many options in this area to eat other than going into Piste or close to Chichen Itza.
The buffet offers local dishes and fruit desserts. The buffet is basic but better than some of the others near Chichen Itza where busses stop. Drinks are extra and this includes sodas and alcoholic drinks.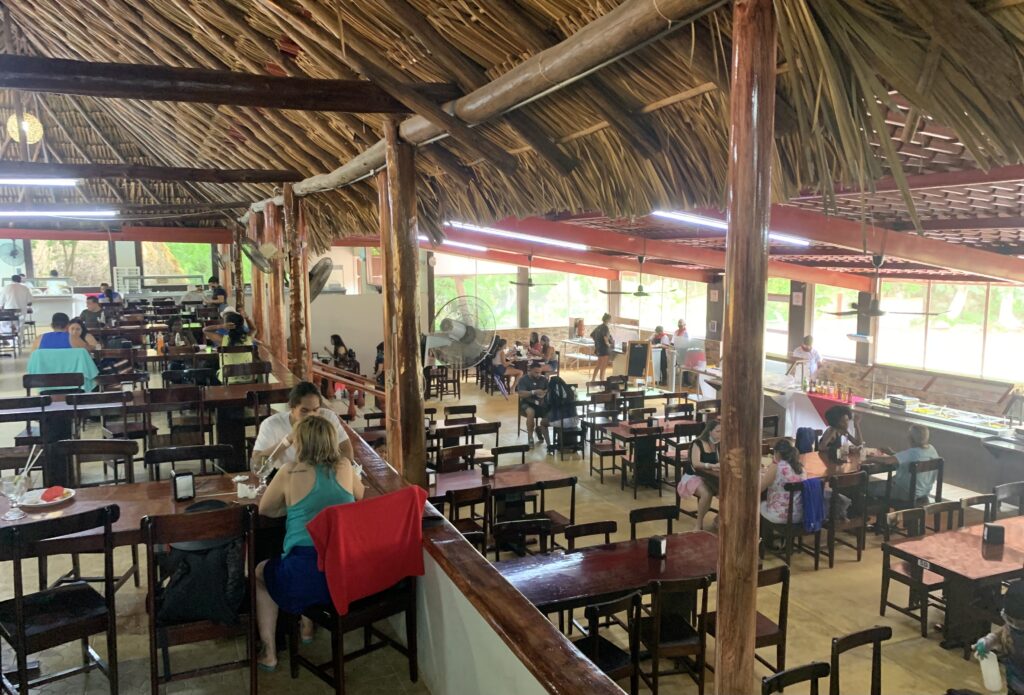 Tourist shopping
At the entrance of the cenote park you will pass through a lot of souvenirs. Much of which is low cost souvenirs that you will find in many locations. You won't find really artisanal items, you might find something that will be a good gift for someone back home. If you arrive by bus tour, you might fins something you have not seen at your hotel. If you drive here, you will find better quality items along your journey.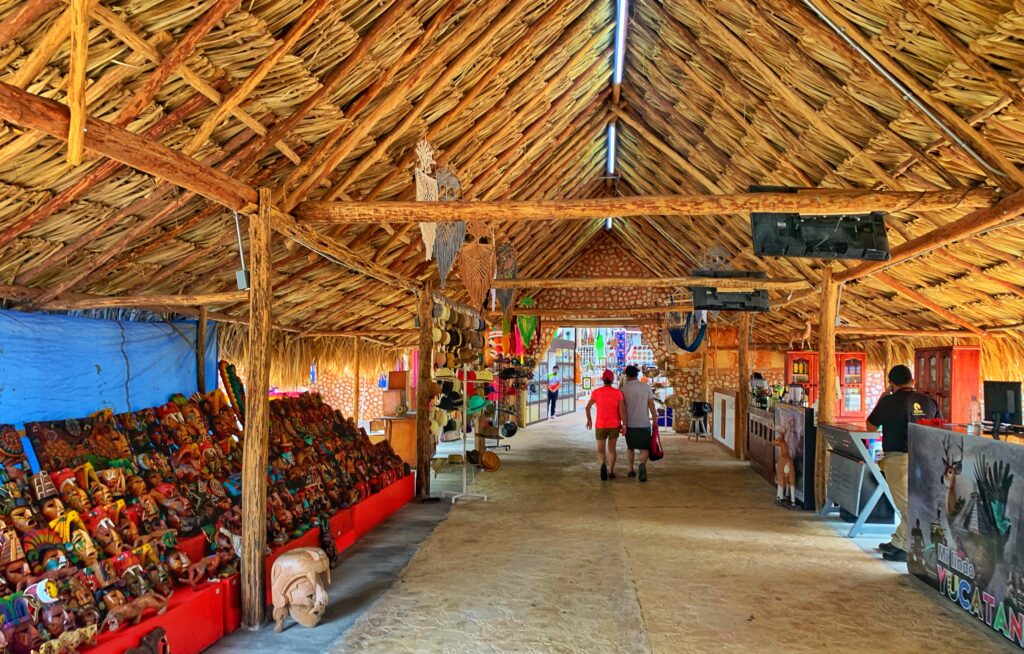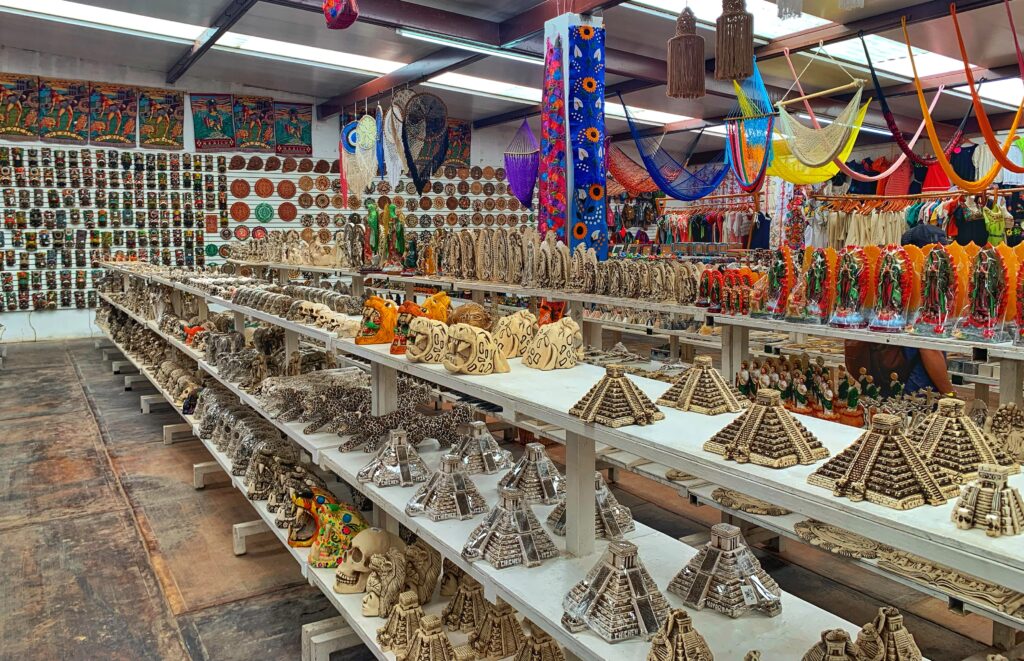 Where is Cenote Xcajum?
Cenote Xcajum is close to the small town of Dzitas in Yucatan state. Most people will either come on a bus tour or drive here themselves. There really is no public transportation to this cenote.
Details for visiting this cenote
Entrance Price: You can pay just for the entrance to the cenote. Adults are 110 pesos and children 4-8 years old are 50% off. Lockers are 50 pesos. A package to eat at the buffet and entrance to cenote is 300 pesos. There is also a package available for the cenote, buffet and ATV's.
Hours: open daily from 10:00am-5:00pm
Tip: Most of the bus tours are here from 10:00am-2:00 pm. So arriving later in the afternoon can mean less people. Just arrive with enough time to enjoy the cenote before the closing at 5:00pm.
Tip: Bring a towel for drying off. Do not use creams or sun creams before entering the water. The showers are there to rinse people off so the water does not get contaminated.
Facebook page for Cenote Xcajum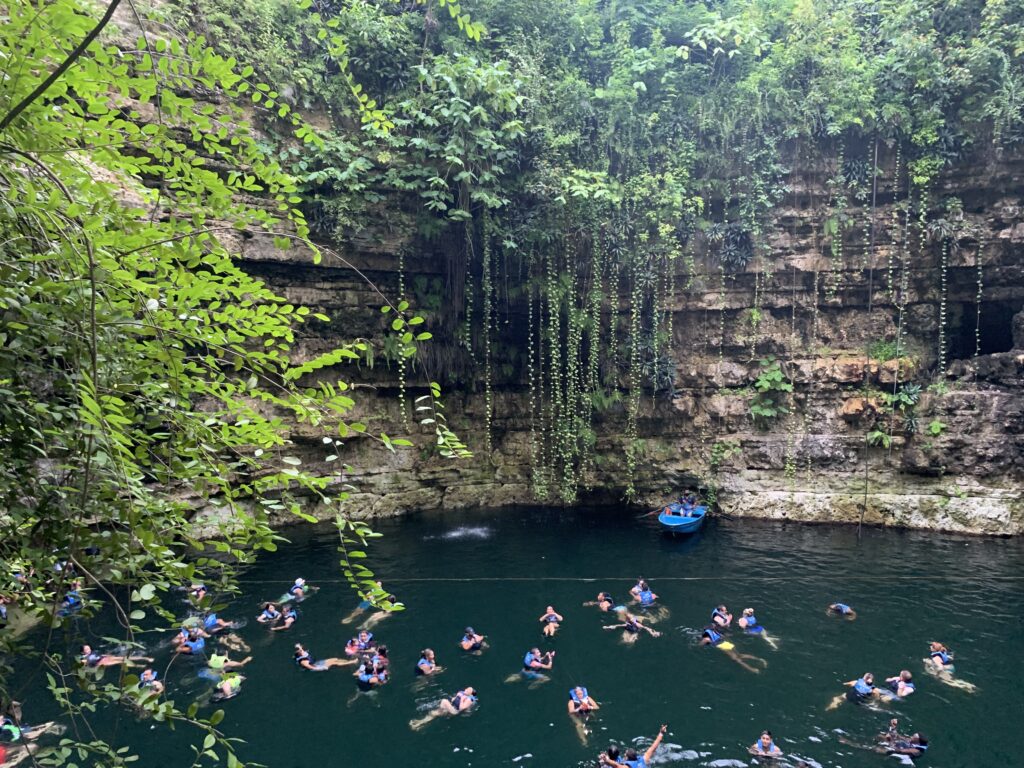 Other things to see in this area
For most people, they will visit here in conjunction with a trip to Chichen Itza. Some of the other things in the area are: the colonial town of Espita and the Cenote Chan Dzonot. This cenote is much less visited and a good option if you want to avoid groups of people.
See also our clickable map below. Each point has a link to an article and more information.