Vallazoo, the place that is great for kids
Are you looking to get out of town for the weekend? Do you have young ones that like animals? Are you visiting this part of Mexico and need some activities near Valladolid, Yucatan? The Vallazoo wildlife reserve is a great option that is just two hours from the Riviera Maya. Here you can see local wildlife in a beautiful setting and learn about nature.
The Vallazoo opened in 2014, but has been evolving into a more extensive park like area and expanding into more of an attraction for families. Below is a map of the Vallazoo. There are animal enclosures, small lakes, mini golf, canoes, cabins for staying the night, and endemic plants and trees to see.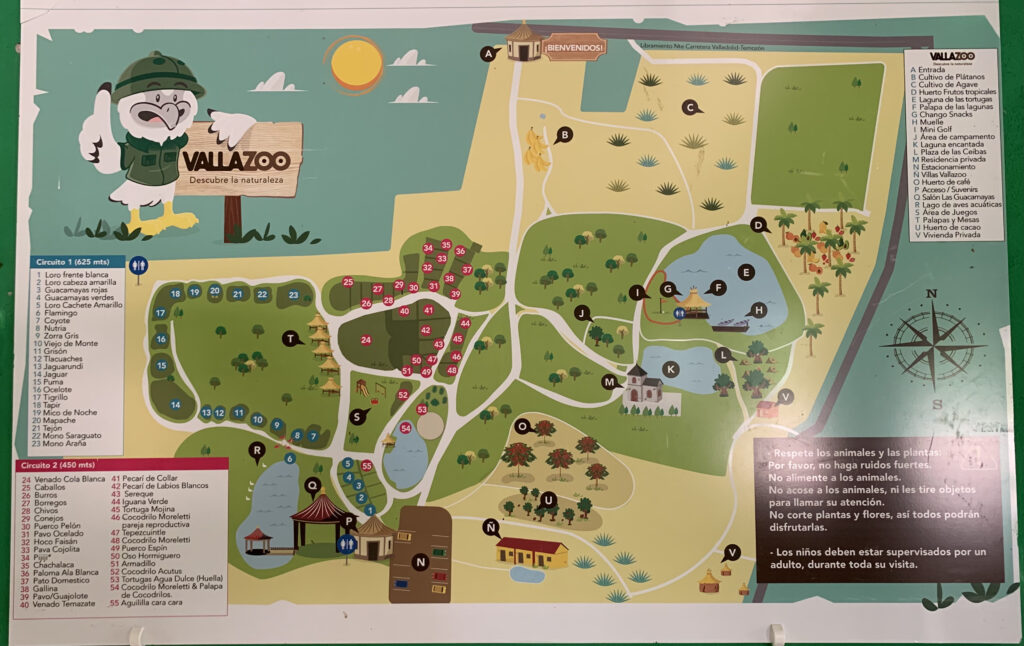 What animals you can see at the Vallazoo?
All of the animals you will see are endemic to the area. Some are endangered and some are quite common. Some of the animals are: peccaries (see photo below), coatis, green iguanas, sereques, green parrots, goats, crocodiles, turtles, a jaguar, tigrillos, deer, scarlet macaws. burros, and more.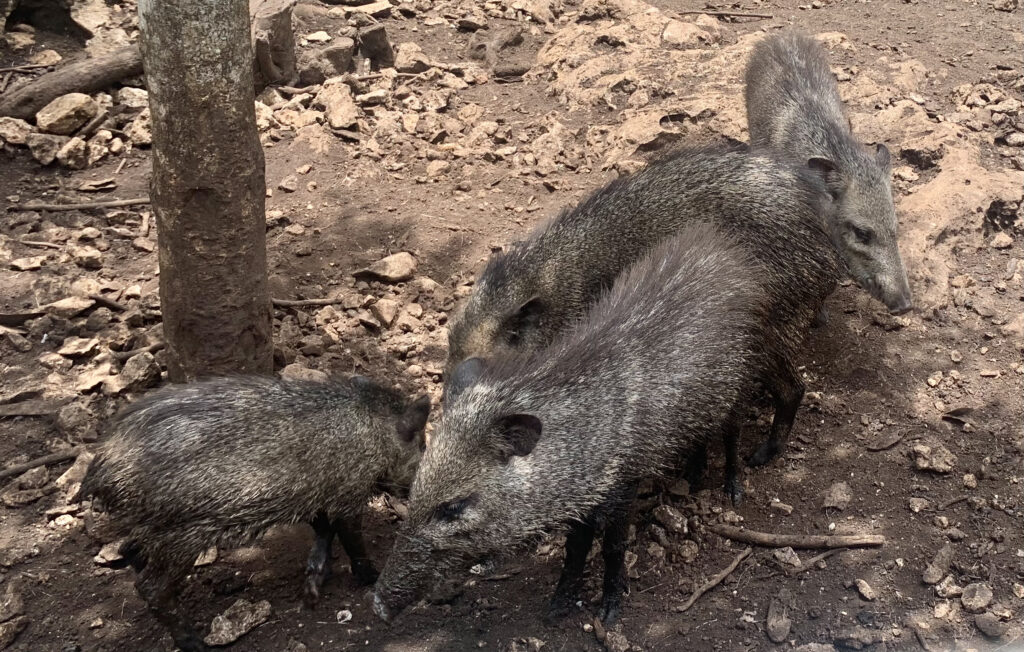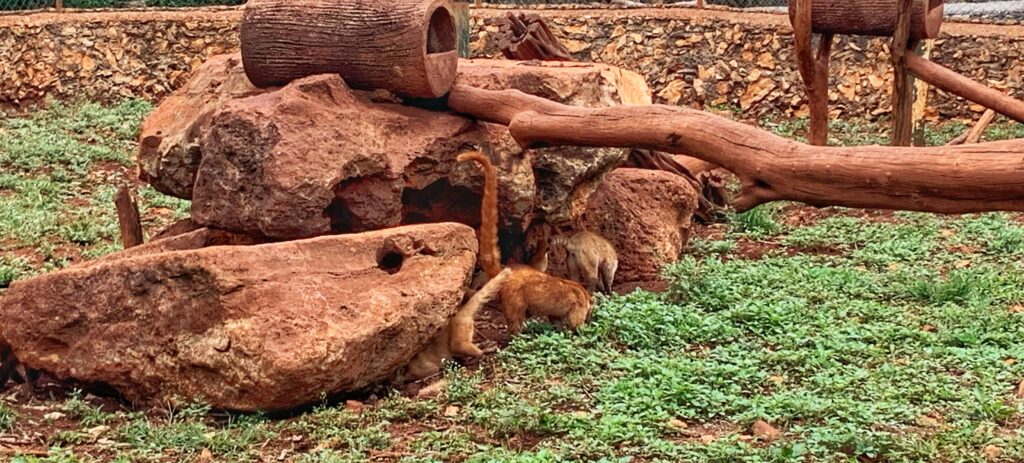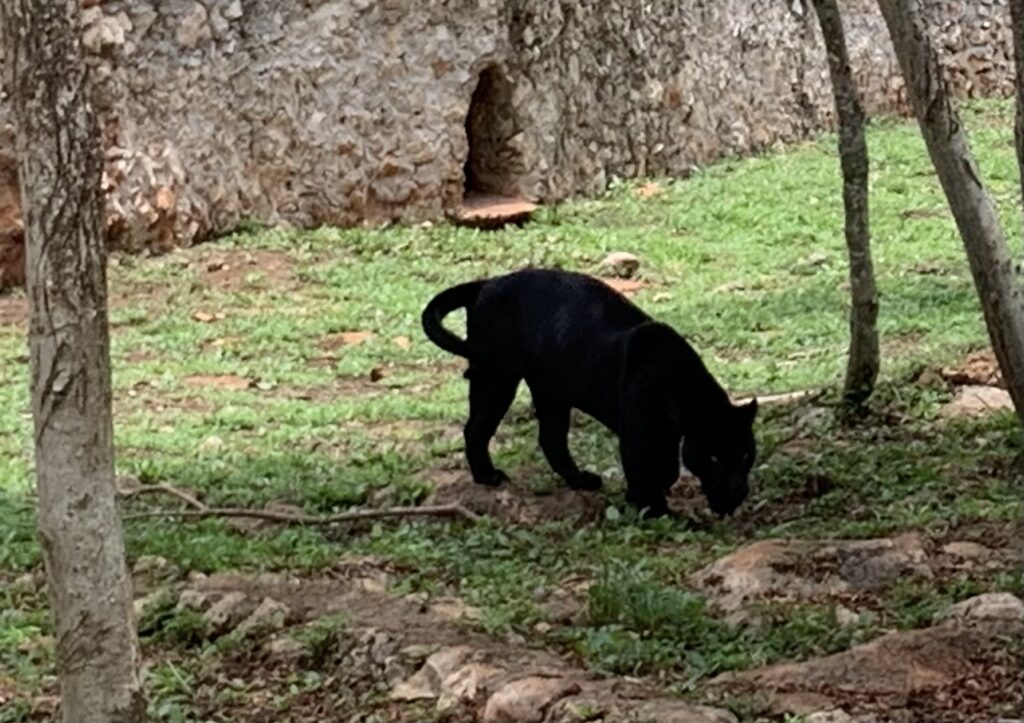 Mini golf and canoes
A few other activities are available here at Vallazoo. You can play 9 holes of mini golf. It is 25 pesos per person. The course is basic, but it is a nice setting next to the lake.
For the lake there are canoes. It is not a large lake but for 30 pesos for the canoe rental, it can be fun with the kids.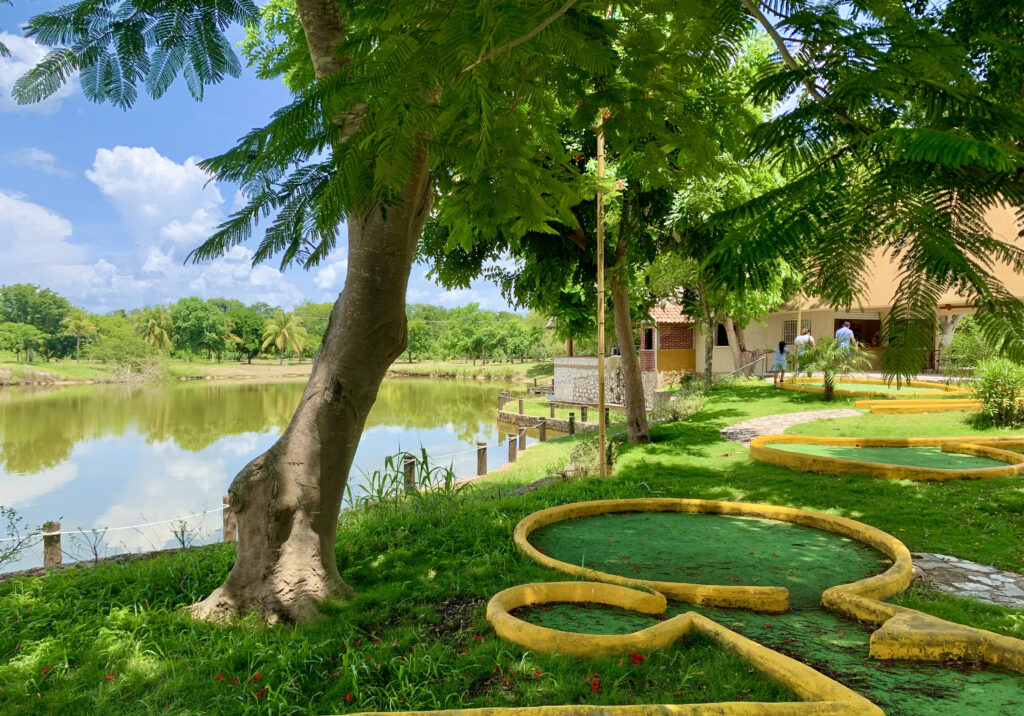 Staying the night
Since the property is large, there is one part where there are cabins that you can stay in. These are not rustic cabins, but rather nice hotel rooms that you can share with your family. You can see the rooms here and book. We recommend booking in advance since they often fill up.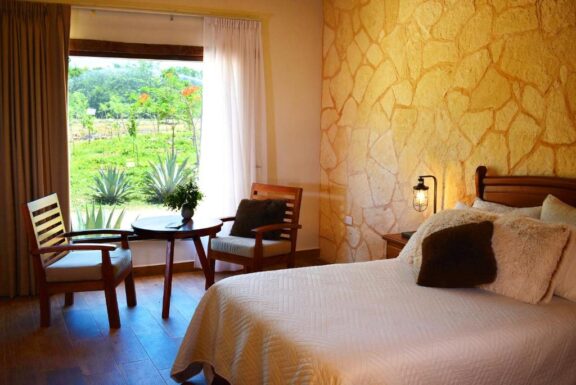 How to get to Vallazoo
The Vallazoo is on the ring road of Valladolid in the north. You can only access the entrance from the eastbound side since it is a divided highway and you cannot see it from the other side of the road. The entrance has a large sign you cannot miss. Follow the gravel road to the ticket office. Here is the best place to start. You can get all the information and pay the entrance.
Entrance price and more details for your visit
Residents of Valladolid 25 pesos
Nationals 80 pesos.
International visitors 150 pesos.
Hours of Vallazoo
Open every day except Tuesdays 9:00am-5:00pm
What else can you do in the area?
The Vallazoo is a good attraction to visit if you are in Valladolid with kids. If you want to incorporate some other attractions and activities there is a lot to do in the area. Here are some ideas.
Mayan ruins
Valladolid is a good place to base yourself for visiting Chichen Itza. There are some hotels near Chichen Itza, but you have a lot more options and also more options for dining in Valladolid.
Ek Balam is a short drive north from the Vallazoo. This ruin site gets less people and is easier to get around and see in a short time. There is also a cenote next to the ruins which is nice to visit.
Cenotes
Cenote Zaci is right in the middle of Valladolid. You can swim in this cenote or just go to admire the natural formation.
Cenote Xkeken and Cenote Samula. These two cenotes are across from each other just outside of Valladolid. You can also ride horses and ATV's at this cenote park.
Cenote Hubiku. This is a large cenote on the way toward Ek Balam.
Cenote Saytun. This is a well know cenote for photos on Instagram. It has grown in popularity in recent years.
Take a bike tour
If you want to get to know the area and some backroads, Bikers Zaci does a great job with small local tours. This can be a good activity for kids around the ages of 10-18 year old's.
See also our articles about Valladolid for more details
Have you been to the Vallazoo? What did you think? Let us know in the comments below. We would love to hear from you.