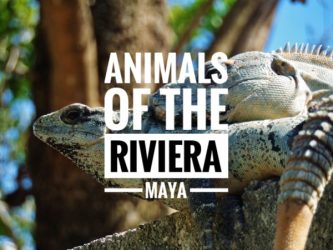 Animals that live in the Riviera Maya in Mexico Gallery
There are a lot of different animals here that you will not see at home. We have started a collection of photos that we have taken while out and about and wanted to tell you about some of the animals that live here and where you can best see them. Many times you will see some of these animals at your resort in Playa Del Carmen or the Riviera Maya. We will continue to add to this gallery so check back.
Flamingos in Mexico
Flamingos are native to Mexico and are unlike any other birds. These birds naturally live in lagoons or large shallow lakes. Their long legs allow them to wade out into water to feed that other birds cannot reach. Flamingos are a social animal and you will always see them together with other birds.
Where to see flamingos in Mexico?
In their natural habitat there are three places especially where you can see these birds in the Yucatan Peninsula. Isla Holbox is the closest location. Rio Lagartos is a natural area at the tip of the peninsula where you can take a boat tour to see these birds. Celestun is on the other side of the peninsula and is a well know for it's boat tours to see flamingos in their natural habitat.
You can see flamingos in several locations in the Riviera Maya. Xcaret has an aviary and near the entrance you will see these graceful birds. In the Playacar section of Playa Del Carmen there is the Xaman Ha Bird Aviary. This small bird park is seldom visited by guest to Playa but does afford you the opportunity to see flamingos and other tropical birds.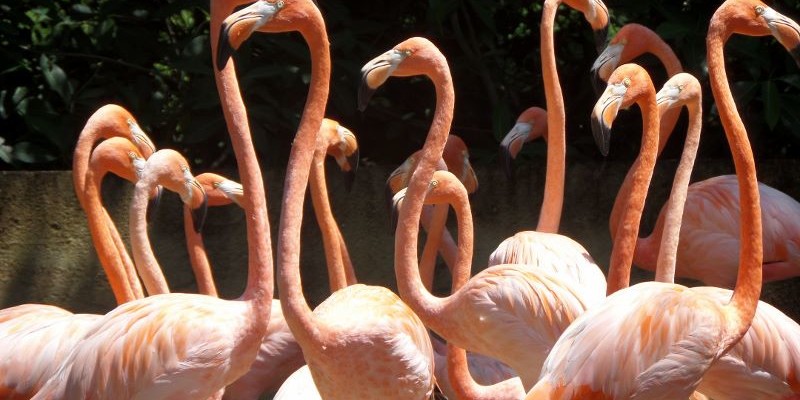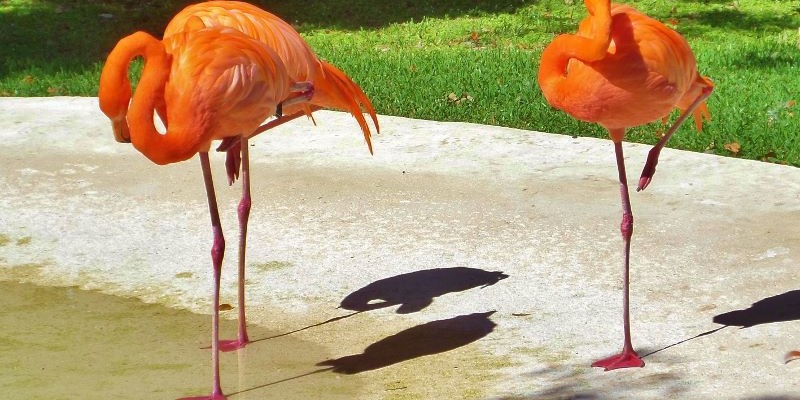 Iguanas of the Riviera Maya
Iguanas can be found all over the Riviera Maya. They like dry and rocky habitats. In Playa Del Carmen you can see them scurry under sidewalks in holes just outside of the downtown. The Mayan ruins in Playacar are a favorite hangout for iguanas. In fact every ruins you go to visit, you will see iguanas. If you are a little nervous around them, don't worry. They are very skittish and will run away from you, so you are never in danger of having one sneak up on you.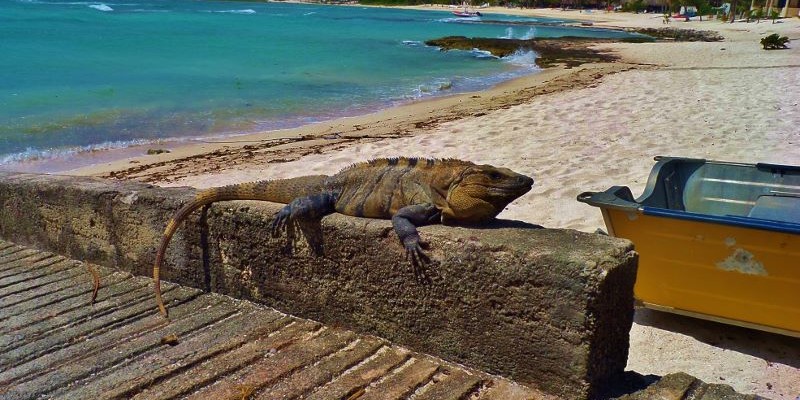 Green Orchard Bee (Euglossa dilemma Friese)
Have you ever seen a green metallic bee? This is a special bee called the green orchard bee. The orchid bees are all members of the family Apidae, and the tribe Euglossini. Most are about the size of a honey bee, but are brightly colored with an iridescent metallic sheen. All orchid bees are native to the New World tropics, from Mexico throughout Central and tropical South America.
The name orchard bee comes from the relationship they have with orchards that produce scents to attract the bees. This symbiotic relationship offers pollination for the orchards and food for the bees.
Green orchid bees are very fast and agile flyers. They can be seen quickly flying from flower to flower separated by long periods of hovering. As with most bees, females possess a stinger and males do not. Although females can sting, they are quite timid in doing so. The sting itself is less painful than that of a honey bee, though unlike honey bees they can sting repeatedly.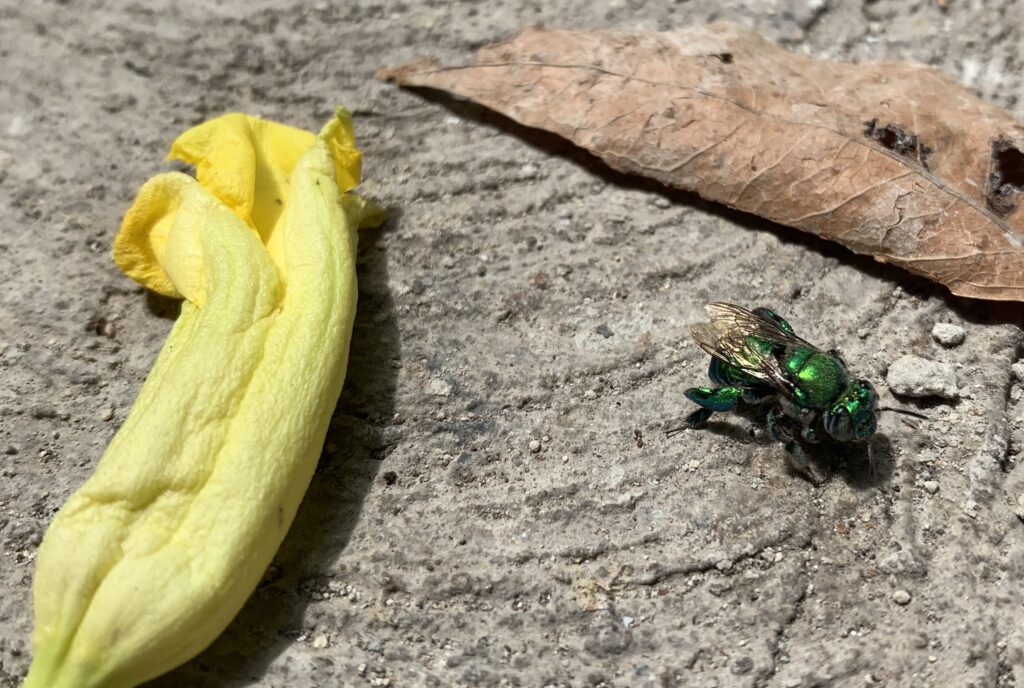 Butterflies in the Yucatan Peninsula
Butterflies work hard pollinating plants here. At certain times of the year you will notice thousands of them fluttering around highways and rural roads. The Orange Yellow Sulphur butterfly is very common and feeds on nectar found in fruits and flowers. You will especially notice butterflies on the road between Tulum and Chemax, Yucatan. This is the road that take your to Coba ruins.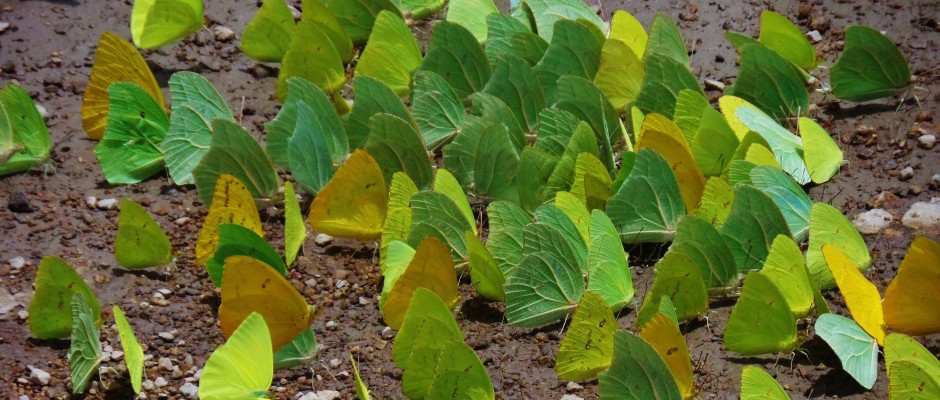 Tarantula Spiders in Mexico
There are currently listed 66 species of tarantulas in Mexico. Mexico is number two in the world with the amount of different species. Tarantulas hunt at night and eat grasshopper and other small insects.
You can see tarantulas often crossing the road in the Yucatan Peninsula. We see many in the Zona Maya and the road to Holbox ferry.
https://youtu.be/aFWZLh3_kcE
Spotted Skunk
You might think a skunk is a skunk but there is a special kind that can be found in the woods. Spotted skunks are the smaller relatives of the common striped skunk. They are the size of a squirrel. These elusive carnivores live across North America. And when the time comes to scare off a predator, these little guys perform a handstand and kick out their back legs.
Below is a photo of a little guy that was shy and curious. We did not get to see him do a handstand, maybe because he was not scared. It is pretty uncommon to see one.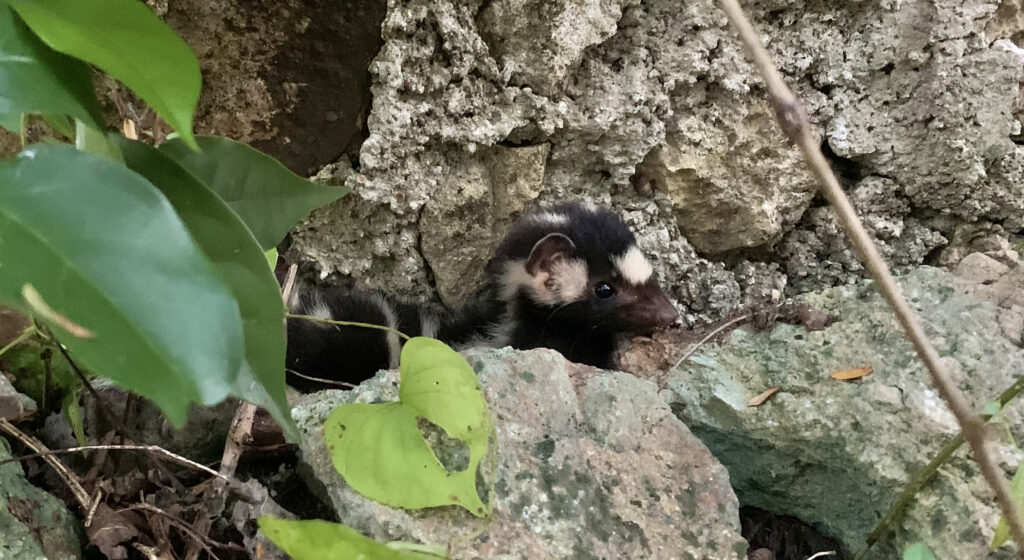 Land snail (orthalicus princeps snail)
This snail was about one inch or a little longer. The shells are marked with white and brown markings. These often can be found on rural trails where they are a little easier to see.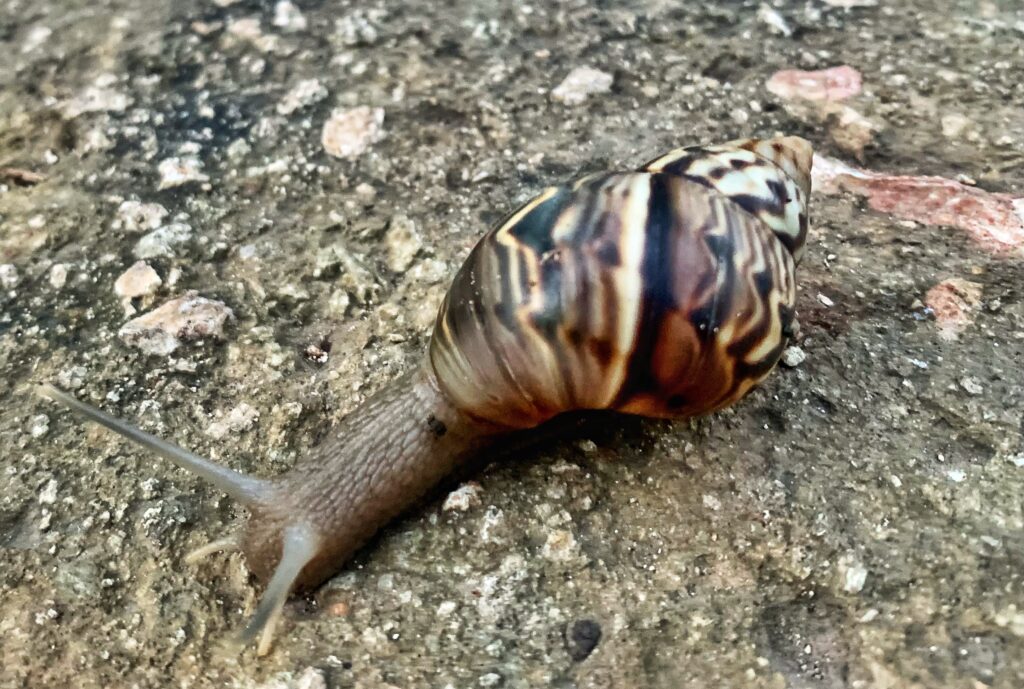 Grey Fox in the Riviera Maya
We captured this grey fox on video when we were visiting Calakmul Mayan ruins. These foxes like to eat fruit, insects and small animals like rodents. The foxes like to live in logs, or burrow into the earth and make a home.
https://youtu.be/tlZUTEZamUU
Moths
This is a very large moth. This moth is about the size of an adult hand.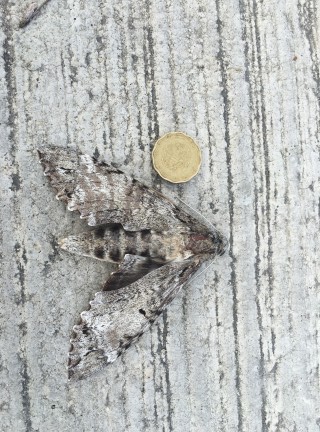 This is a caterpillar that will turn into a moth. This is a crinkled flannel moth. This small animal might look safe to touch but it actually has stinging hairs. DO NOT TOUCH.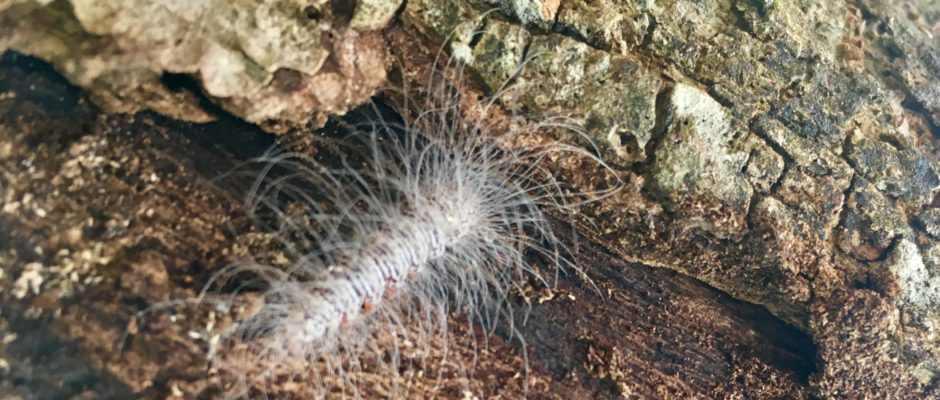 Beetles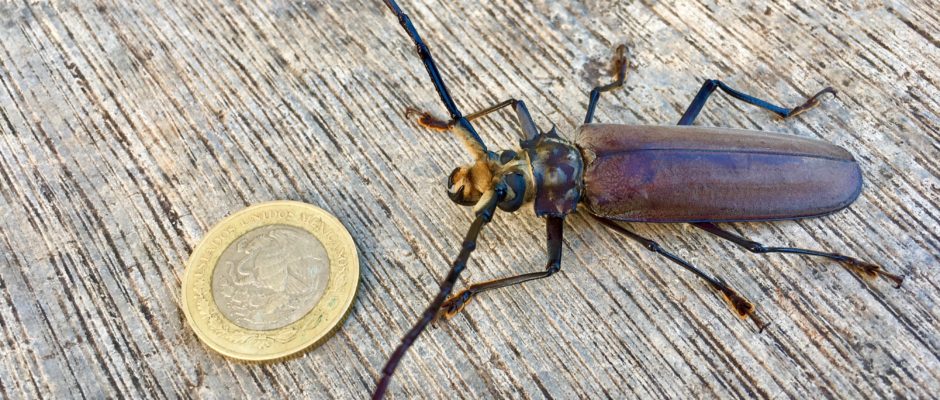 We saw these large beetles mating near El Naranjal Mayan ruins. They are about as big as your hand.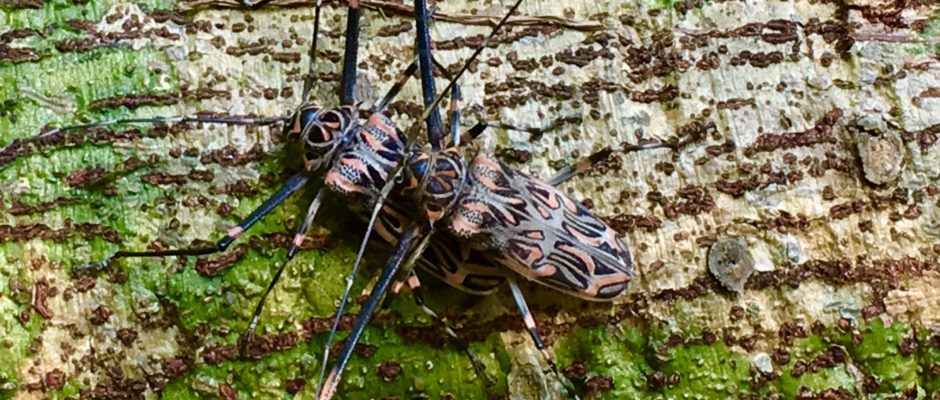 Tapirs
Tapirs are native to Mexico and are the largest land mammals in the Yucatan. They can weigh from 150-400 kilos (330-880 lbs.). Since they are so large there are not too many predators. Only crocodiles and jaguars will attack tapirs. Humans have not been too good to these animals and they are vulnerable to going on the endangered list. It is illegal to hunt them in Mexico. These animals are more active at night and like to live near water so they can swim and cool down.
Rarely will you see them in the wild. This photo was taken at Xcaret part where this one lives.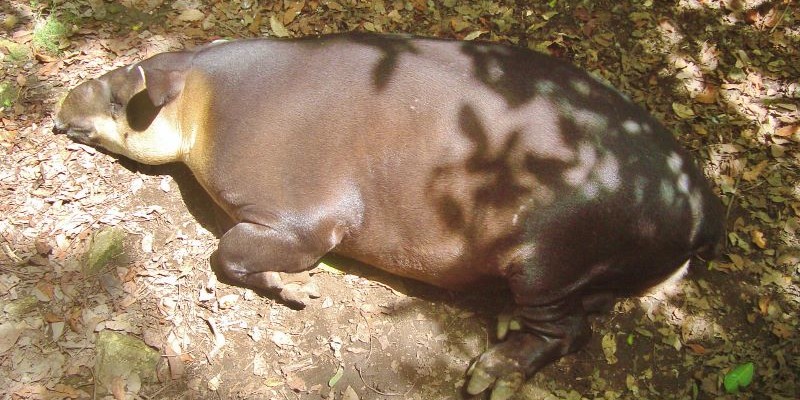 Tropical Fish
Snorkeling and diving are great ways to see the sea life. Cozumel is the most famous place to snorkel and dive but you can also see the aquarium at Xcaret. Here you can see fish, jellyfish and many other animals that live in the ocean near us.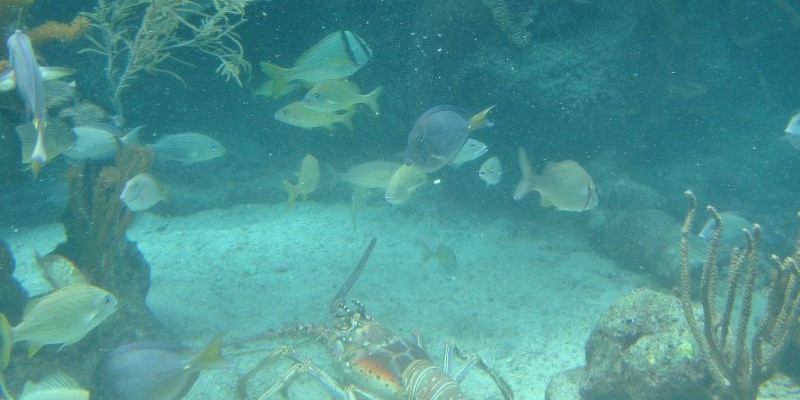 Red Legged Hermit Crab
These guys live near the beach. You can find them in more remote beaches in the area like the south end of Play Del Carmen or Xpu Ha Beach.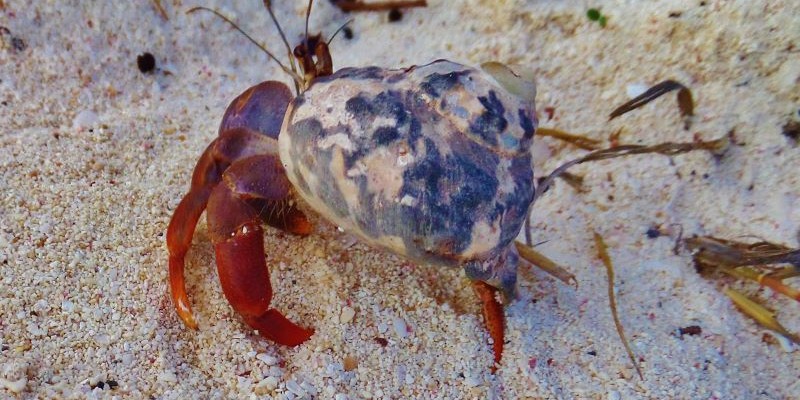 Scorpions
Scorpions have a bad reputation but the good thing is you probably will not run into one here. Most scorpions like to live in hiding and are not agressive creatures. In the center of Playa Del Carmen will not have a good chance to see any of these. When it rains they like to come in to get dry and one of the only times we have seen one. The one in the photo below was crossing a sidewalk on 5th Avenue outside of the center of Playa Del Carmen near 60th Street.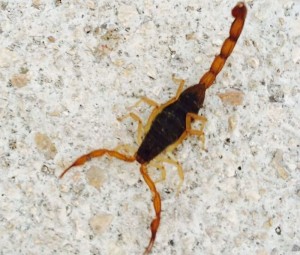 Pelicans and Seagulls
Seagulls are found all up and down the coast. Here is an interesting fact: did you know that seagulls can drink both fresh water and salt water? They have a special gland that helps remove salt from their bodies.
The species of pelican most commonly found here is the brown pelican. It is one of the only pelicans that can dive into the water for food. When they come up the water drains out the sides of their bill and then they swallow their prey. In Playa Del Carmen you can see these birds usually from 12th Street to Constituyentes Avenue on the beach. This is the same area where the fishing boats are. Lucky birds get a lot of spare fish here.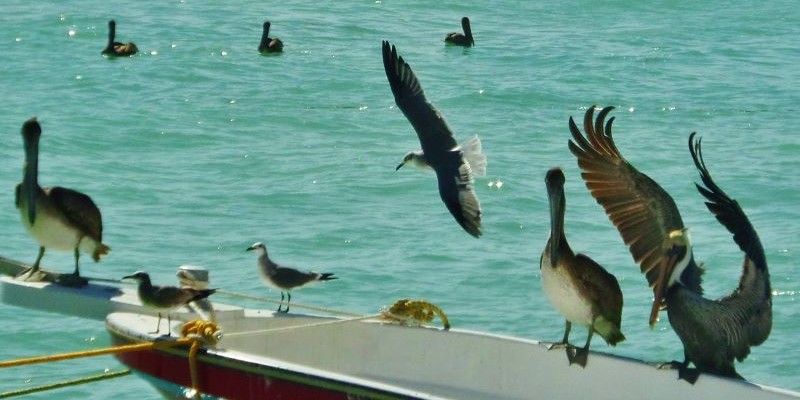 The Central American Agouti
These cute little fellows are seen running in the woods and grassy areas. They are nervous around people and not very approchable. They look for nuts and fruits and like to live in burrows among stones and logs. In Playa Del Carmen you can usually see these in Playacar. If you stay at one of the resorts in the Mayan Rivera you will see these around the resort usually in the early morning hours or at dusk.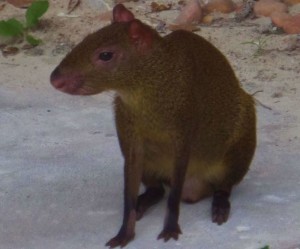 Jamaican Fruit Bats
These bats are larger then what many people are used to seeing. They work hard eating fruits and spreading seeds in nature. You can see them at dusk swooping in and out of trees, especially ones like the capulin trees with small red fruits. If you are walking nearby they might just fly very close to you. Just remember, bats help us keep nature going and work hard at night to do so.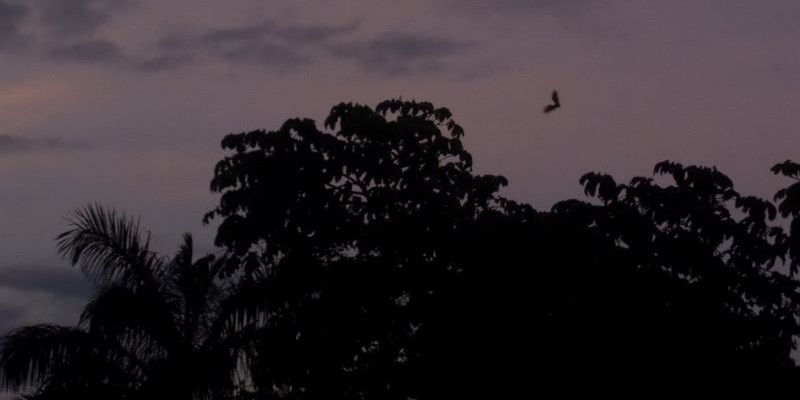 Ghost Crabs
Ghost crabs live near the beach and are nicknamed "sand crabs". They mostly are active at night. Their pale color gives them the name "ghost crab". They can actually change their color to match surroundings but unlike other animals that can do this, they can only do it slowly. Ghost craps live on land but do need to moisturize their gills, so they will dig into moist sand or run into the water. They however cannot spend too much time in the water because they will drown.
You can see these crabs in more remote beaches like Xpu Ha.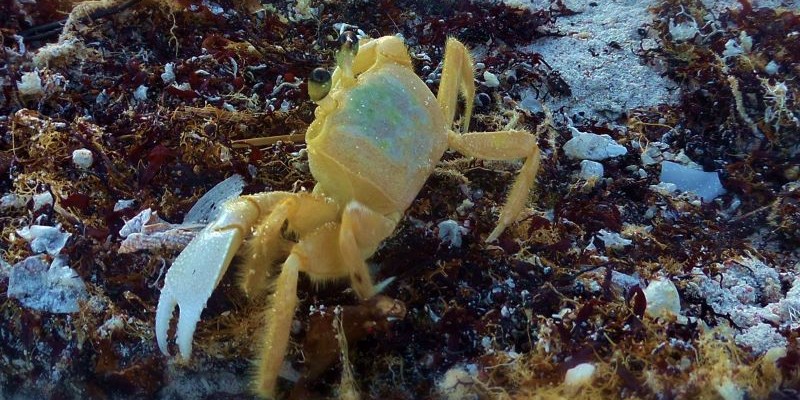 Yellow Throated Warbler
If you live in the eastern United States you just might have seen this bird. The yellow throated warbler breeds in the United States and then flies mainly to the coastal areas of the Caribbean in the winter. We found this one near Coba Ruins. This would make since because it is about 45 kilometers from the coast and this area also has lagoons. This is a perfect area for this bird to feed.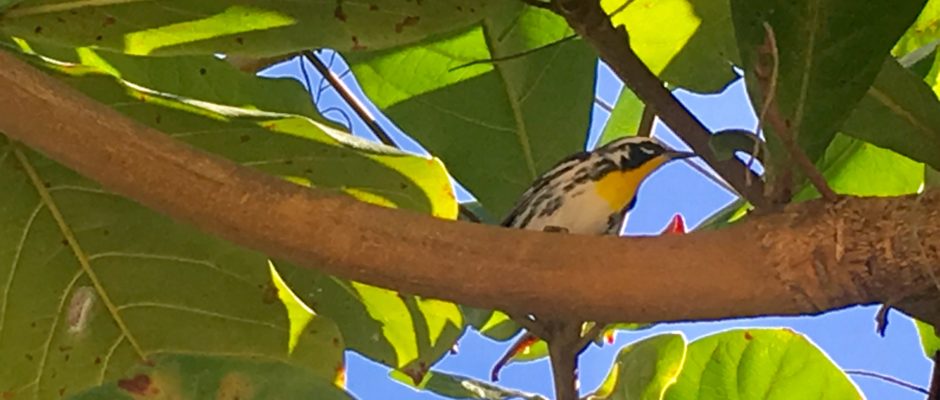 Social Flycatcher Bird
Below is the social flycatcher or X'takay in Mayan. These birds are seen all over the Rivera Maya and are very easy to spot because of their yellow underbellies. They nest near water spots and sing all day. They like to eat small berries.
You can see these birds all over the Riviera Maya.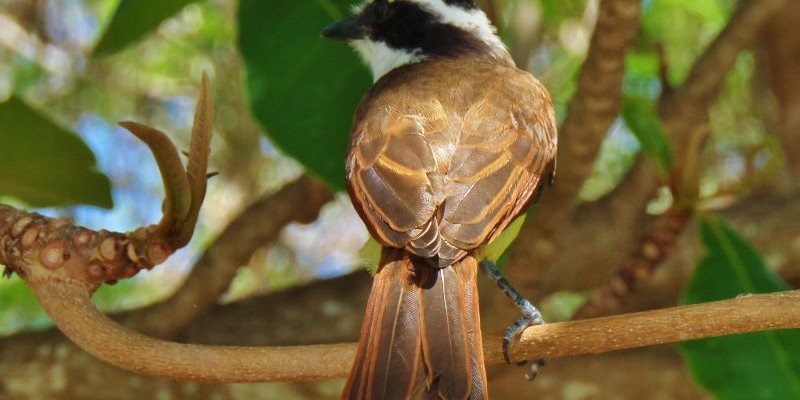 Speckled Racer Snake
We saw this beautiful snake in Playacar. These snakes are non venomous and fast movers, usually away from you. They average 30-40 inches or 76-102 cm. They like to live in vegetated areas near water because their main prey is frogs. We saw this one with a mouse in it's mouth.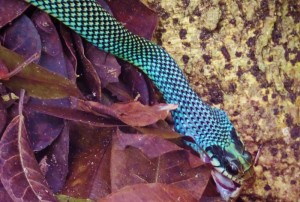 Animals you can see at Xcaret while visiting the Riviera Maya
We made this video at Xcaret of just some of the animals you can see there. Besides animals this park offers so much more! If you interested in going to Xcaret you can see our article here about visiting.
Visit the Vallazoo just two hours from the Riviera Maya
In the colonial city of Valladolid you can find the Vallazoo. This is a wildlife reserve where you can see many of the endemic animals of the Riviera Maya and Yucatan Peninsula. See our full article here about the Vallzoo.
What is your favorite animal in the Riviera Maya? Have you seen some of these? Let us know in the comment section below.