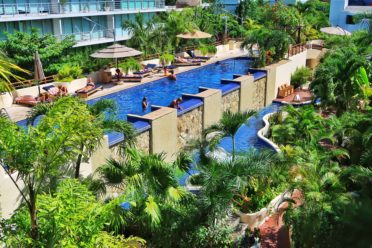 The Porto Playa Condo Hotel in Playa Del Carmen
Tucked away in the center of Playa Del Carmen is the Porto Playa Condo Hotel. Many people have never seen the gorgeous pool and courtyard let alone stayed there. We are always looking for great finds in Playa Del Carmen to make your vacation great. We think this hotel will be of interest to a lot of our readers. Is this hotel a good fit for you? See our review here with video and photos to see.
Our video review of the Porto Playa Condo Hotel
Like everything on our website we go to experience it for you. This means for hotels we actually spend the night so we can get a feel for the hotel. At the Porto Playa we spent three nights in two different rooms. Here is our video for you.
What the rooms are like at the Porto Playa
There are 21 luxury units here. Since this is a condo hotel that means these are not just hotel rooms. These are full condo units but with services of a hotel like concierge, room service and front desk.
The kitchens in the units of the Porto Playa
Not all condo hotels are created equal. We have stayed at some that have kitchens but have nothing in them. These kitchens are fully equipped with things like utensils, paper towels and dish soap. It is easy to walk in and use them. This can be perfect for getting take out, cooking or just making coffee in the morning.
Also at the Porto Playa they have a few wines and stocked refrigerator which serves as a mini bar if you wish to use something.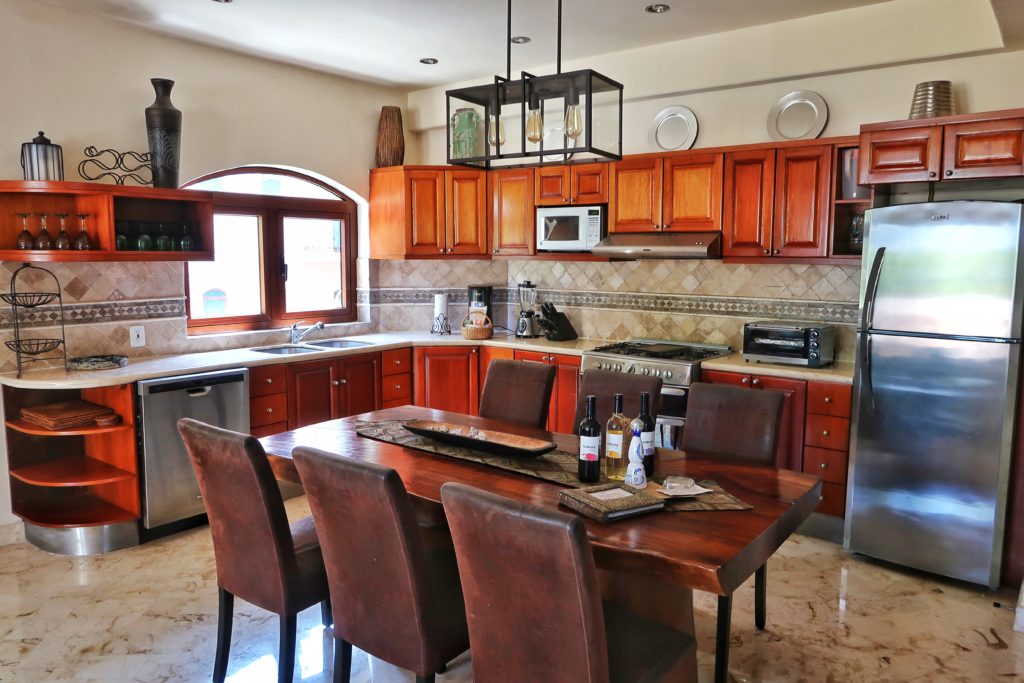 Living rooms and outdoor spaces
The larger units here have very large and spacious living rooms. Each unit will have a balcony or some outdoor space. The first unit we stayed at had three deck spaces including a rooftop area with BBQ grill, jacuzzi and covered area for seating.
If you get one of the penthouses here you will have a large area for relaxing, private area for sunbathing or just enjoying those Caribbean nights.
This hotel offers a lot of lush vegetation and most of the patios and spaces have plants which makes it very nice. Even though you are in the center of the city you are removed in your own world.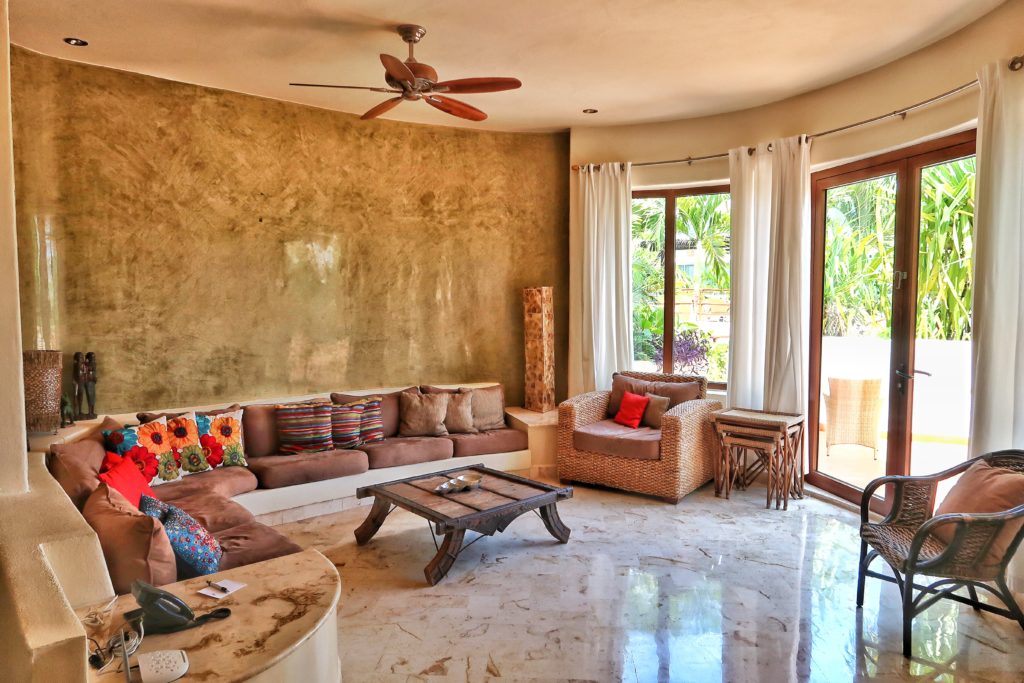 The bedrooms in the Porto Playa Condo Hotel
The beds are very comfortable here! Enjoy 400 thread count Egyptian cotton sheets and comforters. This is perfect for cuddling up to watch a movie or sleeping good in the air conditioning.
In both rooms we stayed at there were good curtains to block the light. This means if you are not going to get up for sunrise, you can stay in the comfortable beds longer. This is important since most of the rooms face east.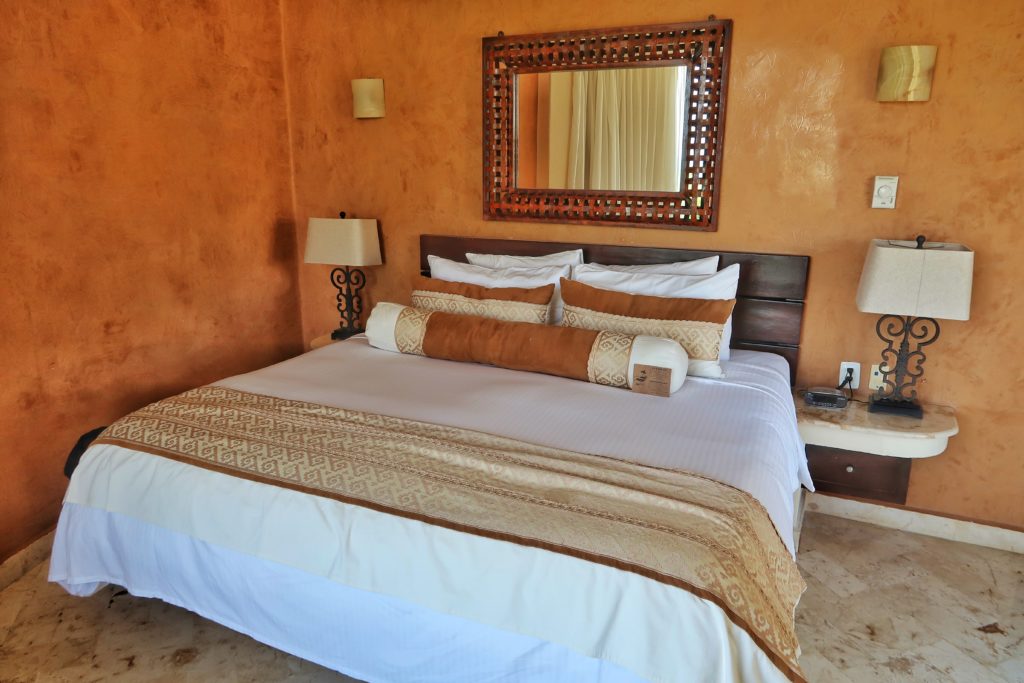 What are some of the perks of staying at this condo hotel?
In Playa Del Carmen you often get good value for what you pay for. Having some perks of where you stay is also a nice thing. Staying here at the Porto Playa does offer a lot of extras that you might not get at other places to stay. Here are some examples of extras you get here:
Free Wi-Fi in the rooms and pool area.
Indoor parking.
Free passes to the gym, located next to the hotel. The Gym is one of the best in Playa.
A VIP card to discounts at numerous local restaurants where you can save 15%.
Access to beach club.
Full kitchens that are equipped for use.
Premium cable on TV's.
Unlimited purifies water in rooms.
Great central location. You are only 1/2 a block from 5th Avenue.
Enjoy a lush courtyard and two level pool
If you are not going to the beach, this hotel offers a great relaxing courtyard and pool. The pool is actually two levels. The upper level is long and about 3 feet deep. Around the upper level there are chairs for sunbathing. The lower level is more shallow and perfect for younger children.
Also in the courtyard there are quiet sitting areas.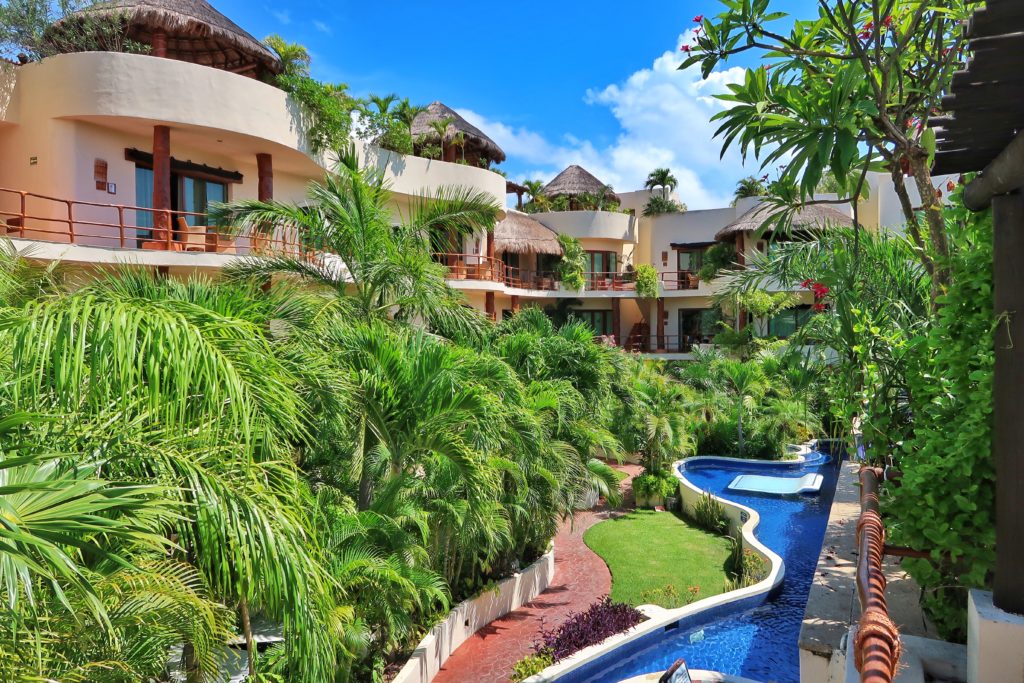 Where is the Porto Playa Condo Hotel?
This hotel is very centrally located as you can see on the map below. It is on 1st Avenue between 16 Bis and Constituyentes Avenue.
Our recommendations
We really enjoyed staying here. The larger penthouse units offer a lot of space and offer your own little world. The location is great for exploring the city and taking advantage of everything it has to offer. The courtyard and setting make this a little oasis in the center of Playa Del Carmen.
This hotel is good for couples or families that want a nice place to stay with luxurious touches. If you have mobility issues you will want a lower floor since this is a stair only building.
Where you stay in Playa and what level of hotel you stay in will greatly effect your enjoyment of your vacation. We have stayed in many hotels in Playa Del Carmen and have felt very different about the experiences. This hotel offers a very good feeling and access to everything plus you get to come back to your quiet room and enjoy it as well.
How best to book here and get the best price
We are always on the lookout for deals for our readers. Below is a special direct link that will save you considerable money over booking sites. We hope you enjoy the discounts and your stay here at the Porto Playa if you go!

Thank you for reading our article on the Porto Playa Condo Hotel in Playa Del Carmen. We really enjoyed this hotel and we hope that some of our readers also get to enjoy it.
Let us know if you have any questions for comments about staying here. If you have stayed here before we would also like to know what you thought in the comment section below. 
If you enjoyed this article about a downtown condo hotel in Playa Del Carmen you might also like to see our article and video about the El Taj Hotel.