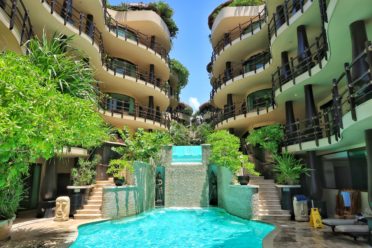 El Taj Hotel
The El Taj Oceanfront and Beachside Condo Hotel is right in the middle of Playa Del Carmen. This beachfront hotel has always stood out for it's beautiful design and green tropical look. We have always wondered what it was like inside and what it is like to stay at this hotel. We recently had the opportunity to stay here so here is our review.
Our video review of staying at the El Taj Condo Hotel
Like everything on our website, we visit it, try it, stay there and experience it so we can let you know what it is like. Here is our video we made from staying here.
What are the rooms like at El Taj Hotel?
This is a condo hotel which means the rooms are set up like a condo that people could live in. You have a full living space, bathrooms, bedrooms and a kitchen. Some of the rooms even have washers and dryers!
This style of hotel makes for a very comfortable stay with more benefits than just staying at a regular hotel or renting a condo. You have the benefit of a full condo but also the services of a hotel.
The rooms here are spacious and modern. They are decorated with local stones and tropical hardwoods. On the oceanfront side many rooms have an ocean view or partial view.
Overall these rooms are very comfortable with all the conveniences of home that will make for a good vacation.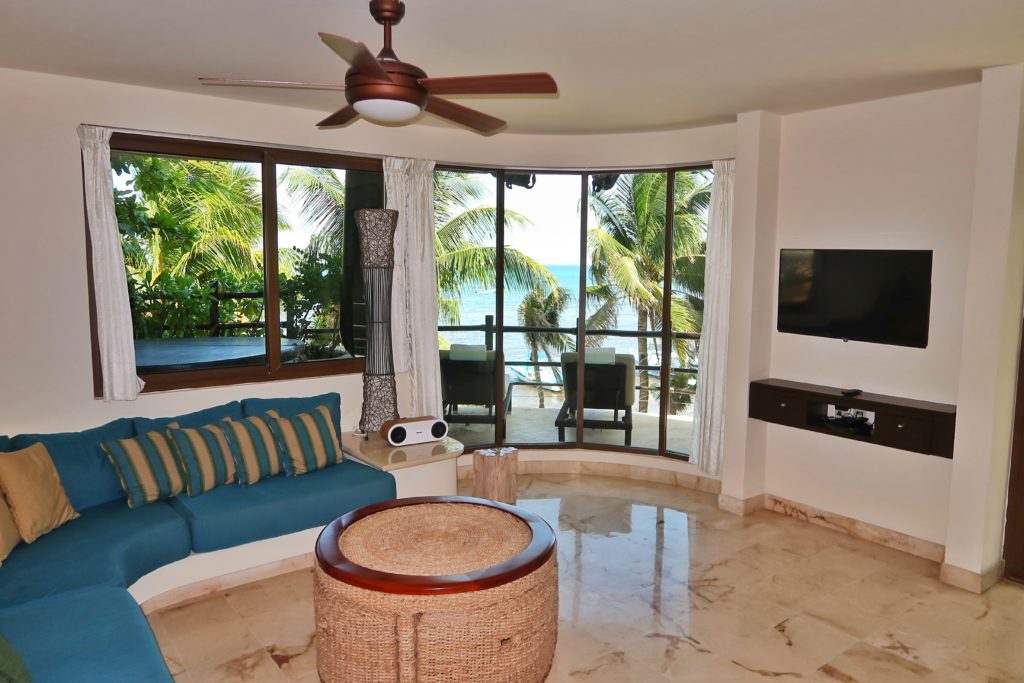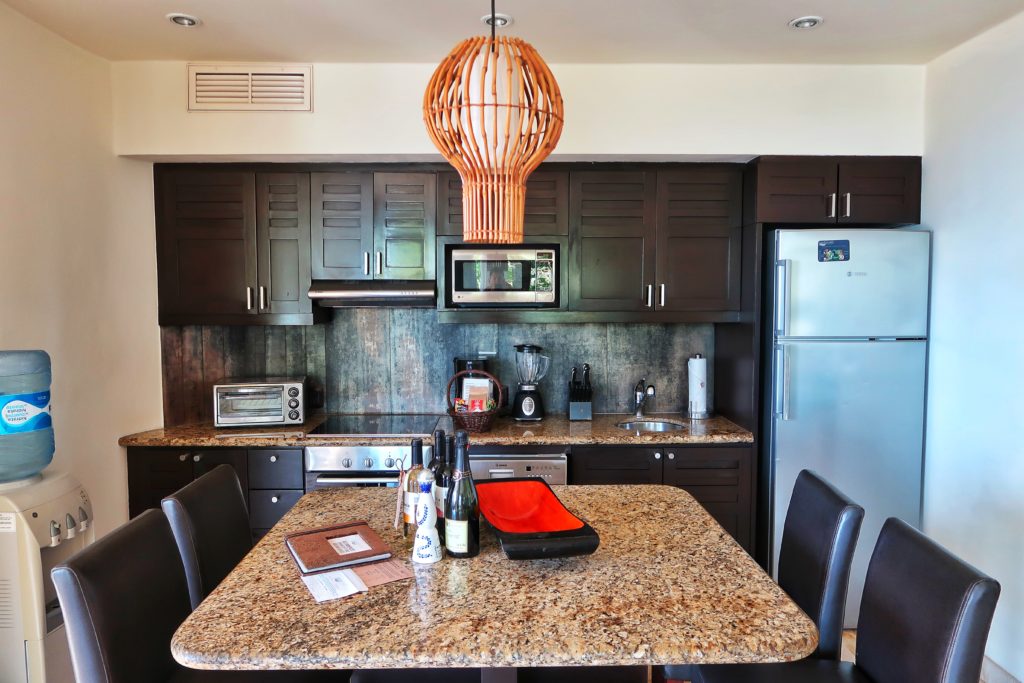 What amenities does the El Taj Oceanfront and Beachside Condo Hotel have?
This is an area where this hotel excels. Compared to just staying at a hotel or condo rental this hotel has a lot to offer. It is very nice to have a concierge/booking service in the lobby for example. In fact there are many "extras" when staying here.
Here are some examples of what "extras" we are talking about:
Beach club access in front of the hotel.
Discounts to local restaurants and businesses.
Off street parking (which is very nice in the center of Playa Del Carmen).
Daily housekeeping if desired.
Two pools to choose from.
Snacks and liquor stocked items in room.
Fully functional and equipped kitchens.
How to get the best deals for booking El Taj Hotel
Many people use their favorite booking website for hotel reservations but did you know if you book direct you can get a better deal? We have partnered up with this hotel to offer our readers direct bookings and save you money!
We compared the same dates for the same room and found that booking at this special link for you saves 16.47% over hotel booking websites. That can be hundreds of dollars in savings for your vacation! Go ahead, click the Reserve Now button to check prices and also see all your options for the dates you are looking for.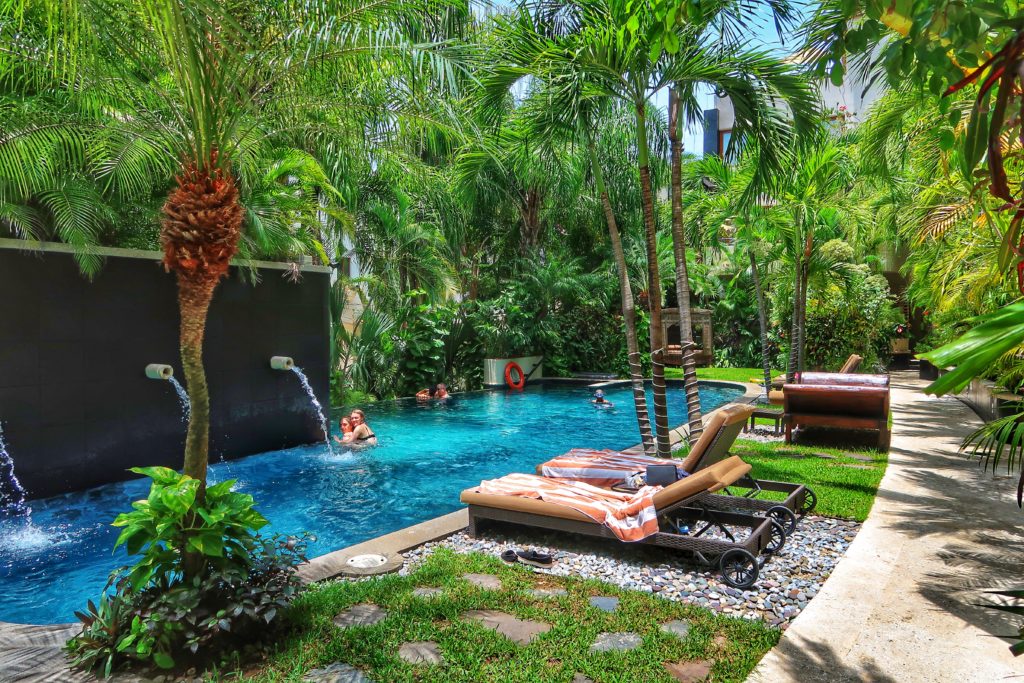 What is near this hotel?
The El Taj Oceanfront and Beachside Condo Hotel is on Avenida 1 Norte and Calle 14 in the center of Playa Del Carmen. This makes it very central to everything in the downtown of Playa Del Carmen.
You are only about two blocks from 5th Avenue which is the main pedestrian street in Playa Del Carmen. Here you have about 22 blocks of shopping, restaurants and attractions.
Close by you have the restaurants of Indigo Beach Club, and Plank Restaurant.
If you want to enjoy the nightlife in Playa Del Carmen you are only about 2 or 3 blocks from a lot of places to go out. Don't worry though, you cannot hear it since it is around the corner.
The Gym is just 3 blocks away and is one of the nicest gyms in Playa Del Carmen.
Our recommendations for this hotel
This condo hotel offers a comfortable stay in the heart of Playa Del Carmen. You will be within walking distance to most things in the downtown.
Since the rooms are all set up for comfort as well as kitchens, these rooms can make a nice base for a comfortable longer stay in Playa Del Carmen. Compared to large hotels in Playa, you have the option to order in food or make drinks in your room all with the facilities you need.
Since there are one, two and three bedroom units this hotel can host families, groups or is a good place for friends to share a luxury condo. We mention in the video that is has more an adult vibe but we noticed that families were staying here and liked it.
For beach lovers, this hotel is right on the beach and has a beach club at its front door, sort of speaking.
What rooms are best at the El Taj Hotel
If you do want an ocean view, be sure to book the oceanfront side of this hotel. Check also the description of the room since some rooms are further back from the ocean. The higher the floor is also probably preferred by most. The views are further and you will have more breeze usually.
If you want the same luxurious rooms but don't necessarily need an ocean view, the beachside part of the hotel is good. The pool and courtyard are beautiful and a little more secluded. Although you can use both pools no matter which side you stay on.
Have you stayed at the El Taj Condo Hotel before? What did you think? Let us know in the comments below, we would love to hear from you.