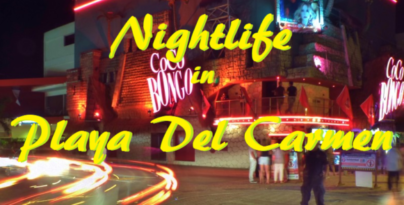 What is the nightlife in Playa Del Carmen like?
Playa Del Carmen is a pretty cosmopolitan town at night and offers some good nightlife. Even people from other larger cities enjoy coming to Playa Del Carmen to go out. Here is what you can expect for nightlife in Playa Del Carmen and what options are best for you.
How to the nightlife scene has changed over the years
A few years back when someone said "let's go out" that meant to a bar and then ending up at a club. Around 2015-2016 the club scene and bar scene were at their height. There were a lot of options. There were small bars for the grunge crowd and fun little bars for a drink and then you could move on. Since a few years ago a lot of reorganizing has gone on. A lot of clubs and bars have closed with only a few new ones. But don't despair, there are new forms of nightlife in Playa Del Carmen.
As Playa Del Carmen has grown up (literally and figuratively), hotels have gotten larger and added rooftop bars and pools. It seems like when one opens the next one tries to be bigger and better. Now there is a new category of going out at night, rooftops of hotels. The only thing is it might not be every evening, so it can be harder for tourist to know what nights are best or when there are events. We will add some tips below.
Nightlife in the bar scene
Bars in Playa Del Carmen offer a lighter night out or a precursor to a club. In Playa Del Carmen there are Mexican bars to popular tourist spots. Here is a list of bars to check out and a map to help you find them.
Bars off 5th Avenue but in the center of Playa Del Carmen
Dirty Martinis is open again! It was a popular bar on 1st Avenue between 10th and 12th Street. It is open again and serving up great martinis! This is one of the more favorite expat bars in Playa and a good local bar.
Bars on 5th Avenue in Playa Del Carmen
Dick and Willys was the former Fat Tuesdays. Not much has changed with the new owners. It is a bar with good people watching and younger tourist's vibe.
Bars on 12th Street in Playa Del Carmen
Abolengo Bar is an open air bar on the corner of 12th Street and 1st Avenue. It is a new take on the old style Mexican cantina bar. It is medium loud and a great corner to people watch and be watched. They do serve some light food, if you can get a table. If you come before 10:00pm it is fairly quiet. The later in the night it gets, the louder and wilder it gets.
Beach Bars in Playa Del Carmen
Zenzi Bar is on the beach by 10th Street. Some nights there is live music and salsa dancing. They do serve food but we prefer this as just a place to get a drink.
Senor Frogs is one of the places that is so tacky but has become so Mexican at the same time. There is always fun music and light hearted staff to make it a fun time. They are open 10:00am-2:00am daily so you can come during the day to the beach and this bar. Bar food is served here but it is typical bar food and tourist priced. Senor Frogs is by the Cozumel Ferry Pier.
Sports Bars in Playa Del Carmen
Want to watch some sports, chill have a drink and maybe even make some sports bets? Here are some good options for you.
Tequila Barrel is now closed!
Taco City is on 5th Avenue between 12th Street and 14th Street. This place has some of the best TV's and if you want a game, this might be the best place to see it. Open until 1:00am daily.
Los Tabernacos is a lively bar with a Canadian flair. Fun atmosphere off 5th Avenue on 10th Street between 10th Avenue and 15th Avenue. Closed Mondays Open Tuesday-Sunday 4:30pm-2:00am.
Sr. Dan's Margarita and Sports Bar is a small bar on the south end of town near the Cozumel Ferry Pier. They have three TV's to watch and a range of margaritas to keep you hydrated. This is on Calle 3 Sur between 5th Avenue and the Ferry Pier. Open until 1:00am daily.
El Tigre Bar is a Mexican style cantina bar in upscale hotel. Here you can try mezcals, tequilas and other Mexican spirits. This is a quieter bar albeit with Mexican Bandamax music. The bar is new and upscale. The El Tigre Bar is on 10th Avenue between 2nd Street and 4th Street.
L'ambassade is a long running favorite in bar in Playa Del Carmen. People like this bar because it is casual and there are cheap prices for liter size drinks. You can find this bar on 10th Street between 5th Avenue and 10th Avenue.
Las Helodias is on 28th Street going down to Mamitas Beach. This stop makes for a good daytime bar on your way or coming back from the beach. They have fun liter drinks here that are unique.
Beer Bars in Playa Del Carmen
Club De Cerveza is the best place to get a wide selection of Mexican craft beers. With other 60 different craft beers from around the world, you can drink your way to a happy place. They also have a higher end range of "bar food" here and you can eat as well as drink here. Club De Cerveza is right on 5th Avenue between 34th and 38th Street.
Clubs to go out to at night
Most of the clubs in Playa Del Carmen are on 12th Street between the beach and 10th Avenue. Here are the clubs you have to choose from. For more on clubs in Playa Del Carmen see our article here.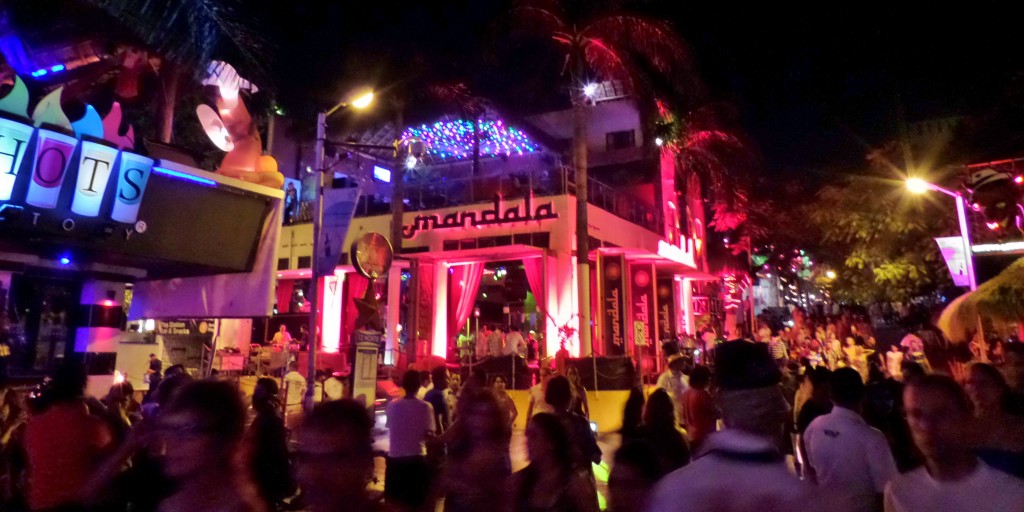 Dance type Clubs
Mandala Night Club
Mandala Night Club is a true club that is always busy. It is one of the top three in Playa to go out to for dancing and a full on club experience. It is decorated in deep red and pinks with an Asian theme. The music is loud and parting crazy. This club opens daily at 9:30pm. You can get bottle service at this club. If this clubs is what you are looking for and you want an epic night out, you can book an night here with entrance and open bar.
Rakata
This is the newest club on 12th Street in Playa Del Carmen. It is targeted at a younger crowd that likes reggaetón and hip hop music. The dress code is casual and expect a lot of dancing. This club is located near 1st Avenue and 12th Street.
Santito Tun Tun
This bar/club is on the corner of 12th Street and 1st Avenue where you can be near the center of the nightlife. This is a little less dancing and more lounging with cocktails and possible some bites of food. Two sides of this place are open to the street, so you have a lot of people watching to do. This is a trendy place with a mid-range age group. Open Wednesday-Sundays 7:00pm-2:00am. Closed Mondays and Tuesdays.
La Vaquita
La Vaquita is a loud club with an open front on 12th Street. The large plastic cows are its trademark. This is more for younger crowd 20-29. If you like what you hear and see then step into this club.
Latin Dance clubs
La Bodeguita Del Medio
La Bodeguita Del Medio is a Cuban style restaurant and bar with live music at nights and dancing. The dance floor is small but if you like the Latin sound and some mojitos, this is a good place to go. You can find this place on 5th Avenue and 34th Street.
Entertainment Type Clubs
Coco Bongo Club and Disco
You will see a lot of advertising for this show/club. It is advertised as a dance club, but it is more like a Vegas style show, and you can dance in your place if you want while you watch the show. This nightclub is open Monday-Saturday night. The show starts at 11:30pm and goes to 3:15am. After 3:15 is plays just music and people can enter just for the club until about 6am.
This club is best for the show rather then coming late night to dance, leave that up to the other clubs that are all about dancing like Palazzo and Mandala. But if you are walking around you might just want to go in and see the place especially if there is not cover. To see a video of what the club is like and read more, see our article about Coco Bongo here.
Do you want to go out for nightlife but with a group?
If you like to go out and getting the VIP treatment, you might want to go on a club crawl. This tour takes you to three places with all your drinks included. Bypass waiting in lines and worrying about speaking Spanish to waiters. Check out this tour by clicking the reserve now button.

If you are not a night owl but still like to party, take a look at this tour that takes you to pool parties in the daytime in Playa Del Carmen. This can be a great way to have fun without the planning on where to go plus you have a built-in group to go with.

Rooftop lounges for the evening hours
As we mentioned above, there is a new category of nightlife in Playa Del Carmen. Hotels that have rooftops are offering day and nighttime entertainment as places to chill. This can be everything from calm atmosphere to party like there is no tomorrow. Since there are special events and different venues on certain nights, we suggest going to their websites or Facebook pages. This way you can plan out your nightlife in Playa Del Carmen.
We will note that promotion of events is not done that far in advance in Playa. Often times events are announced one week or less before they happen.
Thompson Hotel on 12th Street
The Catch Restaurant on the Thompson Hotel rooftop is a great place to grab a drink. The views are stunning overlooking the ocean. Of the three hotels mentioned here, this is the more upscale one and gets a crowd of age 27-65 year olds. Here is a link to the Thompson Hotel's Facebook page for details.
Carmen Hotel Deck 5
This rooftop is right on the beachfront and has a wide vista. The bar is youthful with usually a crowd between 23 and 43. Some events have a DJ. There is a rooftop pool and bar. See our article about Deck 5 here. Here is a link to the Carmen Hotel's Facebook page.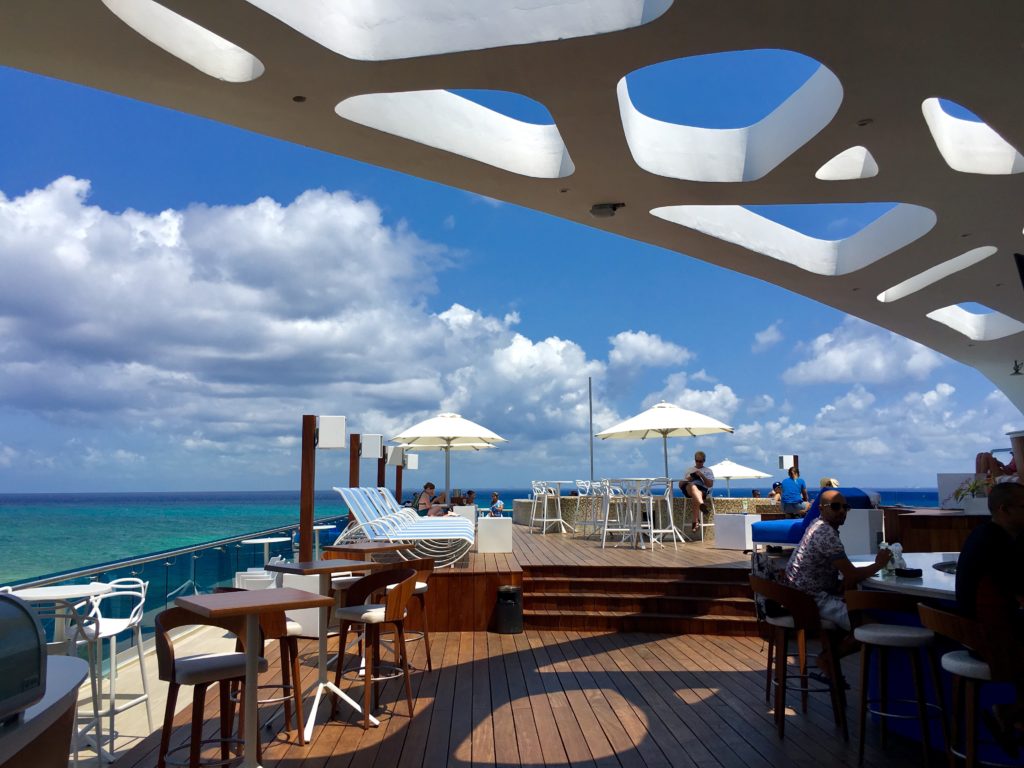 The Fives Downtown Purobeach
Sitting on the roof of the Fives Downtown Hotel is the Purobeach bar and rooftop club. Compared to the previous two hotel rooftops, this one is in the middle as far as age. This rooftop generally attracts ages 27-56 year old's. Here is a link to The Fives Downtown's Facebook page.
Maui Rooftop
This is a new option for people looking for a weekly rooftop party on Sundays. This rooftop party is right in the middle of Playa on Constituyentes and 1st Avenue. The vibe is young with DJ's. See their Facebook page here for more details.
Live Music in Playa Del Carmen
If you want to have some drinks or just listen to live music, Playa Del Carmen has many places for you. Along 5th Avenue you will find most of these nightlife spots. The best time is from 7pm-1am. We have a whole article on the best places for live music here. You can find everything form beach bars to rock bars.
Thank you for reading our article about nightlife in Playa Del Carmen. If you have any questions or comments, please let us know below. We would love to hear from you.