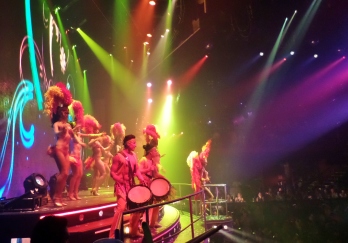 You must have seen an advertisement for Coco Bongo in Playa Del Carmen because it's adverts are everywhere. As soon as you get off the plane in Cancun there is a larger than life plastic Spider-Man and posters for Coco Bongo. In Playa Del Carmen Coco Bongo sits on a very visible corner at 10th Ave and 12th St. and you cannot help from notice it. Just walking around town many ticket sales people will offer you tickets to Coco Bongo. So what is this club all about and is it for you? Here is our review!
Coco Bongo in Playa Del Carmen
First a myth dispelled. Many people think Coco Bongo is a dance club. You can make it one, but….it is actually more a show. This is  show from about 11:00pm-3:15am that you watch. You can dance in one place but by far this is not a mosh pit of dancing. Girls do get invited up on the stage to dance and this can be fun if you are an exhibitionist.
Lining up to get in for the Coco Bongo Show
Your night will mostly likely start by being dropped off at the club. Everyone lines up outside the club. It will look like a long line, and it is, but this is a big club and everyone will get a place. Don't worry.
When you start to get in you will have to go down stairs and follow the crowds. They do a pat down for security and check your bracelet. Large bags are not allowed in. You will then pass by a stand of tequila shots and you are on your way into the main show theater!
When you enter you are directed to a place in the three tiered building according to your ticket entry. You will either have a table assigned to you if you bought a ticket for one or a standing spot.  Most people prefer to stand in their spot and hold it so they don't loose their viewing of the show. Girls do get invited to dance on the bar and stage at times.
Tip: If you are a girl dancing on the bar or stage, be prepared for burst of air shot upward that will reveal anything under your skirt. This can actually be quite a show sometimes.
What is the Coco Bongo show like?
The show starts with dancers on the bar but this is just to get the crowd warmed up. The real show at Coco Bongo Playa Del Carmen starts at 11:30pm.
There will be a little fanfare and the curtains will open to a video presentation and then the show starts.
The  show consist of imitations of famous singers and a mock ups of real music videos. There are film recreation numbers like Spider-Man, Tron, The Matrix or whatever the latest production in Hollywood is. It really is a non stop entertainment show for 4 hours!! So you will feel like you got your moneys worth by the end of the night for sure.
The show changes numbers every few months so if you come once a year, it should be somewhat different then the last time you saw it. The show also has alternating nights every other night. So a few numbers are changed each day. This gives performers a break.
Tip: If you have a friends with an anniversary or birthday, talk to a waiter and have them spotlighted and projected on the big screen and special drinks brought to them. This happens toward the end of the show.
How many numbers are in the Coco Bongo Show?
There are over 40 different events or numbers in the show. Some of these are a short video on screen and others are a musical number or acrobat numbers with people flying around the club. The show goes until 3:15am and then it becomes just a music club. The open bar then becomes a pay bar.
The show itself it quite a  spectacle and can be compared to a Vegas Style show. It does have a long time running in both Cancun and Playa Del Carmen, so they must be doing some things right.
Who goes to the Coco Bongo Show?
It is amazing how many different age groups go to the club as well. There are a lot of people in their 50's and 60's that go to this show. People in their 20's like the show because it is like a club and people in their 30's and 40's like the fact it is so entertaining. So really it appeals to all adults and is an experience.
Children are not allowed in because they serve alcohol but they do offer special shows about twice a year for the under 18 crowd, usually on a Saturday afternoon.
If you want a night of fun that you will soon not forget, then check out a night at Coco Bongo.
Tip: To get tickets, go the clubs location on 10th Avenue and 12th St. They are open all day selling tickets. There are official Coco Bongo ticket sellers in the street as well. If you buy from a tour operator (they are authorized as well) you may not get the best rate and may not get a detailed explanation of what your ticket includes. Often ticket sales people will promise you things or tell you things that are not 100% true. Of course you might have a great time but the extra money you spend for "express tickets" which ended up being a regular line or something like that, you are not going to go find the person and complain about that.
How much are tickets to Coco Bongo Playa Del Carmen?
Entry with open bar is  $70 at the door. You can buy bottle service which is $110 per person and you will be getting a table. We however do not think this is a great option. The quality of all the drinks at Coco Bongo are not the best and this includes bottled ones. It is best just to watch the show and have the regular tickets with open bar.
Often ticket sellers will offer different ticket. We suggest just the one below. It is entrance with open bar.
The types of Coco Bongo tickets are:
Entrance with open bar.
Express entrance with open bar.
Table service with reserved table and drinks.
To book tickets for the Coco Bongo Del Carmen just click the link below! If you click below you will go to the official site and have your tickets all ready for your big night out!
For Coco Bongo Show tickets with open bar and regular entry, click below. These tickets are $85.00

For Coco Bongo tickets with VIP pass you can click below. These tickets are $138.66

Where is Coco Bongo in Playa Del Carmen?
Coco Bongo Show in Playa Del Carmen is located on 10th Avenue and the corner of 12th Street. You can walk here if you are staying in the center of Playa Del Carmen but other people will be dropped off here from the all inclusive hotels outside of town.
Smaller vans will drop you off and pick you up on 10th Avenue and large busses use the ADO station on 20th Avenue and 12th Street to drop off and pick up guest.
If you arrive in a bus there are guides that will usher you from your transportation to the club and back. They work hard to get everyone back to their hotels, make sure you listen for the time to leave and meet your transportation because if you stay too late it  can be an expensive taxi to your hotel especially if it is out of Playa Del Carmen.
For more nightlife options including clubs and discos, see our Nightlife Guide to Playa Del Carmen here!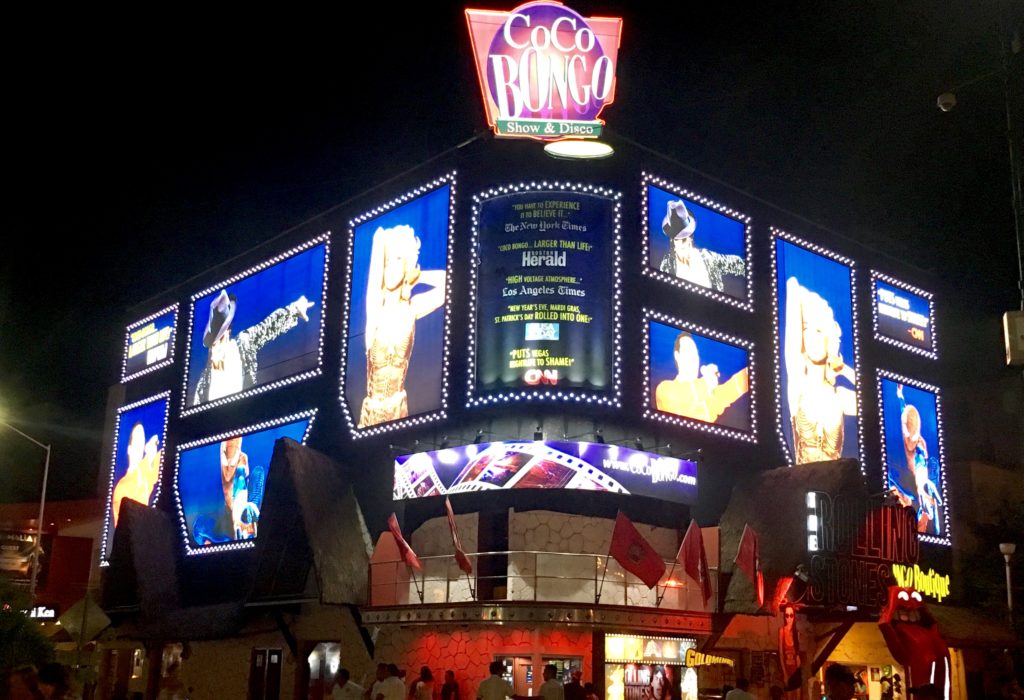 Our sample video of Coco Bongo Playa Del Carmen
Sometimes you can talk about something but a video can tell you so much more about a place. We think this video will give you a little taste of what your night will be like at Coco Bongo.
Have you been to Coco Bongo Playa Del Carmen? What did you think? Was it worth it? Let us know in the comments below.