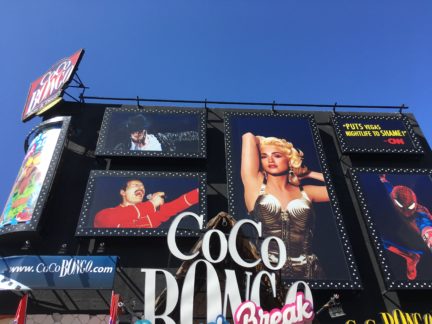 How to get your Coco Bongo Tickets
One of the most popular activities in Playa Del Carmen is going out for a night at Coco Bongo. This show is practically full each night of people wanting a fun and entertaining show. So how do you get Coco Bongo tickets and what types of tickets are there? What is this show like an what can you expect? We will tell you everything you need to know here.
What is Coco Bongo like?
Coco Bongo is self described as a show and disco. If you are thinking this is a dance club, this idea is not that accurate. After you line up and enter the theater you have a place to stand or sit. The show starts around 11:30pm and goes until 3:15am. During the night there are musical acts, reenactments of movies, acrobats and comedy routines. In between all of these acts they show music videos on the mega screens. There are usualy about 5 minutes between acts. So for the most part people stay in their areas and just kind of dance around with their friends or make new ones.
Both shows in Cancun and Playa Del Carmen are just about the same. They usually have two variations of the show that they alternate each other day. New acts are added throughout the year. So if you come back in one year the show will be somewhat different but with the same fun atmosphere. If you are used to resort shows, you will be pleased that the Coco Bongo show is much better and more entertaining.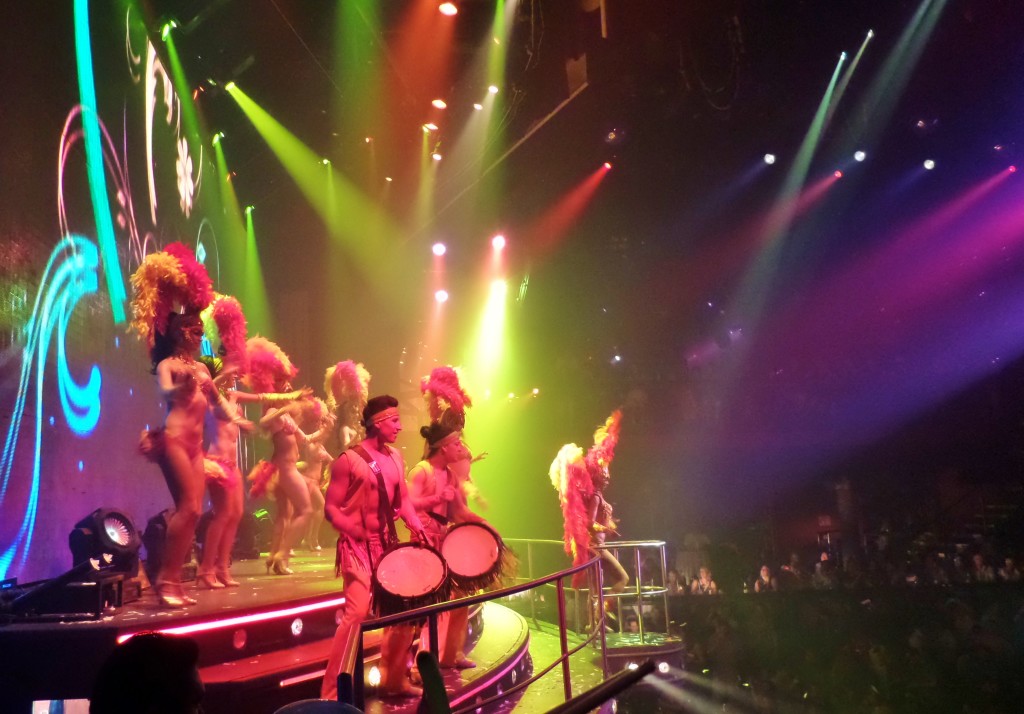 What types of tickets are available to Coco Bongo?
There are two basic Coco Bongo tickets you can purchase. The regular entry is for open bar and a place to stand for the show. The other type of ticket is the VIP which will allow you to enter a little faster and have a better location to see the show. There are also upgrades for a table seat which is more comfortable if you want to sit and have a table for your drinks. We honestly don't mind just the regular entry. It is sufficient for seeing the show. The faster line to get in is not that big of a deal. If you are going to drink, dance around a little and have fun then the regular ticket is just fine.
Below you can purchase your tickets to the show. The nice thing about Coco Bongo tickets is the fact that even if the weather is not the best, you can still have a fun night out. So purchasing them in advance allows you to select the day you want to go out.
Coco Bongo Tickets for Playa Del Carmen
For Coco Bongo Show tickets with open bar and regular entry, click below.

For Coco Bongo tickets with VIP pass you can click below.

Coco Bongo Tickets for Cancun

Tips for going to Coco Bongo
Get some rest! It is a long night of fun. Of course you can leave at anytime but you might a well get your moneys worth.
Wear comfortable shoes. You will most likely be standing all night or dancing.
Most people wear comfortable clothes. This is not a dress up type of show.
No big bags or large purses are allowed into the club. You will go through security before entering. Make sure to have ID with you since there is an age limit of 18. You can just bring cash for taxis or tipping your waiter for bringing you drinks during the night.
There are plenty of taxis afterward to get you home. Just make sure you have someone responsible to communicate and pay the correct price. You can also get transportation in busses from most resorts (see details when purchasing tickets).
Having an open bar is tempting to keep drinking. Make sure you don't ruin your next day with a hangover. Open bars usually don't mean top shelf alcohol.
If you are also looking to go out in Playa Del Carmen you should read our Club Guide and our Bar Guide for the area.
Thank you for reading our article on Coco Bongo and how to get tickets. If you go, we hope you have a fun night out. Let us know if you have any questions or comments below.