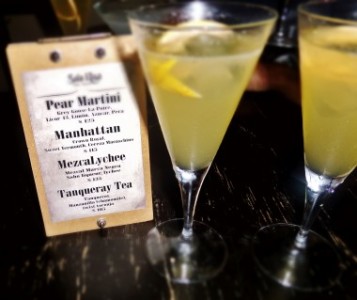 Going out and grabbing a drink at a bar in Playa Del Carmen is just about on everyone's list of activities to do when vacationing here. It can be hard to decide where to go and what is good so we complied a list of Playa Del Carmen bars. Read through and see what might fit what you are looking for. We will continue to add bars to this list for Playa Del Carmen and keep it updated.
Here is some general information for Bars in Playa Del Carmen
Quality of drinks range from bottom shelf alcohol and weak tourist drinks or top shelf well made cocktails. In general you will get much better drinks going out in Playa then at all inclusive hotels.
Generally drinking on 5th Avenue will be more for the same drink. Cocktails usually fall in the range of 80-150 pesos. That is still a good value compared to many places in the world.
Alcoholic drinks can be expensive for locals based on wages, so beer is very popular at 40-60 pesos each. It is good there is a wide selection of beers here and perhaps some you have not tried.
Most bars are open un 2:00am. If you want to stay out longer you will have to go to a club. Most people start at bars and move to clubs around 1:00am or 2:00am
Most of the bars are on 10th Street, 12th Street and 5th Avenue.
Tipping at a bar is less then other countries. At some simple bars, tipping is only done when you order a few drinks. Usually no tip is given when having a beer.
Don't be afraid of any ice because ALL bars use purified water.
Have fun and be safe. Playa is a safe place but people can take advantage of drunk people anywhere. Read our safety in Playa Del Carmen article for more information.
*see map below for all the locations.
Bars on 12th Street in Playa Del Carmen
Abolengo Bar is an open air bar on the corner of 12th Street and 1st Avenue. It is a new take on the old style Mexican cantina bar. It is medium loud and a great corner to people watch and be watched. They do serve some light food, if you can get a table. If you come before 10:00pm it is fairly quiet. The later in the night it gets, the louder and wilder it gets.
Beach Bars in Playa Del Carmen
Zenzi Bar is on the beach by 10th Street. Some nights there is live music and salsa dancing. They do serve food but we prefer this as just a place to get a drink.
Senor Frogs is one of the places that is so tacky but has become so Mexican at the same time. There is always fun music and light hearted staff to make it a fun time. They are open 10:00am-2:00am daily so you can come during the day to the beach and this bar. Bar food is served here but it is typical bar food and tourist priced. Senor Frogs is by the Cozumel Ferry Pier.
Bars with live music in Playa Del Carmen
If you want some good music to go with your drinks, there are some good places for you. Most of the bars are on or near 5th Avenue and a few on the beach. Here is our guide to live music bars in Playa Del Carmen.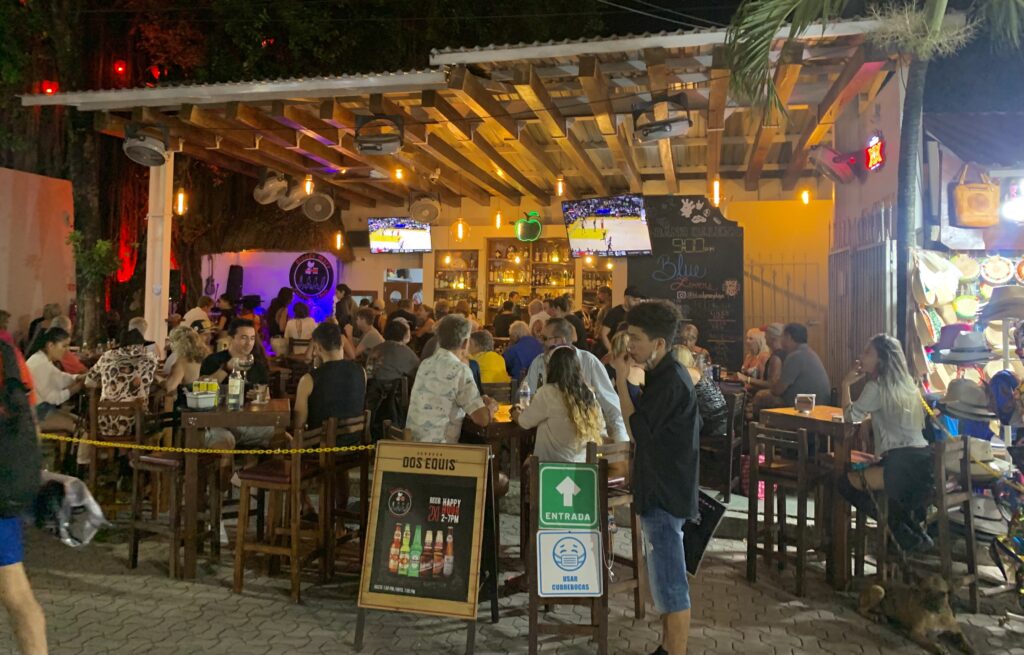 Sports Bars in Playa Del Carmen
Want to watch some sports, chill have a drink and maybe even make some sports bets? Here are some good options for you.
Tequila Barrel was a popular bar on 5th for years, but it closed in 2022.
Taco City is on 5th Avenue between 12th Street and 14th Street. This place has some of the best TV's and if you want a game, this might be the best place to see it. Open until 1:00am daily.
Los Tabernacos is a lively bar with a Canadian flair. Fun atmosphere off 5th Avenue on 10th Street between 10th Avenue and 15th Avenue. Closed Mondays Open Tuesday-Sunday 4:30pm-2:00am.
Sr. Dan's Margarita and Sports Bar is a small bar on the south end of town near the Cozumel Ferry Pier. They have three TV's to watch and a range of margaritas to keep you hydrated. This is on Calle 3 Sur between 5th Avenue and the Ferry Pier. Open until 1:00am daily.
Bars on 5th Avenue or just off 5th Avenue in Playa Del Carmen
El Tigre Bar is a Mexican style cantina bar in upscale hotel. Here you can try mezcals, tequilas and other Mexican spirits. This is a quieter bar albeit with Mexican Bandamax music. The bar is new and upscale. This bar is on 10th Avenue between 2nd Street and 4th Street.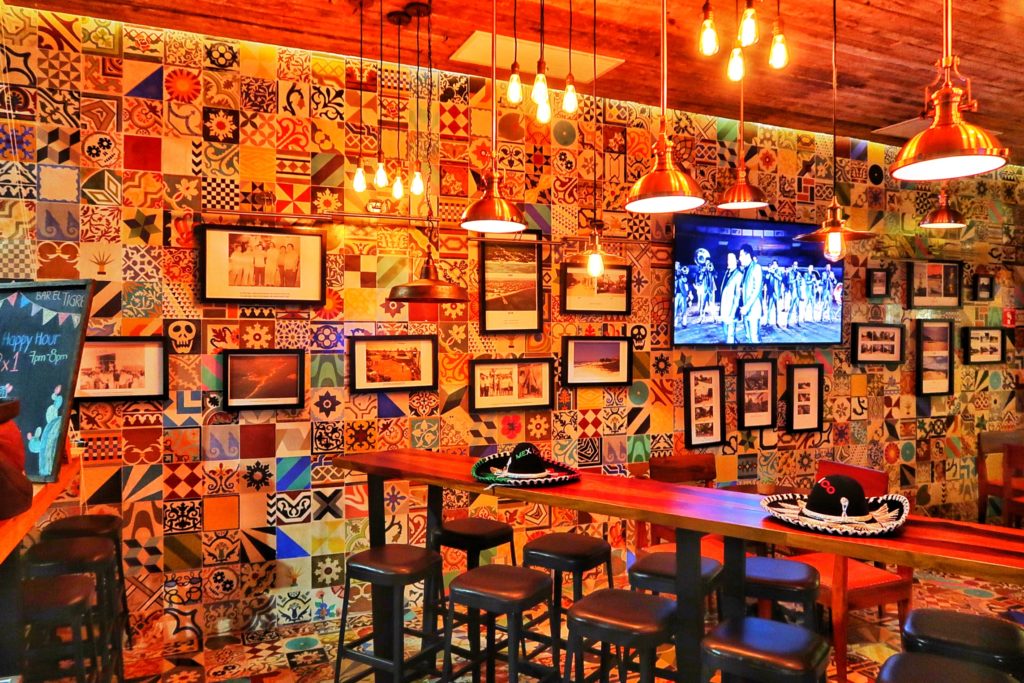 L'ambassade is a long running favorite in bar in Playa Del Carmen. People like this bar because it is casual and there are cheap prices for liter size drinks. This bar closed for a short while because the building was getting remodeled. It is now just a door down from it's old location. You can find this bar on 10th Street between 5th Avenue and 10th Avenue.
Dirty Martini Lounge is a favorite for local expats and martini lovers. Here you get quality drinks and good prices. It is worth going a little off 5th Avenue for this bar. You can find the Dirty Martini Lounge on 1st Avenue between 10th and 12th Streets. This bar closed a while back, but is back!
Las Helodias is on 28th Street going down to Mamitas Beach. This stop makes for a good daytime bar on your way or coming back from the beach. They have fun liter drinks here that are unique.
Beer Bars in Playa Del Carmen
Club De Cerveza is the best place to get a wide selection of Mexican craft beers. With other 60 different craft beers from around the world, you can drink your way to a happy place. They also have a higher end range of "bar food" here and you can eat as well as drink here. Club De Cerveza is right on 5th Avenue between 34th and 38th Street.
Cerveceria Chapultepec is a trendy spot to get some beers. There are two location in Playa. Here you can have a good beer and get a feel for what Mexico offers in chic bar style.
Manne's Biergarten is German beer bar on 4th Street between 10th Avenue and 15th Avenue. It is popular with some expats and just beer lovers.
Maps guide to all the bars in Playa Del Carmen
Bar tour in Playa Del Carmen
Are you looking for that epic night out in Playa Del Carmen but not sure where to go? You can join in a group and get all your drinks included and easy access to the best bars in town. This tour will take you to three of the best bars. You get unlimited drinks and entrances. To check this tour out click the link here for more information.

We also recommend you see our article on nightlife in Playa Del Carmen and what clubs are good to go to.
Now that you know where the good bars are check out our article on some great drinks in Playa Del Carmen. Some of these are at restaurants and some at bars.
If you are looking for Gay and Lesbian bars you can check out our guide here. Playa is very mixed so everywhere is friendly but in the guide you can find some more specific spots to check out.
What is your favorite bar in Playa Del Carmen and why? We want to hear from you. Let us know in the comments below.
[print_link]