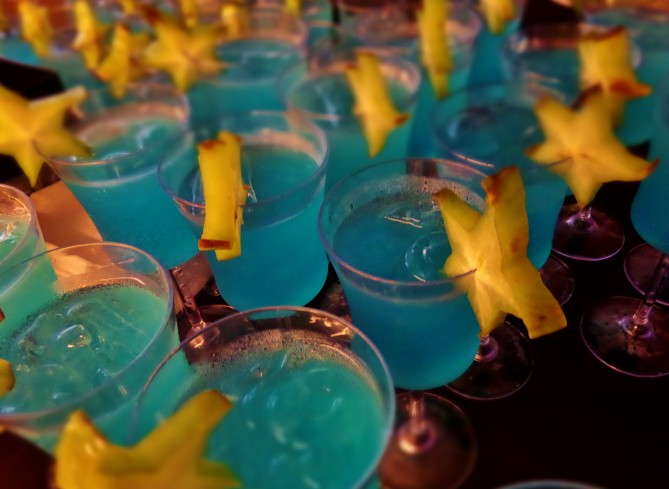 Great Drinks in Playa Del Carmen
Playa Del Carmen has a plethora of bars and top notch restaurants with some creative mixologist. We are constantly coming across some creative and delicious drinks while covering the city. We wanted to highlight some of these for you and will keep adding to the list when we find more. Not all are alcoholic, but all of the drinks are unique and good in their own way.
Basil Martini
This is one of our favorite drinks in Playa Del Carmen. It is an unexpected ingredient but fits oh so well! To top it off, it is frozen. You have to drink it a little fast at first because it is piled up and will start to melt.
This drink is at Piola Restaurant on 38th Street between 5th Avenue and the beach. In addition to having this great drink they also do decent pizza and pasta dishes. The setting is also very nice in the trees and there is a nice fountain in front of the restaurant.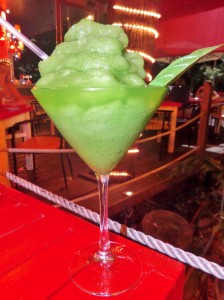 Ginger Berry
This is another gin drink. This time brought to you by the Live Aqua. This drink is made with gin, raspberry, yellow lemons and ginger syrup. This is a strong drink for the liquor content but you don't taste the gin so much. The Live Aqua Hotel is on 5th Avenue with an entrance near the corner of 30th Street.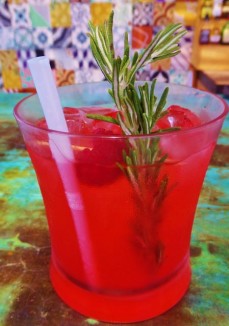 Mezcal Drinks in Playa Del Carmen
We have four drinks that all have mezcal. Mezcal used to be the poor cousin of tequila but now has risen to the artisan made beverage of trendy scale.
Tamarindo Mezcal
At La Perla Pixan Cuisine and Mezcal Store they know mezcal. They have a drink made of tamarind and mezcal that will give you a local taste of Mexico and is super unique.
Aperol Mezecial
This is at Almirante Pech Restaurant on the corner of 5th Avenue and 30th St. Besides a great lively place to eat and watch people they have some cool drinks. This one is made with Mezcal and Aperol liquors mixed with lemon juice, sour orange, and garnished with a jicama slice which is infuse with passion fruit flavor and chia seeds.
Michelada -That drink that is so Mexican!
If you like beer then there is a chance you might like this Mexican twist on this popular drink. You order the beer of your choice then you are brought a chilled glass with lime juice, soy sauce, tabasco sauce, and a salted rim. There are slight variations of this mix but you get the idea. The photo here is from Chiltepin Restaurant.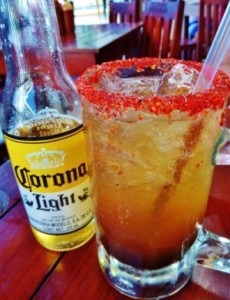 Mint and Lime Frappe
This is a non alcoholic drink that is perfect for a refreshing drink on a hot day. You can find this at Frutiyogurth Restaurant located on 34th Street and the corner of 40th Avenue.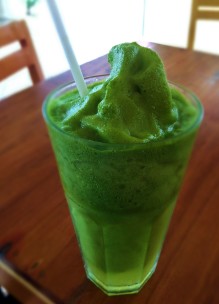 Venezuelan Lemonade
The Kaxapa Factory Restaurant serves up some different drinks. One of our favorites is the lemonade made from piloncillo (brown sugar). This is a non alcoholic drink. It is so refreshing on a hot day! This restaurant is on 10th Street between 15th Avenue and 20th Avenue on the north side of the street. They are always super friendly as well!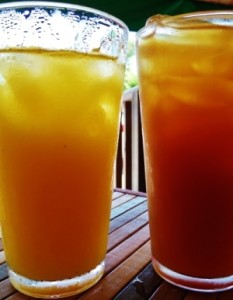 Jamaica the Country?
Jamaica pronounced (ha-my-kah) is actually a tea made out of hibiscus flowers. This is a very Mexican drink and you can find it in many taco places accompanying a meal. Check out our friends at Don Chendo Restaurant where they make their own special blend.
Drink up everyone! There are some great drinks in Playa! And be sure to check out our Bar Guide for great options.
Where do you like to drink at in Playa Del Carmen? Do you have a favorite one? Let us know in the comments below.