Now that your mouth is watering from just looking at the photos, we are going to tell you all the delicious details of this small restaurant. We really hope you get to go by and treat yourself to a meal at Don Chendo.
The Don Chendo Restaurant Story
This Italian restaurant just opened in November of 2013 and has been gaining in popularity due to their original quality cooking and passion for food. It is always nice to find people like Russell ,who is the owner and chef, that share their passion and art of cooking. Russell retired form the restaurant business in New York City and never imagined he would be getting back in the business let alone in Mexico. He moved to Mexico to work in another job but found himself back in the business again. He has actually had seven years here in Playa Del Carmen as a restaurateur and now runs his small restaurant and we should all be so lucky that the food passion struck him again.
The Menu at Don Chendo
Where did the menu come from? Russell learned from old Italian women in New York City the techniques and recipes that he uses today. Now he passes the techniques to his kitchen staff assistants while keeping an close eye on quality. When asked what his favorite thing on the menu is, he simply said he only puts food on the menu he loves, so he heartily approves everything and it just depends on what you are in the mood for. The menu is small to keep quality. There are salads, pastas and pizzas on the menu. ( The photo below is homemade meatballs cooking in the kitchen) Spaghetti and meatballs is one of there specialties!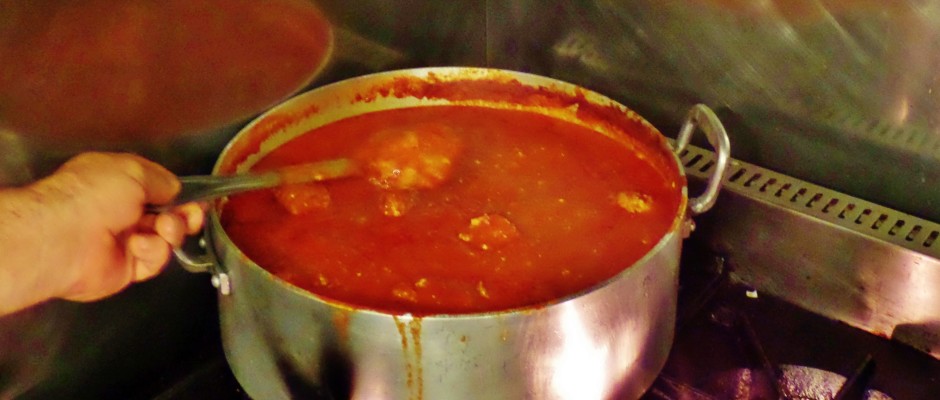 We know we have a lot of pizza photos on here but they do serve up good pastas as well. Everyone was ordering pizza the day we were there taking photos so we missed getting some more good food shots.
Interesting fact: Most menu items have a small story behind them like the Emilio pizza who was names after a taxi driver who wanted a pizza with those toppings.
Don Chendo is know for it's Chicago Style pizza among other things. Russell has a deep affection for making the best pizza for his clients. He starts by doing all the shopping himself which can include hand selecting tomatoes and visiting multiple locations to get the best produce. He has even taken up growing his own herbs. Having the right equipment is also key so he bought and collected equipment from Mexico and the United States.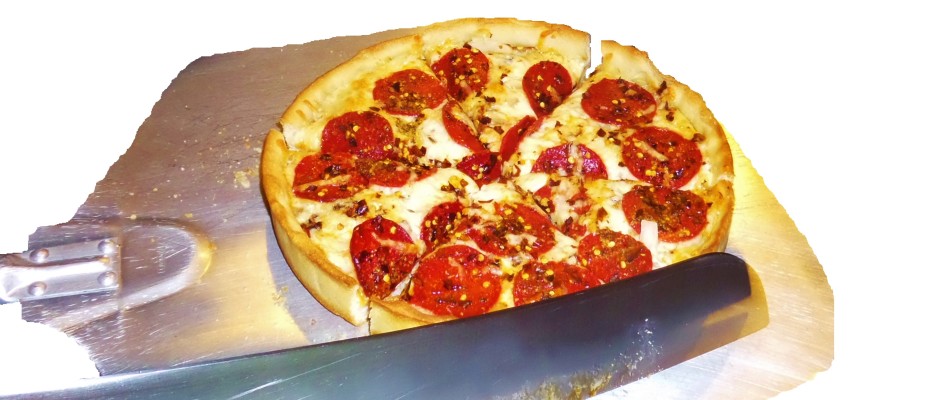 Russell makes all the crust for the pizzas and has it down to a science on how to make them perfectly toasted and soak in just the right amount of flavor without getting too soggy. He proudly showed us a fresh pizza out of the oven and how beautiful the crust is. (see photo below)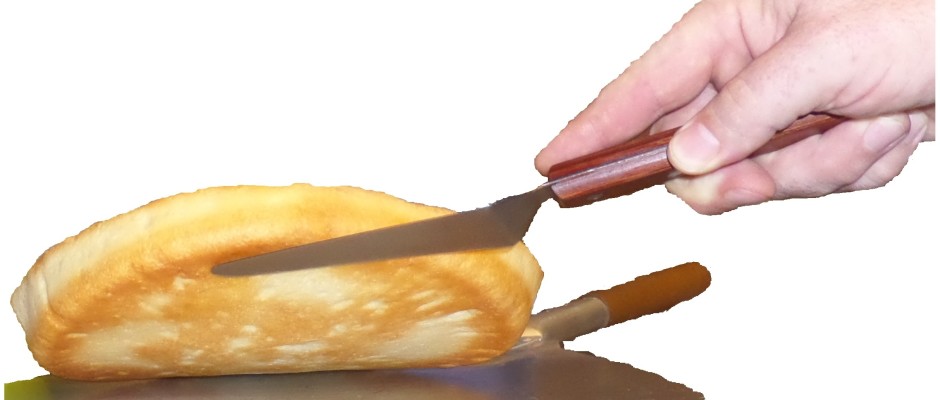 A very interesting thing about the recipe for the crust is that comes from Naples, Italy. It is a classic pizza crust. The family that brought the generations old recipe to the United States still uses it there. So it is fusion of the old world crust but with a new world Chicago style.
Pizzas serve 2-3 people and come in one size. Don't forget they deliver as well!! Just call them at 984-803-5950
To make sure you fully appreciate your meal there we also want to tell you about the jamaica drink. This staple in Mexico is made with brewed hibiscus flowers and sugar but this was not good enough for Russell. He took it to a whole other level adding more ingredients to it. His recipe came from a Jamaica juice he had while traveling the Caribbean. He had just finished brewing a big pot of it when we were there. If only we had a way to transfer the smell to you, it was like Christmas in a pot and smelled wonderful. So if you order it, don't gulp, take a moment to sort out all the flavors he manages to put into your drink.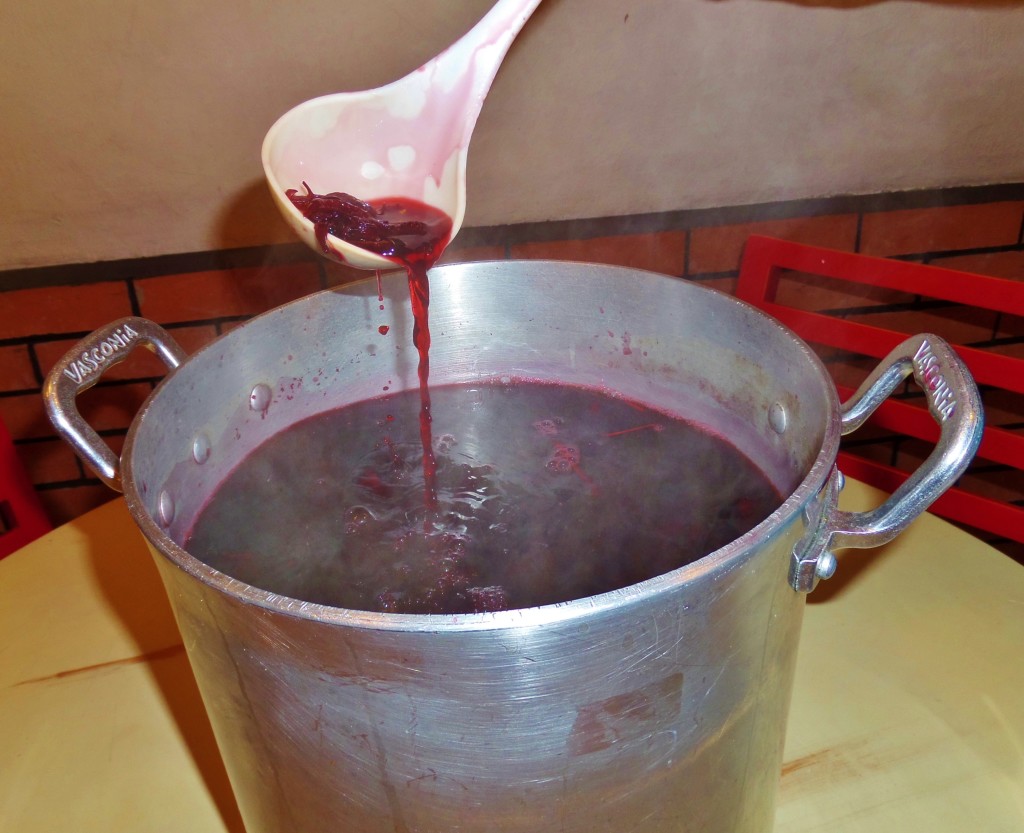 Don Chendo Restaurant also has its liquor license which means they can serve a nice selection of beers both traditional Mexican beers and also micro brewery beers. They do have a small wine list and also have after dinner liquors.
Don't forget to top off dinner with one of their fine coffees or deserts they have created like the mini banana split or the brownie with vanilla ice cream and a homemade hazelnut chocolate sauce.
Our Video of Don Chendo Restaurant
Hours
Only open for dinner. Monday -Saturday 5:00pm-11:00pm
Phone Number
984-803-5950
Where is Don Chendo Restaurant?
30th Avenue between between 24th and 26th street. It is on the east side of the street. In the day it does not look like much since it is closed. Look for the brownish red building right next to Hogar Pizza.
Have you been to Don Chendo Restaurant before? We would love to hear your comments below.