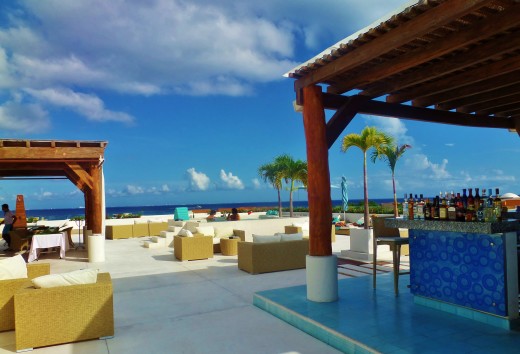 Roof Club at The Palm
High above 5th Avenue and the surrounding area, the Roof Club at the Palm provides a fine view overlooking the city of Playa Del Carmen and across to Cozumel Island. This will certainly give you a different perspective of things and is a great place to relax. We have been a couple of times and are surprised more people have not found this place yet.
During the day it is a great rooftop pool space. If you want to skip the sand but take the sun, then visiting a cool rooftop that has a bar can be a good option.  The pool area and large Jacuzzi are open from 11am-8pm.  To use the roof top they ask for a 500 peso per person consumption fee. this can be in bottle service, food or drinks.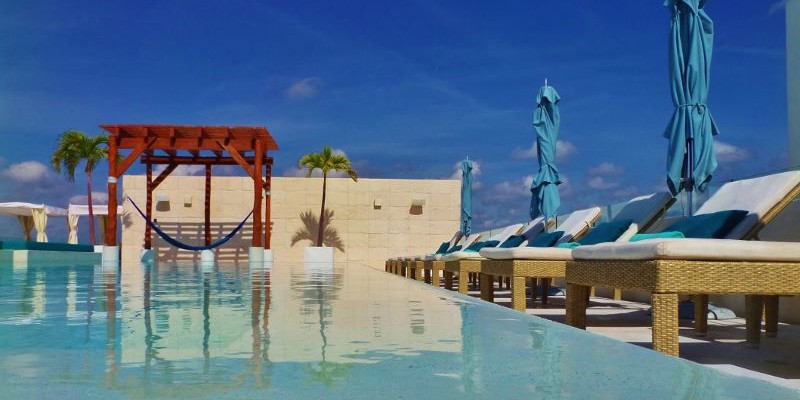 At night this places turns sexy as the colored lighting comes on and music plays. Even though the pool closes at 8pm the Roof Club stays open until 11pm Monday -Sunday. This is a great place to come for a drink before or after dinner. There are lots of wicker seats with cushions and areas to have a little private conversation. Usually you catch some sea breeze as well.  You can order at the bar or an attentive waiter will be by.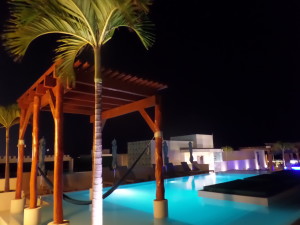 Sometimes there are special events or parties on the roof. Check them out on Facebook  for the latest events like pool parties with a DJ or a ladies night.
Drink prices for cocktails are about 120 pesos but often they have one featured on the 2×1 specials board.
Private events with open bar can be booked here. It makes for a very cosmopolitan cocktail party.
Location: 8th Street between 5th Avenue and 10th Avenue.  Walk into the lobby and straight into the elevator. Take it to the roof and you are there.
If you like reading about rooftop pools in Playa Del Carmen, see our guide to all of them here.