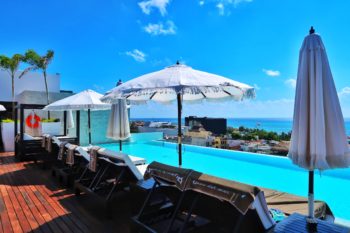 7 Rooftop Pools in Playa Del Carmen where you can chill
Rooftop pools in Playa Del Carmen have become very popular in recent years. Even though there is the beach, rooftop pools offer an experience of a beach club, just with better views and more breeze. It seems like each time a new rooftop opens it is trying to outdo the previous one. There are however difference in the rooftops mentioned below. There is some vibe for everyone. That is why we wrote this guide so you can fine what you think is best for you. Many are also hidden above street level and you might just miss out on some of these spots.
General guidance about rooftop pools in Playa Del Carmen
All of the rooftop pools below are open to the public.
Some of the pools that are at hotels will limit outside guest based on occupancy.
On beautiful days it is best to arrive before 11:00am to get a spot or better spot.
How much does it cost? Well this changes often at most locations. It depends on the season and sometimes who is the waiter. We find it hard to keep up with prices since they change a lot. Usually it is cheaper Monday-Wednesday and a little more the other days.
Most charge by consumption and have a minimum. This ranges in general from 400-1500 pesos per person. This can be a good value for a day since getting a few drinks and something to eat usually meets the minimum. If you see a pool you like you can see our link to guidance on prices.
Purobeach Rooftop Pool
Located on the roof of The Fives Downtown Hotel is the Purobeach Rooftop Club. This is a new trendy rooftop pool in Playa Del Carmen where you can layout and have sea views. Lounge music, a gorgeous pool, bar and food options all await you here. This can be a day of relaxing for both hotel guest and it is open to the public.
What is the vibe here?
Chill and trendy. There is a decent amount of lounge chairs and beds but it does fill up fast. There are good food and drinks served here. It is not the most expensive but not the cheapest option. For quality, you get a pretty good deal here. The pool is on the larger side compared to others and view is in the top 3. This rooftop pool gets a crowd from 31-42 years old.
For more about visiting Purobeach Rooftop pool see our article here.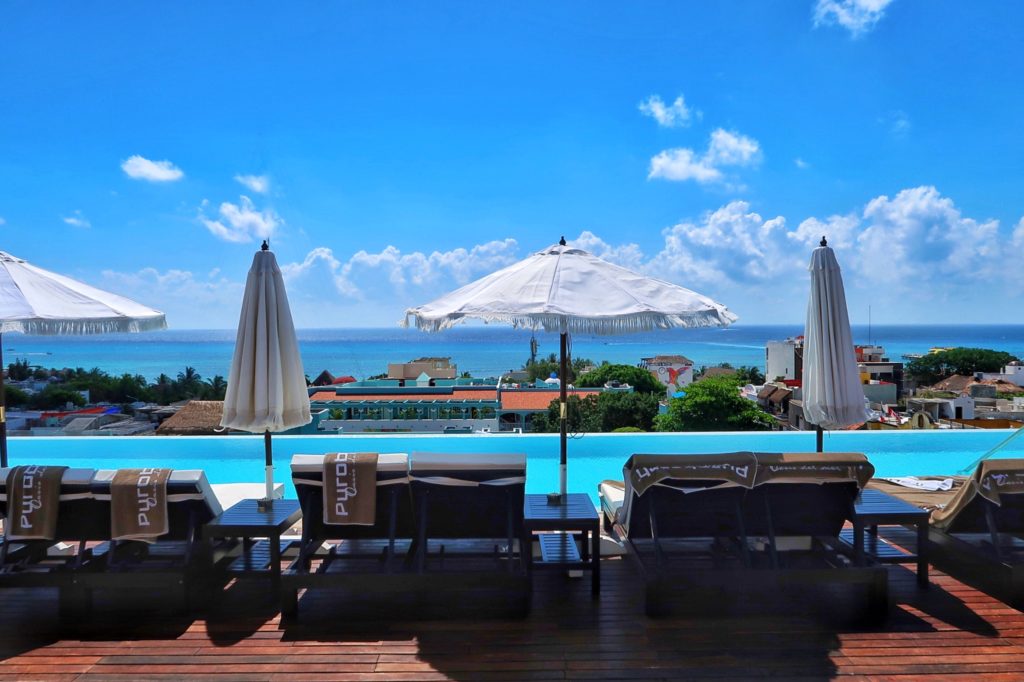 Deck 5 at the Carmen Hotel
The Carmen Hotel is a hot new modern hotel on Playa Del Carmen's beachfront. This hotel offers modern style and youthful energy to the already chic and energetic Playa Del Carmen. This style and energy carries right up to their rooftop pool. Deck 5 is their rooftop that is open to the public daily. Here you can lounge around the pool, take in the stunning 180 degree vista of the Caribbean and have drinks and food.
Who might like this rooftop pool?
This is the only rooftop pool actually on the beachfront. The crowd here is a little younger and more MTV like then some of the others. Age range in general? Maybe around 22-36 year olds would go here. Expect music and maybe a DJ.
For more about visiting the Deck 5 rooftop pool in Playa Del Carmen, see our article here.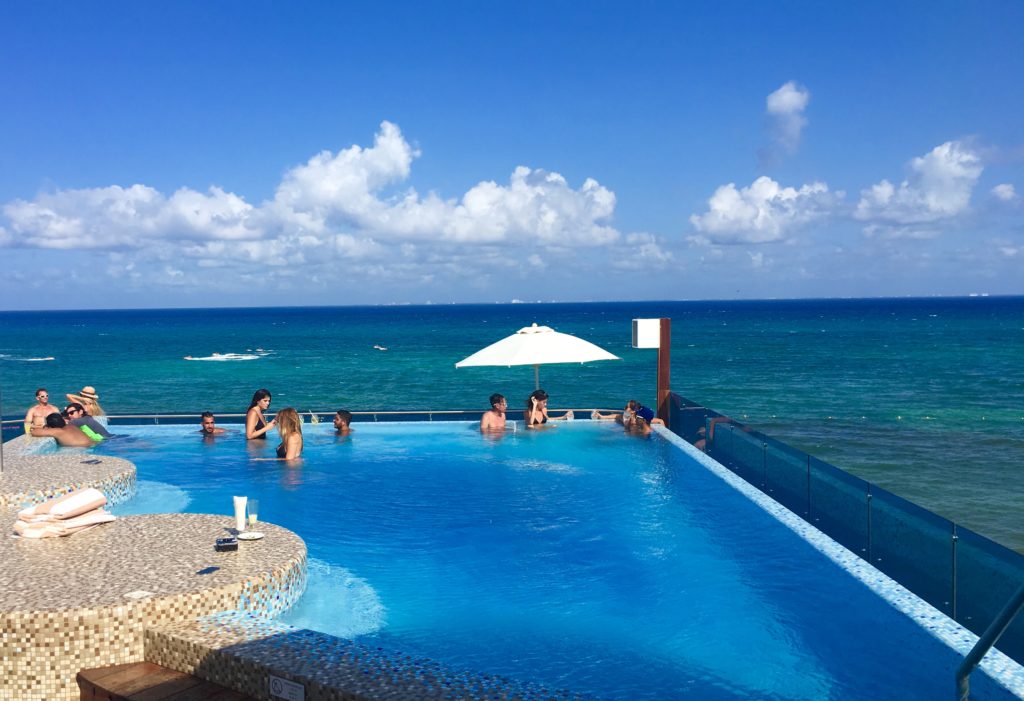 The Reef 28 Hotel Rooftop Pool
The Reef 28 is a hotel that has a large rooftop pool open to both guest and outside visitors. The rooftop area is one of the largest in Playa. It has a pool and two jacuzzi pools along with a large sitting area. It is one block from the beach but you do have a view of the ocean.
On the roof there is a bar and restaurant. The Reef 28 Hotel is on 1st Avenue and 28th Street. Just go in a take the elevator to the roof.
What is the vibe here?
This is a relaxed pool area that is new and surely will be finding it's identify. They play trendy music but the roof is so large that if you want a quieter place to go, you can find it. The hotel is adult only so you will most likely find couples here and people from 28-50 here.
The price for outside guest is 300 pesos in consumption for the lower deck and the upper deck with the pool there is 1800 pesos minimum consumption for the beds there.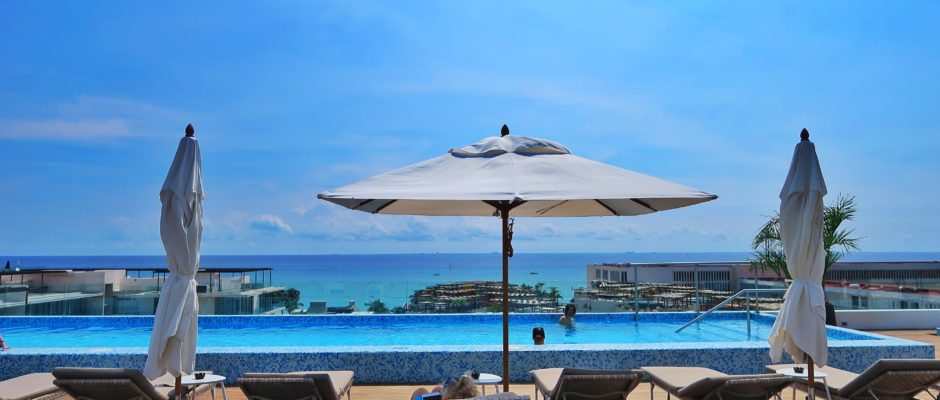 Thompson Hotel Rooftop Pool
The Thompson Hotel brand is an upscale hotel for travelers that like style. There are two Thompson Hotels in Playa Del Carmen and the one on 12th Street has the rooftop pool. The roof is curved and the views are great. This is the only rooftop that has cabanas that you can rent. Some of these are large enough for a party and come well equipped.
What is the vibe here?
Think model party and upscale. Since this is on the upper end of expense it does get people willing to spend for the day. It is best to look the part while here. People tend to have a nice swimsuit and sunglasses here. Expect a crowd of jet setters from age 27-54 here.
For more about the rooftop at the Thompson Hotel, see our article here.
Roof Club at the Palm Hotel
The Palm Hotel on 8th Street has a beautiful view from the roof. So it is good they put a pool up there. This pool has a great view and separate Jacuzzi tub/pool. This rooftop has one the largest spaces and gets a mix of hotel guest and locals looking to soak up some sun. A few tourist find it also.
What is the vibe here?
It can be calm and relaxing during the week and maybe a Dj on the weekend. This pool tends to appeal to a crowd 25-33 years old.
For more about this rooftop club see our article here.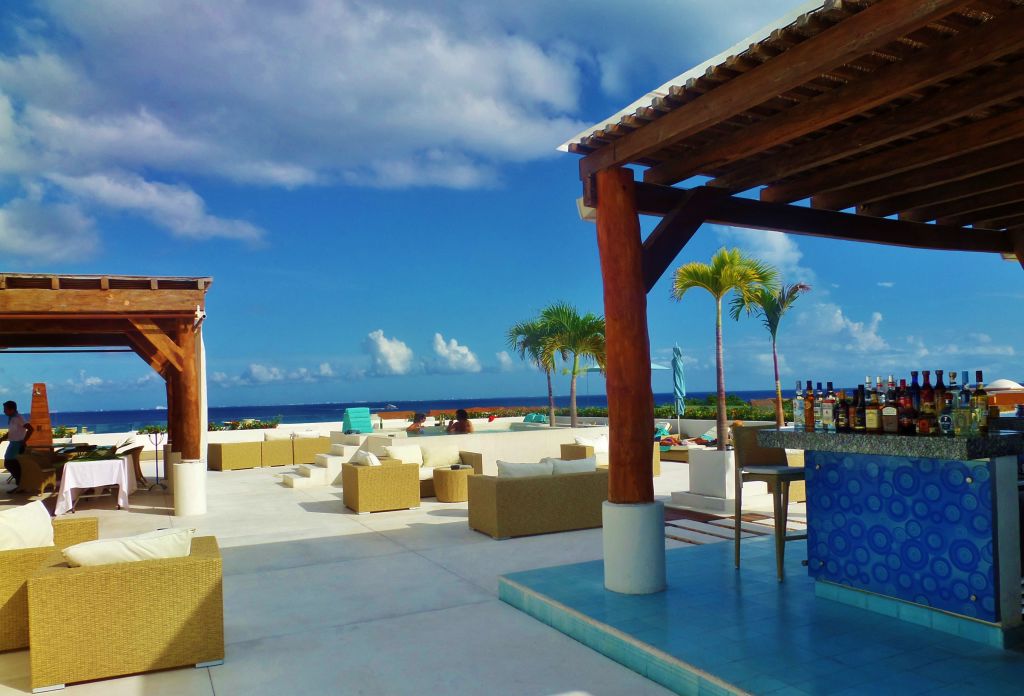 Be Playa Rooftop Pool
This was one of the first rooftop pools in Playa Del Carmen. You can see how rooftop pools have evolved since. This pool is smaller and shallow and the rooftop is smaller then most on this list.
What is the vibe at this rooftop pool?
The atmosphere is chill and laid back. It gets a lot of locals that want a place to go with a little sun and water. Sometimes this place is very quiet and others it is a party. This rooftop pool appeals to people looking for a chill time without super loud music. This might appeal most to people 33-49 year olds.
For more about Be Playa see our article here.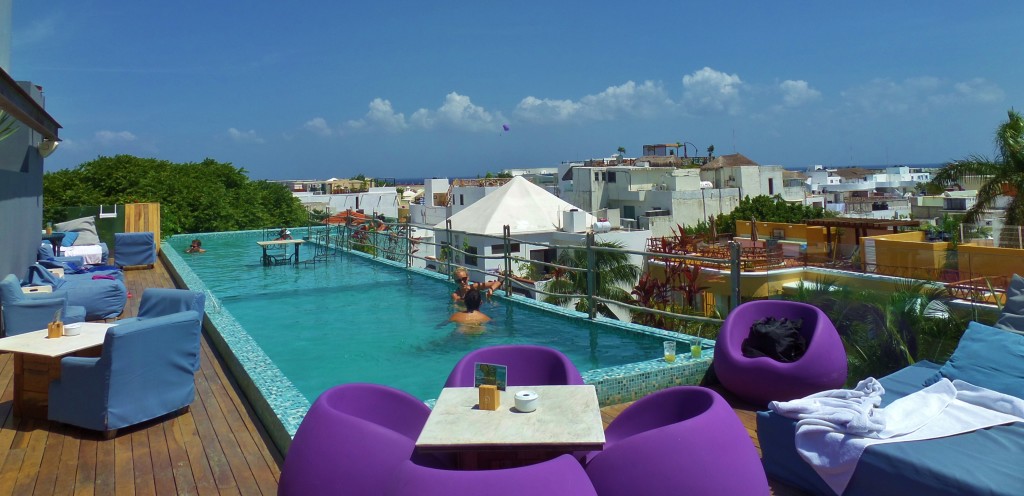 3B Rooftop Pool Party
Located on the roof of the 3B Hostel on 10th Avenue by Calle 1 Sur this place is party central on Sundays. There is a small pool but most of the action happens around the dance area and bar.
Who would like this rooftop pool?
Young and in the mood to party! This is notorious for Sunday parties and get a larger crowd of people staying at the 3B and people that hear about the fun times. This rooftop appeals to people mainly from 18-29 year olds.
What is your favorite rooftop pool in Playa Del Carmen? Let us know in the comments below, we would love to hear from you.