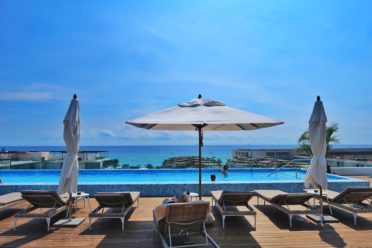 The Reef 28 Hotel
The Reef 28 Hotel is a new stylish addition to the center of Playa Del Carmen. This hotel is on 1st Avenue and 28th Street near Mamitas Beach.
For a long time this was just an empty lot but now stands this new hotel. Along with the hotel there is a spa, rooftop and pool, bars and restaurants. We are going to show you everything this hotel has to offer and who might like to stay here.
Our video overview of the Reef 28 Hotel
Like everything on our website, we go there, visit, experience and report back to you. We stayed here at this hotel so we could tell you exactly what it is like. Here is our video overview.
What are the rooms like at the Reef 28 Hotel?
Modern, clean and comfortable come to mind when thinking about the rooms. There are large bathrooms, bed area and a separate livingroom area. The rooms are a good size especially for the downtown of Playa Del Carmen.
The bathrooms are lined in stone with large glass showers and large sink area.
All rooms face outward on four sides. Only the one side has partial ocean views. To be honest the rooms are nice for staying in and you don't miss the views because it has such a nice rooftop.
Amenities in the rooms
WiFi
USB charging station.
24 hour room service with menu in rooms. The menu did look good although we never used it since there were the other dining options.
Daily housekeeping.
Minibar that is stocked daily (beer, water soda).
Coffee maker.
Large flat screen TV with cable.
Dinning opportunities at this hotel
This hotel has four restaurants and three bars. There is a bar in the lobby which makes for a nice coffee or drink while waiting for people, a rooftop bar and a bar between the two restaurants on the main floor.
Restaurant options at the Reef 28 Hotel
Ventiocho is in the center atrium of the hotel where a breakfast buffet is served.
El Asiatico is good for getting a taste of Asia.
Cachito is the Mexican restaurant at the Reef 28 Hotel.
The rooftop serves light meals for lunch or dinner.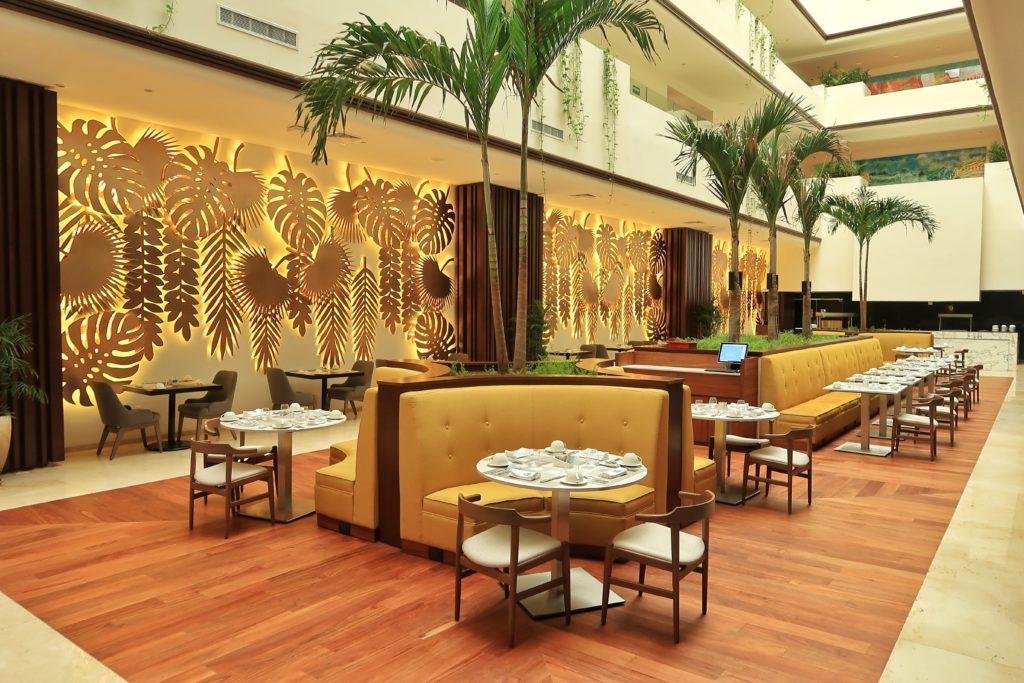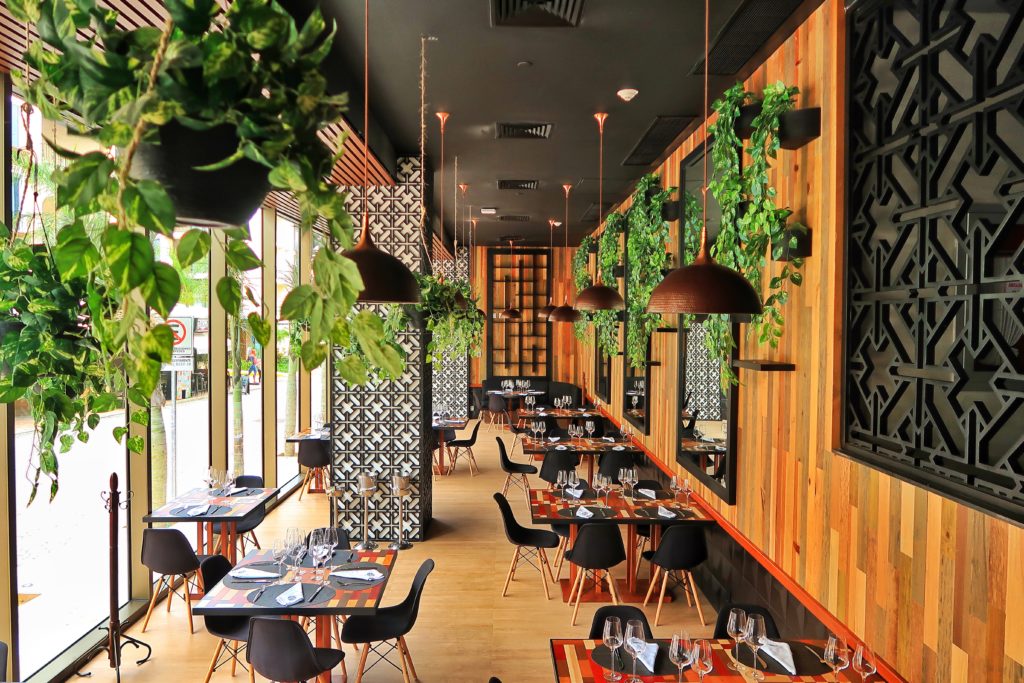 Services at the Reef 28 Hotel
The rooftop and pool
Enjoy laying around on the roof when visiting this hotel! You have a great panoramic view. There is one pool and two jacuzzis on the roof plus a lot of space for lounging around.  You can also have lunch or dinner on the roof as well as drinks from the Arriba Bar.
The gym at the Reef 28 Hotel
For those of you who like to workout while on vacation there is a gym on the top floor of the hotel. It is adequate for being a hotel gym. It is air conditioned, has a TV, water cooler and towels. You can find a rowing machine, treadmills, dumbbells, and machines.
The Okom Spa
One of the highlights of this hotel is the nice spa. The Okom Spa is a calm and restful place cut off from the outside world where you can indulge in hydrotherapy, a massage or beauty treatment.
The spa is one of the better spas in Playa Del Carmen and the perfect place to pamper or destress. For more about the Okom Spa see our article here.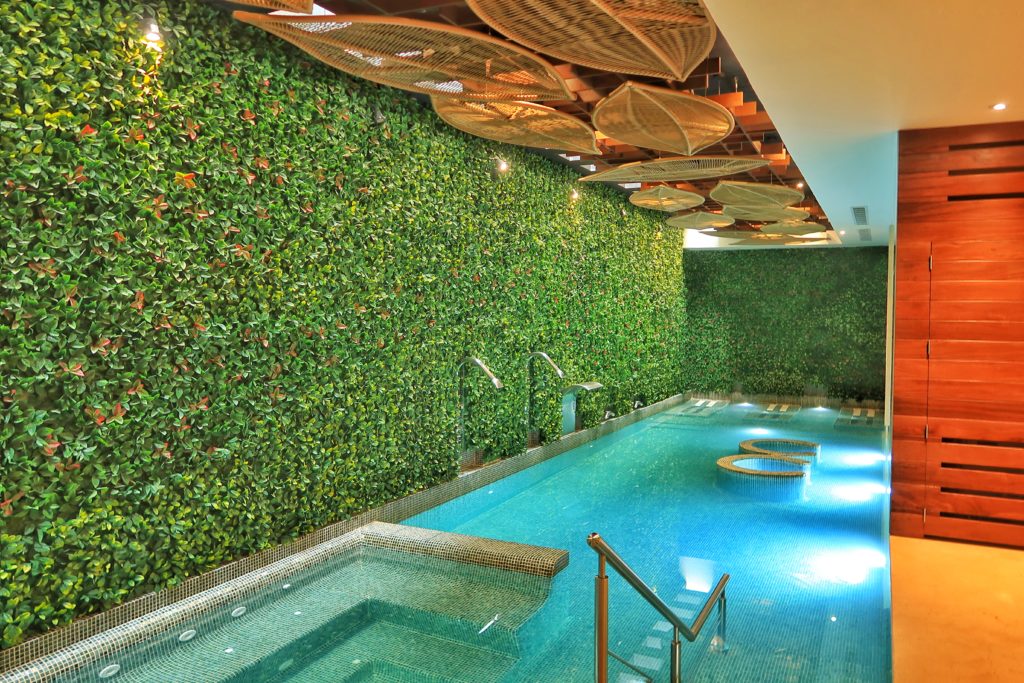 Who we recommend this hotel for
This hotel is adults only so it is good for couples that want a place by the beach and also a place to get out and enjoy the town. It is more urban with a rooftop pool and cosmopolitan restaurants plus 5th Avenue just out the door.
Since this the Reef 28 Hotel is all inclusive you can easily drop into Playa Del Carmen and do not have to worry about planning where to eat. Compared to other all inclusive hotels that are resorts, this is a more modern cosmopolitan hotel in the center of Playa. This is a smaller more compact all inclusive that would appeal to the more city person.
We feel this hotel would ideally appeal to couples that are around ages 29-56 years old. It also is a very affordable option with good value.
How much are rooms at the Reef 28 Hotel?
You might be surprised how affordable this new hotel is. The prices will vary depending on the time of year you want to go but for an all inclusive stay, this is one of the better deals in town. For prices for the Reef 28 Hotel see our link here.
Where is the Reef 28 Hotel and what is nearby?
The hotel is on 1st Avenue and 28th Street. This is just up the street from Mamitas Beach and one block from 5th Avenue. The location of the hotel is very central in Playa Del Carmen and most things are walkable from it.
Thank you for reading our review of what the Reef 28 Hotel is like. Let us know if you have questions or comments below. We would love to hear from you.