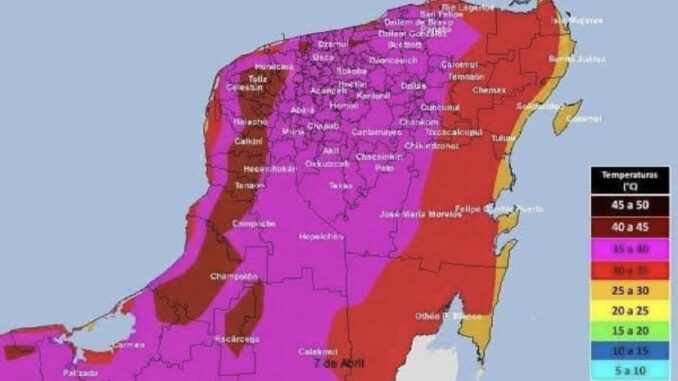 Hot times in Mexico!
This is the time of year when the weather is normally hot, and we have daily showers that break the heat and humidity. It is also normal to have April and May some of the hottest feeling months in the Yucatan Peninsula because it is traditionally the dry season before the summer rains arrive. This cycle allows for the forest to rest, and it almost looks dead because the lack of rain. Then like clockwork, the rains come, and everything starts to become green again. But this year, we are having a heat wave that is sticking around for a while and making everyone a little stickier.
We have been hitting some records and the overall effect is long weeks of hot weather that can make things a little harder to get things done or just enjoy a lot of outside time. To add to the feeling of hot weather, at night the temperatures do not dip down that much, so often by 9am it can be 88 F (31 C degrees outside.)
This is just a reminder that it can get hot and stay hot for a while here in the Riviera Maya. So, in this article we will mention some tips to stay cool and cool places to chill to avoid the heat. Also see our article about how to live with humidity and mold in Mexico.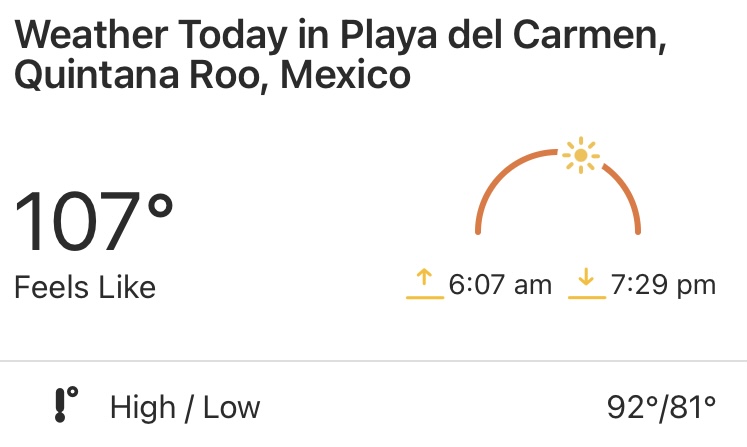 Why Playa Del Carmen is not built for the heat
One would think that a place that is in the tropics and deals with this heat on an ongoing level, would build accordingly. But no, there are a lot of issues with the design and architecture of not only Playa but many places in Mexico that prevent residents from getting the best relief from the heat. Below are some of the reasons why and what you might be able to do about it.
Wind direction
In Playa Del Carmen and the Riviera Maya the breeze usually comes off the ocean and goes west toward the interior of the Yucatan Peninsula. This means that ideally having windows facing east and west would allow for a nice breeze. However, because the avenues in Playa Del Carmen run parallel to the beach, all the side streets run east/west and have buildings that have north and south facing windows. So, if you are looking to buy a place in Playa Del Carmen, it is important to think about air flow. Most condos do use AC all the time with windows closed, but it is important to think about because it can save a lot of money if you can automatically shave some degrees off your inside temperature.
Construction methods in Mexico
Almost all buildings are built of concrete in Mexico with little or no insulation to block heat transferring into the buildings. Small homes are often built like a small oven that absorbs the heat in the day and radiates it back out at night, often raising the internal temperature of the house until 3am. This means that most people rely on air conditioning and fans to cool down. This can be an expensive prospect since energy gets more expensive in Mexico when you become a high consumer and rates go up.
We have always said that a great business idea would be energy audits for businesses and homes here. There are some simple solutions and more expensive options to build better to deal with the heat. It might be hard to get customers onboard, but with the ever-rising energy prices, it might get more attractive to look into options.
Lack of trees and greenery
Unlike places like Tulum, Playa has less restrictions on land use and green spaces. As Playa has developed, we have seen more and more green spaces disappear in favor of larger buildings that take up the entire footprint of the property. Little by little areas have turned into construction. Even when there is space to plant more trees, people often hold off because of humidity problems and fear of providing a home to mosquitos.
It is true that dense vegetation can lead to areas being more humid around buildings, there is a balance that can be reached. Using vines, plants and trees are a great inexpensive and low-tech option for keeping things cooler.
Best ways to stay cool in Playa Del Carmen
We hope if you are in the area during these hot times, you stay cool.