Remember when you were younger and you went to the movies, it was a special occasion? The theater seemed bright clean and exciting. The popcorn was smelling oh so good and there was a slight glamour about going to the movies.  Well that same sprit is alive today in the movie theater culture of Mexico. Theaters are large, clean and always trying the new things to entertain customers.
Tip: Movie theaters in Mexico are called cine or cinema. Theaters are where you go to see a play or ballet.
Movie Theaters in Playa Del Carmen
We have two movie theaters in Playa Del Carmen. One is in each of the two shopping plazas. Centro Maya has Cinemex and Plaza Las Americas has Cinepolis. Both theaters are newer and enjoyable to go to. Cinepolis is considered the more popular and larger theater. Now you can select your seats in Cinepolis and Cinemex  so getting there early to buy your tickets will give you more prime seats to choose from.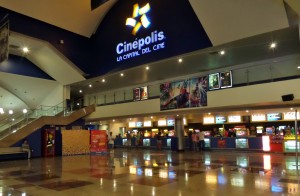 To see current listings at Cinepolis check their website. http://www.cinepolis.com.mx/index.aspx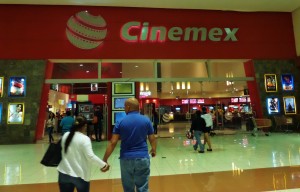 To see current listings at Cinemex check their website. http://cinemex.com/
Interesting fact: Many movies are in English in Playa Del Carmen. Part because there are a lot of English speakers. It is actually better to see these movies because there will be less people. Most families will go to Spanish versions of the same movie. Cartoons are usually only in Spanish since it is easy to dub them. Check online or the charts to see what movies are in English. Having Spanish subtitles will help you learn Spanish.
Price of movie tickets
Tickets cost from 30-60 pesos. This is a considerably lower price then other places and a welcome price break.  Prices can depend on the day of the week, what theater it is in, 3D or if you have a coupon. Coupons can be found in cookies and products. Both theaters have frequent viewer cards so you can collect points for discounts.
Food is where they will get you. Popcorn and soda can run you 100 pesos for large sizes. In both theaters they offer café food and keep adding services to make clients happy as well as make a profit.
Mexican Movies
Check out some of the Mexican cinema. The quality of some of these movies is excellent but you might not see they outside of  Mexico. One recent movie "Cásese Quien Pueda" was filmed right here in Quintana Roo. It is a modern romantic movie where one of the main characters ends up lost in a Mayan community.
To read more about the two malls these theaters are at, see our article about shopping centers in Playa Del Carmen.
Here are two maps for each of the shopping plazas with theaters.
Have you been to the movies in Playa Del Carmen? Which is your favorite theater? Let us know in the comment box below.