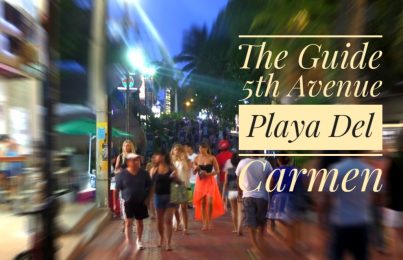 Playa del Carmen's iconic 5th Avenue, or "La Quinta" as it's affectionately known, stands as the vibrant heart of this coastal Mexican town. A bustling pedestrian street that stretches parallel to the Caribbean shoreline, it captivates visitors with its captivating blend of aromas, colors, and the rhythmic pulse of life. Lined with an eclectic array of restaurants, shops, and iconic landmarks, 5th Avenue is a sensory feast that offers an unparalleled immersion into the local culture. In this article, we invite you to wander this lively pedestrian thoroughfare, where the spirit of Playa del Carmen comes to life through the flavors, crafts, and experiences that make 5th Avenue an essential stop for travelers and a beloved hub for locals.
Everyone always wonders what there is to do in Playa Del Carmen and what the "must sees" are. When visiting you must see 5th Avenue. This pedestrian street runs parallel to the beach and has the bulk of tourist attractions including shops, restaurants, and street entertainment for Playa Del Carmen.
5th Avenue Playa Del Carmen Guide
Visiting 5th Avenue should be on everyone's list to discover when in town. If you are staying in the center of Playa Del Carmen, then you are surely going to walk around here to explore and if you are staying at an all-inclusive hotel then usually this is where tourist want to come for an evening to do some shopping and sightseeing. Make sure you visit 5th Avenue at different times of the day. In the morning it can be calm and peaceful place to take a coffee or run and, in the evening, it is very different because more people are out and there are even street performers and there is a special air of excitement.
Here is your personal guide to Playa Del Carmen's 5th Avenue map.
Our video guide of what to see on 5th Avenue
Where to start with 5th Avenue in Playa Del Carmen?
5th Avenue runs from the same street as the Cozumel Ferry Pier and runs all the way through Playa Del Carmen and continues out of the center of town. Most of the tourist attractions are from Calle 3 sur (south 3rd Street) to about 40th Street. This may sound like a lot to see, and it is, but remember the street are just even numbers north of Juarez Avenue. So, it is about 22 blocks of nonstop shopping and dining!
If you start at the south end, you will be starting in Paseo Del Carmen shopping plaza. This plaza is shaded and has clothes shops, tourist souvenirs and other shopping but don't do all your shopping here, you still have dozens of other opportunities!
The area between Paseo Del Carmen and Calle 1 Sur is a very cheap and a tacky area of 5th Avenue. It is best to skip this strip or walk past it unless you want knockoff sunglasses (make sure you read our article on how to avoid tourist traps and scams in Playa Del Carmen).
Parque Fundadores on 5th Avenue
Between Calle 1 Sur and Juarez Avenue there is Parque Fundadores. This was once one of the original areas of Playa Del Carmen when it was a very small town. It has grown into an exciting park with many tourist attractions. For example, there is a kids play area, Mayan dancers at night and papantla dancers performing throughout the day. This is a great area to visit in the evening and night. You can see some live entertainment here and they only ask for a tip. Check out the little white church on the corner of this park. It is photo icon of the city and if you go past on Sundays, you will see it being used.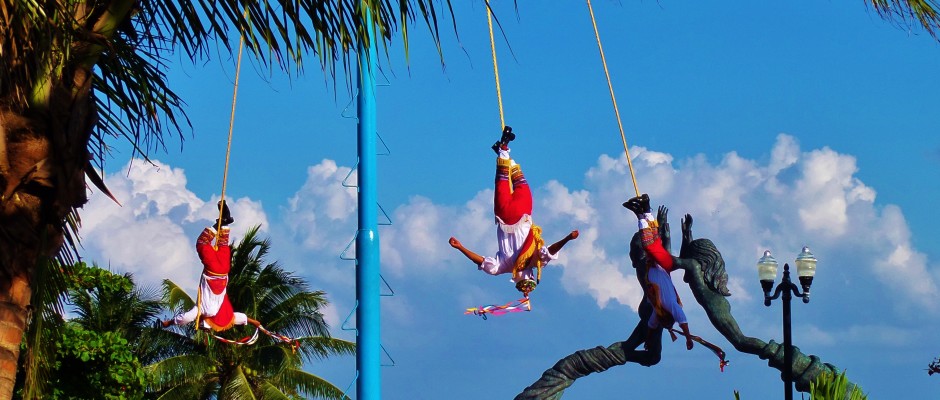 Across from this park on 5th Avenue is a tourist shop just before Juarez Avenue. The store is similar to others but the special thing to look for the statue on a bench out front. It makes for a great photo op! You will laugh when you see it!
5th Avenue from Juarez Avenue to 10th Street
From Juarez to 10th Street there is not much of interest except a few shops. In general this is the cheaper and older end of 5th Avenue.
When you come to the intersection of 12th Street you will see the new Calle Corazon shopping mall. This is mostly newer stores with American brands. You can find H&M here and stores like Hollister, Sephora and Bath & Body Works.
Also, around 12th Street you are near to many bars and clubs. At night this can be "the" place to be. Just off 5th Avenue on 10th Street there are many bars and 12th Street as well. See our bar guide to Playa Del Carmen for more information and also our Nightclub and Nightlife Guide. This area is happening from 10:00pm until 5:00am!
5th Avenue from 12th Street to 16th Street
From 12th Street to 16th Street, you will feel a little more relaxed in this tree lined area with good shops. You will find the Rosalia store with many Mexican tapestries and hand-woven clothes. This is the largest selection in Playa. They do not negotiate prices here but do take credit cards. It is a great place to get pillow covers or a decorative table runner.
There is a hidden entrance between 12th and 14th Street on the beach side of 5th Avenue where you can see a small Mayan ruin. It is well hidden so look hard for it! If you walk back there you will find a nice, treed area and even a small cenote that looks like a pool of water. Hardly any tourist ever stops in this spot so if you go you will most likely be alone. There are also modern Mayan decorations on the walls which can make for good photo ops.
Where some of the things on 5th Avenue in Playa Del Carmen come from?
When you are walking 5th Avenue you will see lots of stores with many Mexican crafts. Some are local but many are from other parts of the country. See our video below to see where many of the crafts come from that are sold in Playa Del Carmen.
Shopping on this part of 5th Avenue in Playa Del Carmen
Just up from the Plaza Corazon is a small store with just hearts in every form. This is called Corazon De Mexico. This is store perfect for you romantics out there. You can find glass heard to hang in your window or Mexican designed decorative hearts made form tin.
Next on 5th is one of our favorite places to send people for souvenirs! It is called Hacienda Tequila. You cannot miss the big yellow front and the statues outside. Inside you will find a large selection of gifts including a large many brands of tequilas. In the back is sort of a museum representing how tequila is made. Not only does this store have a lot of things for you, but it also has great air conditioning! Take moment to cool off and look around.
Just about a block down on the opposite side as Hacienda Tequila is Tequila Bazar. This store is also good for tourist souvenirs but especialy before Christmas because they have some nice decorations to buy. They also have some food products here made in Mexico that make great gifts. Things like chocolate bars, jams and vanilla.
Right after you pass Tequila Bazar there is a little side street numbered 16th. Often in the evenings there are local artist that set up shop here and you can buy something original and take it home. There is also art in 5th Avenue on Thursday nights. It is usually from 24th Street to 32nd Street. This is not just street art. Some of these artists are very famous and you can buy a painting here for half the price as it would be in a NYC gallery when they show there.
5th Avenue and Constituyentes Avenue
Once you arrive just before Constituyentes Avenue you cannot help but notice Quinta Alegria Mall. This was once an empty lot and now is part of Playa and 5th Avenue's charm. To start with there is usually some form of street entertainers in front of this shopping mall. This can be a nice place to stop and watch some performers especially in the evening time. There is anything from Michael Jackson impersonators to pirate shows. In the back of this mall on the first floor is the best liquor store in Playa. Here you can buy something for your room or gifts as well. This mall also makes for a good bathroom stop.
Here is a short time lapse video we made of Michael Jackson performing in front of Quinta Alegria.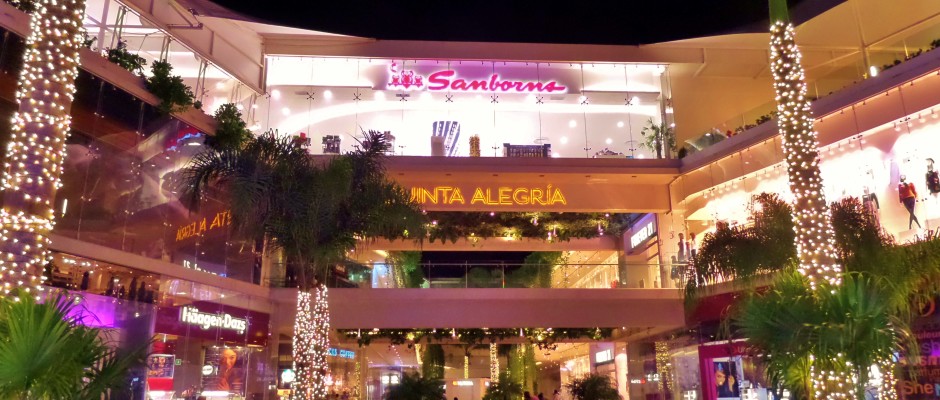 The last stretch of 5th Avenue from Constituyentes Avenue to 38th Street
From Constituyentes Avenue to 38th Street you will find some of the higher end shops and restaurants. We call this "upper 5th Avenue" because as you go north on 5th Avenue you get to newer developed shops and restaurants and in general are higher end places.
If you are getting tired of walking, you can stop at Ah Cacao Café. This is a local chain of coffee houses that offers coffee and Mexican chocolate products. Try the Mayan hot chocolate here for a treat! There are three locations for Ah Cacao on 5th Avenue and all make for nice place to stop and have a drink and people watch.
One store to look to check out is from a Mexican designer called Pineda Covalin. This store features many silk prints inspired by Mexico and made into clothes. It is not cheap, but it will they do have things that will be beautiful. This store is between 26th Street and 28th Street.
Just past 34th Street on the beach side you will see La Bodeguita del Medio restaurant and bar. In the evenings this can be a fun place to hear live music and feel like you are in Havana. Have a mojito or two and dance the night away!
Here are two other guides you might like looking at. One guide is for shopping just off 5th Avenue. There are some great stores that many tourist miss. The other guide is for the fashionista. This guide tells you where to find fashion, style and clothes all on 5th Avenue.
So those are some of the highlights of 5th Avenue. Things to see, things to buy and things to taste. Below are a few restaurants that you can enjoy while on 5th Avenue.
What 5th Avenue is like at night in Playa Del Carmen
During the early morning you can find people jogging and exercising on 5th Avenue as coffee shops open. During the day there is a slow stream of people going out to explore and shop, but a majority of people are at the beach during the day. At night, however, 5th Avenue comes alive with street performers, lights and energy of exited tourists strolling up and down this pedestrian street. Here is a brief video of what you can expect to see when going out to walk on 5th Avenue at night.
Eating at Restaurants on 5th Avenue
In general, many of the restaurants on 5th Avenue and geared toward tourist. This means that prices are a little higher because the rent is higher, and the quality is not the true and authentic flavors of Mexico. If there is a type of cuisine you are looking for, we recommend you look over our restaurant guide so you can choose a good option for you. There are many restaurants just off 5th Avenue where you can get better prices and better-quality meals.
Many of the locals and people that know 5th Avenue don't really eat at the restaurants there. In fact we find it hard to recommend many restaurants on 5th because we like other restaurants off 5th Avenue. But as a tourist visiting it can be exciting to sit and enjoy the energy of 5th Avenue.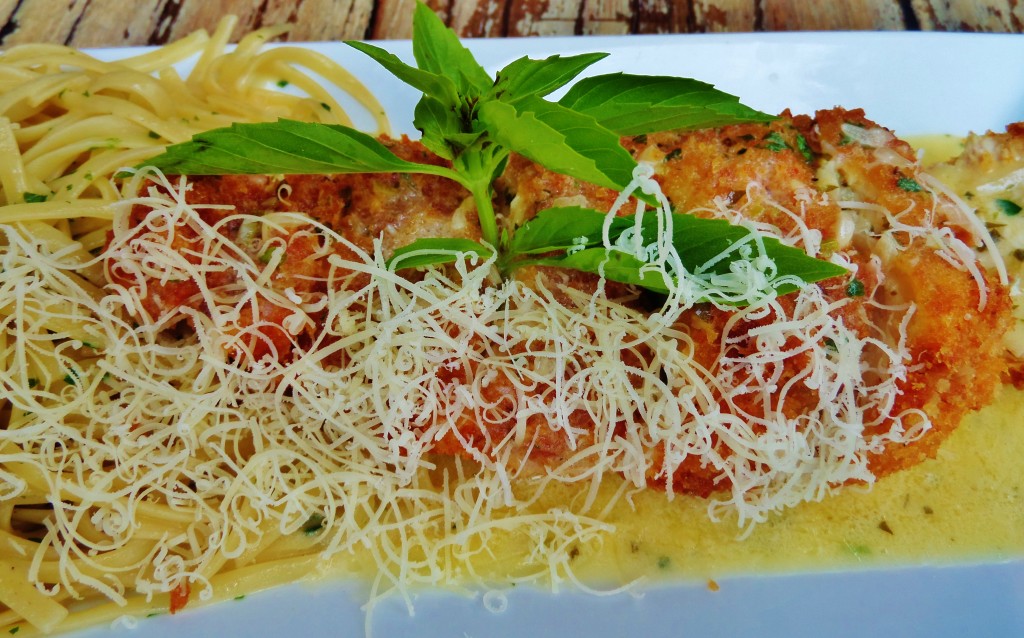 Here are a few restaurants on 5th Avenue we recommend:
Club de Cerveza. This is the place for beer lovers because they have the best selection of craft beers and offer many Mexican beers. They have a small menu for eating as well here. This restaurant/bar is between 34th Street and 38th Street.
500 Gramos Grill. A great find on 5th Avenue in Playa Del Carmen. Here you get good tasting steak and other meat dishes along with pastas for good value.
Chez Celine. This is a bakery and more of a favorite for breakfast but if you are out for a stroll on 5th Avenue it can be a destination to reward yourself for all that walking. They have their own bakery in the back and tasty pastries in the front. Chez Celine is on 5th Avenue near 34th Street.
De Local is a restaurant near the end of the walkable 5th Avenue. This restaurant has good pizza and more plus reasonable prices if you make it to this end of 5th Avenue. It is on the corner of 5th and 40th Street.
If you do find a place you like to eat on 5th Avenue you will be treated to some great people watching.
Tips for eating at Restaurants on 5th Avenue
There are many people that will offer you menus and have displays of food out front. Most of these are average at best and if you are only in Playa Del Carmen for a short time, why not research some of the great restaurant to visit.
Don't fall for the 2×1 drink specials. Usually there are drink specials from 4pm-8pm. This is more just to get people in the door and the quality of the drinks are usually not the best.
Restaurants are very used to tourist on 5th Avenue which means some take advantage of visitors not knowing the bills and they over charge. Always examine the bill. Add it up even if the prices are all correct sometimes the math is not correct. Check if that 2×1 drink special is on there or if they charged you for two. Is there a service charge, tax or something else on the bill? This is illegal. All prices on the menu are the price with taxes included. There are honest mistakes but many times it is not.
Tipping in Playa is between 10% and 20%. The lower end is only for basic restaurants and the usual is 15%. Only 20% for exceptional service. Make sure you examine you bill that "Propina" (Tip) is not already added on. Restaurants are not supposed to do this, but they just might try.
Dinner is usually eaten later at night in Playa. From 8:00pm-10:00pm is usually the busiest time on 5th Avenue.
Don't worry about dressing up, casual dining is the order of the day. No ties for men! Some restaurants you might want to dress a little fancier but usually things are relaxed for dinning.
We hope you have an amazing time in Playa Del Carmen and discover all that 5th Avenue has to offer. If you have something you liked and is not on this list of things, please send us a comment below. We love to hear from our readers.
Since you are on your way to Playa Del Carmen, see our Guide to getting from the Cancun Airport to Playa Del Carmen here. We have tips for getting to and from the airport. We also have dozens of other guides for Playa Del Carmen and the area here.