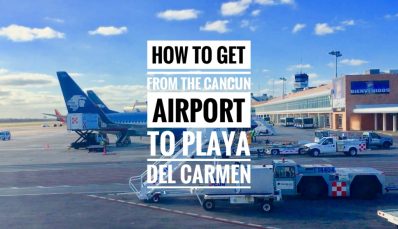 Cancun Airport to Playa Del Carmen
Are you coming on vacation and wonder what the best way to get from the Cancun Airport to Playa Del Carmen? You can take the ADO bus, a private transfer, rent a car, resort bus or taxi. Here are more details for the best options and cheapest way to get to Playa Del Carmen from the Cancun Airport.
The Cancun Airport is actually between Cancun and Playa Del Carmen. The airport is about a 50 minute drive from the center of Playa Del Carmen. The 307 Highway connects the Cancun Airport to Playa Del Carmen in an easy way. Now for the transportation options.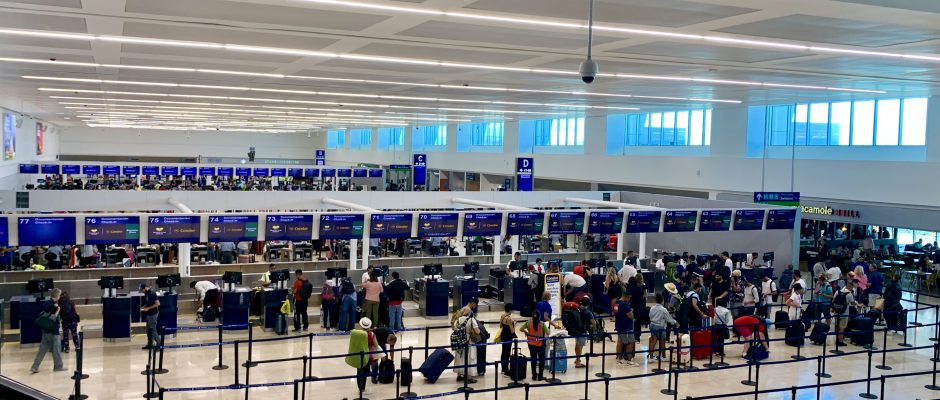 5 Options for getting to Playa Del Carmen from the airport
1. A private transfer from the Cancun Airport
A private transfer can be a great option if you want to get to your hotel in the fastest and most direct way. The prices are per van and comparable with taxis plus they are more comfortable. This is one of the most reliable transfer service so you can have the best prices. Here are several options: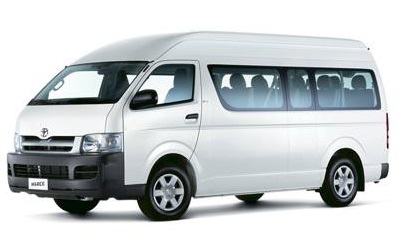 2. Renting a car at the Cancun Airport
If you are staying at a non all inclusive hotel and are going to travel around a bit, this option might work best for you. There are many rental car companies at the Cancun Airport. The less expensive rental companies are just outside the airport and will shuttle you to the officies when you arrive. Just be aware that many online prices are very cheap looking. These do not include mandatory insurance. Most cars are about $45 to $65 USD a day depending on how long you rent for.
Tips for renting cars at Cancun Airport
While there is not one great rental company at the Cancun Airport, we prefer the larger companies like Avis. They have more cars, more options and more help when needed. There is a local car rental company in Playa listed below as another option.
One recommended car rental company from Playa Del Carmen will pick you up at the airport for free if you reserve a long term rental. This company is well liked because all insurance is included and they offer great service. Many times you can find yourself waiting for a half hour or more at car rental agencies at the Cancun Airport because of the amount of people that arrive at once piking up a car.
The return to the airport is important to time your arrival. It usually takes an extra 30 minutes to return a car. Since the highway to the airport is the only road in the state, sometimes there are accidents that slow or stop traffic. A simple check on google maps will show you if there is a delay. This can help you plan your drive back to the airport in time so you don't miss your flight or get stressed.
3. Resorts bus transportation to the hotel
Some resorts off this free service and others have a charge for it. Most of the large resorts have large busses that are scheduled to meet planes. You will have to wait until everyone gets through customs and immigration and your bus fills up. A better way to get from the Cancun Airport to Playa Del Carmen is a private transfer.
4. Taxis from the Cancun Airport to Playa Del Carmen
Often people just like to arrive and jump into a taxi. Taxis are available at Cancun airport but we do not recommend them as the number one option. We recommend the private transfers for several reasons over taxis:
You have a guaranteed ride waiting for you.
Bilingual driver.
Set price and no negotiating.
More space in the private transfer.
Good value especially when you book round a trip transfer.
5. The public ADO bus
The ADO bus works best if you are traveling alone and have a hotel in Playa Del Carmen that you can walk to from the bus station (Juarez Avenue and 5th Avenue). ADO (pronounced in Spanish AHH-DAY-OH) bus company services the airport in a regular basis and takes people to Cancun or Playa Del Carmen.
For ADO bus schedules from the Cancun Airport to Playa Del Carmen see our link here. It should be noted that they try to stick to the schedule, they can be a few minutes off at times. Traffic and other considerations effect the timing. You will not have to wait long though for the next bus if you have just missed one. Just note that your ticket is for a timed bus and you should make sure you get on the correct one.
When taking the ADO bus back to the Cancun Airport from Playa Del Carmen it should be noted that the buses do leave on time and tickets are timed.
Note: Uber does not service Cancun or the Riviera Maya.
Our video on how to get from the Cancun Airport to Playa Del Carmen
To show you at little more about your arrival at Cancun International Airport and your transfer to your hotel, we made this video for you.
How to take the ADO Bus from the Cancun Airport to Playa Del Carmen
Most international flights arrive at Terminal 3 or Terminal 4. After you go through immigration, get your checked bags and pass through customs you will exit into the terminal. In each terminal there are car rental booths and also an ADO bus counter. You can buy your bus ticket here or at the curbside if you are in a hurry. We do however prefer to go outside and buy the ticket. This way if there is a bus getting ready to leave, they will wait a minute for you to get on.
The curbside stand will look like the one below in the photo. Here you can pay in Pesos or USD. Just note that is good to have small bills (nothing bigger than a $20 bill) and your change will be in pesos.
For a list of the ADO bus schedule between the Cancun Airport and Playa Del Carmen, see our article here.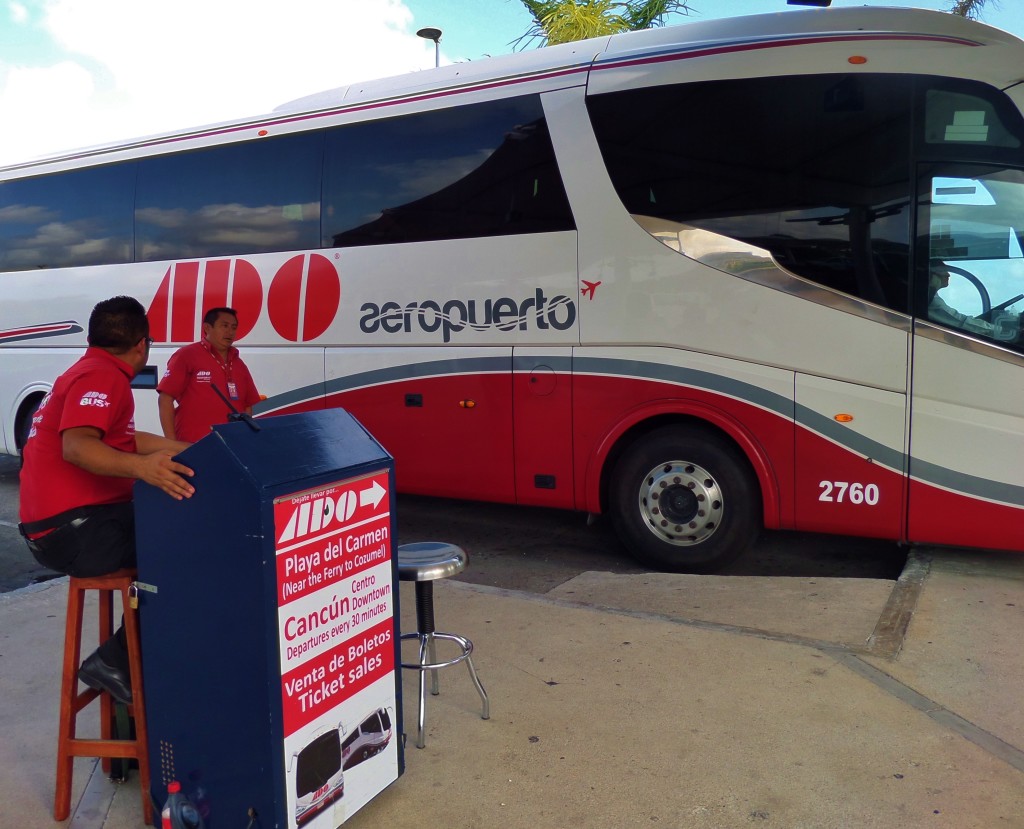 When you exit the terminal you will see a lot of people with signs for people and people offering you taxi service. Just ignore them and walk toward the right. You will see a Margaritaville Stand selling drinks and snacks, go past that and you will see the red ADO stand and someone there.
Buying your bus ticket from Cancun Airport to Playa Del Carmen
Once you find the ADO stand you will need to buy a ticket. The people working here usually speak some English. The current price is 225 Pesos for one way. You should only buy a one way since you might not know when you want to return. They do accept USD but do not have anything over a $20 bill to give them. Change will be in Mexican Pesos. They will give you a ticket and you should retain it for your entire journey in case they need to see it.
The seating is assigned on your ticket corresponding to the number on your ticket. Not all the time do they use the pre arranged seat numbers. Usually the bus will have it in the digital sign with the destination. When it arrives you will be asked to put suitcases under the bus. There are no luggage tags given and security is not really an issue, so don't worry. The bus will only be going to stop only at a possible other terminal and maybe stop for a minute in Puerto Morelos before arriving in Playa Del Carmen.
The trip takes about 1 hour and 15 minutes in a comfortable air conditioned bus. It will take you to the ADO bus station on 5th Avenue and Juarez Avenue. This is the ONLY stop in Playa Del Carmen it makes. It does not go to the other bus station in the center of Playa Del Carmen when it arrives.
Taking the bus from Playa Del Carmen to the Cancun Airport
Going back to the Cancun Airport for departure? You can buy a ticket in both ADO stations in Playa Del Carmen. The busses leave from 5th Ave and Juarez station first and then stop by the 20th Street bus station. Busses stop at all terminals at the airport. The ADO bus stops at all 4 terminals of the Cancun Airport.
Make sure you allow at least one hour before you flight because at Cancun Airport they are very strict about check in. If you do not check in within 1 hour you may have to find another flight at your own cost.
Tip: Check in online if you can. That way if you run late, you can run through security and jump on your flight. Security at Cancun Airport usually never takes more then 10 minutes to get through.
Most important: Make sure you have your tourist visa card from immigration that you got when you arrived. You will need to turn it in when you depart at the airline counter. If you do not have your tourist visa you will need to get another one. There is an immigration counter in the terminal usually facing the airline check in counters. Here you will need to fill in a form and pay for a new one.
Checking your departure gate from the Cancun Airport
If you are taking the private transfer the driver will know the terminal you are departing from. If you want to make sure or are taking the ADO bus to the Cancun Airport it is good to check. A good website is FlightAware.com It allows you to track your flight and lots of fun info for your trip.
More information for your vacation in the Riviera Maya
Now that you have figured out how to get from the Cancun Airport to Playa Del Carmen or wherever you need to go, you might want some more local information. We have dozens of Playa Del Carmen guides so you can find great restaurants, tours, and places to go to.
Do you need to get from the Cancun Airport to Tulum?
See our article here on how to get from the Cancun Airport to Tulum.
Have you traveled from he Cancun airport to Playa Del Carmen? What is your favorite way to get between the airport and your vacation? Let us know below in the comment section.
If you are also coming to the Riviera Maya you will want to know what tours and places there are to see. Here is our guide with interactive maps.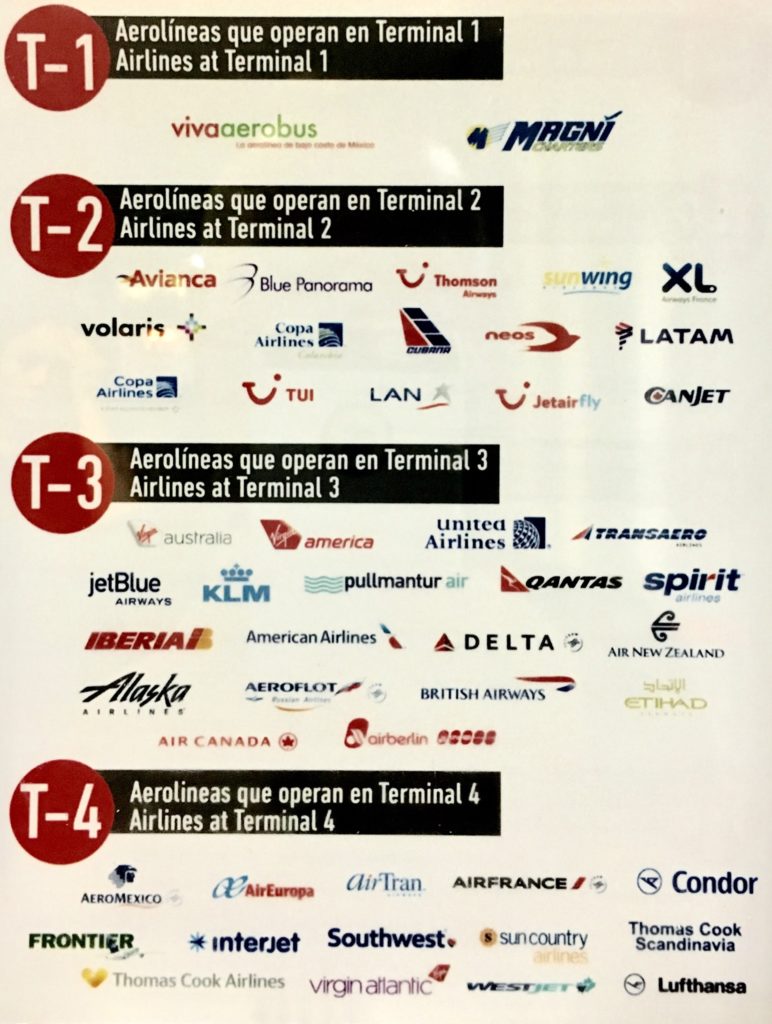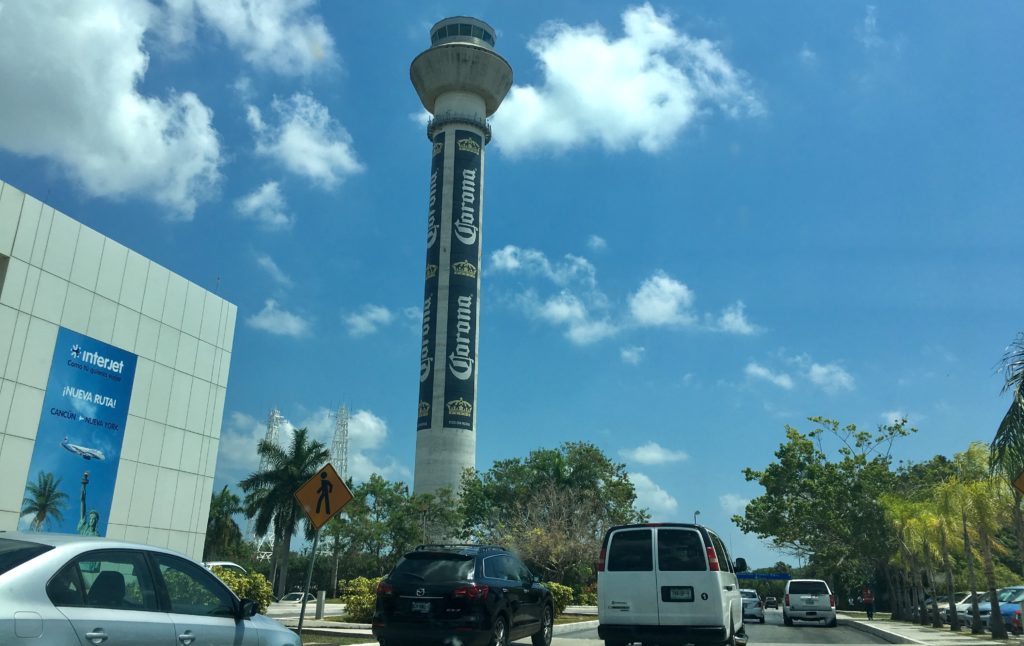 Now you are on your way from the Cancun Airport to Playa Del Carmen! Have a great vacation!