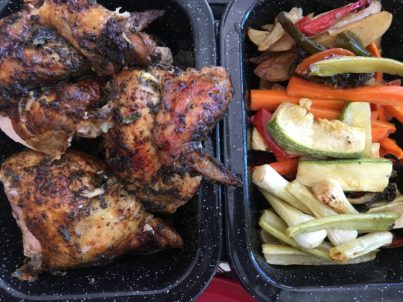 French Roasted Chicken in Playa Del Carmen
In Playa Del Carmen Mexico you might not expect to find a Frenchman serving up herbed chicken in the style of Provence France, but Playa is full of little surprises. Not only can you find delicious meals of chicken and sides, there are two places that serve of French roast chicken in Playa Del Carmen!
These small restaurants are just evidence of the very international aspects of Playa Del Carmen and the wide food scene we have to enjoy here.
Rotisserie French Roasted Chicken
Update: This restaurant is now closed. as of May 2017 The other roast chicken restaurant is still open below. We will let you know if this one opens in a new location.
The first French roasted chicken restaurant is a small walk-in restaurant on 30th Avenue. This restaurant is run by Oliver and his wife.
Here you can get whole roast chickens or plates with sides. They also have delicious quiche and baguette sandwiches. The concept is simple, great tasting food at a good value.
Prices are around 50-95 pesos for a meal and drinks are 18 pesos. Since you can eat here for under 100 pesos, we added this restaurant to our Cheap Eats Guide for Playa Del Carmen.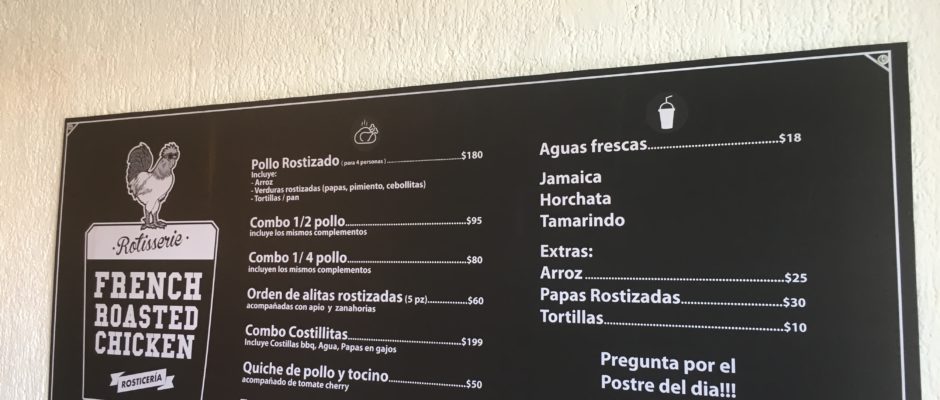 This is an eat in or take our restaurant.
Our video into to the French Roast Chicken Restaurant
Location
This restaurant is on 30th Avenue between 14th Street and 14 Bis Street. They are across from the HSBC bank.
Hours
This restaurant is currently open 12 noon-6:00pm Monday-Saturday. Closed Sunday.
La Brocherie Restaurant
Located on 15th Avenue you will find the charming La Brocherie Restaurant. This restaurant is run by Fabian and his wife (see our interview with Fabian here). This is the second place where you can find French roasted chicken in Playa Del Carmen.
La Brocherie is more of a sit down style restaurant. The menu has French roasted chicken as you might have guessed. They also have pasta and paninis. The desserts here are also very good to try, be sure to ask to see the dessert tray.
Location
La Brocherie is located on 15th Avenue between 4th Street and 6th Street.
Hours
Monday-Saturday 2:00pm-10:00pm.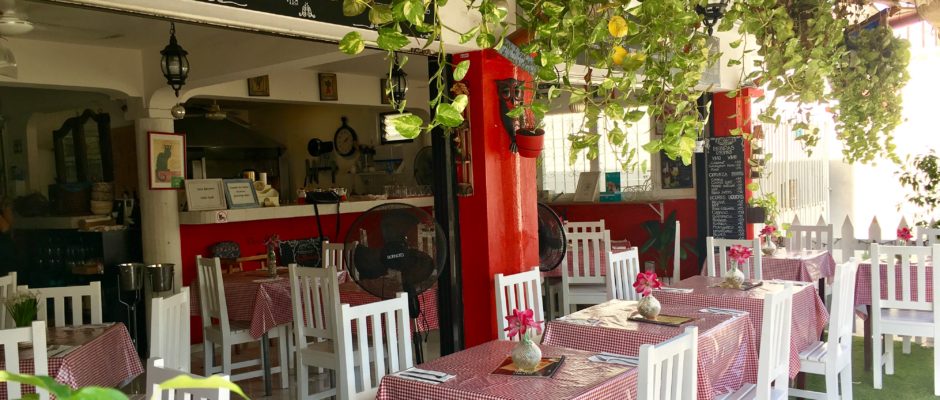 La Brocherie Restaurant Playa Del Carmen.
Other roast chicken restaurants in Playa Del Carmen
Since roast chicken is very popular in Mexico, there are many styles available here. In this article we have many great local places to try some chicken at.
Have you been to either of these French roast chicken restaurants? What did you think? Let us know in the comments below. We would love to hear from you.