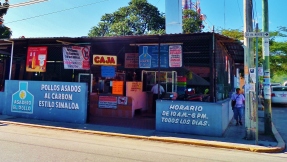 Roast Chicken Restaurants in Playa Del Carmen
Roast Chicken is one of those comfort foods that everyone relates to. It crosses the language barrier and cultural barrier and brings everyone to the dinner table. The good news is that in Mexico roast chicken is an art form. In Playa Del Carmen there are a lot of places that offer it and each a little different. For some reason though those folks up in north Mexico know what they are doing because we have noticed a lot of Sinaloa style (or Sinaloense style) chicken places and in fact our favorite restaurant does Sinaloense Style.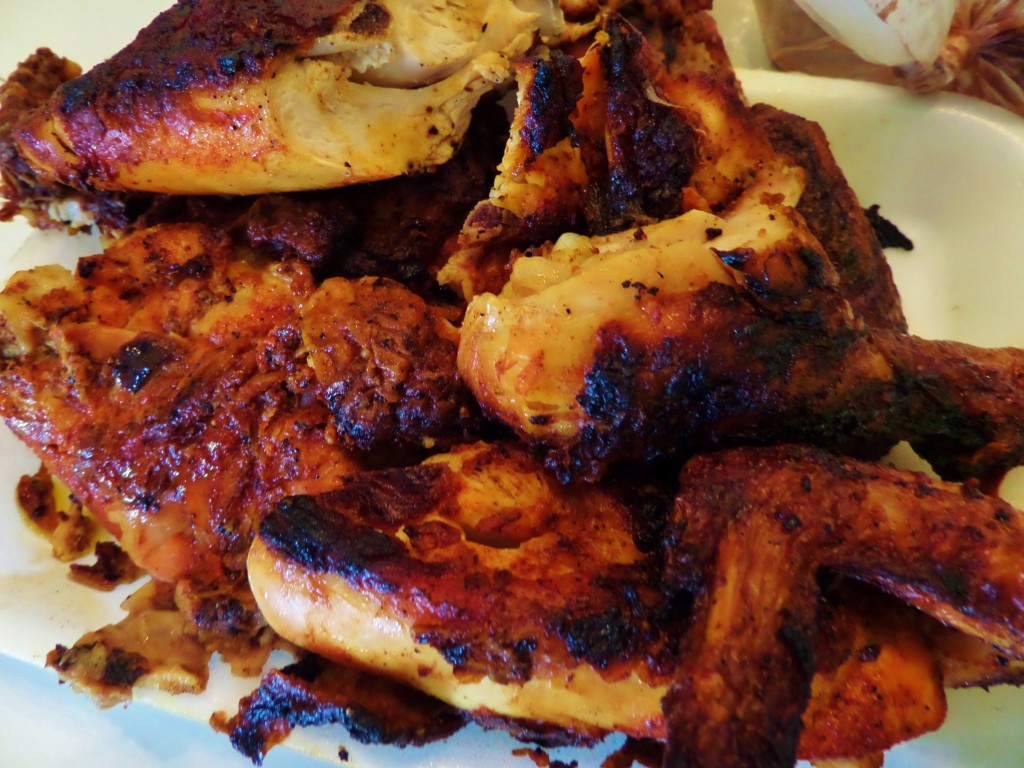 What makes it so good? It is the flame charred skin, moist meat, freshly made taste and secret spices. It is real BBQ made by real men who you can almost imagine have just come in from riding their horses on the farm and are cooking up some dinner.
Many chicken places offer packages either individual or family size. These packages offer great value. You can get a few pieces of cut up chicken, tortillas, salsa, rice, picked onions, possible small roast potatoes and maybe some refried beans. For the larger size they will cut up a whole chicken and then add the same sides but will more quantity. Sometimes the individual size includes a drink as well as the family size.
Around Playa Del Carmen you will see ovens with spits full of chicken spinning around and dripping the juices. Some of these places have small potatoes that cook under the chicken and just soak up all the flavor. There is a chicken place on the corner of Juarez and 10th Avenue called El Pechugon that has these potatoes. They offer packages there that include the soft roasted buttery potatoes. If you love potatoes this should be on your list.
A new roast chicken restaurant just opened on Juarez Avenue near 35th. Avenue.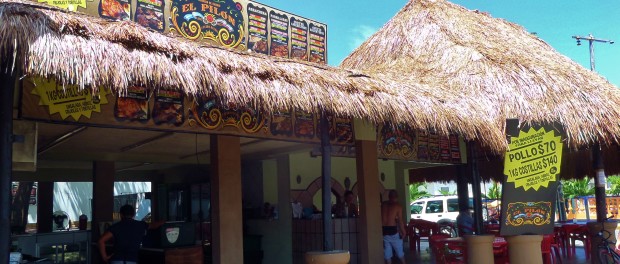 If you are in the area why not try out this affordable eatery with good roast chicken.
The restaurant below is a really local chicken joint located in Ejido neighborhood. It is not where most tourist or expats go but we thought we would show you what a real place looks like. The billowing smoke can be seen for blocks as well as the smell of roast chicken in the air. At this place you can buy two whole chickens cut up for 117 pesos or $9 USD. Many locals buy packages on the weekend and take it to the beach for a picnic.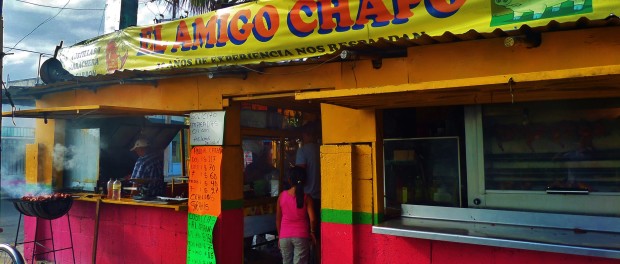 Asadero El Pollo Restaurant
This is one of our favorite roast chicken restuarants. It is located closer to the center of Playa then some of the above mentioned places. It is located 20th Avenue and 2nd Street. (just next to the Post Office and where the colectivos to Tulum and Cancun leave from) They have consistent good quality and good prices. We love the individual packages of chicken with tortillas, rice, salsa, picked onions and a drink for 60 pesos or about $4.62 USD. The large package does not come with a drink but you get more food for you money. At the first window you order and then take your ticket to the second window where you will see a fresh roasted chicken chopped up with a very big knife and stacked on a plate. Then your sides are added to the bag and you are ready to go in just a minute. Now that is fast food! You can eat in or take it home and have a little feast. Just make sure you are near a sink to wash your hands after digging in to the goodness. (see photo below)
Hours
Everyday from 10:00am-6:00pm
Here is a video we made for this restaurant.


La Brocherie Restaurant
A newcomer to the roast chicken market in Playa Del Carmen is La Brocherie. This French style herbed chicken might just remind you of home. The enthusiastic French owner cooks up affordable meals in the small café with Parisian flare. The chef used to work at a very well know French restaurant in New York City and now serves up a culinary surprise in Playa. This restaurant has become very popular with locals and tourist for good reason.
Tip: Save room for dessert, they have a very yummy selection.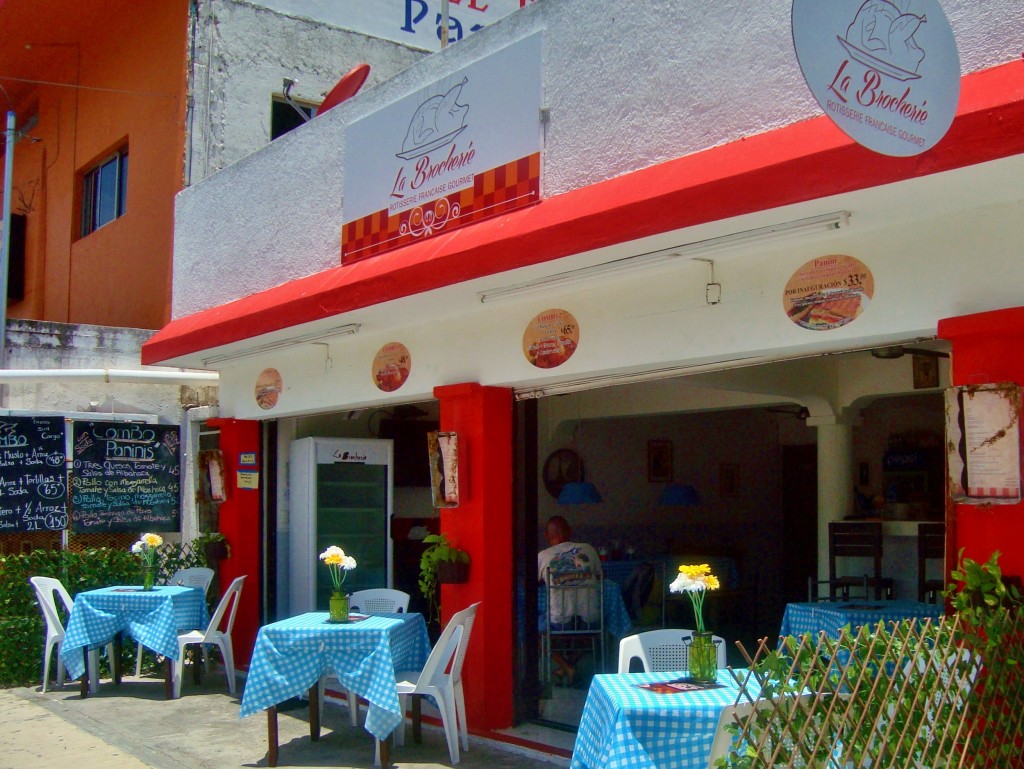 Hours
Open Monday – Saturdays from about 2:00pm-10pm or later depending on business. It is closed on Sundays.
Put this place on your short list of inexpensive meals. You can get packages for about 65-75 pesos. They also serve up Panini sandwiches and pastas.La Brocherie is located on 15th Avenue between 4th and 6th St.

Ferron's Jamaican Jerk Chicken Restaurant
If you want another seasoned roast chicken we suggest Ferron's Jamaican Jerk Chicken. This Jamaican take on a chicken place serves up fresh chicken and roast corn with a few other sides. This place is out of the center of Playa Del Carmen but locals find it worth the trip to Constituyentes Avenue and 105th to eat lunch here. Prices range from about 39-65 pesos for a meal +cost of drink. It is cheaper if you get a package for two or four people.
Open Tuesday-Sundays 9:00am-6:00pm
Closed Mondays
Since they are a little out of center, you can take advantage that they deliver. Ferron's number is 984-120-2312
El Pechugon Restaurant
This is actually a chain of roast chicken restaurants and they have it down to a science. The good things about this one is the way they roast the chickens and then have the small potatoes underneath roasting and soaking up all the juices and spices. You can get individual meals or packages here. There is a small seating area at this place or you can get it to go.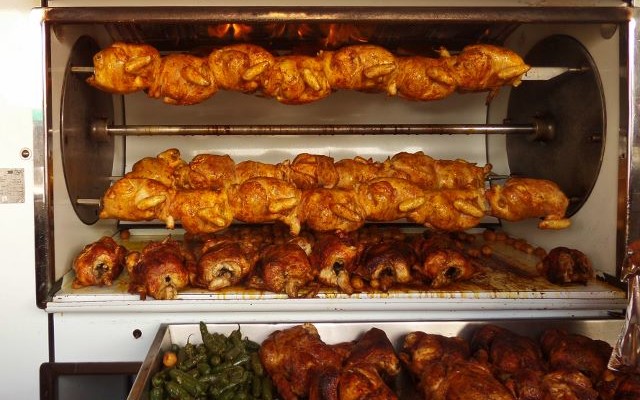 Hours
Monday-Friday 8:00am-8:00pm
Saturday and Sunday 9:00am-6:00pm
Location
El Pechugon is located on the corner of Juarez Avenue and 10th Avenue. This is near the bus station if you need to eat before going or near the beach if you want to have food for a picnic.

Los Asados de Patzcuaro
This a local place on the north end of Playa. Not only do they have chicken but you can get ribs, wings and beef here. A big plus is the handmade tortillas and unique green salsa.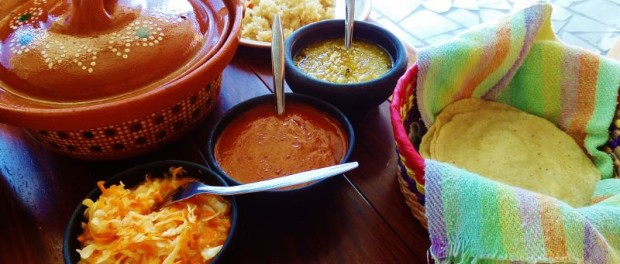 Hours
8:00am-12:00noon daily for breakfast
12:00noon-6:00pm  daily for Lunch
Location
The restaurant is on 10th Avenue and the corner of 90th Street. It is on the east side of the street. A taxi will cost you 35 pesos from the center to get there. Many of the streets do not have numbers so if you are driving here just count them off after you see a number.

We hope you enjoy trying a roast chicken  restaurant in Playa Del Carmen when you are visiting. The restaurants we mentioned here are all good and good for your budget as well!
If you liked reading about these places you might like to read our article on the two places that serve up French roasted chicken in Playa Del Carmen.
Where do you like to go for roast chicken? What is your favorite place? Let us know in the comments below.