For most people a trip to the Cancun hotel zone means staying at a hotel and leaving after your vacation is over. To some however a trip to the Hotel Zone merely means a trip back home after shopping in downtown Cancun. People often say after vacationing in Cancun that they wish they could just stay on vacation and live there. What would it be like if you did that? What is life like living in the Cancun Hotel Zone? We recently talked with some residents to see what it is like to live in such a paradisiac place that happens to be full of tourist.
Cancun is undoubtedly a tourist town and a majority of its income comes from tourist.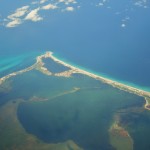 In Cancun alone there are some 25,000 hotel rooms, most of which are in the Hotel Zone. The Hotel Zone is a 22KM (13 1/2 miles) stretch of white sandy beaches being lapped with light blue Caribbean waters. With such beauty it is pretty obvious why someone would want to live there but it does present some differences because it is designed for tourist.
One small luxury
Most of Mexico has a plumbing system where it is better to throw toilet paper into a bin and not flush it down the toilet. This can be hard for people that have thrown the used toilet paper in the toilet their whole life. The Hotel Zone actually has its own water system that is separate from then the rest of Cancun. This means that the thousands of hotel guest from all over the world that stay in the hotel zone can flush toilet paper down the toilet. Imagine what a nightmare it would be if this was not done. This has resulted in those living in the Hotel Zone can also flush their toilet paper as well. What a nice side benefit for those living there!
Shopping
There are no grocery stores in the Hotel Zone. This is not an issue for tourist but a problem for residents. This means the long drive to the downtown to go shopping. This can involve traffic with the public busses in the Hotel Zone, tour companies picking up and dropping off tourist and people renting cars on vacation and driving like, well, tourist. The good news is that after 44 years since the start of development there is a supermarket being built in the Hotel Zone.
There are several shopping malls in the Hotel Zone but these are geared toward tourist. Residents rarely go to them let alone buy something. Most people prefer shopping downtown at Plaza Las Americas or other more local plazas. There are only so many Senor Frogs t-shirts you can buy.
Local hangouts
When asked if there were any hidden locals spots in the hotel zone there were just two mentioned. The ME Hotel at KM12 has weekly events that residents like to go to.  Harrys Grill at KM 14.2 is a high end restaurant with good quality but not some place you would want to go all the time or could afford all the time. These two were the only places mentioned that locals go to in the Hotel Zone.
Traffic
As mentioned above living in the Hotel zone means driving everywhere. This means dealing with traffic on the four lanes that traverse the narrow strip of land. It is a 25 minute trip to the downtown each time you need to go. Talk of a bridge being built through the Nichupte Lagoon has resurfaced. If built this would cut down time going back and forth between the downtown and the Hotel Zone. As for environmental studies, that might be another story.
Are there a lot of accidents in the Hotel Zone with all those tourist? Not really. There are crazy and drunk tourist crossing the street especially near the clubs at KM.9.5 and extra care has to be taken there at night. There is a high police presence in the Zone and when it is spring break the police tend to pull more cars over. This means no speeding for residents. The Hotel Zone is probably the most policed area in the Mexican Riviera. This is done to make sure the investments of all the tourism continue to run smoothly.
Housing
Since Cancun was developed in the 1970's as the biggest experiment of the Mexican government into tourism expansion, there are some older buildings in the Zone. This actually can mean that some of the units are older and smaller then you might think. There are also more private streets that offer multi million dollar homes. Expect to do more maintenance in the Hotel Zone because the salty air will deteriorate any metal and haze up your windows fast.
Security
The Hotel Zone enjoys a relatively  low crime rate due to the fact that most people there are staying at hotels and most buildings have private security. There have been break-ins but in general the separation from downtown Cancun  keeps random thieves at bay. On the Lagoon side you do have crocodiles that can come out to visit if you want to consider that a security issue.
Changes
Has much changed over the last few years in the Hotel Zone? Not really. It has been fully developed for some time now and besides hotel renovations, the Zone stays pretty much as it was. After the last big hurricane things got  back to normal quickly and only left a few properties damaged that sit waiting for new development today. The one new things that is notable is the new Maya Museum at KM16. It is a welcome addition to the Hotel Zone.
Is the amount of tourist changing? Are people finding other places to go? Tourist just keep coming to Cancun and the Hotel Zone. There was a dip due to the influenza and then the global recession but now the numbers and back up and business is going strong. This means no chance any of the hotels are going condo anytime soon and no new neighbors.
Who lives there
Who are these intrepid residents that brave the tourist each day? It is the retired lovers of luxury that can afford a place in the Hotel Zone and can afford the extra time it takes to get shopping done. It also is a place for hotel executives to live since the commute is much easier. However most employees of the hotels cannot afford to live in the Zone and that is why you see so many employee busses in addition to the use of public busses.
Dangers
Of course on of the biggest dangers of living in the Hotel Zone is the amount of guest that want to come visit you. So if you plan on staying on vacation permanently in the Hotel Zone, be sure to get a place with a guest bedroom because you will be sure to use it. Just look at the photo below, isn't all worth it for that view!