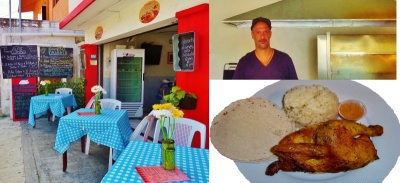 La Brocherie Restaurant
We wanted to bring you an interview with the owner of La Brocherie Restaurant because of his passion for food and delicious chicken meals he serves up. We first met Fabian when we went by to check out his newly opened restaurant  on 15th Avenue between 4th St. and 6th St. It was great to see what he was doing and we added La Brocherie to our Cheap Eats Guide for meals under 100 pesos in Playa Del Carmen and places to get roast chicken in Playa Del Carmen.
The restaurant is still going strong and building a following of happy customers. (A good measure of this is the current ranking on Trip Advisor in Playa Del Carmen) This is not a surprise since Fabian is still serving up the French inspired herbed chicken (and paninis) at his simple restaurant with good value.
Here is a video we made about the La Brocherie Restautant
Below the video is the interview with the Fabian with more details.
Here is our interview with Fabian
Where are you originally from and when did you get into the restaurant business?
I am originally form Paris, France. I opened a restaurant there when I was 23 years old with my parents.
What was the next step in your life?
I moved to New York City where I ran a Real Estate and Property management company and a restaurant in the Chelsea section of Manhattan.
When did you move to Mexico?
I moved to Cancun 4 years ago. I was in Cancun for a little over 3 1/2 years and now have been in Playa Del Carmen for a little over a year.
What brought you to Playa Del Carmen?
It was a dream of my wife to move to Playa Del Carmen. Also my parents live in Playa. We felt that Playa is much more European and had more to offer than Cancun for us.
Why did you decide to open a restaurant?
A business partner of mine once said before he died "Do what you like to do best in life". I like to serve people and cook for people. So here I am.
Why did you decide to open a roast chicken restaurant?
It was a mix of French flare with Mexican ingredients that are popular. We roast chicken with rice as a side. We wanted to do something simple and inexpensive that would taste good.
How do you like the area your restaurant is in?
The people here are amazing. We meet many of them and sometimes we think "can this really be true?" So many nice people. We had an issue with the water tank on the building an my neighbors came right over and even went on the roof to help me. I don't regret being away from 5th Avenue. We have so many good people around and people do come find us here to eat. We have had great comments from people that have come here because they appreciate the feel of the place, being real and unique, not commercialized like some parts of Playa Del Carmen.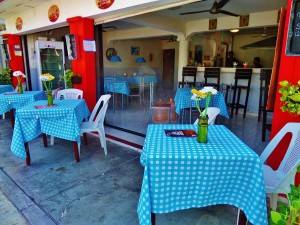 What has been the biggest surprise since you moved to Playa Del Carmen?
The city is like a melting pot. Similar to a neighborhood in New York City. People are from all over.
What do you do on your day off?
I like taking time with my new baby and going to the beach with my parents.
What advice would you give to tourist coming to Playa Del Carmen?
Get lost! Not in a bad way, just go places and explore. Either in Playa Del Carmen or in the Riviera Maya. My wife and I do that and we find amazing finds all over.
We thank Fabian for his time for the interview. He wanted to mention a thanks to his wife because without her support, it would not be possible to do everything. If you are looking for a good meal in Playa Del Carmen  we suggest you come by and try the roast chicken or one of the paninis.  They also feature Belgian chocolate deserts which are phenomenal. (Fabian speaks both French and English)
La Brocherie is open Monday-Saturday from 10:30am-9:oopm Closed Sundays
Av. 15 between 4th St. and 6th St. in the center of Playa.
Delivery is available. Their number is 147 8683 or cell 984-117-7210