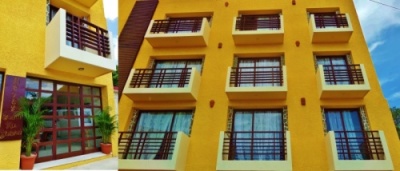 Casa La Galeria is a new budget hotel in Playa Del Carmen. For the price it makes for an attractive option for people looking to visit the city but not make the hotel the destination.
The Area
The hotel is located on 30th Avenue and one block  north of Constituyentes Avenue. This area has been developing and is home to some of the entrepreneurial restaurateurs in Playa Del Carmen. This is hotel is marking a shift from beach front hotels and people just coming to the beach, to people coming to visit Playa Del Carmen as a destination in itself. Since the city if Playa is growing there are more interesting places to eat, shops to visit and great options for day trips.
Near this new hotel are some favorite restaurants like Nativo-a local healthy food option with great juices and Mexican cuisine. This restaurant is right across the street from the hotel. Don Chendo-a great Italian restaurant with amazingly hand made pizza. The owner hand selects all the ingredients and even grows some of the herbs for the restaurant. All of the care is shown in the quality of the food. This restaurant is just a few blocks away. Elemento– is a local favorite for lunch. Not only do they have good quality but good value. All of this in a nice setting where most tourist do not go, so be sure to check out this gem of a restaurant. There are also some cheap eats in this neighborhood. You can check them out on our Cheap eats guide for Playa Del Carmen.
Casa La Galeria is also across the street from DAC market and very close to Mega super market. So picking up something to drink and taking to the hotel roof is easily done.
The Hotel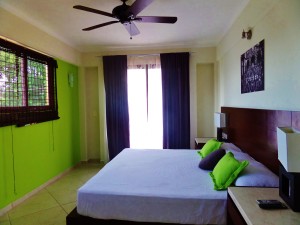 Casa La Galeria opened the summer of 2014. They offer 18 rooms. Three of the rooms have double beds and 15 have king beds. All rooms have air condition, mini fridge, safety box, wireless internet, flat screen TV, and a small balcony.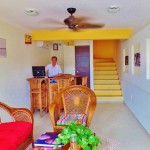 The rooms are large as most standard rooms and you can get an idea in the photo. The bathrooms are standard with a shower.
On the second floor there is a small courtyard seating area with fountain.
You will be sure to have a warm reception at the front desk of this small hotel.
Rooftop
One of the nicest features of the hotel is the rooftop. It gives you a different perspective of Playa Del Carmen. You can see a little bit of the ocean seven blocks away. Mostly you see the colorful mix of building that make up the downtown. There are chairs and a few tables for use on the roof. There is also a pool. Like many rooftop pools it is not huge but nice enough to take a dip to cool off and enjoy your downtown view. The roof is open all the time. The rooftop would be a nice place in the evening when the day has cooled off and you are back from the beach or a day trip out of Playa.
Booking and Reservations
Casa La Galeria is on Hotels.com. You can type in dates in the Hotels.com box on the side or bottom of this page to see rates for dates you are interested in. Just with a little looking around it seems that booking a little bit in the future can get you are really affordable rate. It is possible to get a room here from $30 and up. Lets hope that rates stay affordable because it makes for a good budget option in Playa Del Carmen.
We say this hotel is a very good value from $30-$50 a night, from $50-$60 a good value, $60-70 there is a lot of completion out there so time to see other options and compare but still might be good depending on season.
This hotel is good for a couple or even one person traveling that wants to stay on a budget in a nice room and save some money for eating out and enjoy the food culture of Playa Del Carmen or use Playa as a base and do some of the interesting day trips from Playa.
Important note: This hotel is not handicap accessible. There is no elevator and no rooms on the ground floor. You will need to carry your luggage up or ask for assistance.
Photo note: Sorry it was not a sunny day when we took the photos. Yes it occasionally happens in Playa Del Carmen.