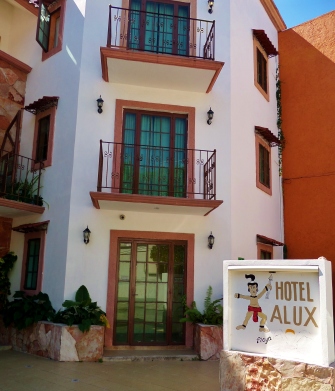 Hotel Alux (a-loosch) is a budget hotel option for shorter stays in Playa Del Carmen. What is has going for it is location location location. It is located on a small side street near to the heart of Playa. Just 1 1/2 block from 5th Avenue and 1 1/2 blocks from some of the best nightlife in Playa. It gives you easy access to some of the best that Playa has to offer. Rooms are clean and done in a Mexican hacienda style that will make you feel like you are really on vacation in Mexico.
Each room has air conditioning, private bathrooms and cable TV. There is no pool but you have the ocean and beach just a few blocks away. Some parking is available. The hotel has safe deposit boxes, luggage storage and free Wi-Fi. There are single and double bed rooms.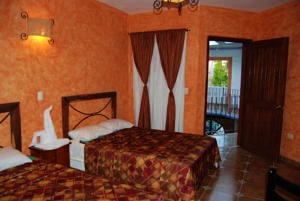 Since children under 12 stay free, expect families. The hotel caters to budget traveler, both international guest and Mexicans.
This hotel is good for budget travelers ages 20-38ish perhaps wanting to spend a few nights in Playa. If you wanted a longer stay ask about longer term rates.
Prices at Hotel Alux
This is also a highlight of this hotel. You can get a room for as low as $40 a night! You can click on the Hotel.com box on the side to check prices for the dates you want to stay.
Location
Hotel Alux is located on 14th Street between 10th Avenue and 15th Avenue.

If you are arriving by bus to Playa Del Carmen, here are directions to the hotel from the ADO station on 5th Avenue.  As you exit the bus station walk left (north) on 5th Avenue until you reach   Calle 14. Turn left (West) on Calle 14 for one and a half blocks. The Hotel is  on your left.
Have you stayed at this Hotel? What did you think? We would love to hear your comments below.