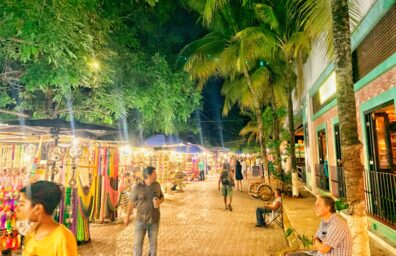 Is it safe to walk around Playa Del Carmen?
If you are thinking of visiting or moving to Playa Del Carmen, you might wonder is it safe to walk around or what parts are bad. How does Playa Del Carmen compare with other parts of the world? Playa Del Carmen is very safe to walk around, however there are a few situations and places you might want to take extra care. In this article we will mention situations and a few places where you should be more alert.
Walking 5th Avenue in Playa Del Carmen
One of the biggest tourist attractions in Playa Del Carmen is the pedestrian street of 5th Avenue (called Quinta Avenida by locals). This street has about 22 blocks of restaurants, shops, street performers and other attractions. It is a must when visiting and is entertaining both in the day and nighttime. This is one of the streets that makes Playa Del Caren so walkable. Since thousands of people walk this street daily, it can be a target of trying to get tourist dollars, and this might attract a few scammers or some not so innocent people. With that being said, it is surprising that there are not more reports of pick pocketing or theft.
Pickpocketing and theft are seldom heard about on 5th Avenue and in other parts of Playa Del Carmen. So, this is not a big concern. Here are a few things you should be aware of while walking 5th Avenue.
The most common line you will hears is "I am the waiter at your hotel, it is my day off, do you want to see my shop?" This is a ploy to get people to go into shops. It creates doubt in people's minds and playing on people's desire not to be rude, people often stop and talk with them. This is not a huge scam but can slow you down when walking around because you will hear this more than once. Venders have all day to observe people. Often people from all inclusive hotels will have a color-coded bracelet on their wrist. This is an easily identifiable item that venders can use to say the name of your hotel and try to convince that they recognize you. You can easily ignore them or joke with them by saying something like "It must be all the waiter's day off because we have heard that several times today".
If you stop at a restaurant and have a purse or bag, keep an eye on these. In the past few years there have been a few thieves that have been reports of bags being stolen or things taken out of them while people dine.
This does not have much to do with walking, but ATM machines on 5th Avenue are not recommended for use. These are easily manipulated for skimming cards. It is always best to use a bank that has more security. We have this tip in our list of tips along with a map of where banks are located close to 5th Avenue.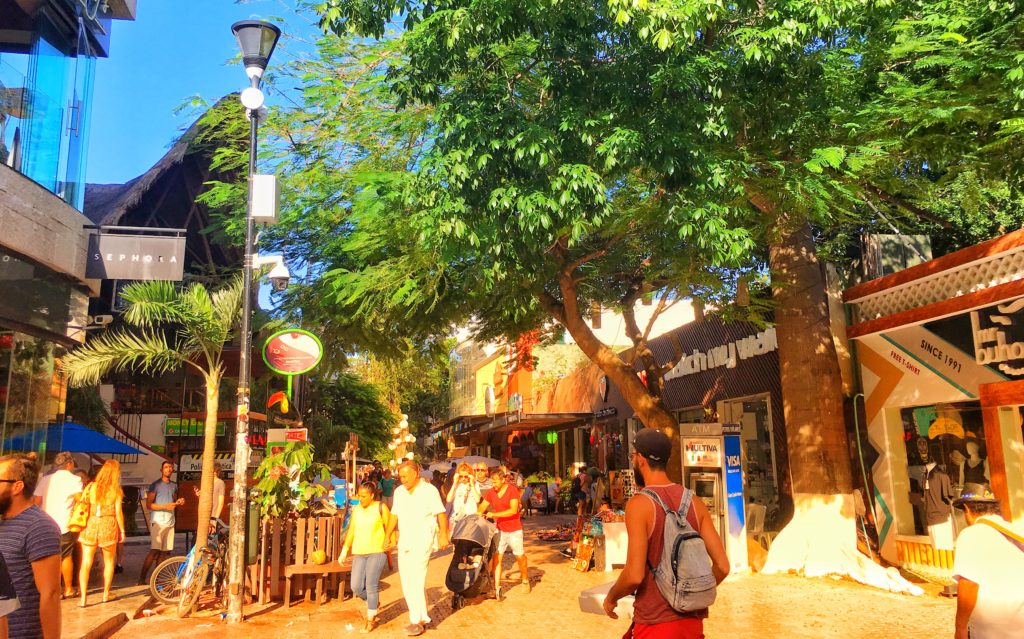 What to do if you have an issue while walking around?
If you have targeted by pick pocketers or have another crime committed against you while walking around on 5th Avenue, there are tourist police stationed on the street to take reports and help you. There is a police center on Constituyentes and 5th as well as a few other locations, but this is the easiest to find.
There is also a very good app from the tourism board called Guest Assist. It gives you directions from what to do if you lose your passport or how to report an issue. Here is the link to the website where you can download the app.
Most of the time you cannot expect anything more than a report, but this is good for two things. One, it calculates the correct amount of crime happening, and this helps direct resources for the future. Second, if you have travel insurance, you often need a police report to file a claim.
Walking around Playa Del Carmen during the day
The daytime in Playa Del Carmen is very safe to walk around. Both in the center and parts on the other side of the highway are safe during the day. Here are only a few examples where you might not feel 100% safe.
If walking on the west side of the highway in Playa on a block that does not have businesses or is more remote, a taxi might stop to offer you a ride, a single female might get a catcall. You can avoid this by not walking everywhere even if there is no sidewalk or if it is a block that has nothing on it. See our article on taxis and on public transportation for alternatives.
If you are a single female or a couple of women going to a more remote beach, you might get some comments from men. The beach from CTM Avenue going north to 112th Street is a more remote beach with no beach clubs. This area is also where a lot of local men live and it might not feel as comfortable as you like.
Rarely and very rarely do we hear of a person walking caring a shoulder bag. A moto will pass and grab the bag. This usually happens on quieter streets out of the center. Avoid remote areas and streets with no one on them. Carry bags in your hand or firmly and keep aware of who is around you.
Is it safe to walk around Playa Del Carmen at night?
This is really the only time you need to take a few precautions while in Playa Del Carmen. It will depend a lot on the time of night and where and what you are doing, so please pay attention to the exact details and conditions. So below are categories of people and activities and you can see what is safe and what might not be as safe.
If you are a family or couple that wants to come into Playa Del Carmen for the night from an all inclusive hotel, you will take a taxi or shuttle into town. They will drop you off near 5th Avenue and you will have the evening to walk around mainly the pedestrian street of 5th Avenue. Most people will be in Playa Del Carmen for two or three hours. Usually, the most popular times to visit and walk around are from 6:00pm-10:00pm. This type of trip and times is considered very safe. Just note our instructions about walking around 5th Avenue above.
If you are a single male or female going out at night, walking back to where you are staying alone does create a risk of being stopped by the police or other people. This usually happens just outside of the immediate center of Playa. Oten walking home after a few drinks is a target for some who perceive this as an easier target. There have been incidences where the police stop people and ask to see id, taking the wallet and putting people in an uncomfortable situation where you don't understand what is being asked of you. The police have taking people to jail, supposedly asking for a payment for release. If it is not the police, others have taken phones and wallets from people walking alone late at night. If this happens to you, see our details about what to do if something happens to you when walking around and also contact your consulate or embassy. These governmental agencies do work on the behalf of residents of their countries. They can direct you to lawyers, help with passport replacement and they also meet with the police to discuss issues their citizens are facing on holiday in Mexico.
If you are walking outside of clubs or even inside, there are escorts, gigolos and flirty transexuals that often approach people. This happens mostly with drunk men but can happen to anyone. The main motive is the be handsy and take cell phones and wallets without even the idea of going back to your place. Be careful in these situations because it can seem like honest fun but can result in loosing something important to you.
You might think it to be romantic to walk down to the beach at night. In the past this was perfectly fine, but as Playa Del Carmen has grown, and it is very dark on the beach just a few steps away from restaurants and clubs. Chances are nothing would happen, but it is best to not wander around on the beaches alone or distracted with your partner on the dark beach. This only opens you to a potential robbery.
Most locals do not go out walking between 2:30am-5:30am. There usually is not need, and it is when people are going out or coming back from clubs and bars.
Is Playa Del Carmen safe?
Overall Playa Del Carmen is a safe place to visit and walk around. There are only a few times or places that are best to avoid, and you can have a good time while visiting. You eliminate 90% of problems by not drinking heavily, doing drugs and going out clubbing. This is where most of the problems come from. We have a full guide here to describe how safe is Playa Del Carmen for tourists and also one article for safety of residents and unique things that residents face for security.