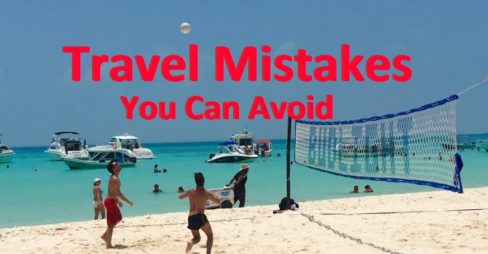 7 Travel mistakes you can avoid
Millions of people come to the Riviera Maya and the Playa Del Carmen area each year. With so many tourist, there are bound to be some bad decisions. While many options here are not that bad, you can make better decisions and avoid travel mistakes.
We hear from readers all the time that have questions or comments about their trips here. Because of this and all seeing tourist I action, we came up with this information.  We hope you can learn from the mistakes of others so you can have an enjoyable vacation in the Riviera Maya. Here is our list of
Making the mistake of staying in the wrong place
This is perhaps the biggest travel mistake that you can make. So much of people's vacations depend on the "experience" of the hotel. The hotel is your home away from home or even better home away from home. Since most of your time is going to be spent at the hotel or on the property, it is best to pick wisely. Note these travel mistakes that others have made regarding all inclusive resorts and hotels in Playa Del Carmen.
Pick resorts carefully
We get a lot of emails from readers that are staying at all inclusive resorts along the Riviera Maya. Some are looking to get somewhere and others are looking to go shopping somewhere. Many people don't realize just how far many resorts are from everything else. All inclusive resorts are a paradise to themselves but that often means not being close to anything else. Resorts also don't exactly make it easy to get off the property to spend money elsewhere. Below are some things to consider when booking a resort.
Where is the resort you are looking at?
When booking on an online website many list resorts as "Cancun" or "Playa Del Carmen". They do this because this is what locations people know. This can mean that the beautiful resort you are going to book can actually be 20-30 minutes out of town along a highway. Often these resorts are 1/2 to 1 kilometer from the highway also. So what difference does it matter where the resort is? Well here are several things readers have found out after they are there.
Trying to get places from the resorts
Here are several scenarios why it is important to know exactly where your resort is:
You want to plan a little trip by yourself to a cenote or place you read about. The logistics of getting off a resort property can mean having to rent a car or take a taxi.
If you want to go shopping or just for a night out in Playa Del Carmen, where your resort is will affect how much it cost and if it will be possible to get there. Some readers have wanted to get something at the grocery store or just their favorite beer because the resort did not have it. Some then find out that it will cost about $40 USD to get to a store
How much transportation time it takes going to and from the airport. When you fly for 3-9 hours to Cancun Airport you probably want to get to your resort ASAP. Some hotels offer bus transport that waits to fill up while other resorts are up to an hour away. Making sure where your hotel is will help you plan for transportation. For the our best recommendation to get from the airport to your hotel see our article here.
Many readers ask us how to get places using taxis or colectivos. Sometimes taxis are pretty expensive from point A to B in part because the distance and the fact they have to wait for riders. The colectivos only run on the highway between Cancun and Playa Del Carmen and another route from Playa Del Carmen to Tulum. The colectivos are not a solve all means of transportation. For example they do not take luggage or take you into resorts. Location can be important where you stay depending on what you are planning on doing.
You get what you pay for
Most everyone looks at prices when booking and chooses something in their price range but often the final decision is according to price. We have seen that most resorts in the Riviera Maya are priced  according to what they offer. This means that you get what you pay for. If you book a less expensive resort don't expect top shelf alcohol or top of the line gourmet food.
Resorts are there to make money and there is no way your stay is going to make them loose money. So the moral is, book something that is in your budget but don't book a cheaper holiday expecting the best things. You work hard for your vacations, so make the most of them.
TIP: If you need help booking a resort and choosing what one is the best, we highly recommend Lori who is a travel agent in the area. We have an article here about this travel agent that we recommend and her contact email.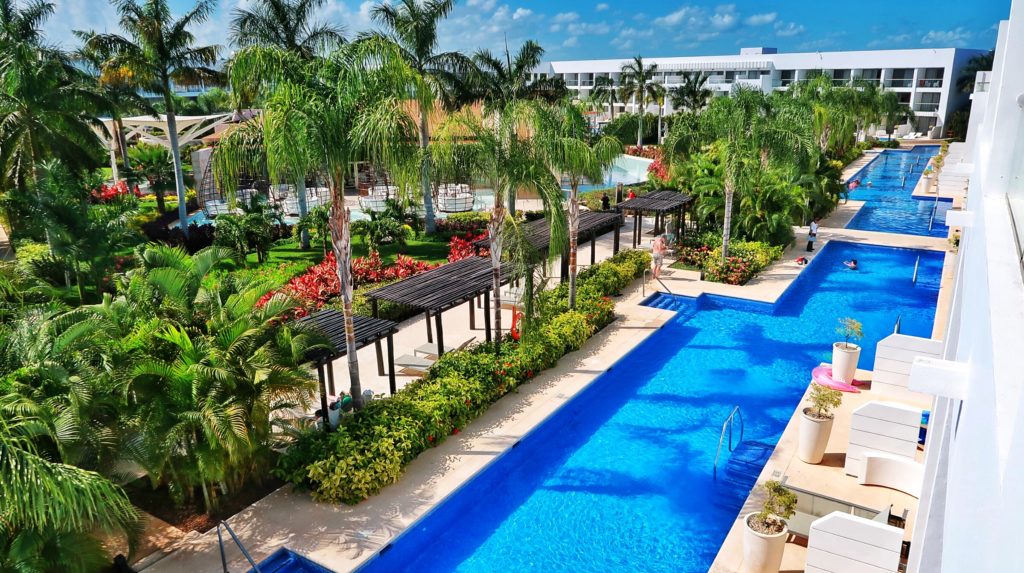 Making a mistake where you stay in Playa Del Carmen
If you are looking to stay in Playa Del Carmen it is good to know where to stay. We have a good article and map of what each area is like and what is the best area.
Making the mistake of the wrong side of the highway
Some people make the travel mistake of booking on the west side of the 307 Highway. While there is nothing wrong with this, most people don't realize that you need a car to go everywhere.  With public transportation it can take up to 40 minutes to get to places you want to go including the beach. Plus you are not getting the Playa Del Carmen experience as most tourist get when staying downtown.
Colosio
Colosio is the area from about 46th Street to 100th Street. This area is developing and less expensive to stay in. However most restaurants that you will want to visit are a taxi ride away and access to the beach is not the best. Also the neighborhood in parts is very rough looking. Even though there are some new condos in this area, it is good to know what it is like around your hotel.
Playacar Phase 2
Playacar is on the south end of Playa Del Carmen and is home to large resorts and vacation rentals as well as residential housing. Some do not realize that you cannot easily walk into town from most parts of Playacar Phase 2. Also beach access is limited and you might need a bike or car to get to the beach.
Downtown Playa Del Carmen
Even parts of the downtown of Playa Del Carmen are not the best for staying. For example parts south of Juarez Avenue can be not as charming areas to stay in. One tip we have for you, when you know where the hotel is, look at google street maps and see what the area is like. Is it what you expected? Are there places to eat around the hotel? How is the access to the beach? These are details that can make your stay better or worse.
Walking 5th Avenue and picking a place to eat based on how it looks
Everyday thousands of people come to 5th Avenue in Playa Del Carmen. This is the pedestrian street that has about 22 blocks of shopping, entertainment and restaurants. It is one of the best things to do in Playa Del Carmen when visiting. However we see people lured in by restaurant touts on the street to eat at touristy restaurants that only offer mediocre food.
There are so many restaurants in Playa Del Carmen that are good and offer great seafood or authentic Mexican food. Many of the better restaurants are just off 5th Avenue and it will be a mistake not to visit them. If you are looking for a good restaurant or authentic local place, see our guides so you can have a good meal and not just a tourist dinner. You can always use the search box on our site to find things you might be looking for.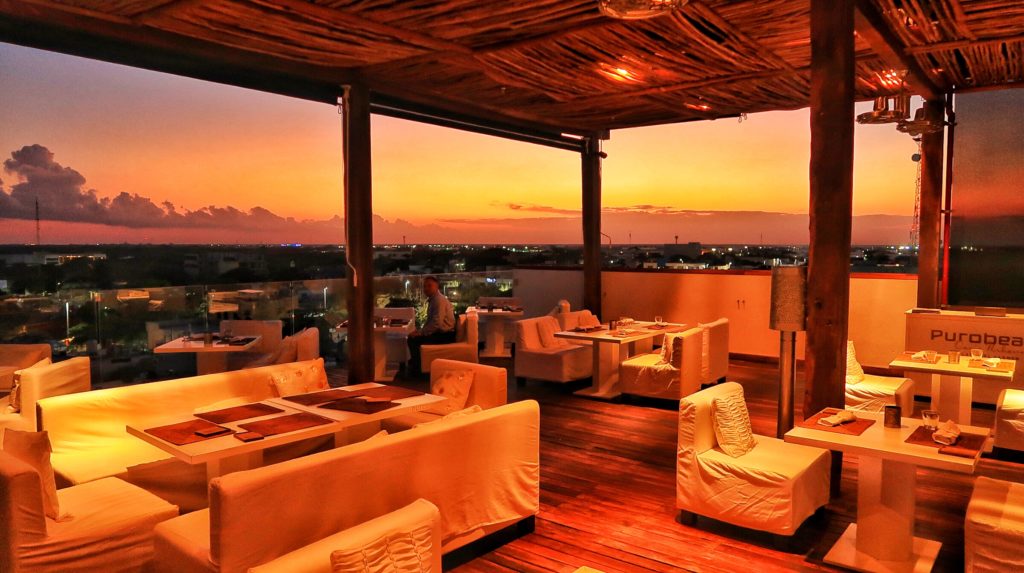 Taking money out of an ATM on 5th Avenue
Any busy travel destination can be ripe for people to try to skim your ATM card. Playa Del Carmen is not immune to this. We highly recommend going to a bank and using an ATM there to withdraw money. There are several banks a block off 5th Avenue on 10th Avenue (see our map in our article about exchanging money here).
There also are ATMs that offer dollars to customer. These will often have bad exchange rants or high fees for this. This usually never makes sense to do. See our article about what is best to use in Playa Del Carmen, pesos or dollars.
Also see our article how much money you need each day in Playa Del Carmen. This can help you plan ahead so you might not need to use an ATM.
Picking the best time of year for you
We do have year round warm weather and it is possible to swim in the ocean year round as well. So what more could you want? There are slight nuances in the weather and schedules that can effect your vacation.
We personally don't like the weather from late April through early June. It is dry and hot. The woods and vegetation are more brown. If you are visiting some of the Mayan ruins or to and eco adventure, you might notices how dry things look. When the rain start it can look vibrant and green again. See our article when is the best time to come to Playa Del Carmen.
If you are concerned about availability and prices you might like the off season. The highest seasons in Playa Del Carmen are the weeks around Semana Santa or Easter and late December to mid January.
If you are coming for a special event or seasonal migration, it is good to know when this is. For example if you want to swim with the whale sharks, this is not possible all year.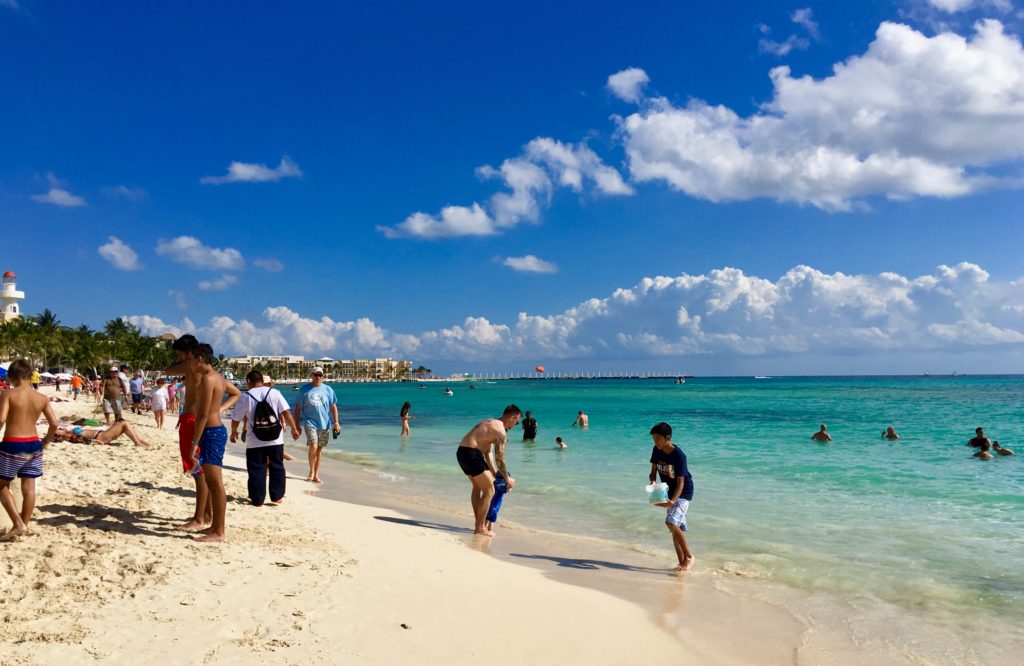 Not doing any research before you come
It can be exciting to go on vacation. You plan and book the flight and where to stay but that is about it. You figure you will arrive and decide what to do. Some of you will just stay at the resort because it is too much to plan a day out exploring or some of you will just ask the people in the lobby what to do. We have a whole article about booking tours and what is the best way to figure out what to do. Some of the reasons it is good to research before coming are:
There are lots of tours and places to go and not all are offered in your hotel lobby.
Some tours and parks offer discounts by booking ahead.
You might read or see something that you are really interested in only to have missed it on vacation here.
We hope you can heave time to research before you come. We try to help with this interactive map of places that you can visit when in the Riviera Maya.
Loosing stuff
Of course everything you take with you on vacation is important to you. You don't want to loose anything. One travel mistake people start off their trip with is loosing the tourist visa card that is given to you at immigration. You are given this piece of paper that you need to return when you fly out of Mexico. Since people are excited and possibly tired when arriving, it can get lost in the shuffle. Don't loose it. Hang onto this for your exit. If you do loose it you will need to go to immigration at the airport on your day of departure and get another one. There is a fee for this.
Another surprisingly common thing is that people loose their passports at the airport upon entry. With your bags and paperwork in hand, some people set them down and leave them accidentally. When we did an interview with the U.S. Consular Agency in Playa Del Carmen they said that many people contact them about lost passports. Often these are at the lost and found at the Cancun Airport. So the lesson is, remember to put it away and don't make this travel mistake.
Don't fall for the vacation clubs and timeshares
From the moment you land in Cancun to your hotel you might be approached by a sales person. They might have discounted tours, transportation or an exciting vacation plan for you. It all boils down to a sales pitch for a timeshare or "vacation club" as it is also called. They like to prey on unsuspecting people that can be  manipulated into a seemly good purchase. Even people who say they would never fall for such a thing have been manipulated into something they regret later.
Not all vacation clubs or timeshares are bad, but an overwhelming amount of people (about 90%) regret the purchase. Besides just the bad purchase there are people that prey on you again to sell. See our article on timeshares and vacation clubs here for more details. We don't want any of our readers to fall for these travel mistakes here.
We hope you have enjoyed reading our article about travel mistakes and how to avoid them. Let us know if there are other things that people should do or avoid when traveling to Playa Del Carmen or the Riviera Maya.