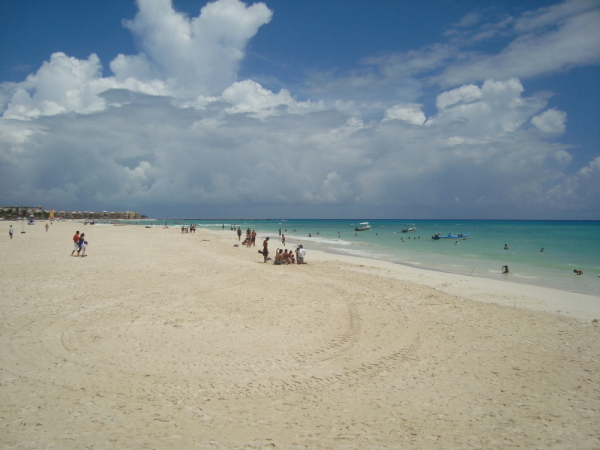 Many people ask when is the best time to visit Playa Del Carmen. We take all the factors into account here for you.
Often on flights between the United States and Cancun and each time we would look around and wonder " Why are all these people visiting Mexico now, especially when it was summer".  We would think that they would want to visit when it is winter at home and enjoy warm temperatures here.  We would ask people  and often it was a young couple that just got married and were going on their honeymoon or a family on summer vacation. The fact is the Riviera Maya, where Playa Del Carmen is,  has just become so popular that it is a year round destination.
People still ask "when is the best time to go to Playa Del Carmen?
There are several factors that come into play.
A). crowds
B). events
C). price and
D). weather.
The basic answer is though, anytime  except Semana Santa holiday. Semana Santa is the Spanish term for Holy Week, the week preceding Easter in the Catholic calendar. This is the busiest time of the year in Playa Del Carmen. It seems like the roads are full of cars, grocery stores are full of people stocking up and extra for holiday meals, and beaches, parking lots, and hotels are all full. This time of year attracts a lot of Mexican nationals that have the time to come. People come from all over Mexico visit at this time and even bus loads of university students come all looking for a good time.
The second busiest time is the Christmas/New years period. It is a tradition for many to come on vacation then and since Playa Del Carmen can throw a party! New Years is celebrated here in a big way with the traditional walk on the beach to watch the sun rise after an all night party. So if crowds are not your thing and want a little quieter Playa Del Carmen, avoid this time period as well.
Tip: If you do come at these two busy times, make sure you have hotel reservations and book in advance to get a better price.
When are there events in Playa Del Carmen?
If besides a great beach vacation, you are looking to attend one of the events in Playa you will want to plan your vacation around these. The big attractions are the Jazz Festival, Ironman Cozumel competition, Riviera Maya Film Festival,  Day of the Dead celebrations (Halloween), Carnival, and New Years. Besides the big attraction events there are lots of smaller specialized events like the many culinary fairs, concerts and yoga retreats.
For more events in Playa Del Carmen see our yearly guide to when things are taking place.
When can you get the best prices in Playa Del Carmen?
Price can be a factor when looking at a vacation. The two biggest cost for your vacation are going to be the flight and hotel. If cost is a consideration then you should plan around these two things.
Airlines are excellent in charging the most during higher demand times and can raise it daily to adjust. In general the best times to get a cheap flight are late January-February, Late April-early June and October. These times are before or after holidays and a lower season in Playa Del Carmen.
Fortunately hotel deal or decent prices can be found year round. There are so many hotels you can find something in your price range. You may not be able to afford the hotel you want because prices can go up 25% or more during peak seasons or holidays.
If you are looking at booking a resort, one tip we have is contacting our hotel expert Lori. She knows all the hotels here in the Riviera Maya and can book for you in a hotel you will like.
When is the best weather to visit Playa Del Carmen?
Weather is the big question everyone always has when planning to come. The truth is, we have good weather year round with just a few variations.  Playa del Carmen has a sub-tropical climate, which means it's almost always warm. Year round the average temperature  is about 27C or 80F. Summer months (May-September) are hot with high humidity but this can be mitigated by swimming in the ocean and pools, activities you probably already had in mind. Don't worry the water is always good to swim in, although some locals don't really go swimming in the winter months. The charts below will help you see average temps and rainfall as well as other data. (Or you might want to read our more complete weather for Playa Del Carmen article here.)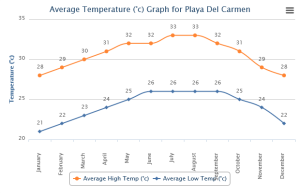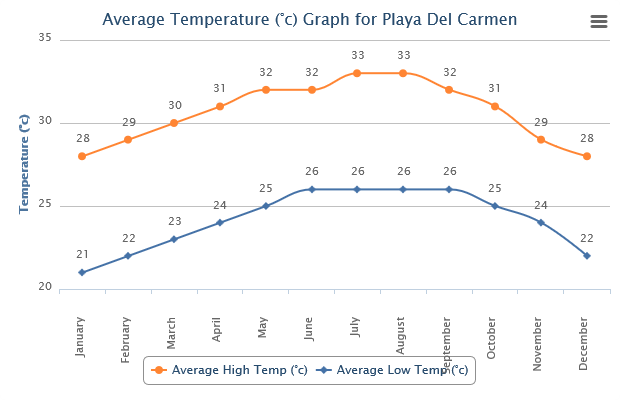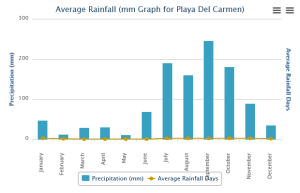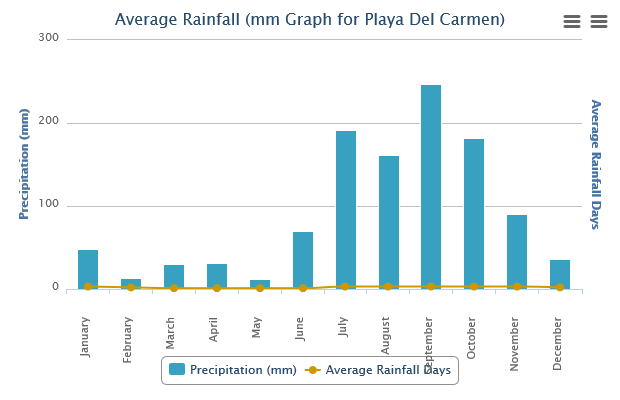 chance of

(very) hot

weather

chance of

(very) cool

weather
chance of

long-term

precipitation

chance of

hurricanes

(cyclones)
chance of               sunny days

UV-index

January
February
March
April
May
June
July
August
September
October
November
December

click

here

for               the explanation of the symbols
When do you think is the best time to visit Playa Del Carmen? Let us know in the comments below. We love hearing from our readers.