Semana Santa or Easter is the busiest time of the year in Playa Del Carmen. Some locals cringe to think about all the visiters and the dealing with crowds of people, other locals love the boom for tourism. Either way it means some noticeable changes in Playa. On average there are about 1/4 million visitors tat arrive that week! We have complied a photo list of the seven signs of this period and what to expect if you are visiting or living here during this time period.
#1. PEOPLE! Everywhere there are more people. 5th Avenue is hard to walk on. The beaches are a little fuller of people especially on beaches that traditionally get more national tourist or locals. Grocery stores are full of people buying food a liquor for the long weekend. Clubs and restaurants are packed.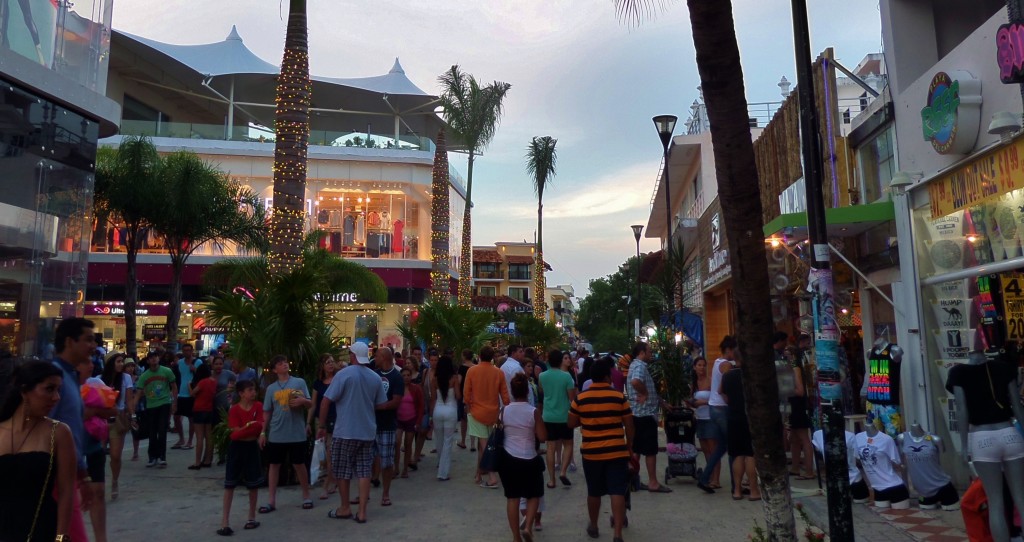 #2. NATIONAL TOURIST! Mexicans have a long holiday time off and love to come to Playa Del Carmen. I am surprised that the highway from Mexico City can handle all the traffic! The number one destination that national tourist come from is the DF (Mexico City). It is kind of a love/hate relationship in Playa Del Carmen with these tourist. They bring in a lot of business (love) but they bring a different attitude (hate). It is a city attitude and is even given an expression "mi rey" It means "my king" and expresses the attitude of some of the tourist from Mexico City that come with the thinking they are rich and deserve to be treated better and deserve more, even if they are only pretending to be rich. . You can usually tell these tourist from their collared polo shirts, shorts and loafers.
We did an informal survey of license plates of out of Qroo State cars in Playa Del Carmen. If we combine Mexico State with Distrito Federal (Mexico City) This area is #1 on our list. Here is a map to show you the top 10 states people come from. It kind of kind of gives you an idea of where the money is in Mexico that allows people to come and travel to Playa Del Carmen.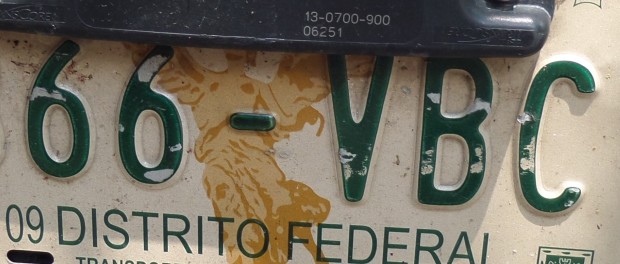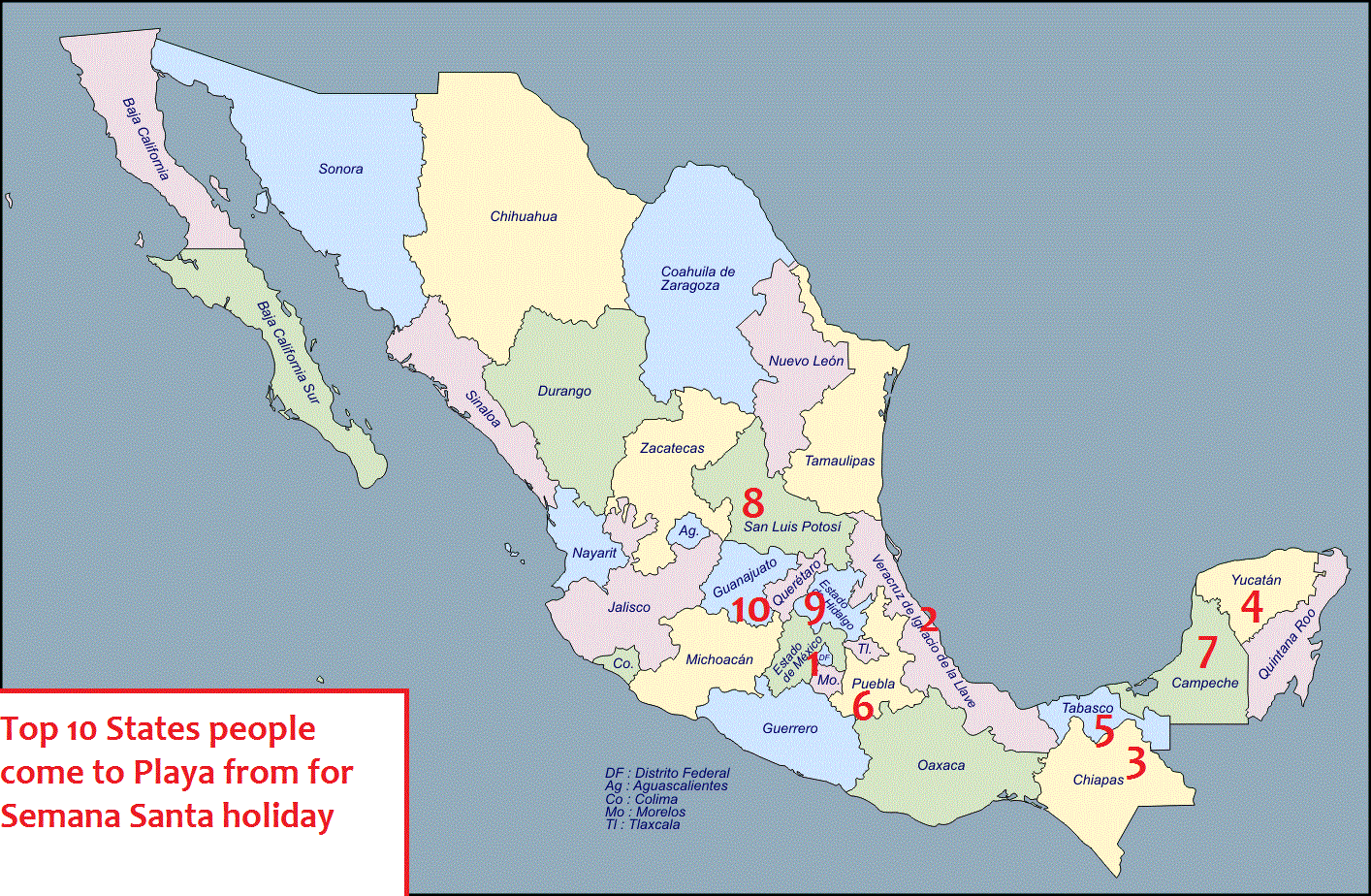 #3. MORE POLICE PATROLS. It seems to be about three times more police on the street o keep things running smoothly. Things usually go very well except the occasion fight of the drunks or taxis blocking the road trying to get every fare they can. Thank you Police Department for keeping things more sane during Semana Santa.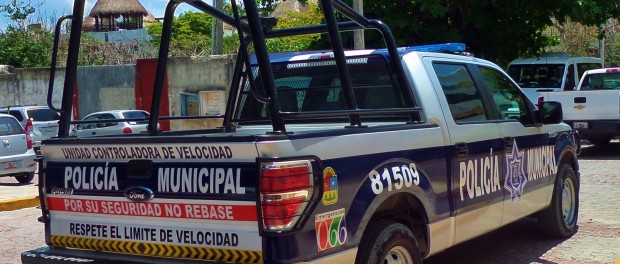 #4. HOTELS ARE FULL. Not only do prices rise but so due occupancy levels. The lower end hotels see more of a boom. All inclusive hotels do not feel the rush as much. Apartment rentals are high as well. If you are an owner of a rental you have to be clear how many people you allow to sleep in the unit. Many tourist will rent one apartment and then have an entire group crash there. This tend to be with more national tourist.
#5. BUSSES. They come by the bus load. Parking lots and side streets become home to busses. Some come with loads of young university students from neighboring states. Sometimes sleeping on the bus at night and laying on the beach in the day.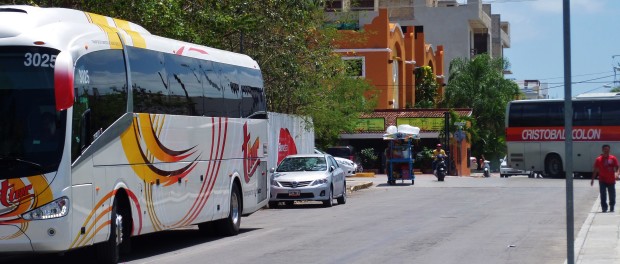 #6. ROAD CLOSURES. With more cars in town and popular areas becoming overcrowded, streets are blocked off. Especially near popular beaches. If the roads were not blocked off traffic would come to a log jam. Thank you again Police Department.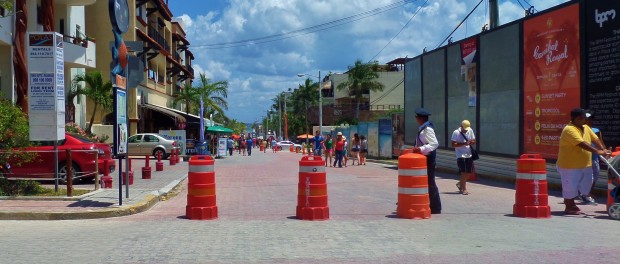 #7. Stores rush to open and get business. This business was not even here three weeks before. Look how it popped up in just two weeks!!!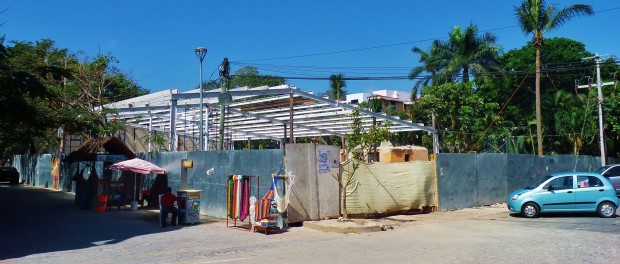 We hope you enjoyed this look at what the busiest time is in Playa Del Carmen. If you like the buzz of energy like kids before a big snowstorm or what your local mall is like leading up until Christmas, then you will love this high energy time in Playa Del Carmen. Of course if you are staying at an all inclusive hotel or staying in Playacar area of Playa then you might not notice the large influx of tourist.