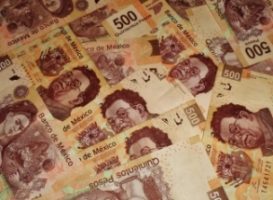 Exchanging money is a very popular topic because everyone wants to know how to get the best deal for exchange of their dollars or whatever currency you are exchanging when you come to Playa Del Carmen. Bottom line is, don't sweat it. Second, don't exchange before you get here. You will NEVER get a better rate at home. In this article we will take about banks, exchange places and other tips for getting the most out of your currency so you don't waste money and get the best exchange rate.
How to Exchange money in Playa Del Carmen Guide
Should you use an ATM to get money in Mexico?
Banks, Casa De Cambios and ATM's
This is why you should not sweat it. Everyone will tell you just use the ATM. There is a reason everyone says this and you should listen to them! It is the best way to get local currency, but if for one reason or another you prefer to exchange cash then it is not a major issue.
Lets say you have paid for hotel and flights already and you are bringing a nice round number of $1000USD for vacation to spend on jets skis, dinning out, and souvenirs. If you go to the ATM and pull out the money you will likely have non bank ATM fee and foreign exchange fee. This will give you (current exchange rate in pesos) to the dollar or for your $1000USD you get x amount pesos. If you go to a exchange booth on the street you will likely get .5 less the what you would at an ATM.
So if you are concerned about using your ATM card outside of home country and want to exchange at a Casa de Cambio you would have roughly 500 less pesos. That is a decent meal for two. Relatively speaking though, it is not a huge amount of money to be worried about. It is however another story if you try to use dollars to buy things because stores will give a worse exchange rate and you can loose as much as $100 dollars when spending $1000 dollars or 10%. The simple answer and easiest thing, just use your ATM card. Now if you are staying longer or going to be living in Playa Del Carmen, then we will cover that in another article on how to maximize your money when exchanging it.
What to do when the ATM ask you about currency conversion rate
A new thing that automatic teller machines do is ask you if you want to accept the banks conversion rate. This is a very confusing questions because you don't really know if it is the official rate or some rate the bank puts on the exchange. It is best not to accept the exchange rate because more banks have a worse rate and you will end up paying more for the service.
Tip: Avoid using the ATM's in any Mexican city on and around the 1st and 15th of the month. Almost everyone in Mexico gets paid twice a month via direct deposit and the lines at ATM's are long, really long!
Should you go into a bank to exchange money?
Don't waste time going into a bank to exchange money in Playa Del Carmen. Most banks do not exchange money. Some will only offer service for their customers. Lines tend to be slow and long and this will eat up 30-40 minutes of your day. ATM's and Casa de Cambios are for that purpose. So in short, NO!

Do people use travelers checks in Mexico?
Travelers checks, who uses those anymore? These can be cashed here but it is a dying form of money exchange. It is near impossible to exchange these. In our opinion it is not worth it.
Should you exchange money before coming to Mexico?
Don't think about changing money before you get to Mexico. You will NEVER get the best rate. You may feel better taking care of it at home but there are ATM's at the Cancun Airport. Here you can get some pesos for your trip. Actually you can pay for transportation in USD at the airport if you need to and you can wait until you get to a Casa de Cambio in Cancun or Playa Del Carmen (We do however recommend booking your airport transfers before arriving to save money).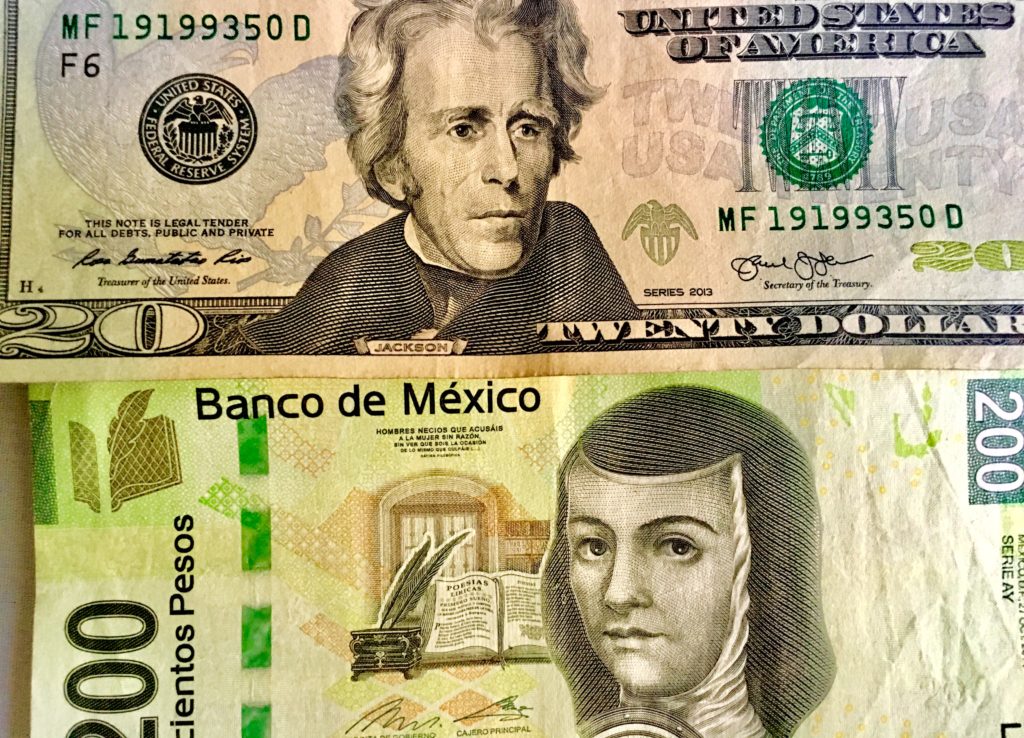 Here are some tips for exchanging money in Playa Del Carmen
Tip: Don't do multiple little withdraws because you will pay more in fees.
Tip: Tell your bank and credit card companies to put a travel alert on your card. This will prevent them from being denied in Mexico. This happens to people and then you end up having to call them to OK the use here. It is not very convenient if you are in a store buying something and you have your card declined. Plus trying to make international calls to your bank is a hassle.
Tip: See if your home bank has a relationship with a bank here in Mexico. You can save some fees this way. For example Citi Bank and Banamex are related or HSBC actually has HSBC banks here. Scotia Bank has a connection with a Canadian bank, but many find no advantage with this connection.
Tip: If you exchange at a Casa de Cambio, take your passport with you, most require it.
Tip: When bringing currency to exchange, make sure it does not have rips or is worn, they can be refused for exchange.
Tip: When exchanging at a Casa de Cambio, ask for small bills. 500 pesos notes can be hard to get change for if you are buying something small. Don't even think about trying to spend a 1000 peso note in Mexico except for large purchases. Most places don't have change. It is a good thing these notes are not that popular.
Tip: If you exchange at a Casa de Cambio, they do not charge commission, they just make money by giving a lower rate to you then the official rate. So you can exchange small amounts and it does not matter because you are not paying a fee for each time. This may work for you if you are not sure how much you want to spend. You can bring money from home and just exchange when you need it. This can save you from ending up with left over pesos to spend in the airport.
Tip: If you are going to be buying supplies at the grocery store, check out our secret way to get a good exchange rate in our other store here.
Tip: Use the usual precautions when at an ATM. Cover your pin and check see if it looks like it has been tampered with. We highly recommend a bank location ATMs because they have cameras and there is less chance of someone tampering with a machine to read cards.
Tip: Try to avoid any ATM on 5th Avenue (as in never use them). You have a much greater chance of having issues with card cloning.
What is the current exchange rate?
You can look at www.Bloomberg.com and look under Markets and Currency to see the daily rate or use other websites that give exchange rates. Casa de Cambios will usually subtract 1.0 off the official daily rate. So if the daily rate is 19.2 you will get 18.2 offered at the Casa de Cambio. Just make sure you understand the two numbers they post. One rate is what they will sell you pesos for and the other is what rate they buy them at. The bank always wins and there are fees for exchanging money.
Can you use dollars to pay in Playa Del Carmen?
So why should you exchange in the first place? Everyone takes dollars right? In tourist areas they are accepted but often at rates of 10,12,15 or what ever pesos to the dollar rate they want to go by. So basically you are paying 10-25% more. The people that receive them also have to exchange them. Once you are out of some tourist areas you will need pesos. Even in Playa Del Carmen there are certain things that you need to pay in pesos. It is also considered more polite to use the national currency.
For more on this discussion of pesos and dollars used in Playa Del Carmen, see our article here.
What bank ATMs are close to 5th Avenue where I can exchange money?
Here are two bank branches where you can use an ATM. There is a Scotia Bank on the corner of Constituyentes Avenue and 10th Avenue (just one block off 5th). and a Bancomer Bank on the corner of 8th Street and 10th Avenue.
We hope we have provided you with a guide on how not to sweat money while on vacation. It is just something to deal with when traveling and makes for part of the experience. If you have questions of comments, let us know below.