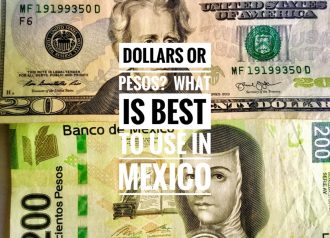 Should you use Pesos or Dollars in Mexico?
People coming on vacation to Mexico ask what type of currency is best to have for spending. Can you use US Dollars in Mexico? Do I need to exchange money? Is it better to use Pesos or Dollars in Mexico? We will break it down for you here so you can travel like a pro and get the most for your money.
Are US Dollars accepted in Mexico?
The answer is yes but not everywhere. In most tourist areas like Playa Del Carmen and Cancun many stores are used to tourist coming in and they make it easy for you to pay. For most tourist that are in Mexico for a week and will be in tourist areas, you will find most places accept US Dollars. But there is the rate at what they will accept them. See our section below on this.
Tip: Mexican law says that all prices must be marked in Pesos. It is optional to also list prices in other currencies. All taxes and fees are listed in the price. Nothing can be added to the ticket or menu price.
We take US Dollars but at a cost
One very important thing you need to be alert to the rate at what people accept Dollars. You might think, "Great, they take Dollars!" but only to figure out that it is at a lower rate than what the exchange is. Any business can decide to accept a non official currency and they can set the rate at what they will exchange it at. Most of the time their rate will be a couple of pesos less than the official rate and you will actually be paying 15-20% more for things. If you are going to be shopping around, it can add up. This is a "convenience fee" for not exchanging your money yourself at a Casa de Cambio.
For this reason we do recommend people exchange money and use Pesos. You will get the best prices. It might be a little confusing handling a new currency, but just take your time and figure it out when making a purchase.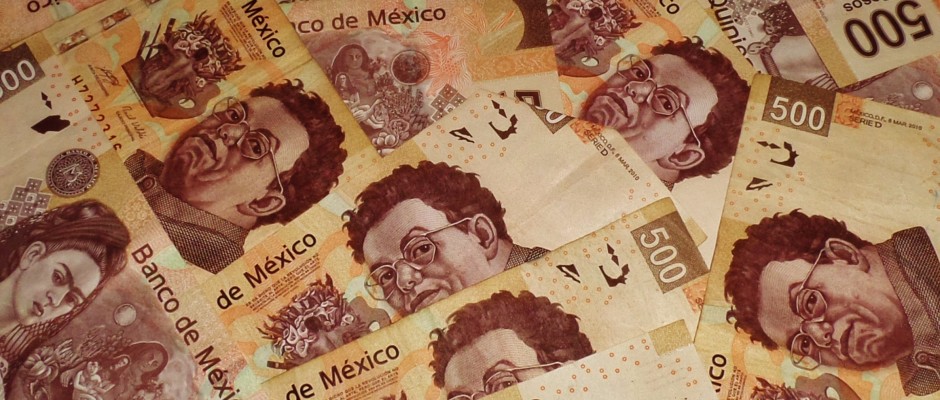 When using Pesos in Mexico you control at what rate you exchange them at rather than each store.
What areas must you have Mexican Pesos?
Outside of tourist areas you will need to have the national currency, Pesos. Here are some examples:
Most Mayan ruin sites will only take Pesos.
Toll roads. This is important to remember if driving around. There are often no banks or ATM machines on the toll and after you get to a tollbooth you must pay. We often see tourist that have no Pesos or think they can pay with credit card. They have to pull over and ask people to borrow money or exchange money.Be prepared and avoid this.
Outside of tourist areas it is hard for people to exchange money or even keep up with the current exchange rate. So small stores and restaurants usually will not accept Dollars.
Most services like water and electric do not take Dollars.
Are other currencies accepted in Mexico?
The most common non Mexican national currency is the US Dollar. This is due to the proximity to Mexico, it is a commonly used currency internationally and the bulk of tourist that come from the United States. We have not see stores or businesses accepting Pounds, Euros, Canadian Dollars or other currency. If you are coming to Mexico and have one of these currencies or others, it is best to exchange them at a Casa de Cambio.
We do recommend not brining too much non US Dollar currency to Mexico and instead using your ATM card to take out what you need. If you do this, make sure you use bank ATM and not a stand alone ATM on the street. You have a much better chance of getting your card cloned at an ATM on the street.
If you are coming to Mexico with a currency from a country that is not that commonly used in international markets, it is best to exchange this before coming to Mexico or exchanging as soon as you enter the country, like at the Cancun Airport. At many exchange houses in Mexico there are only about 10 different currencies available for exchange.
What about credit cards in Mexico?
Mexico is more of a cash society. Credit cards are accepted in large stores and restaurants. However in many tourist areas, like most places in the world, you can have your card number copied. We recommend using your card when you need to perhaps for larger purchases. For all other things we suggest having cash.
Tip: We currently do not recommend using a credit card for paying for gas in Mexico. There are many reports of scams with running cards and saying it is not working. See our article on avoiding scams at Pemex gas stations.
Tip: Be sure to ask or look for the signs that say a business of restaurant accept credit cards. Even some large ones do not and you don't want to be stuck looking for cash after your meal.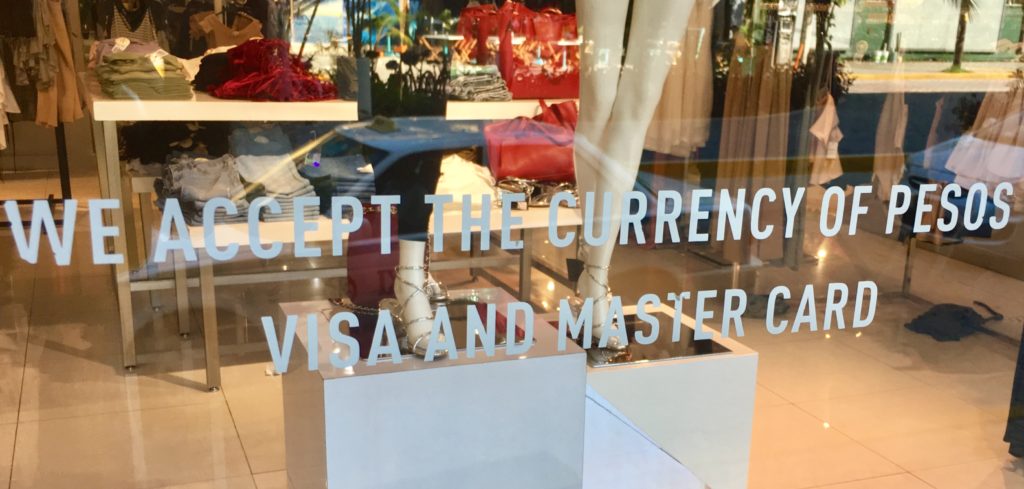 Using US Dollars at the grocery store
In the Riviera Maya you are able to use US Dollars at most grocery stores. The reason for this is the fact many people make tips in Dollars and are encouraged to spend them in the stores. Stores will exchange them at a better rate than the exchange houses.
There are exceptions though. You are limited to $250 Dollars at a time and you cannot get more than 10% back in change. The change is in Pesos.
For people coming here to do a little shopping for vacation supplies or as a resident, using US Dollars at the supermarket is a little trick to get more for your exchange. See our article here n exchanging money in Playa Del Carmen.
The bottom line for how to pay in Mexico
The bottom line is, Pesos are accepted everywhere in Mexico! We know it can be a hassle to figure out new money and do the calculations in your head. This is just part of traveling and it is also more respectful to countries to use the national currency. Many Mexicans make it easy to use Dollars and this certainly makes it easier for many tourist that come to Mexico. You will however make the best use of your money if you exchange it and use Pesos.
These are just some tips for coming to Mexico on vacation. For other tips for your trip see our article here. We also have dozens of guides for your trip to Mexico here.