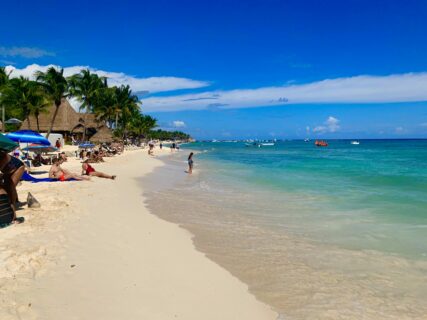 What are the beaches like in Playa Del Carmen?
Playa Del Carmen, Mexico sits on the Caribbean with beaches lining the whole Riviera Maya. Even the name " Playa" means beach in Spanish, so you know there is a deep connection between Playa Del Carmen and its beaches. So, what are the beaches like in Playa Del Carmen? Are the beaches nice in Playa Del Carmen? Here is a rundown of the areas of Playa Del Carmen and what each of the beaches is like.
Insider tip: All beaches in Mexico are public (except the areas that are rented by beach clubs and concessions. Access to them is only allowed though via public access points. In the downtown of Playa Del Carmen, the beach is at the end of each perpendicular street, so it is very easy to access the beach. Places like Playacar and north of the center, there are less public access points.
Seaweed and the beaches of Playa Del Carmen
Since 2014 there has been an issue with higher-than-normal amounts of seaweed coming ashore in the Caribbean. It is not consistent and not very predictable but can put a damper on beach conditions in the area. So here is the lowdown on seaweed. In general, it is more likely in the warm months since the warm water makes it grow faster. Conditions can change from day to day. Some weeks it can be thick and it can make the water brown at the edge of the waterfront. Other days it can be beautiful turquoise water with no issues.
We have a good article here about what beaches get less seaweed and also a more detailed article about seaweed where you can see monitoring radar of potential seaweed mats coming ashore.
Now with that information out of the way, let's talk about the beaches of Playa Del Carmen what they are like.
Playacar Phase 1 & 2 beaches in Playa Del Carmen
Playacar is a private community on the south end of the downtown of Playa Del Carmen. It is divided into phase 1 and phase 2.
Phase 1 starts just south of the Cozumel Ferry Pier. Here the beach is less crowded than the other side of the Cozumel Ferry Pier. Phase 1 is the smaller part of Playacar. There are mainly houses and a few hotels on this stretch of beach. The good news is, this beach is usually in good shape. The bad news is it has seen some erosion over the past decade and the beach has a little more chance of seaweed than the beach in front of phase 2 especially just south of the Cozumel Ferry Pier.
Phase 2 of Playacar has all inclusive hotels lining the beach. This is good news because the hotel staff cleans the beach daily leving it usually is very nice shape. Having wall to wall hotels makes public access almost impossible to the beach. The best way to access this beach is by walking from the Cozumel ferry Pier south for about 15 minutes. This beach is usually one of the top two best beaches in Playa Del Carmen. It is a wide and straight beach that usually sees much less seaweed when there is some washing ashore.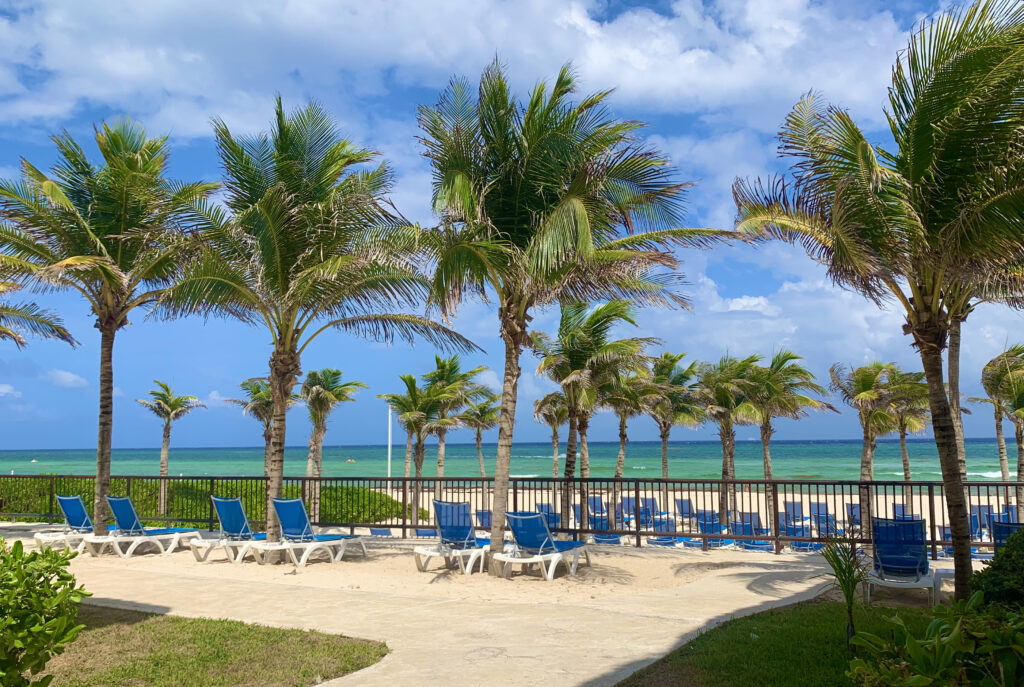 What the beach is like between the Cozumel Ferry Pier to Calle 12
This beach area is the original area of Playa Del Carmen. It tends to get a lot of locals especially near Juarez Avenue. This is because many public transportation options leads to this area and it makes it easy for locals to get to this area. Often you can find a volleyball game going on here at the beach and some entertainment by the Portal Maya statue.
From 2nd Street to 12th Street you will find beach clubs. Most are smaller and older and some of you might enjoy the less boom boom music beach clubs further north of this area. See our guide to beach clubs in Playa Del Carmen here for more information.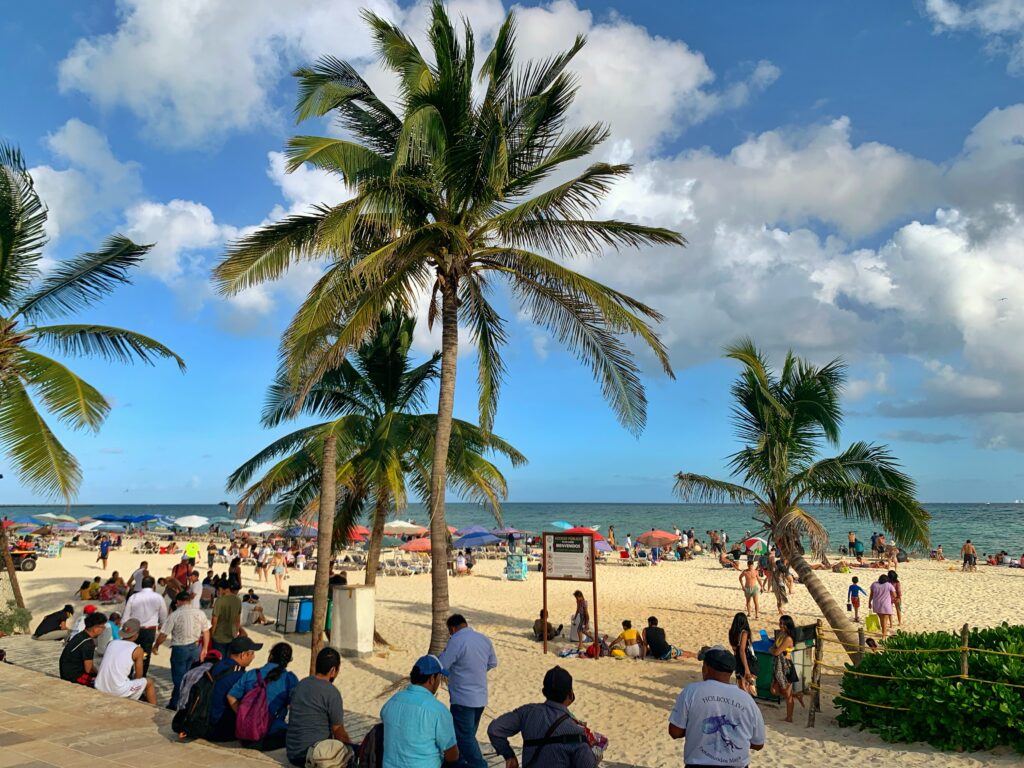 The beach from 12th Street to the Constituyentes Ferry Pier
This area is perhaps the least desirable beach in the center of Playa Del Carmen. For several reasons we say this. the first reason is that 12th Street is where the clubs are. Some of the clubs that are on the beach have closed and it looks pretty shabby along the beach. It also means the businesses don't care about cleaning the beach because they are closed. The second reason this area is not so good is the fact it is a bay after the Cozumel Pier and seaweed tends to collect in this area a lot. Third, this area has been the guaranteed place for local fisherman to tie up their boats. So, it means a lot of ropes buried in the sand and boats just offshore.
You can have some nice days at the beach in this section, but it is not our first choice to try.
The beach from Constituyentes Avenue to Mamitas Beach Club
The beach here is easy to access from Constituyentes Avenue and from 28th Steet. It starts a little narrow but after the large Hyatt Hotel, the beach is a little wider and it is also where you will find some of the bigger beach clubs. Most people prefer this area because the beach is nice, usually has less seaweed, is trendy, and it is good for people watching.
On Sundays that have good weather you will find this beach full of both tourists and locals. Often people stock up at the local Oxxo convenience store and spread out on the beach in front of the beach clubs. Since there are a lot of people on this area of the beach, you can find services like jet ski rentals, banana boats and small catamarans. You can even find people selling whole pizzas on the beach, so it really can be entertaining as well as easy to get what you might want.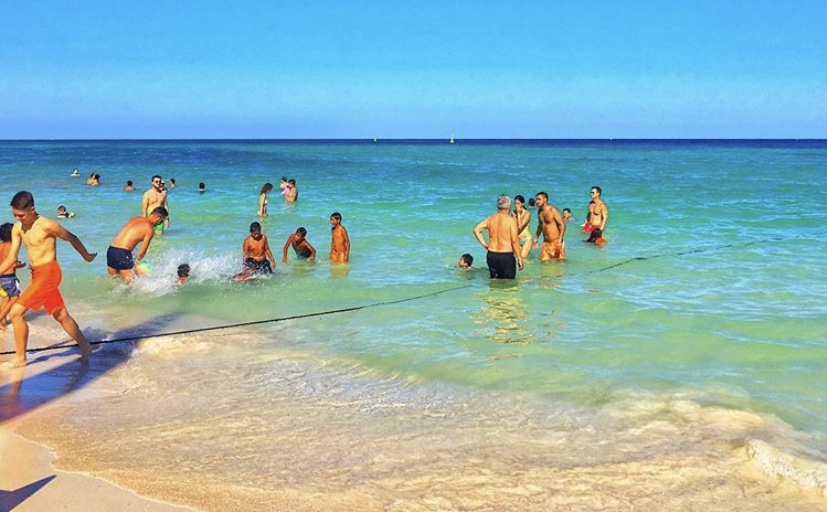 38th Street to CTM Avenue beach conditions
This area of the beach tends to be less crowded, especially from Mamitas to 38th Street. There is the Mahekal Hotel along this stretch of beach, but it is not that big of a hotel, so there is space to stretch out there. This stretch of beach is also pretty nice and tends to get less seaweed.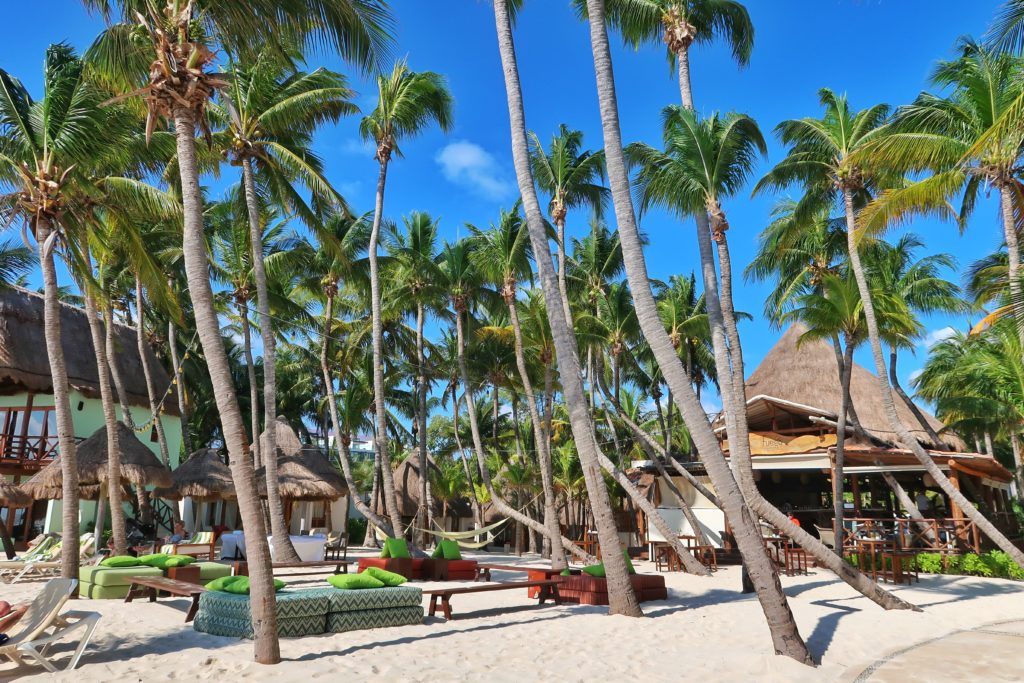 If you are looking for a beach club though, you will have to look between 38th and CTM Avenue since there are no beach clubs between Mamitas and 38th Street.
The last part of this beach is where there is a beach club and restaurant. There is a natural point here and due to a pier being built just north of here, it has eroded the beach and makes walking the beach almost impossible to pass further north.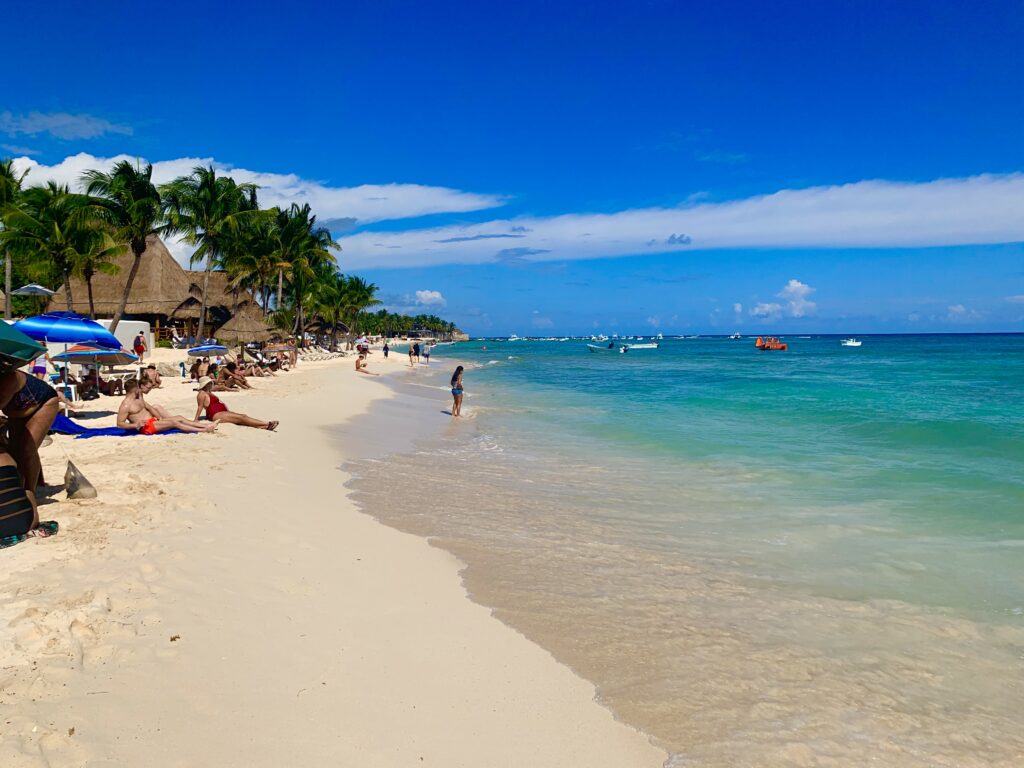 Ctm Avenue to Punta Esmerelda Beach
If you look at a map of Playa del Carmen, you will see that there is a green stretch with no development in most of this area along the beachfront (approximately Calle 48 to Calle 110). There are 4 main beach access points in this area. Since most of the area does not have any homes or hotels along the beach, it is not cleaned daily. So sometimes there is dried seaweed or a more natural look to this beach.
The beach is not that wide, but it is quieter. You will need to do a little walking to get to this area and make sure you bring most of what you want with you because there are not any beach clubs and not many stores nearby.
The beach at Punta Esmerelda
If you enter the public access road for Punta Esmerelda you will come of a beautiful beach that has a cenote that flows into the ocean. This area is very popular on the weekends especially with locals.
You can bike here and lock up your bike or drive to this area, just note that parking is scarce after 11:00am on weekends and holidays. You can find public bathrooms here and usually a spot that is a little quiet. If you have young kids, this beach is great from playing in the shallow water.
The beach going north
Basically, from this point north it is technically still Playa Del Carmen, but it is a private development with not too much access. So this area is not really to be included into the list of beaches for Playa Del Carmen.