The Best All Inclusive Resorts in Playa Del Carmen
If you enjoy staying at all inclusive hotels, then you might want to know just what is the best one for your stay in Playa Del Carmen. The truth is, there are different categories and expectations of different people visiting the area. So, we are going to break it down into four categories and explain why certain resorts are the best for certain people. But first we want to give you some good tips for getting a good all inclusive resort.
Expert tips and secrets for all inclusive hotels in the Riviera Maya
When it comes to pricing, most hotels are priced fairly based on quality of the experience. This means the size of the rooms, quality of food and amenities will be all factored into the price. We have found this to be true of EVERY resort we have visited here in the Riviera Maya. So just because a hotel is $100 USD cheaper a night, it does not mean you are saving, it just means you are paying for less quality.
Usually only brand-new resorts offer some incentives to lure in new customers and get great reviews. This is basically the only time you can score a good deal that really is a good deal. Of course new resorts only come online about one per year or two, so be on the lookout for new resorts.
Should you use a travel agent?
Many like booking their own trips and it can be pretty easy with just one website for the hotel and one for the flight. However, some do like to use the expertise of a travel agent. Local travel agents where you live often only know one or two hotels personally and usually offer ones that are on a list to sell to you.
One good option is to use a well recommended travel agent who is actually based in the Riviera Maya and has visited most of the hotels. We do have a good recommendation for you, her name is Lori and we have a complete article with the best way to initiate contact here. What are the advantages of booking a trip with Lori? She has firsthand information of the area and can select hotels that fit just what you want. There are other perks that travel agents can sometimes get for you as well. For example, sometimes people are traveling in a group and want adjoining rooms, or there is a special event they are celebrating and want something special set up for them. Lori does charge a planning fee, but most people feel it is well worth it since they are getting expect help for that perfect vacation.
What are the real areas of the all inclusive hotels?
When searching online for an all-inclusive hotel in the Playa Del Carmen area, you will find that there are a lot of choices. The secret is, not all are actually in or close to Playa Del Carmen. Some resorts are as far as 40 minutes from the center of Playa Del Carmen. Many have a general location or just labeled as Playa Del Carmen because it is a known area. So, knowing the real location of the hotels is important, especially if you want to do an outing to walk 5th Avenue or go to one of the parks of Xcaret. Below are four areas in or just outside of Playa Del Carmen where you can stay and what each offer in general.
Playa Del Carmen downtown area (orange color) 8 hotels. (This area offers excellent walkability to downtown Playa Del Carmen)
Playacar area (green color) 14 hotels. (This area offers some seclusion yet a short taxi ride or walk into the downtown)
Outside of downtown area to the north, but still considered part of Playa Del Carmen (purple color) 7 hotels. (Hotels are on their own grounds and you will need a taxi to visit other areas)
The area to the south of Playa Del Carmen that is still considered Playa Del Carmen (red area) 4 hotels. (These hotels are separated from Playa Del Carmen by a taxi ride, but are close to some of the Xcaret parks)
What type of all-inclusive hotel do you want for your vacation?
Here are four categories we will talk about for all-inclusive hotels in Playa Del Carmen.
Families traveling to Playa Del Carmen.
Adults only resorts.
Resorts in Playa Del Carmen downtown.
Resorts technically in Playa Del Carmen but are not in the downtown.
Best Family Friendly Resorts in Playa Del Carmen
Let's start with the two best family friendly all-inclusive resorts.
Hands down the Xcaret Mexico Hotel is the best option for you. Not only do you have access to all of Xcaret's parks, the hotel and grounds are spectacular. Even when compared to great resorts around the world, this one is right up there. You will pay for it, but it is worth it in our estimation.
If your kids are a bit older and you are not planning a trip to one of Xcarets parks, you might like the Andaz Mayakoba Resort. It offers a more grown up feel all around and emphasizes connecting local culture to guests.
Ok, we know the best all inclusives for families might not be in everyone's budget so here are two more to consider.
Sandos Playacar. This all inclusive is good for families with children 7-15 years old. Sandos has a good reputation as a resort chain plus there were renovations here at this hotel recently. To see more about Sandos including prices, click here.
Princess Family Club. This is what is also called the Grand Riviera Princess. It can be confusing since this property has two names. This often happens with large resorts. Sometimes travel agents only have access to one and sell one side while the other is sold by different agents on inhouse. This resort is good for younger children (4-9). To check prices of a stay at Princess Family club, click here.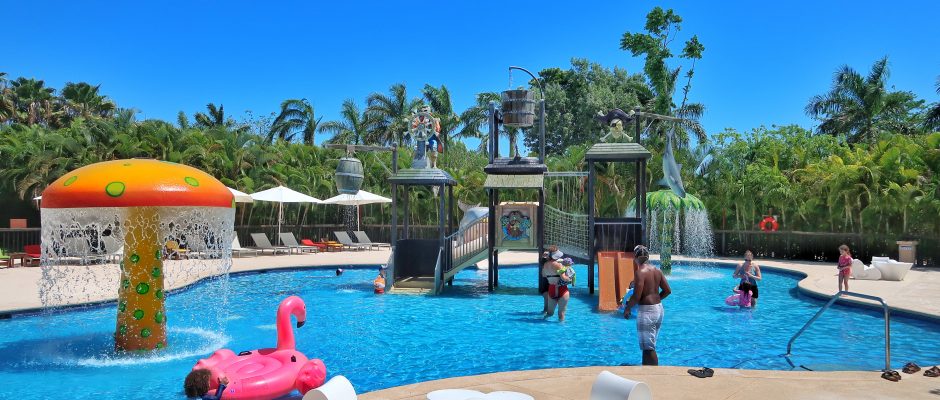 Best Adults Only Resorts
If you want to escape with your couple and not be surrounded by kids, an adult only can be just right for you. Even some split resorts with an adults only section can be limited. Here are the best adult only all inclusive hotels in the Playa Del Carmen area.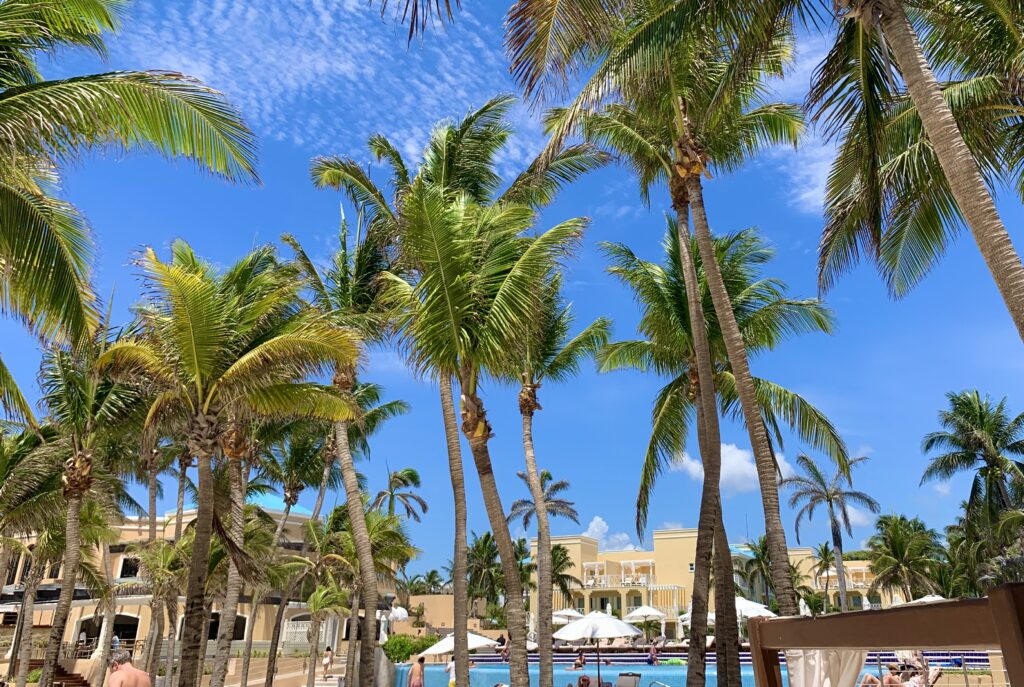 Best All Inclusive Hotels in the Downtown of Playa Del Carmen
In the central area of Playa Del Carmen you can find about 8 all inclusive hotels. For people looking in this area, most like the access to Playa Del Carmen, 5th Avenue and the ease of walking out the door of the resort and exploring Playa. The biggest downside to staying in the center is the limited privacy of the resorts since most big all inclusives are known for their large properties and beautiful grounds.
Some of the all-inclusive hotels in the center of Playa Del Carmen are just a hotel and no grounds or some offer half board. This means you can plan some meals on the property and enjoy some of the good restaurants in Playa Del Carmen to round out your stay. We like this option because you can usually get better meals at restaurants rather than just eating at a buffet or specialty restaurant at an all-inclusive.
Overall, our opinion is not too favorable to all inclusives in town. The first reason being the quality of food at all-inclusive resorts is never as good as a restaurant whose job it is to prepare and make good food for customers. Secondly, part of the experience of an all inclusive is the tranquility of the property, often with large swimming pools, beach views and lush gardens. In the center of Playa Del Carmen it is hard to be limited to eating just at the hotel while ignoring (or double paying) at a good restaurant in town. You also don't have the privacy and space of the resorts located out of the center.
With the above being said, we have two recommendations for you to look at:
Mahekal Beach Resort. This is the only resort with some grounds in the downtown area. It offers a more old school feeling to a resort when life was simpler. Rooms are small cabins and the grounds do have a nice view of the beach. This resort is nice for a middle age or older couple that wants a central resort with the flexibility to walk around town. To check prices at Mahekal, click here.
Reef 28. This hotel is great for the urban couple that wants to go out at night, mingle but still have a package for hotel and dining. The Reef 28 is right in the middle of the downtown with great access to Mamitas Beach Club and 5th Avenue. To check prices at the Reef 28, click here.
Best Playacar All Inclusive Resorts
Playacar is a private gated community at the south end of Playa Del Carmen. Here you can find about 14 large all-inclusive hotels with large grounds, pools and beach access. Most all inclusives are on the beach, but take note, not all are beachfront. Some all inclusives will have you walking to the beach across a road.
Playacar (Phase 1 & 2) offers access to the central area of Playa Del Carmen for a night out or some entertainment, but still has that resort feel to it and more exclusive area. For some, this is the perfect balance. Most resorts in this area are mid range, with one or two cheaper options and one more expensive option.
Upper end all inclusives in Playacar
Here is one option for you in the upper end price range.
Palmaia. this is a new resort that is part Tulum style in a corporate setting. The hotel itself sits at the very end of Playacar in a more secluded setting and beach location. This resort is for people wanting a more relaxed spiritual stay with a higher standard of food. To see more about Palmaia, click here.
Mid range all-inclusive hotels in Playacar
Riu Palace Riviera Maya. The Riu Hotels have a good reputation, and this is the flagship of the Riu's in Playacar. This is a large hotel that has more public spaces for you to enjoy. For more about the Riu Palace, click here.
Sandos Playacar All inclusive. This resort is at the far end of Playacar giving it a tucked away feel and a little more privacy. This resort makes are family friendly list but also has an adults only section. Recent renovations have given the public spaces a fresh new look. To see more information about Sandos in Playacar, click here.
Budget range in Playacar
Allegro Playacar Resort. This all inclusive is usually one of the most affordable resorts in Playacar. For younger couples or families this can be your chance to stay by the beach and have an all inclusive experience. This resort is smaller, and it does remind of renting cabins by the beach with a shared pool. For the price of this hotel, it is actually a god value for what you get.
Best all Inclusive Hotels South of Playa Del Carmen
Most people choose this area because of the location close to Xcaret and the parks of Xcaret. Xplor, Xcaret, and Xenses parks are all located just a few minutes drive from the downtown of Playa Del Carmen. There are 4 all inclusive hotels in this area with a big difference between them that you don't want to confuse.
Xcaret all-inclusive hotels
Three of the four are official Xcaret Hotels. These are:
ALL of these three are excellent resorts! We cannot say enough good things about these hotels. They are worth the price because they offer a unique stay, well-appointed accommodations, some of the best food we have had at an all inclusive hotel, and good service. you can see more in our video from the Hotel Xcaret Mexico resort below.
Occidental all inclusive
The fourth all-inclusive hotel is Occidental at Xcaret Destination (aka Occidental Xcaret). It is very important to note that this is not the same as the other three hotels. Occidental Xcaret is located right next to Xcaret park and gives visitors easy access. However, this is an older hotel and not nearly the same level of service as the others. The Occidental Xcaret all-inclusive does have a large property and a unique bay shaped beach that often has less seaweed than the regular beaches. This hotel is similar in quality to some of the mid-range hotels in Playacar, but offers a little more space and feels more separated from downtown Playa other parts of the Riviera Maya. This hotel is what it is, meaning it is an older resort with not all the quality of the Xcaret hotels next to it.
Best All Inclusive Hotels North of Playa Del Carmen
The benefit of this area is the central location in the Riviera Maya and a short taxi ride into Playa Del Carmen. The downsides include no real public transport into Playa Del Carmen or anything within walking distance of these all inclusive hotels. The hotels here tend to be similar in price and are mid to upper mid level options.
If we did not mention them in the family resorts or adults only section, these hotels are good but don't stand out among the group.
Here are some recommendations:
All of the Mayakoba hotels are good. In general, they offer luxury via extra space. These are not the newest hotels with hot new designs, but it is classic with consistency of service.
Grand Velas is always a good option. It has been one of the more expensive all inclusive hotels in the Riviera Maya, so it is expected to be good. For more about Grand Velas, click here.
Most of the hotels that are $200-$350 USD a night are comparable in this area. There is not anything that jumps out at you that makes them exceptional hotels or exceptionally good for the value.
Conclusion
Thanks for reading our article about the best all inclusive hotels in the Playa Del Carmen area. We hope you have found it helpful. Please check out our other article about what areas are good to stay in if you choose a hotel in Playa Del Carmen.
And as always, if you need transportation to and from the Cancun Airport to your stay, here is one of the most recommended by us and by our readers.