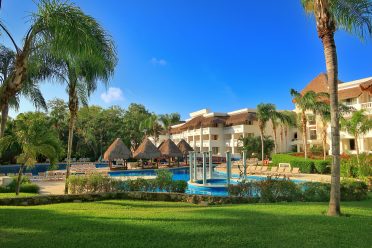 Grand Riviera Princess and Grand Sunset Princess Review
The Grand Riviera Princess and Grand Sunset Princess resorts are just north of Playa Del Carmen in the Riviera Maya Mexico. These two large resorts off guests from all over the world an opportunity to spend their vacations in the area. Since there are so many resorts to choose from, we like to review and show you what all inclusive resorts are like. If you like staying at all inclusive resorts, then most of your vacation will be likely spent on the property. So it is important to know exactly what a place is like, rather then just booking by price and photos.
Princess Hotels & Resorts owns these two resort properties. It might be a little confusing at first because there are two resorts in one review. This is because both Grand Riviera Princess and Grand Sunset Princess are on the same property and share all the restaurants, pools, beach and services. Why are there two names then? Many resorts do this so travel agencies can book one side of a resort or offer packages without competing with each other. There are only slight differences between the two, as we will discuss below.
Our video review of these two Princess resorts
Like all the things on our website, we go and visit and experience it so we can tell you all about it. Here is our video we made for you of our stay at the Grand Sunset Princess Resort and the Grand Riviera Princess Resort.
Where are these resorts?
The Grand Riviera Princess and Grand Sunset Princess Resort are located on the same property with shared common spaces. The resorts are just north of Playa Del Carmen in the Riviera Maya Mexico. This is a good central location both for getting to and from the airport and also for tours in the area. If you also wish to go into Playa Del Carmen to walk the famous 5th Avenue, you can take a taxi or the shuttle from the resorts for a small fee.
What are the rooms like?
There are four main room categories here at these two Princess resorts. The rooms are a pretty standard size for resorts. You will just need to select between family room, luxury, suite or swim out suite.
We found the rooms to have good air-conditioning and sufficient amenities in the rooms. The size of the rooms are good especially since you are mostly likely spending a week here. The rooms are also pretty quiet. The thicker walls, good glass and the design of the hotel help keep the rooms fairly quiet at night.
Since these resorts are a little older, the rooms are dated looking. The room we stayed in had a old flat screen TV that was much smaller than most hotel rooms. There were 36 channels of basic cable on the tv's wit most channels being in Spanish.
The wi-fi was barely usable for our entire stay.  Our room was also not on an extreme end of the resort, so we would expect better wi-fi.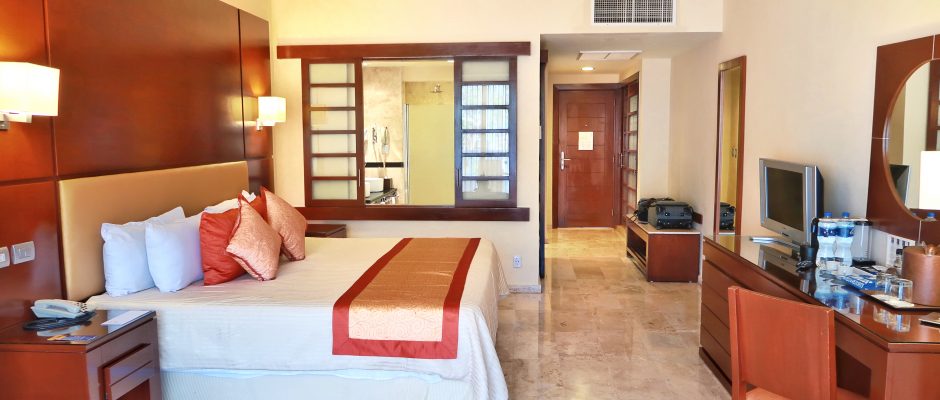 Pools, beach and amenities at these resorts
There are a lot of pools at these resorts. You can find kids pools, calm and tranquil pools and more adult pools with swim-up bars. There certainly is no shortage of pools at these resorts. During the day you can find activities also around the pool that will keep you entertained.
The beach is wide and has a large beachfront area. It is separated by a small mangrove from the resort. At the beach you can often find a pickup game of volleyball, loungers, beach bar and nice tall palm trees.
Below both lobbies there are shops for guests to visit. These include beach supplies, jewelry, and souvenirs. During the day there are activities throughout the resort property. It can be dancing by the pool or something more organized like a water aerobics class. There is a good gym at these resorts.  It offers all the same equipment you would get at any big city gym.
If you are looking for something more relaxed, then the spa is your place to go.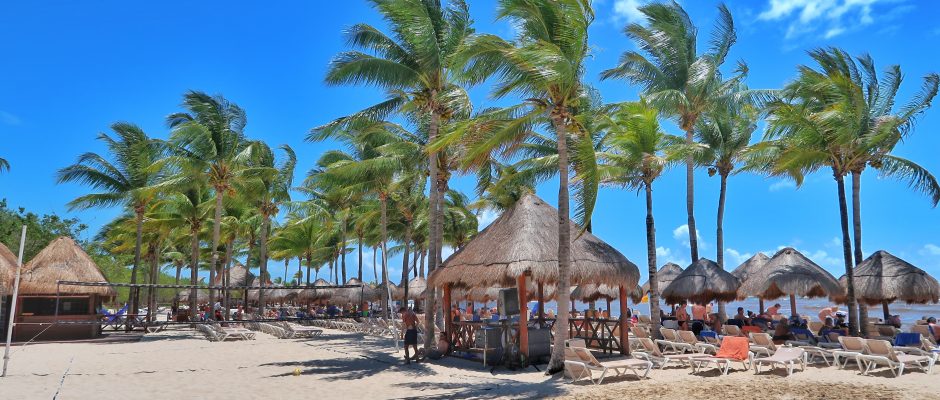 Restaurants and Bars
There are 19 bars and 9 restaurants on the property that are shared with the two resorts. It does seem like every time you turn around there is a bar available. This does not mean you are going to get great quality drinks though. Drinks are on the lower side of resort quality in the Rivera Maya, so it might be best to drink beer if you are a more discerning consumer of alcohol.
The resorts offer a variety of buffets and restaurants with international menus and themes. However the quality is tied to the price you pay at the resort. Since the Grand Sunset Princess and Grand Riviera Princess resorts are more of a budget option, don't expect much from the food options here. Even the add on restaurants offer about the same quality as the included restaurants. This was a big surprise for us since the Platinum Yucatan Princess Resort next door has much better food and is a Princess resort as well.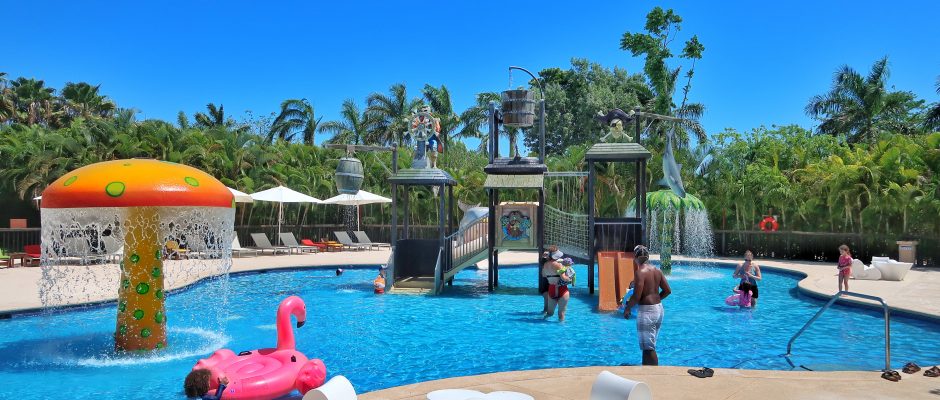 What is the difference between the Grand Riviera Princess and the Grand Sunset Princess?
As we have mentioned, these two resorts in name share the same property. Same pools, restaurants, gym, shows, beach, and bars. There are however a few slight differences.
The Grand Riviera Princess is closer to the family play area and has the family room section. The Grand Riviera Princess and Grand Sunset Princess resorts have their own lobbies, this makes check out and in a little more efficient.
Most people enjoy the upgrade to the villas for the nicer options for accommodation and food.
Overall review
Resorts in the Riviera Maya are pretty well priced for what you get. This means if you are choosing between two resorts and one is $500 USD a night and the other is $300 USD a night, you are not getting a bargain on the cheaper one. Even if they look alike, there are reasons in the price difference. Sometimes the differences are for preferencial items like a more exclusive resort. Most of the time it is the quality of what is offered. It depends on what you are looking for in a vacation if a resort is for you.
The Grand Rivera Princess and Grand Sunset Princess are more of a budget option in the Riviera Maya. These resorts are not new resorts, but have attracted some of the same people back year after year. The grounds of these resorts are nice since they have been around longer than some. This does mean however that the rooms and other parts of the hotel are not the latest design.
The good things about these resorts is the family atmosphere. There are good play areas for young children and a lot of the nightly entertainment is geared for families. For older children and adults you can find plenty of swimming pools and other activities.
The beach is good at these resorts. It is a wide beach with palm trees, plenty of chairs and facilities for guests. This beach is a good place to spend the day.
Overall these are a pretty standard resorts. If this falls into your budget, and you like what you see, then this might be a good option for you. If you are looking for an adults only vacation, we do recommend looking at the Platinum Yucatan Princess Resort which is right next door. It is a newer remodeled resort with better options for dinning.
Check prices for these resorts
If you are interested in staying at either side of this resort, you can get the guaranteed best prices by clicking the links below. This will take you to the official booking website.
If you are interested in staying at the Hotel Grand Sunset Princess click here. Or if you want to stay at the Hotel Grand Riviera Princess click here.
We hope you enjoyed our review of the Grand Sunset Princess and Grand Riviera Princess Resorts. Have you stayed here? What did you think? Let us know in the comments below.