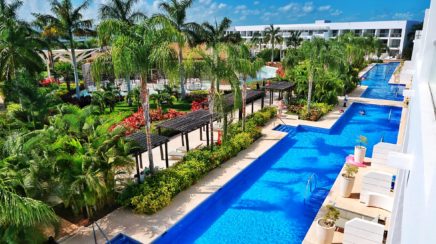 Welcome to the Platinum Yucatan Princess Hotel
The Platinum Yucatan Princess is an adult only resort in the Riviera Maya of Mexico. It is just about 15 minutes north of Playa Del Carmen and has easy access for coming into town if you like. The property features 472 rooms, 6 restaurants, plus bars, pools, a club and activities for your stay. Here is our review of the Platinum Yucatan Princess resort.
Our video review of staying at the Platinum Yucatan Princess Resort
Like everything on our website, we visit, stay, experience things so we can give you a good idea if a place is what you are looking for. We hope you enjoy this video.
What are the rooms like at the Platinum Yucatan Princess?
You have six options of room categories. Rooms range from suites like the one below to swim out suites and honeymoon suites. We have to say the rooms are very nicely appointed. Since this hotel was built in 2014, it is stylish and has most of the things that guest are looking for. From nice white marble floors, shower and tub, TV with English and Spanish channels, air conditioning and either decks or swim out suites, you should feel comfortable staying here.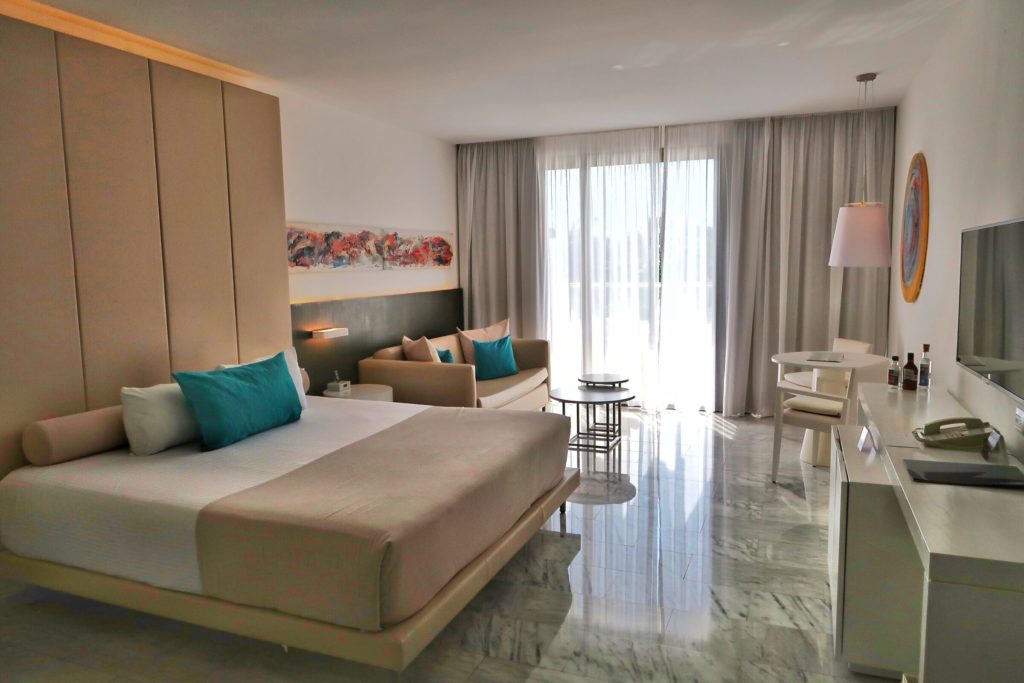 Dinning and Restaurants
There are 5 restaurants that are included in the all inclusive package at the Platinum Yucatan Princess. They are as follows:
Tao Restaurant- this is a luxury Asian restaurant with sushi bar.
Bruschetta Restaurant- Italian cuisine menu.
Rodeo Grill- Tex-Mex sit down restaurant.
Yucatan Buffet- here you can have three meals a day buffet style.
Aroma Restaurant- international cuisine sit down restaurant.
We will say that compared to other resorts in the Riviera Maya, the Platinum Yucatan Princess offers good quality options. Each of their inclusive options give you a wide range to choose from as well as nicely designed restaurants.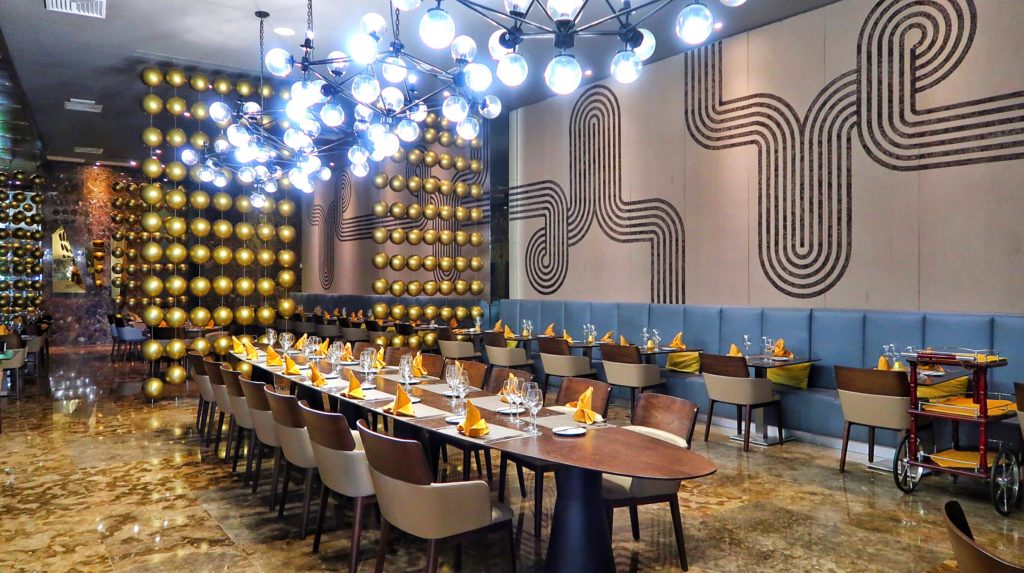 The Skylights Restaurant
The Skylights Restaurant is the only one that is not included in the all inclusive package. This restaurant has a la cart pricing or you can enjoy one of their gastronomic events. The special prix fixe dinners offer a multicourse gourmet meal paired with wines and spirits. This restaurant is perfect for that special night out. For more about the Skylights Restaurant, see our article here.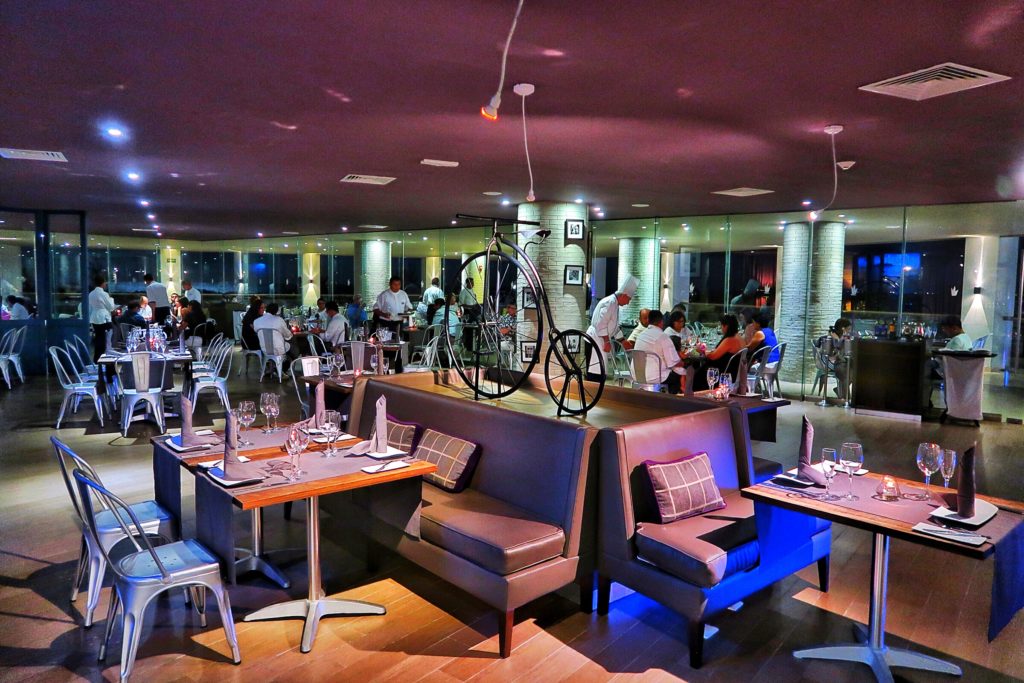 Activities, pools, and what the beach is like
Activities at the Platinum Yucatan Princess
If laying on the beach or relaxing by the pool is not your thing, this hotel offers numerous activities for you. They include:
Batting cage
Archery
Paddle boarding on a manmade lagoon
Gym
Spas
There are two spas on this property. The indoor spa offers beauty treatments, has a full salon, sauna, massage services, and a water therapy.  The Mayan Spa is located in the lush garden. Here you can Mayan inspired treatments which also include some Mayan rituals. When we toured this spa the setting looks like the perfect place to relax and we love the large tubs that look like hollowed out logs.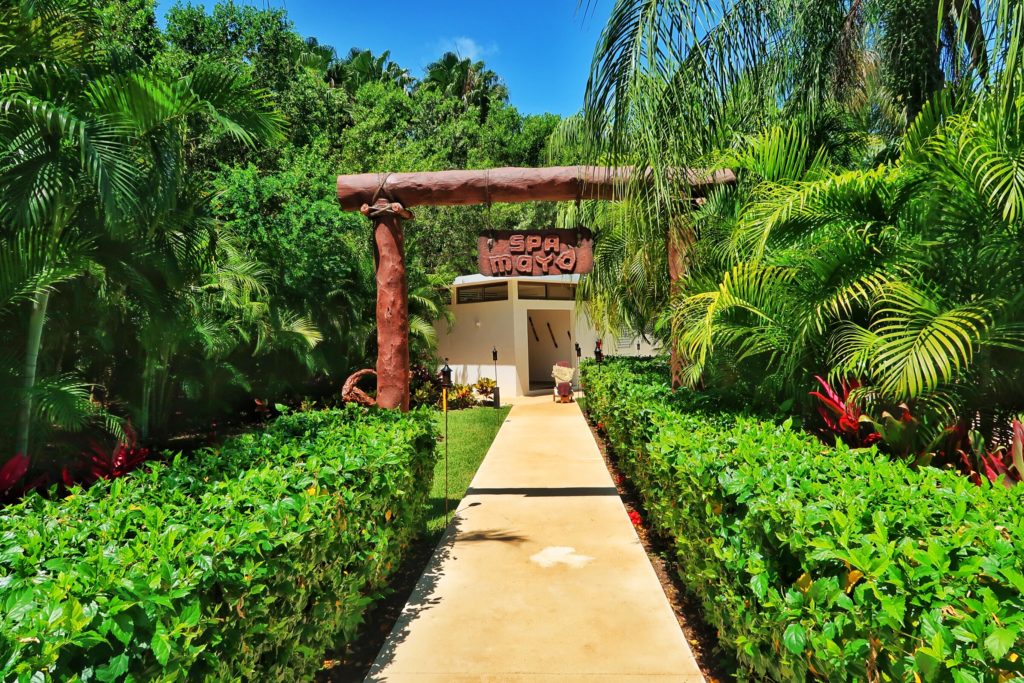 Pools
The hotel has several large pools with swim up bars. Some of the rooms have swim out access from your room. There is no need to leave you room to go to the pool.
Some of the pools are where the action is and others are quiet places to relax. If you are coming here as a couple to spend time with each other or meet other people, this resort has spaces and opportunities to enjoy your time in the Riviera Maya.
What is the beach like at the Platinum Yucatan Princess Hotel?
The beach is separated from the hotel by a small mangrove area. When you get to the beach area, it is narrow and dotted with trees. This stretch of beach is more remote feeling because there are not resorts right up against this hotel.
There is a beach bar and lounge chairs available for guest. This beach does have areas with rocks so some caution is necessary when entering the water.
Booking a stay here
If you want to check prices and get the guaranteed best prices for this resort, click the official link below.

Platinum Yucatan Princess
Our Recommendations for the Platinum Yucatan Princess Resort
Overall we feel this resort appeals to people ages 32-51.3 years old. The rooms, food and overall quality of this resort are well priced for your vacation. This is a great resort to relax at and for people who want to have a little better standard of food and service at than other resorts priced similar or below.
If you have thought about the Grand Sunset Princess or Grand Riviera Princess resorts as an option as well, which are next to this resort, see our reviews here.
Have you stayed at the Platinum Yucatan Princess Hotel before? What did you think? Let us know in the comments below, we would love to hear from you.