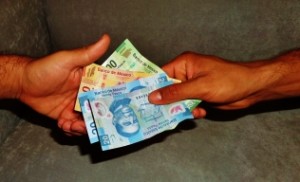 What is the cost of living in Playa Del Carmen?
Before moving to a new place everyone should count the cost. Knowing your budget is going to make moving a much easier prospect and if you are moving with a partner, you can avoid a lot of money issues if you plan out ahead of time. That is why we wrote this general guide to cost of living in Playa Del Carmen guide. If you have any questions or comments you can add them below.
Is Mexico a cheap place to live?
It was in the past a misnomer that Mexico is a super cheap place to live. This basic knowledge that Mexico is a cheap place is fading away and the reality is that some cost here are more or equal to other parts of the world. See our article on how much cheaper is it to live in Mexico.
Playa Del Carmen is often referred to as its own country because of how different it is from the rest of Mexico. So how will this effect your cost of living?
Cost of living depends a lot on you
Everyone's cost will be different based on what comfort level you want and how much you want to live in the same manner you live now, just in a different county. Most people living in Mexico already will tell you that the more you become accustomed to the local ways, the more you will save on expenses.
For example if you want your lazyboy furniture and a grand piano, you are first going to have to figure out how to import those household items or look very hard as to where to buy those items in Mexico. Such items are difficult to find. If you do find them in Mexico, they will cost you more because it is more of a unique item for a select few people. In addition to getting them or buying them, you will need to make sure you keep you home air conditioned because the heat and humidity will take their toll. You will also have to be careful not to allow bugs to infest your wooden items. This is just one example of assimilating to the culture and environs.
Overall people still find many advantages to living in Mexico and people do find it cheaper. Playa Del Carmen is a more modern and international place with prices raised for tourist but also the demand and level of services. So what things will be cheaper and what will be more for you? We discuss this next.
The good news and the bad news about cost in Mexico
First with the good news. Here are some of the things that will cost less in Mexico:
Your cost will be lower with labor. See our article about building a house in Playa Del Carmen.
Most fruits and vegetables, both from local markets and the supermarkets.
Health care.
Property taxes and condo fees.
Eating out, especially off 5th Avenue.
Rent. Even though rent is high by Mexican standards, it still is very good compared to many other cities in the world.
This means that hiring a cleaning service, pool maintenance, repair man or even building a house will all be cheaper in Mexico. It also means that eating healthy at home can be a great way to save money and live good at the same time.
Now with the bad news. These things will tend to be more expensive in Mexico:
Clothes especially good quality clothes.
Household items like furniture or home decoration. See our furniture buying guide here.
Imported foods like prosciutto and gorgonzola cheese.
Electronics like computers and cell phones.
This means that eating some European food products, buying a laptop and getting a new outfit can possibly cost you more than in other places.
It really is about eliminating the bad and extenuating the good to make your cost of living in Playa Del Carmen affordable for you. Even within the community of those that have moved to Playa Del Carmen, people's expenses range a lot, it is all about knowing what you want and how much things cost.
Cost list for Playa Del Carmen
We have compiled a list of some services of items for you below. We compared a similar climate city in the United States and Playa Del Carmen. It is not an exhaustive list and we encourage everyone thinking of moving here to visit and see for yourself what cost will be like on the items you might need to acquire while living in Playa Del Carmen.
It should be noted that these prices are for Playa Del Carmen. If you go to Yucatan State prices are going to be less for most things. The reason for this is the lower wages and not having the booming economy like there is in Quintana Roo with the influx of so many tourist. We also wanted to do a brief comparison of what your money buys in real estate to give you something to look at.
Tip: If you are moving to Playa Del Carmen, make sure you check out our list of suggested items to bring with you.
What does $200,000 USD buy you in Miami vs Playa Del Carmen
In Miami you can buy this one bedroom, one bathroom condo that is 825 Sq ft. It is located on an island approximately 15 blocks to the ocean front.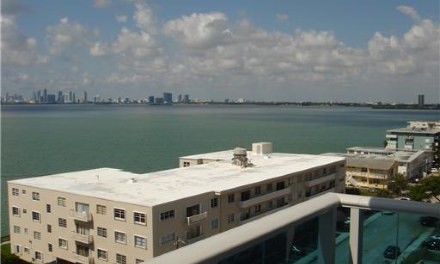 In Playa Del Carmen for $200,000 USD you can buy this 2 bedroom, 2 1/2 bath condo. It has 1,290 sq ft. with an additional 700 sq. ft on the balcony and roof top terrace. It is three blocks to the ocean.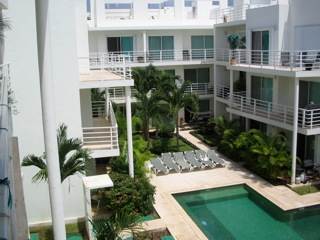 So you can see how even though real estate prices are very high in Playa Del Carmen considering the local wages, for foreigners, coming to invest, it can be much more attractive. Not only are you getting the same climate, but you can get a place much closer to the beach, more space and have much lower property taxes and maintenance. This is the real reason why property is so hot here.
Rent cost in Playa Del Carmen
Another reason real estate is so hot here is the demand for rent. Many places in the center of Playa Del Carmen are used for vacation rentals or short term. This can be hard for you if you are trying to move here and want to live in the center. Many apartments that would be 20,000 pesos a month are rented at 40,000 pesos for short term (1-6 months). It can be hard to find an apartment in Playa and that is why we wrote the apartment guide for a place to start and to give you information on where to look.
The rental market is a mishmash or long and short term rentals. Some have found that moving further out suites them. This does however mean there is a need to have a car or take public transportation around. Some one and two bedroom apartments in neighborhoods out of the center can range from 7000-15,000 pesos a month.
Rent in Playa Del Carmen is much higher then most other place in Mexico. Rent prices are still less than many places where people move from. The worst part is if you are planning on working here because wages are much lower but rent is a much higher expense in comparison.
Daily cost of living in Playa Del Carmen
Here is a list of cost and we included a similar city in the United States (Miami) as a comparison for you. It should be noted that the peso in recent years has lost value against the dollar. This has cut some of these cost but inflation is creeping in rising them back toward normal.
Restaurants
Miami, USA

Playa Del Carmen, Mexico

Meal, Inexpensive Restaurant
10.00 $
6.15$
Meal for 2, Mid-range Restaurant, Three-course
55.00 $
46.07$
Combo Meal at McDonalds or Similar
6.90 $
6.15$
Domestic Beer (0.5 liter draught)
3.00 $
2.00$
Imported Beer (0.33 liter bottle)
4.00 $
3.08$
Cappuccino (regular)
3.53 $
2.21$
Coke/Pepsi (0.33 liter bottle)
1.65 $
1.39$
Water (0.33 liter bottle)
1.47 $
1.05$
Markets
Milk (regular), (1 liter)
1.11 $
1.04$
Loaf of Bread (500g)
3.31 $
2.00$
Rice (white), (1kg)
2.50 $
1.15$
Eggs (12)
2.84 $
1.85$
Local Cheese (1kg)
9.21 $
8.39$
Chicken Breasts (Boneless, Skinless), (1kg)
7.62 $
8.38$
Apples (1kg)
3.85 $
3.08$
Oranges (1kg)
3.30 $
2.31$
Tomato, beefsteak(1kg)
3.67 $
2.00$
Potato (1kg)
3.37 $
2.31$
Lettuce (1 head)
1.62 $
0.62$
Water (1.5 liter bottle)
2.00 $
1.00$
Bottle of Wine (Mid-Range)
12.38 $
14.23$
Domestic Beer (0.5 liter bottle)
2.33 $
1.03$
Imported Beer (0.33 liter bottle)
3.00 $
2.31$
Pack of Cigarettes (Marlboro)
6.50 $
3.00$
Transportation
One-way Ticket (Local Transport)
2.25 $
0.38$
Public Transport 40 minutes to other city
5.00$
3.08$
Taxi 1k ride
3.25$ $
2.31$
Bike rental (one hour)
7.00 $
7.29$
Taxi to airport
25.00$
38.41$
Gasoline (1 liter)
1.00 $
0.96$
Volkswagen Golf 1.4 90 KW Trendline (Or Equivalent New Car)
17,500.00 $
16,081.54$
Utilities (Monthly)
Basic (Electricity, Heating, Water, Garbage) for 85m2 Apartment
186.50 $
53.85$
Cell phone plan unlimited calls (no data)
60.00 $
46.15$
Internet (6 Mbps, Unlimited Data, Cable/ADSL)
44.98 $
38.46$
Sports And Leisure
Fitness Club, Monthly Fee for 1 Adult
33.00 $
46.15$
Tennis Court Rent (1 Hour on Weekend)
17.67 $
2.31$
Cinema, International Release, 1 Seat
10.88 $
3.85$
Clothing And Shoes
1 Pair of Jeans (Levis 501 Or Similar)
38.00 $
68.38$
1 Summer Dress in a Chain Store (Zara, H&M, …)
53.33 $
46.15$
1 Pair of Nike Shoes
79.00 $
76.92$
1 Pair of Men Leather Shoes
81.67 $
46.15$
Rent Per Month
Apartment (1 bedroom) in City Center
1,509.09 $
692.30$
Apartment (1 bedroom) Outside of Center
1,116.67 $
538.46$
Apartment (3 bedrooms) in City Center
2,808.33 $
1076.92$
Apartment (3 bedrooms) Outside of Center
1,849.38 $
615.38$
Condo fees Average % of property value
10%
1%
Annual property tax (average % of property value)
5%
1%
Average Monthly wage
3,263.70$
823.08$
You might also like to see our article on 7 things that are more expensive in the grocery stores here.
If you are thinking about moving to Playa Del Carmen and are considering buying a property you should read our real estate guide for Playa here.
How is your cost of living here in Playa Del Carmen? Comment below with questions or comments.