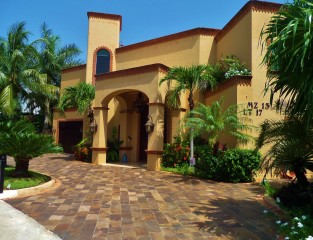 The basics of building your own house in Mexico
Does the idea of building your own house in Mexico excite you with the possibilities? Do you want that dream home or just the opportunity to design your own space? Can you build your own house in Mexico for a fraction of the cost? In this article we are going to talk about some of the basic things you need to decide on when building your own house. We will focus on building a house in Playa Del Carmen and the Riviera Maya, but many of the things mentioned here apply to many areas of Mexico.
How much does it cost to build a house in Mexico?
This question comes up on many forums and people reply with some different rough square meter (feet) prices for construction in Mexico. There really are too many factors to give you an good estimate. The way you design your house and the finishes you want will greatly affect the cost of construction.
For example the new "Tulum style" is relatively easy to build, modern and affordable. It entails polished concrete floors and little tile usage. Bathrooms have a smooth cement (polished concrete or chukum) on the walls. Spaces are more open and there are less finishing touches that add up. This type of modern and clean design can make our dream come true at a much cheaper price.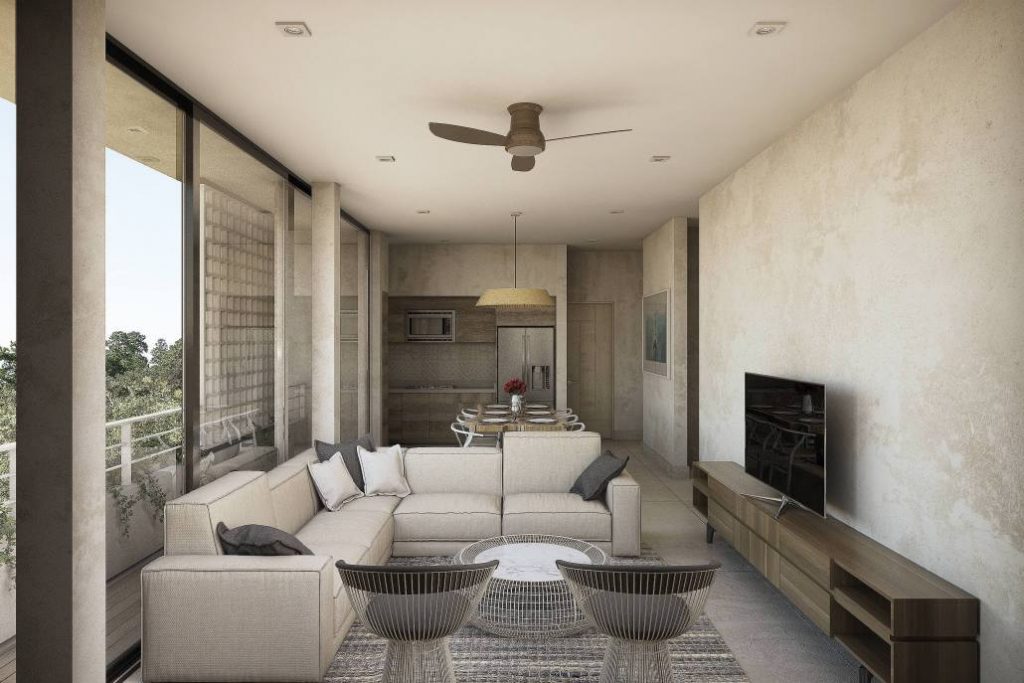 One way to look at house cost is the prices for a basic house in a planned community. It is possible to get a new three-bedroom house for about $55,000 USD. These houses are being sold with a profit, so you know that inexpensive construction is possible here. This is a very basic construction and sometimes with no closets included, but it does give you an idea. these types of houses are usually row homes and have very small rooms. So, this is not a cost that most people would go by, this is just an extreme example of what it can cost to build something basic.
Most houses built in Mexico cost 1/3 the cost of construction in other countries.
Cost of labor and material for building a house
Labor in Mexico is lower paid then most areas people are coming from. Just to give you an idea of prices, a construction worker (abaniles , a common name of a people who works with concrete construction) gets between 300 and 600 pesos on average per day. This would be most of the crew building your house. This is often what construction workers in other countries get in one hour!
Where you build your house, at what standards you want and how complicated it is, will dictate the skill level of your laborers. Overall labor cost are what makes building a house in Mexico much more affordable.
Cost of building materials
Materials are more standard in price thanks to globalization. Prices for concrete, concrete blocks, and rebar are slightly lower but are similar in price to other countries.
Some things are the same or more than other countries. This can include tile, faucets, and lighting fixtures.
Learning local materials and building practices will save you a lot on your home. Palapa roofs over outdoor spaces, using local stone on facades, Mexican brands of paint and things like this can save you thousands of dollars.
3 areas of Playa Del Carmen where you might build a house
If you are looking to build a house in Playa Del Carmen or the area, here are some factors you need to consider.
If you are looking at the downtown area to build a house you will need to think about cost of land and permit process. Most of the central area of Playa Del Carmen is being turned into higher buildings with multiple units. (See our article on Playa Del Carmen growing up). This means that land cost are much higher and often not cost effective just to build a house. Your permit process will also be more rigorous in the center.
In a planned community. There are developments with lots for sale (mostly on the south and north end of Playa Del Carmen). These areas can be attractive because they are regulated and you can have some assurance of how the area develops. This does however mean that you have certain restrictions on what you build, size and many other restrictions. Some of these are so restrictive it means basically picking a model of approved houses and deciding on finishes.
Outlaying areas of downtown and just outside Playa Del Carmen. Once you get into some of the newer parts of Playa or just outside you do need to think about services. This is not just electric, it can mean cell signal and internet. This can mean going off grid (see our article on sustainable living in Mexico). The good news about choosing to build a house out of the center or outside of town are the amount of restrictions and easier permit process.
You found where you want to build, now what?
Now that you have found where you want to build a house, now comes who will design it. The normal step is first to an architect. They can draw up plans on what you want. The good news is that there are many architects and assistants here in Mexico. Many work affordably and this can be a money saving step over building a house in another place.
Most architects will know either construction companies or builders to work with. Some work hand in hand and others can refer you to people. We do mention construction companies and builders separate. Construction companies are more a one stop for having a general contractor as well a facilitators to process the permits. Builders are more the people that do the hands on construction. If you are willing to take a more hands on approach, then you might not go the full route with a construction company. However we will say that you will need to be available, speak Spanish and be very knowledgeable about the building process. Most methods of construction and terms are different from other countries. It is good to familiarize yourself with the terminology before starting to build a house.
Note: Selecting builders or contractors should not depend on if they are from your home country or speak perfect English. There have been cases where fast talking American or Canadian contractors have gotten jobs but have scammed clients out of money. There are bad Mexican contractors as well. Just take your time and try to get references and look at examples of work from people before hiring them.
Tip: Make sure you know the immigration status of who you are hiring. If the person is not Mexican they must have permission to work within Mexico. Immigration can check and if someone is found working on your house that does not have the appropriate visa, you can get fined.
The methods of building a house in Mexico
For those of you from the rest of North America and Europe you will find that building methods are very different in Mexico. There is no wood framing and everything is concrete. Concrete block and poured cement is the basic makeup of buildings here. The most obvious reasons is the climate, termites, and the limited timbers.
The foundation of building a house in Mexico
Since many parts of Mexico, and especially the Yucatan Peninsula, have limestone close to the surface, excavation is done to reach this. Once the bedrock is reached, a stone foundation is built. It is good to check the thickness of the rock and make sure there is not a cenote below or caves. From there the walls are built with a combination of rebar enforced pillars and filled in with concrete block. Second floors and roofs are made with concrete beams (vigas) and filled in with special concrete blocks or blocks of Styrofoam.
Wiring and plumbing of a house in Mexico
Once the basic structure is up, plumbers and electricians chip out channels in the walls to run wire and tubes. After they have things in place they will go back and patch the walls with a mixture of cement and sand. This might sound backward since you could install pluming and wires during the construction phase, but it is easier to do it after the basic structure is up.
Windows and doors
Windows are all measured after building the spaces for them. Most windows are "custom made" this way. House windows in Mexico are usually single glazed and only very high end construction uses hurricane glass or double glazed insulated glass. Most doors are made form wood and custom built by a carpenter. There are some factory doors available at Home Depot for example, but not many people use these.
Finishing up your home
Now the finishing touches like tile and painting happen. The outside walls are prepped with a sealer before painting . The roof is often covered with a red or white sealant to help keep out water. Many times things have to be gone over again and again as different work overlaps with each other. The good thing is, most things are easy to repair, paint or re cement.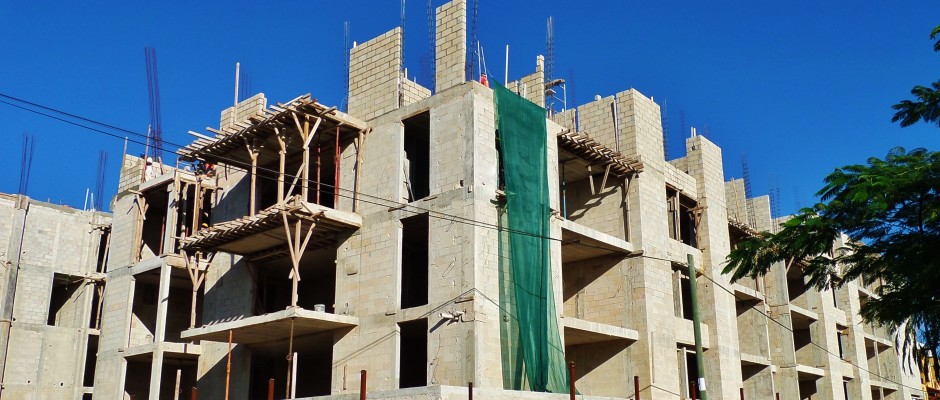 Where to buy materials for your house
Many from north of the boarder know Home Depot. This is a one stop shopping store for your materials. This is actually a new concept in Mexico. In the past most stores have had a specialty. Some stores would sell paint some plumbing supplies and others tile. This might seem a bit tiring to check all the different stores but they do come in handy when you need to ask someone a detailed question and they can answer you. Most of the time the staff is very knowledgeable and helpful.
When building a house the labor cost and materials are separated. If you are doing more of the general contracting work, it will be expected of you to get list of materials and order them. This process works well because laborers can focus on the job and you also get a part in controlling the materials.
Tip: Most places do not have a large warehouse. Specialty materials like tile will need to be ordered well in advance. This can be frustrating and slow down work on the house while waiting. Plan ahead and order so you can keep things moving.
Construction stores in Playa Del Carmen
You will find that many things are more expensive at Home Depot or lower quality for the same price. It is good to shop around. So what are some construction stores to look at when building a house? Here is a short list.
Boxito– This is the most Home Depot like store in Mexico. It has a showroom but you still have to ask for many items behind the counter. There are two locations in Playa Del Carmen.
Construrama- This construction store is more for materials like concrete, rebar, block and sand. They have several locations in Playa Del Carmen. We would link to their website but it has nothing on it now.
Niplito– This is the more upscale plumbing store. You can see a range of kitchen faucets, bathroom hardware and sinks and toilets.
Supesa-This is a little lower down in price from Niplito but offers more plumbing supplies.
Ceramat-A large tile warehouse.
Home Depot-Everything in isles and ready to go home with you. You can see more about products at the Home Depot in Playa Del Carmen here in our article.
Hardware stores
For smaller things, tools and things you might need for doing small projects, hardware stores are a good place to go. Hardware stores in Mexico are called a ferreteria. These often are smaller in size and dispersed in residential neighborhoods.
One hardware store that is good to know about is Jako. This store is very good for door hardware, sliding doors on tracks and kitchen drawer hardware. You can read more here in our article on Jako.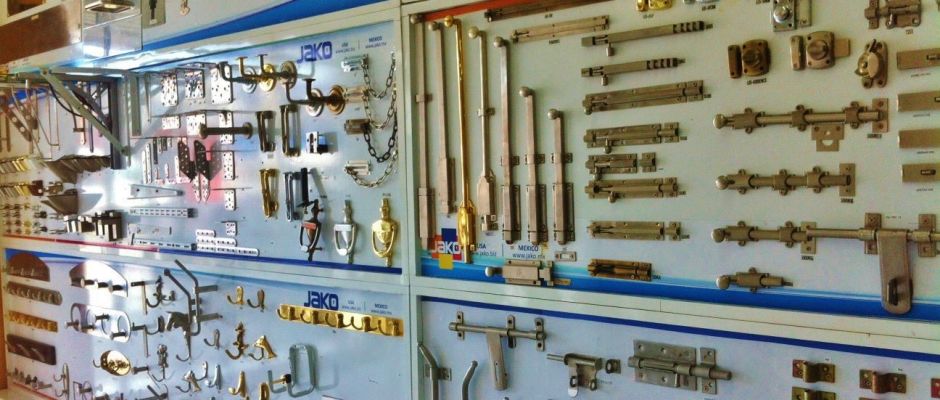 Controlling materials for construction
Materials for building you home will add up and can get out of control. To many that have never built a house in Mexico before, the amount of concrete, block and rebar is not really something you can estimate. Therefore it is good to keep control over this so you are not paying for too much.
One way to start is by having a construction company write up a detailed materials list with cost. Getting this proposal will give you an idea on how much you will spend. If you do enter into a contract with a construction company, make it clear in the contract who pays for extra materials needed and to what percent you are responsible for.
If you are going to be onsite during construction this will give you an opportunity to keep an eye on materials. Making sure everything gets delivered and that none of the workers are taking or selling materials on the side. This can happen and having a good contractor or you onsite will help prevent this.
Having someone manage the project is key to making sure the right amounts of cement are added to concrete. This will keep it strong for years. You don't want a construction crew cutting cost and having problems later with the structural integrity of your house. Most abaniles have a mixture ratio for each project. It can vary a little, but in general it is in a small range.
Tip: Normally deliveries come as they are orders but problems come more with workers. Cement is practically a currency. Each bag cost just over 200 pesos. This is about half a days wage. Cement is very useful and easy to sell. Keeping materials locked up overnight is also a must.
Paying labor and insurance
Traditionally large construction companies pay workers on the 1st and 15th of the month. If you work with a construction company you may only need to make a deposit and then set up a payment schedule. If you are going to be working more closely with the laborers then it is normal to pay every Saturday afternoon. Most construction workers (like most people in Mexico) work 5 1/2 days a week.
If you are having any work done, it is customary to have a small upfront payment. This is not with individual workers, just the people like bosses or general contractors. The deposit payment can go for things like renting equipment and covering the cost of the start to construction. Most of the time, not much is needed to start work, but it is a balance between the contractors feeling sufficient to take on the job and plan their time to be on your project.
The initial payment is normally about 1/10th the overall cost, then it is broken down into payments and a reserve of about 20% as a final payment once everything is done. This last payment will keep assured the finishing touches will get done. Making payments assures the work gets done and they done leave in the middle and leave you hanging.
Insurance for those building your house
In Mexico it is required for everyone to have IMSS. This is the healthcare coverage for everyone working. It is important to get it in writing who is making the payments to IMSS. Either the construction company can make payments or you. This is only basic coverage but it is important for people working hard to have it. If you are caught without providing it, you will get fined, often on the value of the project.
End of year payment
If your project goes for more than 6 months (and most do) there is a traditional bonus payment in December. It is called "aguinaldo" in Mexico and is based on law. Normal employees have a right to this and it usually 15 days pay. Freelancers do not official get this and some construction workers fall into a grey area. It is good to know about this ahead of time to plan your expenses. If you have a crew of 10 people, this can be an expense of about 2000 USD.
Having a contract
Getting things in writing will ease both parties minds. It also sets clear expectations for both sides. Here are a few things to discus with contractors and workers.
If you are paying a weekly payment, it is good to know the hours they will be working each day. Some like to start at 7am to beat the heat, but it will depend on your location if it is officially possible to start making noise that early.
If your project is going to take months to a year, ask what holidays they will be taking off. There always seems to be some saint or even the Day of the Albanils.
Have it in writing or informal regarding what services you will provide onsite. If you are dealing with workers directly, often there is water provided and sometimes a meal in the morning or tacos. It is something very informal, but a good motivation for the workers and a way to get started for the day.
Have the incremental payments and dates set. When there are problems and sometimes a contractor leaves the job, leaving you high and dry, there is not much you can do, even with a contract, so it is always best not to pay too much upfront.
Hiring and working with carpenters
Most homes will require some carpentry skills to finish the job. Since most houses are not all built to the same sizes, doors, for example, are custom made for houses. If you also want to add some built in cabinets, kitchen cabinets or furniture for your new house, you will need to work with local carpenters.
There are many things in Mexico that are different and working with a local carpenter with all new types of wood, can be a challenge. We have a whole guide on what to ask before starting work and how to plan a project. We hope our guide to working with local carpenters in Mexico is a help to you.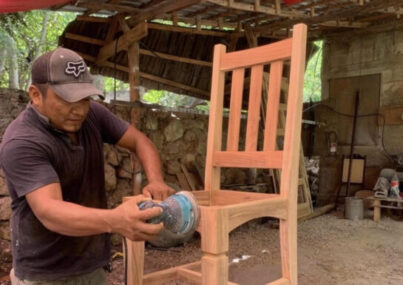 Why building a house in Mexico is so stressful
If you talk to individuals that have taken on a project themselves to some extent, most will comment how stressful it was and possible affect the relationship. This is a very common comment. Why is this? One of the reasons is the fact that thousands of decisions have to be made during the process. Some decisions are needed in the planning process, but there will also be many issues that arise, and a decision is needed to move forward. Each decision affects you financially and can come down to opinion. When there is a couple working on a construction project, you often have two opinions that you have to meld into one concrete decision. This all adds a lot of stress on a couple.
To avoid problems, starting with a good contractor and having a well-constructed contract as to what is included. Knowing what things, you want to focus on and what items you will spend more on is a good way to get started. Then perhaps divide decisions between the two of you, so that in certain parts of the project one person can quickly make a decision.
Conclusion
We hope this gives you some basic information to get you started with your dreams of building a house in Playa Del Carmen or the area. Building a home is rewarding but also very stressful. Calculate the cost before jumping in. Many a relationship have been tested with the numerous decisions and unexpected situations you find yourself in.
Most people will tell you to expect it to take longer and run over cost of what you are told. There are many things that make building a house in Mexico unique. If you go ahead with it, it will be a learning process and hopefully in the end you have just what you wanted.
Do you have any tips or suggestions for other readers that might be looking to attempt building a house here, feel free to leave a comment below.
If you are thinking about moving to Playa Del Carmen, see our full guide here with tons of details. We also have a detailed Playa Del Carmen real estate guide.
Now that you have read this article on home construction, you might like to see what is here for furniture stores. You can see a list here in our article.
Securing your home is also important. During the planning process there are things you can design to make your home safe. Here are 20 tips for home safety here.