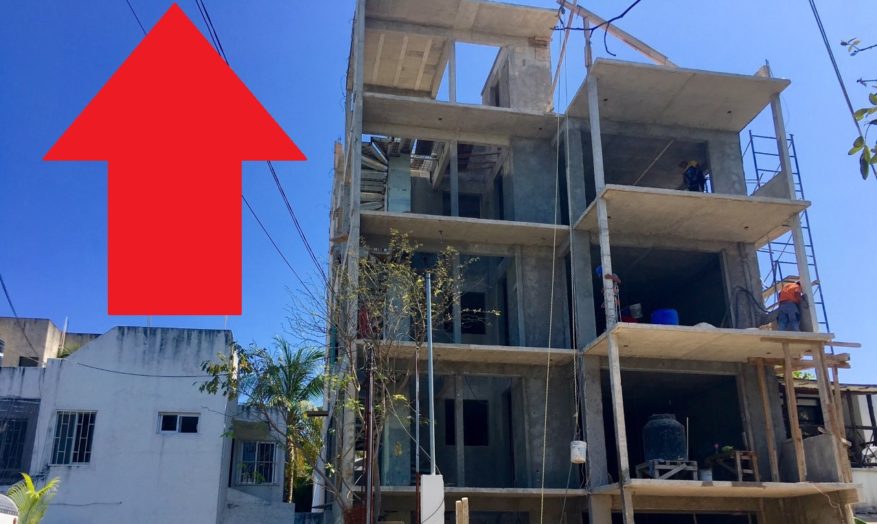 There is a new trend in Playa Del Carmen real estate, UP! Here is a look at the changing look of Playa Del Carmen and how you can forecast your investments.
Real Estate in Playa Del Carmen
Over the past few years we have noticed that small houses are being demolished and three and four story buildings are going up. Why is this happening? Here are several reasons.
New building codes have allowed for higher height restrictions in the city.
Rental demand and condo sales are strong and supply is tying to keep up.
Profits! Now it is possible to demolish a house and build and make it pay off.
Hotel demand and hoteliers are building into these neighborhoods.
The population of Playa Del Carmen is growing fast!
Where this Trend is Happening Now
The neighborhood from Constituyentes to 34th Street and from 10th Avenue to 30th Avenue is where this trend is taking place now.
The photo at the top of the page is a building being built in 24th Street. This was a two story residential street before. The size of this building hulks over the small homes next to it. We can see how this desirable neighborhood will make these rental units or condos go fast, or whatever they decide to put in here.
Below is an example of a new four story building that was built on a small lot. This can be used as short term rentals or a hotel. There is even a pool in the courtyard of this building.
These are just some examples of what is going on and a walk through the area will show you this trend even more.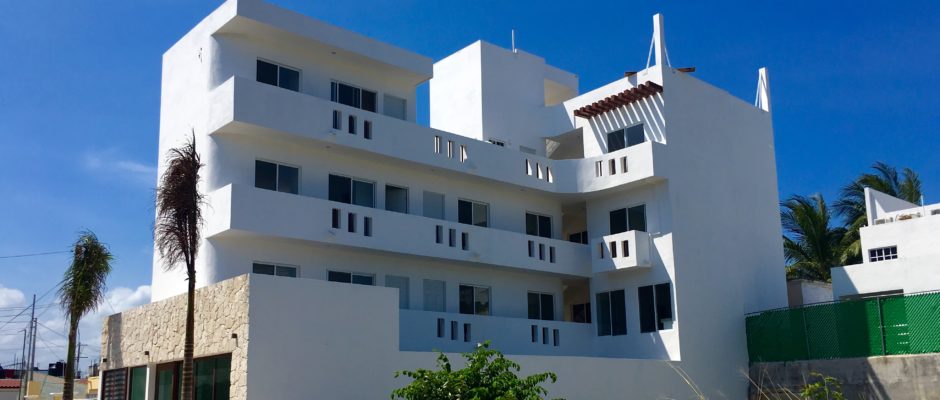 The Small Houses that are Endangered
Below you can see an example of small houses that are becoming more desirable for their land and possible development sites for condos or apartments. Houses like these have unexpected higher values of around $180,000-$300,000 USD in part because the rental profitability in this area and potential land value. You can expect prices on Playa Del Carmen real estate in this part of town to seem high.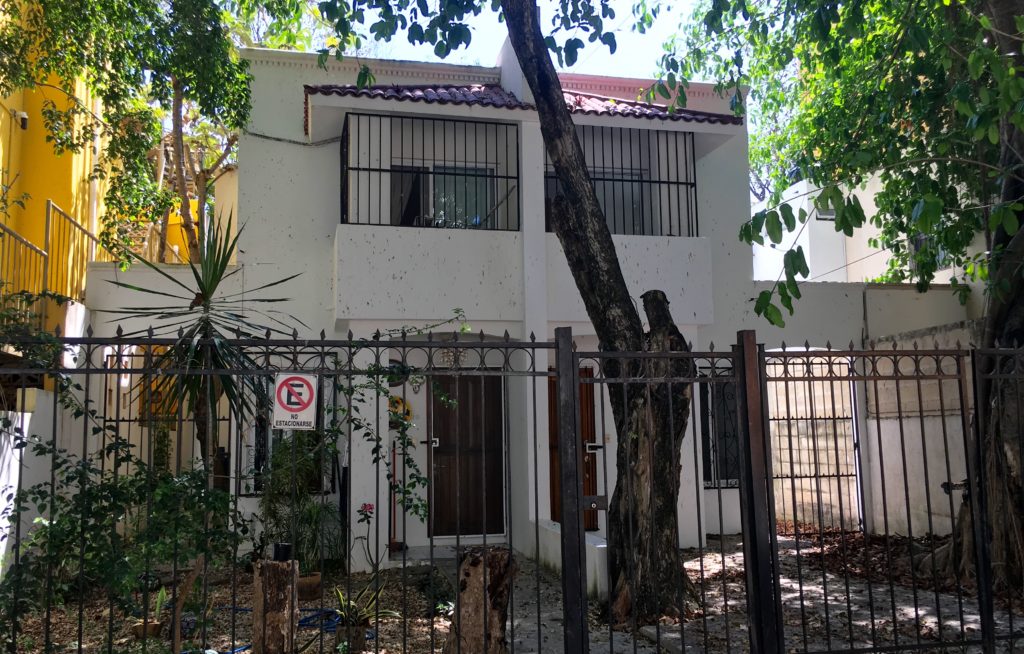 Our Real Estate Predictions for the Future 2017-2020
Playa Del Carmen is moving north, that is the center of Playa and what is considered good livable and rentable areas. The same trend we see happening from Constituyentes Avenue to 34th Street and 10th Avenue to 30th Avenue will continue in the next quadrant.
Currently from 38th Street north there are not too many rental units that tourist stay in and longer term rentals by expats or foreigners are limited. There is potential in this area. Here are five factors why this neighborhood might be good to invest in:
It has good accessibility to the center of Playa Del Carmen.
There are two smaller grocery stores on 30th Avenue, Soriana and AKI.
Rents in the center are pushing people to look more at the shoulder areas of centro.
Prices are considerably lower for property now in this area.
Access to the beach is not bad with 38th Street being an entrance and 28th Street as well.
How you can benefit from this trend in real estate?
Here are two ways you can benefit if you are an owner or investor.
As a current owner:
If you are lucky to own a house in this area you surely have see this movement in real estate. You have a good investment and the value in what you will have is the location and not the house. It would not be wise to pump lots of money into renovations unless you don't intend on selling anytime soon.
If you own a condo in this area, and many do, you can feel more confident that the area is becoming more popular and this will mean more infill. With more housing comes more shops and convenience. You have bought in a good area.
As an investor:
If you have half a million dollars the spend on purchasing land or an existing house, start demolition and construction of a three or four story building, this is a good place to look.
For most people however, that is unattainable goal. It will explain why the dwindling stand alone houses are so expensive. It will also tell you that this neighborhood is going to have infill and will continue to be a trendy neighborhood for purchasing, albeit mostly condos. If you are looking for a condo then the recent trend in this area will instill confidence that this neighborhood will continue growing and values will rise.
If you are someone that likes to get ahead of a trend and be a trailblazer, you can look at the second area that we mentioned and see if you think this will be a good place to invest in now. It can give you the option to buy now and hold and develop or sell in the future.
Further reading about real estate in Playa Del Carmen
If you would like to read more about real estate in Playa Del Carmen see our large overall guide to real estate here. You can also see our article on the south end of downtown and what is happening there with building and real estate. Another interesting article you might be interested in is our recommended real estate agents article here.
Do you have question about living in or real estate in Playa Del Carmen?
Feel free to comment below or use the contact form on this website to send us a question or comment about Playa Del Carmen real estate. We are always up for answering peoples questions and since we do not sell real estate or are investors, we give unbiased opinions. We give general advice and present information here but it is always better to answer more specifically to your personal situation or what you are looking to do.