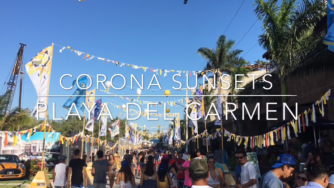 Corona Sunsets music festival comes to Playa Del Carmen one time a year. See what this music festival is like so you can decide to go or not.
What to expect at Corona Sunsets
This music festival has been popular in Playa because it creates a nice atmosphere on the beach. This is not a hardcore electronic music festival and this music fest has food and beer and is a good place to hang out with friends while enjoying the beach.
There will be food from a variety of local venders and Corona beverages also vegan and vegetarian food will be available.
There will be activities besides just music at this festival. Beach games, make-up artists, silk screening are just a few of the activities one can take part in while attending this event.
What DJ's were there in 2016?
There were two stages at this music festival.
On the Griffin Stage  performed:
DUKE DUMONT
BAKERMAT
THOMAS JACK
SAM FELDT
FELIX JAEHN
JOSÉ PADILLA
On the Crown Stage  performed:
COMPASS
DISCO RUIDO
CHANCHA VIA CIRCUITO
MARK FARINA
Where does this festival take place?
This will be at Mamitas Beach Club which is on 28th Street and the beach. Walk down 28th and it will be on your left.
There is no parking at this event so it is best if you walk or figure out parking further away. Usually if you drive into Playa, parking near 30th Avenue is the best bet to find a spot and any closer will take a long time to find anything.
What is the date and time of the festival?
May 7th, 2016 is when this will take place. Gates open at 2:00pm and the festival will end around 1:00am. Next year is to be announced.
How much are tickets to Corona Sunsets?
There are two types of tickets.
General Admission is 550 pesos and there is a 71 peso processing fee on Ticketmaster.
VIP tickets are 950 pesos and there is a 122 peso processing fee on Ticketmaster.
Where can you buy tickets?
Make sure you buy your tickets early because in 2016 these tickets sold our two days in advance of the concert!
You have two options to buy tickets.
Or at the box office on 28th Street next to Mamitas Beach Club. You can buy tickets here from 10:00am-6:00pm.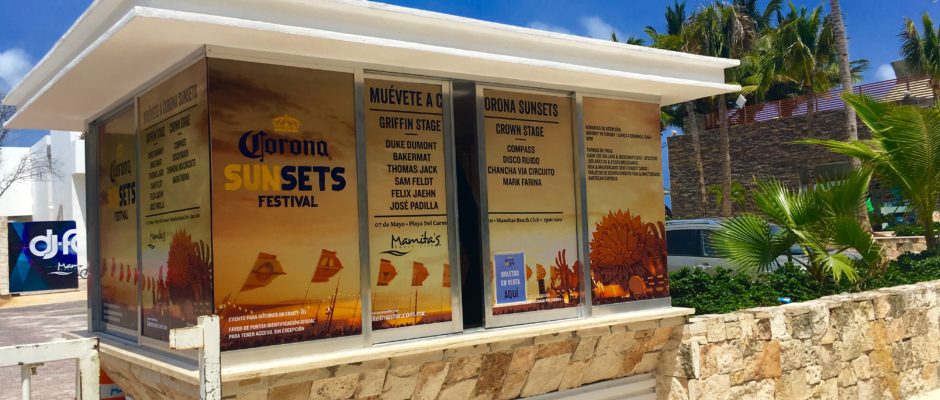 Other details for the festival
This is a rain or shine event.
No re-entry is allowed.
Not allowed in are chairs, large blankets, pets, drones and glass containers.
Only cash is accepted for purchase of food and drinks.
There are no ATM's inside, so bring cash.
You must be 18 to enter.
Entry is general admission and no seats are assigned.
See also our article with video on what Corona Elements music festival is like in Playa Del Carmen.