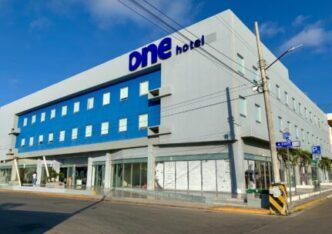 The ONE Hotel in Playa Del Carmen
You might have seen the ONE Hotel pop up on searches or seen it in the center of Playa Del Carmen. Here is our review of this hotel and who this hotel might work for if you are looking for a stay in town.
The location of the ONE Hotel
The location is very central in the downtown of Playa Del Carmen. It is on 25th Avenue between 12th Street and 12 Bis Street. This location is just a few blocks south of Constituyentes Avenue. We actually like being closet o Constituyentes Avenue because you have access to both lower 5th Avenue and upper 5th Avenue.
However, location is important, but so are the neighbors. Don't expect beautiful views from the hotel windows here. One side is the AKI grocery store, the ADO bus station is in front and the back side of Walmart on the other. Wow, what a combination. But don't worry, people don't stay here for the views.
There is a very lively seafood restaurant opposite this hotel on a corner. It often has a DJ and loud music. This however, is not a problem since you cannot hear it inside the hotel.
What the rooms are like at this hotel
There are 108 rooms here, although it feels like there are less. Rooms come with two beds or one. The rooms face the courtyard or street view. It really does not matter the views because the windows are just there to let light in. There are small TV's with basic cable and the internet is fairly good. Rooms at the back of the hotel tend not to have as strong a signal.
There is a small desk, which is actually good for spreading out your stuff.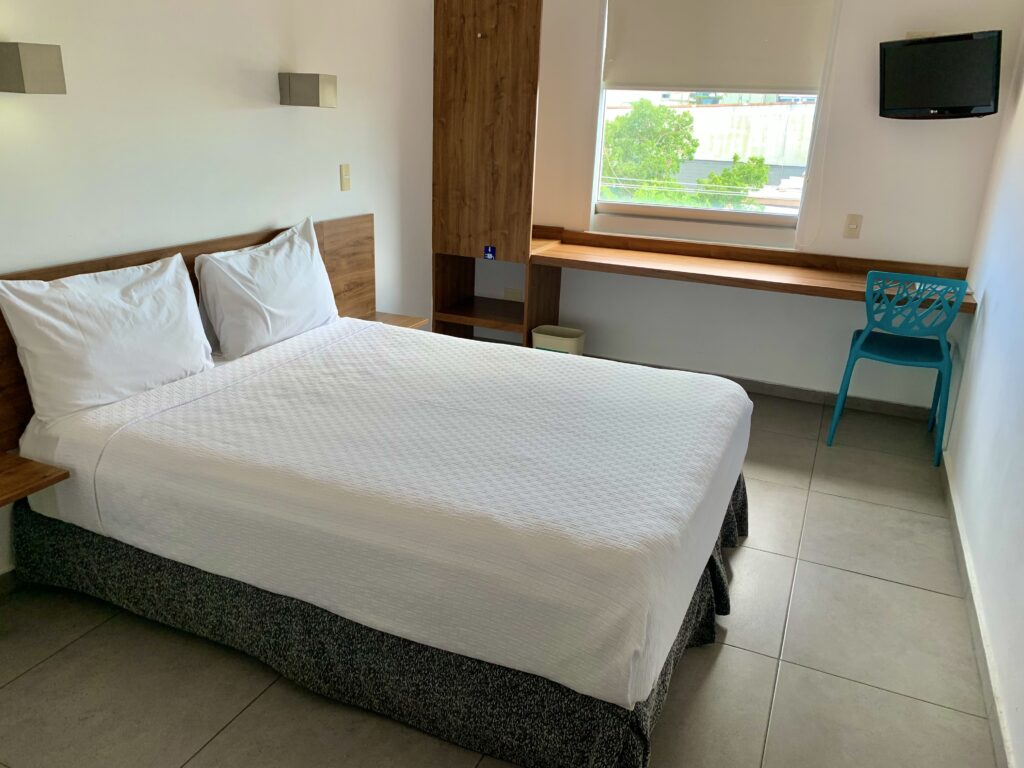 Bathrooms are on an angle in the corner. There are soap and shampoo in the bathroom plus adequate towels. It is small, but efficient bathroom. Large people might find the showers a little crowded.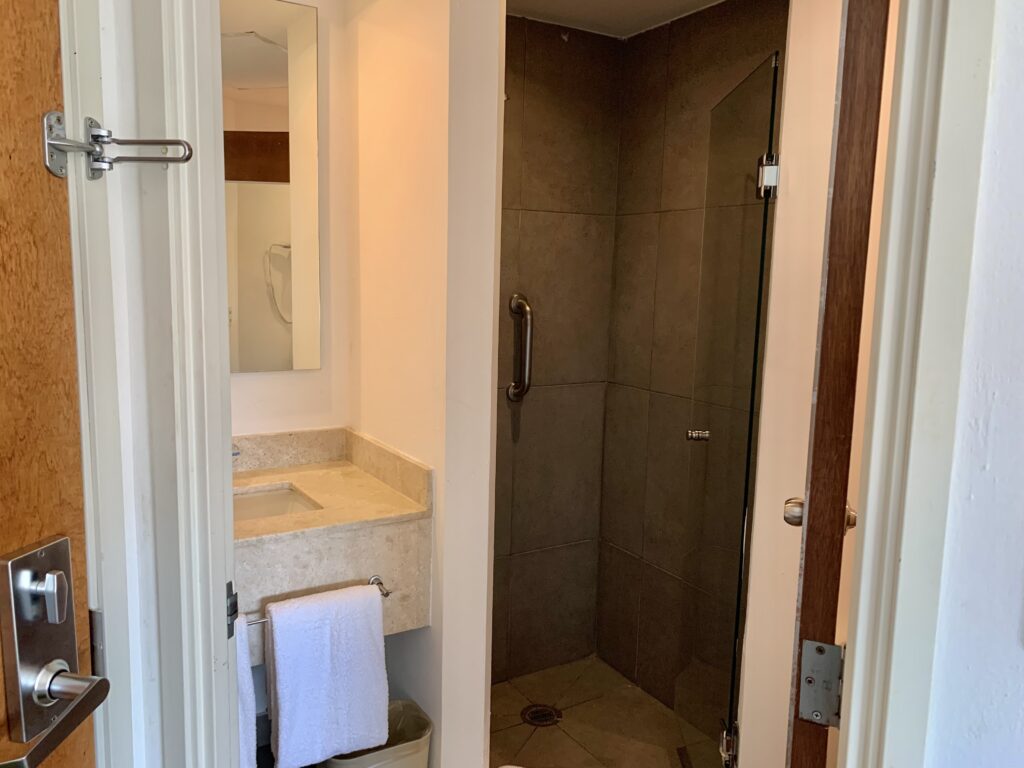 Breakfast included in your stay
In the lobby, one side is dedicated to serving a buffet breakfast. The breakfast is a little step up from the basic cereal and coffee. There is a hot buffet with a few items, cold cereals. fruit, toast, coffee and juice. It will fill you, but you can get much better quality just a few blocks from the hotel if you want to spend money on it.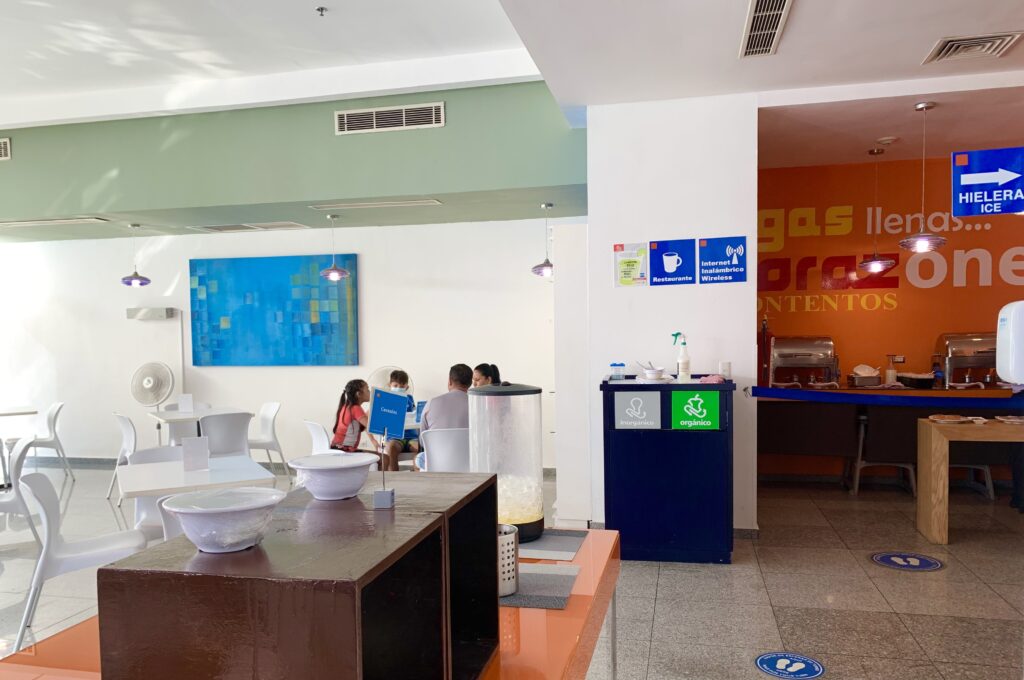 Our top things we like and do not like about the ONE Hotel
We like…
Parking.
Clean rooms and you know what to expect.
Value. Affordable price and added value of breakfast.
If you have an early flight and are going to take the ADO bus to the airport, this hotel is right next to the bus station.
We do not like..
The rooms are on the small side and generic.
There is no character for a longer stay. It does not feel like a special destination hotel or hostel.
Our recommendations for the ONE Hotel
This can be a very easy in and out hotel if you want a quick stay in Playa Del Carmen. It is very close to walking to the beach and 5th Avenue. It is also very close to three grocery stores (literally it is next to two). This makes it very easy if you want some snacks or water for your room.
We do not recommend staying here for a long stay. It is not exactly a vacation spot hotel , but rather a perfunctory hotel for short stays. If you are traveling on a budget, you can get value since often it is $38-$45 USD a night. More value can be added if you eat the free breakfast.
If you are driving to Playa Del Carmen, the ONE Hotel has very convenient parking under the hotel. This is somewhat of a big bonus for drivers since the street parking in the downtown of Playa Del Carme is metered now.
Tips for booking this hotel
If you want to stay here, we recommend booking ahead of time here. The price for the rooms listed at the front desk is about 3 or 4 times higher than online. Staff cannot offer you the prices online. Also, make sure you select ONE Hotel and not a similar name. There are two other hotels in Playa Del Carmen with similar names. The other two are not centrally located like the ONE Hotel.
Have you stayed at this hotel? What did you think? Let us know in the comments below and follow along as we review many locations in Playa Del Carmen so you can make good decisions about your next vacation.