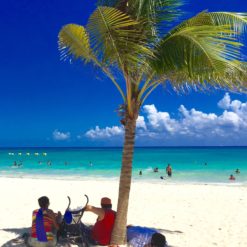 What is Playa Del Carmen Mexico weather like? We thought we would put together this guide to "Everything Weather" for you.
Playa Del Carmen Mexico Weather
You will be pleased to know that the average daily temperature is 27 degrees Celsius or 80 degrees Fahrenheit. This allows you to lay on at any beach club any day of the year and the beaches of Playa Del Carmen are warm enough to swim in year round as well. Locals however tend not to swim from December until March.
It also seems like we have sunny days with blue sky all the time here except when we get a rain storm. We are fortunate to the west of there are no big cities to create smog or pollution. In fact we have 340 days of sunny weather here!
Average Temperatures for Playa Del Carmen Mexico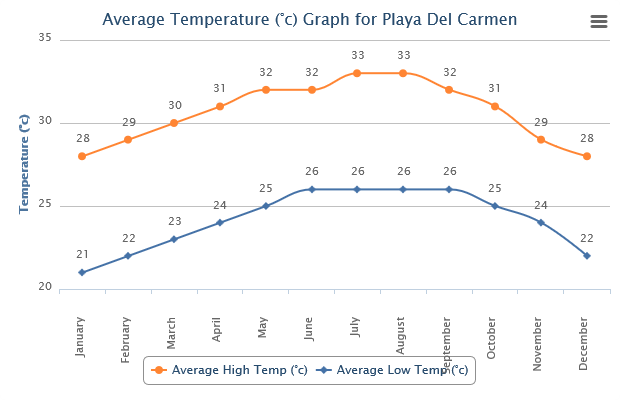 May often feels the hottest month on average in Playa Del Carmen but in fact is July and August. It is 29.5 degrees Celsius or 85 degrees Fahrenheit. That might not sound too bad to you but remember that the temperatures at night do not go down very much. Buildings absorb the heat in the day and radiate it back at night. This is the problem with concrete buildings.
Tip: The old saying "it is not so much the heat it is the humidity" comes into play here. We are in the tropics and the humidity levels are often very high. This can make it feel even hotter. This is not a problem if you are by the pool all day or swimming in the ocean but remember outside of these two places it can feel very warm. Drink lots of liquids, wear light clothes and plan. Get out early to enjoy the morning, rest or work inside in the middle of the day and stroll 5th Avenue in the evening after the sun goes down.
When is it the coldest in Playa Del Carmen?
The coldest time of the year is January which has an average temperature of 23 degrees Celsius or 74 degrees Fahrenheit. That might sound a little cool but the days are beautiful with the night temperatures drop some to give you good sleeping weather. Of course if you are living up north these January temperatures are going to seem like a perfect winter! You will see people using a light jacket at night sometimes in the winter in the evenings.
Daylight Hours in Playa Del Carmen Mexico
We have on average 9.25 hours of daylight a day here. From October until January there are 8 hours of daylight a day and these are the shortest days. May has the longest days with 11 hours of light.
When does it rain the most in Playa Del Carmen
If you are planning your days on vacation basking in the sun, then this might be important for you to know!
The most rain occurs from June until October. Of course any chart can be thrown off by a hurricane that dumps lots of rain.
The good news is that it often only rains for 1-3 days and then it is over or there is a shower and then it goes away. The month with the least rain is February. September has the most rainfall of any month.
Unlike some topical locations, Playa Del Carmen has more random weather. It does not shower each afternoon or have any pattern. Usually when the energy builds, it rains and then things cool off a bit before going back up.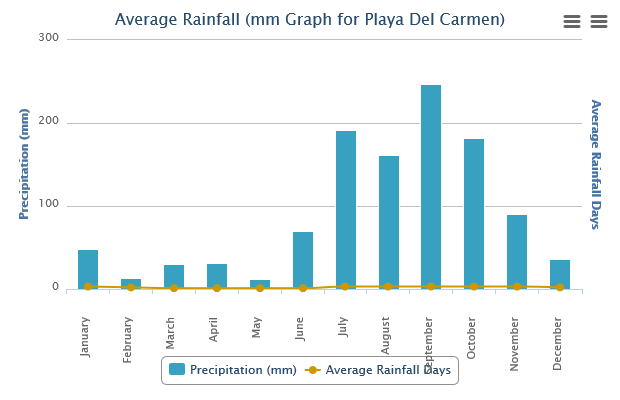 When is the dry and wet season in Playa Del Carmen?
Most people want to be here in the sunny season and not be sitting inside during the rain. The contrast between the "wet" or "green" season to the dry season is very noticeable. Of course with the wet season comes more mosquitos in rural areas outside of the city.
December through May are the months that are driest. When we are in April things start to get pretty dry looking. The woods or "jungle" is actually semi tropical rainforest. In the dry season they can look very dry and almost dead looking.
What is the water temperature in Playa Del Carmen?
Going swimming all year round is very comfortable to do. The sea temperature changes only a few degrees up and down. The average temperature is 81.5 degrees Fahrenheit or 27.5 Celsius. August is the warmest month for ocean temperature.
When is the best weather in Playa Del Carmen?
Well most people would say:
1. March-because it s not too hot and we don't have too much rain
2. November– because it is cooling down and there is not too much rain. Things are left very green after the summer rains as well, so things look nice.
But really all year is a great time to come to Playa Del Carmen and these are just opinions of people. It is just bad when we experience an occasional full week of rain and it just happens to be on the week you come. That is why we have the guide to what to do when it rains in Playa Del Carmen.
What about hurricanes?
Yes we live in the tropics and there are hurricanes. Playa Del Carmen does not get as many as you might expect. The nice thing about those storms is the amount of time you have for a warning. We on average have a bad hurricane every 10 years and often we often don't have any hurricanes for several years straight. If you are here on vacation and one approaches, all of the hotels are very prepared to help guest fly home or have hurricane shelters. If you are living here then we suggest you read our article on what to do when a hurricane affects the weather in Playa Del Carmen. Hurricane season in the Atlantic is June through November.
Natural Cycles of weather in Playa and the Riviera Maya
Starting in March the temperature starts to get warmer and after months of dryer weather the summer rains approach. The heat of summer makes clouds form and they break into rain showers and cool things down a bit until things heat up again. Having a regular cycle of this will take energy out of the atmosphere and we have a less risk of hurricanes.
In summer expect to change clothes frequently because of the heat. Locals often change three times a day because you do sweat! Be sure you shower often to clean sweat off your skin. After the summer things are very green and things cool off a bit. In the "winter" months it can get cooler in the evenings and a light jacket might be nice. But we never get to freezing. Christmas and New years are often nice weather and people are on the beach in swimsuits for the holiday.
What is the weather in Playa Del Carmen today?
We really like Windy.com This website has a lot of features that help you know what the weather will be and what is currently going on. It is more detailed and more accurate than websites like www.weather.com.
For all the latest weather in Playa Del Carmen Mexico, you can check wind guru website. Once you are on the page, just enter "Playa Del Carmen" in the box where is says "type spot name". It is a technical site but often has very good predictions as to what the weather will bring. This can give you a somewhat good idea of what the weather is for the week. It is however harder to predict the tropical weather here and sometimes just good to look outside in the moment to see what it is like out.
Another good website for the weather in Playa Del Carmen is this one. You get good cloud images to see if it will be sunny.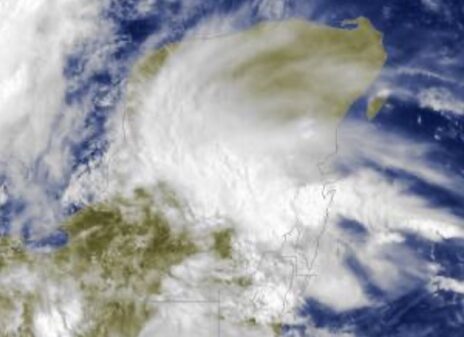 Tip: When you look out over the ocean toward Cozumel, if it is raining there, it means it is most likely headed our direction. This is the normal weather pattern.
If you are looking for what to pack for Playa Del Carmen you might want to look at these two articles:
What to pack for vacation in Playa Del Carmen
What is Playa Style? Clothing trends and what people where here guide
What is your favorite time for weather in Playa Del Carmen ? What is your favorite website for predicting Playa Del Carmen Mexico weather? Let us know in the comments below, we would love to hear from you.