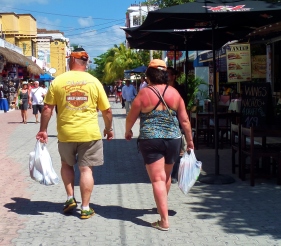 Coming to the tropics means having fun in the sun and soaking up some rays on the beach but there are dangers there. Here are some unique tips that will help you adjust to the different sunlight here as well as the heat so you can take good care of your skin.We will discus two different things you need to know about living in Playa Del Carmen and vacationing here:
Taking care of your skin in the sun.
Keeping your skin healthy and dry so you don't get heat rash.
The sun and your skin in the tropics
It is sunny in Playa Del Carmen and in fact we have high UV indexes here most of the year. Understanding the UV index is important in knowing how dangerous it can be for your skin. For example the index starts at zero and goes to 11+. We do get an index of 11 in Playa Del Carmen which can mean that you can burn very easily and it is very hard on your eyes too.
To give you an example of the suns power, a person with light skin and no tan will burn in 30 minutes at UV6 when wearing no protection and at UV12 it will only take 15 minutes. So double the UV number and half the time to burn. With the index being high most of the year in Playa, most people will start to burn in less then 25 minutes with unprotected sun.
Tips for being in the sun in Playa Del Carmen

So what can you do in Playa Del Carmen to avoid a nasty burn but still enjoy the great outdoors? We are not going to tell you all the typical things about wearing sunscreen because that is a matter of personal decision. Some do not like it and others only like biodegradable sunscreen. There is also controversy over ingredients and effectiveness so we are going to give you practical things that are unique solutions to Playa Del Carmen.
Note: All eco parks and cenotes require you to use biodegradable sunscreen, if you wear any at all, in order to keep the water clean for the eco system. If you need some for your trip you can buy both here. This company will deliver to your hotel or give it to you when you get a transfer with them from the airport.
Go to the beach early. Not only will you get the best beach chairs you will get cooler temperatures. Then leave the beach in the midday and eat out at a restaurant or stroll around 5th Avenue. There are many shops and shopping areas that provide shade and air-conditioning.
Get a chair or beach bed at a beach club with an umbrella. This will keep you cool and shaded while you enjoy the beach.
Walk on the shady side of the street. This might sound simple but think about it. If you walk even on the shady side half of the time that is half the sun you take. Many locals do this.
Carry an umbrella when walking around. Don't think you will look silly because locals do it as well. Bringing an umbrella on vacation makes you prepared for rain and sun. So you can use it all the time! Not only does it keep you cooler but it protects your neck and face more then a hat will protect you.
Bring good sunglasses! Glasses that cover your eyes and are dark enough to allow you not to squint in the bight light. Don't buy cheap glasses, your eyes are important.
Wear a hat! Straw hats are available on 5th Avenue for about 120-150 pesos. These are worn by a lot of locals in the Yucatan. A visor is also a great thing to wear because your head stays cool. As long as you have hair, your head is protected but you still get a lot of air.
Bring light clothes that have long sleeves. If you are going to be visiting ruins, make sure you are protected from the sun because you will be walking around in direct light most of the time.
Follow the Playa Del Carmen local schedule, either get up early and get stuff done, rest in the middle of the day, then go out in the evening. Many people eat on 5th Avenue from 8pm-10pm. Quinta or 5th Avenue as it is called is a great place in the evenings to walk around. There are street performers, shops galore and tons of places to eat at. You can do all this without being in the sun.
Heat Rash in Playa Del Carmen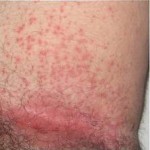 Along with sun comes heat and then sweating. If you are on vacation for a week you might not have an issue with heat rash but any extended time in Playa Del Carmen might just be enough time to develop this nasty little rash. Heat rash happens when your sweat glands get blocked and the sweat is not able to escape and your skin becomes inflamed. Common symptoms are a tiny red bumps on the skin and a itchy feeling. Heat rash especially appears in folds in the skin and when you wear tight clothes.
Usually heat rash goes away when you cool the skin and wash it thoroughly. Medical care is only needed when the area becomes infected. It can however be hard to get rid of if you are constantly sweating  and you skin does not have time to recover. Here are some tips to prevent and deal with heat rash.
Dry your skin as much as possible from sweat. If you sweat a lot while walking around, carry a small towel with you to dry your skin.
Wear loose clothes that allow for good airflow around your skin.
Don't put on heavy creams that block pours.
If you exercise here make sure you take a shower afterward so you can clean your skin and cool off. Have a plan to cool down after getting hot. Have a shower ready, cool water and a place that is cool in order to cool down again.
If you have been sweating a lot and your skin is starting to feel a little itchy, take some time to spend in an air conditioned place.
Use a loofa sponge to clean all the dead skin off when taking a shower. This is a very important tip and something that you must get used to when living in the tropics or spending a lot of time here.
Taking two showers a day is not uncommon. The more you clean your skin the better.
Keep your body cool by drinking cold drinks. By keeping your body cooler from the inside you will sweat less and reduce your risk of heat rash.
When at home keep fans running to circulate the air and keep your skin cooler.
Treatments and home remedies for heat ash

These are some things people have found helpful in easing the pain and helping heat rash to go away. This is not expert medical advice, just what others have found helpful.
Rub an ice cube on the area.
Aloe Vera gel or calamine lotion to ease itching.
Creams with hydrocortisone can help the itching.
Taking a towel dipped into cold water and resting it on the skin can help cool the area, but make sure it dries off as well afterward.
Cleaning the skin with hydrogen peroxide or rubbing alcohol.
Wash skin with anti bacterial soap.
We hope you have a great time visiting Playa Del Carmen or living here and the heat and sun do not become a problem for you. It is just one of the blessing as well as adjustment to deal with when in the tropics.