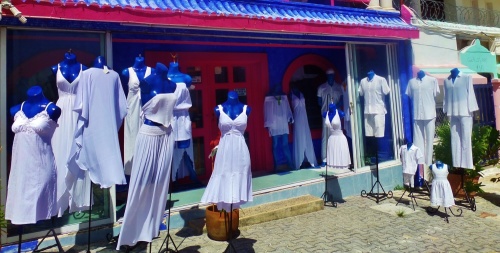 What is Playa Del Carmen Style?
Playa Del Carmen's style has evolved into something unique to Playa. As the city grows, so does it's unique style of what people wear. Playa is not Cancun and has it's own style than that of the rest of Mexico. It is Caribbean cool and international with a slight cosmopolitan edge at night. Playa style is also influenced by the very international crowd that descends upon Playa from Europe, South America and North America. All of this together has created a "look" to the fashion here. The prime time for being dressed up is from 7:30-11:30pm along 5th Avenue and from 12 midnight until 3:00am for the club crowd. This is when it is cooler out and the custom of Playa Del Carmen is to eat a little later and party into the night. Most people will dress up for going out but still less casual then a dinner in most cities around the world.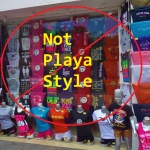 We have been watching the streets to see what is popular here and also why people dress the way they do in Playa Del Carmen. We also get asked all the time about what to pack for vacation and also what people should have when living here as far as clothes so we hope this helps a little.
Tip: See our article for what to pack when coming to Playa Del Carmen or what to bring to Playa Del Carmen when moving here.
People for the most part like to fit in and not be over dressed or under dressed for going out. How you dress will certainly attract attention on 5th Avenue, if you look like a tourist you will be approached much more for the sales people out in front of stores. It can be much more casual stroll down 5th if you look like a local.
Save the "I am in Cancun Bitch" t-shirts for Cancun or for taking home. Playa is a little more grown up for that, a little more stylish and how you dress will get you better treatment most places you go in Playa Del Carmen.
We combed the street to bring you some photos of what Playa style looks like. Now that the city has grown we have many more places to buy clothes, so don't worry if you don't have everything, you can always buy something here and add it to your wardrobe.
The basics of what to wear in Playa Del Carmen
The two main factors are the climate and international influence with a little casual sophistication thrown in. Lets talk first about the climate.
Since it is warm year round, light clothes, thin cottons, breathable fabrics, flowing dresses, shorts and short sleeves are all basic ingredients to the fashion here. It does actually matter how thick the cotton is and how it feels on the skin. A nice material that breathes is going to feel twice as cool as one that is not as thin or breathable. This might eliminate some of your clothes if you are moving here because once you are here you really understand this point!
What do people wear for shoes?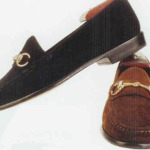 For both men and woman a good pair of sandals is good to have especially if they have arch support. Most people wear sandals all day long and even to the grocery store. They save on wearing socks and all the washing of socks as well and when it rains you don't have to worry about the pools of water and getting your shoes wet. At night both men and woman can wear sandals but more dressed up versions. Men wear leather strapped sandals and woman wear dressier sandals sometimes with leg straps. Also for the evenings and going to dinner women wear dress shoes but not super high heals. Men wear loafers with a strap across the front and no large heel. This is a very "Playa" thing. It has been influenced by all the Italians that live and visit Playa Del Carmen. For going out at a nightclub most people do not wear sandals. Comfortable shoes but somewhat dressy is good. Most people will wear leather shoes which can be sporty but not sneakers.
Clothing for women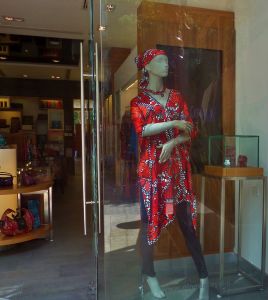 Women's fashion is influenced by the creative people that come here and design clothes and also well know Mexican designers like Pineda Covalin. Pineda Covalin is a Mexican designer that works with silk and uses Mexican inspiration for patterns like the dress in the photo that is representative of the monarch butterfly migration in Michoacán Mexico. there is a Pineda Covalin store in Playa Del Carmen so you can see if there is something that works for you.
In Playa Del Carmen the dress is the focus with just simple jewelry to highlight the outfit, so choosing a good fit and good quality dress or clothes is important.
Dresses only come out after 5pm usually unless you are going to a nice lunch or brunch. Woman can wear dressier shorts with a nice top to most restaurants even in the evening.
What men wear in Playa Del Carmen
Men wear pants usually in the evening or night and if going to a club most men wear pants. It is surprising the amount of locals that will wear pants in the day (even jeans). This is because they work in air conditioning or are not moving around so much. So if you are a tourist, don't go by this trend because you will get hot fast.
Shirts are an important aspect to the wardrobe because it is the one thing that you can have fun with and make your outfit interesting. T-shirts are fine, but don't go for logo shirts or advertising. Simple designs are good and will not identify you as a huge sports fan from Chicago or somewhere. In the evenings a button down shirt is good or a polo but just make sure the cotton on the polo is not a super thick material. Long sleeve shirts are dressier and they can be rolled up to make it a little cooler but short sleeves are fine as well.
Great news men! You never have to wear a tie in Playa Del Carmen!! Only in a super exclusive resort restaurant maybe, but for the most part they are never used, this goes for dinner jackets as well. In fact, a traditional dress shirt in the Yucatan is a simple white shirt with a pattern on the front. They are cool and dressy and you will see governors and mayors wearing them at functions.
Adding hats and sunglasses to your wardrobe
Sun hats are important due to the amount of sunny days here and strong sun. Most people don't wear baseball caps here except for tourist. We do recommend visors because they allow air to cool your head but shade your face. Straw hats for both men and woman are popular. You can buy nice ones for about 120-160 pesos here in Playa.
Having several pairs of good glasses is important. Ones that cover all your eyes are helpful to block sun. It is nice to have some dressier ones for shopping and sportier ones for more casual activities. Since everyone wears them all the time, it is good to get a pair you like and look good on you.
What swimwear is popular in Playa Del Carmen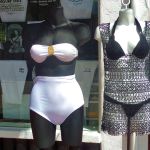 Having a good range of swimwear is a definite must in Playa. Everyone goes to the beach, poolside and rooftop pools, so having a good outfit is key. Men usually wear a range of board shorts, shorter printed shorts and at European resorts you will find more men in speedos.
Note: Men's swimwear tends to be a lot more expensive here so it is better to buy this outside of Mexico. Woman can find a good selection in Playa and even some locally made swimsuits at very reasonable prices.
Woman usually have a two piece and certainly nice beach cover up is good to have since people will walk from the beach back to their condo. It is not uncommon to see people in swimwear from the beach to 5th avenue walking. Past 5th Avenue most people cover up because that is the "city" and only a few tourist will think it is still the beach area.
We hope this gives you a little insight into what Playa Style is and show Playa Del Carmen has evolved into it's own place with all the influences that are here.